New Toyota Supra 2.0 2021 review
Does the new entry-level Toyota Supra 2.0 coupe offer less excitement? We find out…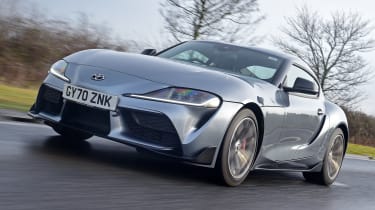 4.0 out of 5
Buy used for less at Buyacar
Verdict
The 2.0-litre GR Supra has clear benefits, chiefly its price, but it also feels more nimble thanks to its weight loss. Of course, it isn't as quick, doesn't sound as good nor has the level of refinement you get from the six-cylinder. But perhaps the biggest problem is that Toyota's finance deals mean you can get the 3.0-litre model, and all its extra kit, for less per month on a PCP deal. Figure that one out.
We had to be patient for the return of the Toyota Supra. The idea for the reborn sports car was first teased in 2014 with the FT-1 concept, but it was five years before the production version arrived. Happily, it was well worth the wait.
When it comes to updates, Toyota hasn't been in any particular rush to introduce them. But what we have here is the GR Supra 2.0 Pro, a new entry-level version with a smaller engine, less power and less weight, but crucially also a lower price tag.
Best sports cars 2021

It's been on sale in Japan for over a year and arrived in Europe last summer, but only now has it landed in the UK. Toyota GB hopes it will help reignite Supra sales, too – only 271 cars were sold here last year.

More reviews

Car group tests

Toyota Supra vs Audi TT RS vs Porsche 718 Cayman S

In-depth reviews

Road tests

New Toyota Supra 2019 review

Visually, there's no telling the 2.0 Pro and 3.0 Pro apart. That detailed origami-style bodywork features on both, and the only significant difference from the outside is the smaller 18-inch wheels you get on the 2.0, compared with 19-inchers on the 3.0.

Under the bonnet is where the big changes take place; out goes the smooth-revving, 335bhp 3.0-litre six-cylinder engine, and in its place is a 254bhp 2.0-litre four-cylinder. As with the larger motor, it's not a Toyota unit – it comes from BMW (the Supra was co-developed with the BMW Z4). However the engine is a proven one, since it's found in models such as the BMW 330i.

Despite having less power, the new engine does bring advantages, the first one being a weight saving. The 2.0 Pro has shed 100kg, bringing the kerbweight down to 1,395kg – so it's lighter than a Porsche 718 Cayman.

Perhaps the most important change is the price; the GR Supra 2.0 Pro starts from £45,995. That brings the cost down to a more comparable level to the 718 Cayman, but it's also a whopping £8,345 less than the 3.0-litre car – a 15 per cent price drop.

From behind the wheel, it certainly feels like a good deal to us. The engine fires into life with a raspy exhaust note, which can be heard clearly from outside the car, but not so much from the driver's seat. Instead, exhaust noise is pumped into the cabin via the speakers. This has been successfully applied in a number of cars, but in the Supra it's obviously synthesised and gives the impression of trying too hard.

With 1,395kg to haul around, 254bhp and 400Nm of torque feels like a perfectly adequate amount. The Supra 2.0 isn't blisteringly quick – Toyota says 0-62mph takes 5.2 seconds – but you never find yourself wishing for more power. The engine really gets into its stride above 2,500rpm and pulls cleanly and smoothly to 6,500rpm, with the eight-speed auto making its way through the gears very efficiently.

One highlight is the Supra's steering, which is aided by that weight loss and really emphasises the car's agility. The wheel is quick and feels pointy, and instils a real sense of urgency and response when you ask for quick changes in direction. It's backed up by great body control that strikes a good balance between keeping the car flat in corners and cruising comfort. Sport mode sharpens the throttle and tightens the chassis, but the trade off is a firmer ride.

The main area where you'll have to compromise is the level of standard kit in the Supra 2.0. There's no carbon-fibre detailing inside, no head-up display or premium stereo, while leather sports seats and wireless phone charging are missing, too.

| | |
| --- | --- |
| Model: | Toyota GR Supra 2.0 Pro |
| Price: | £45,995 |
| Engine: | 2.0-litre 4cyl petrol turbo |
| Power/torque: | 254bhp/400Nm |
| Transmission: | Eight-speed automatic, rear-wheel drive  |
| 0-62mph: | 5.2 seconds |
| Top speed: | 155mph |
| Economy/CO2: | 38.7mpg/167g/km |
| On sale: | Now |

Next Steps

Source: Read Full Article