New Volkswagen Caddy California 2021 review
It's a family hauler and weekend camper all rolled into one, but is the Volkswagen Caddy California any good?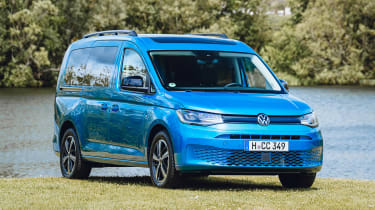 4.0 out of 5
Buy used for less at Buyacar
Verdict 
If you want a car for the week and somewhere to stay for weekends away all rolled into one package, the Caddy California is a strong proposition that doesn't have many rivals. The kitchen is limited, sure, but it serves up the basics with a well-thought-out design. That the Caddy doesn't look like a camper from outside, or feel like one from behind the wheel, appeals too. Volkswagen's media system still frustrates, but it's one of few things that could be better.
The Volkswagen Caddy has long been an integral part of the Volkswagen commercial vehicle line-up, but until now there's never been a campervan version like the California and Grand California derivatives of the bigger Transporter and Crafter vans. Enter the Volkswagen Caddy California, which squeezes a bed, mini kitchen and chair and table set into the back of VW's smallest van.
It might seem strange to shoehorn all of that into the compact Caddy, but this isn't aimed at people who are planning to go off-grid for weeks on end. Rather, VW expects it'll be bought by customers who'll drive it as a normal car during the week and then go camping over a weekend. It's likely to prove especially popular with those that have hobbies like mountain biking or surfing; there's space to carry a lot of gear and somewhere to crash out as well.
Best people carriers and MPVs 2021

Think of it as getting two vehicles in one and it's good value, with prices starting from a whisker under £30,000. If you can't justify the £55,000 or so that VW asks for the bigger Volkswagen California, the Caddy version could be just the ticket.

More reviews

In-depth reviews

Volkswagen Caddy van review
Volkswagen Caddy (2003-2015) van review

Road tests

New Volkswagen Caddy 2020 review
New VW Caddy Black Edition van review

Just like the new Caddy people carrier, there are standard-length and Maxi versions of the Caddy California. We had the latter, which adds around £1,300 to the price. It brings a little bit of boot space, which we could see being useful for extra storage or as worktop space for the mini kitchen. But if you don't need that, it could be more cost-effective to get roof rails and a roof box.

You'll need to remember to make room for a cool box, as there's no provision for anything like that built-in, and the one-ring hob setup does limit what you can cook. The standard set of California chairs hang from the bed and take up a lot of the boot space, but the lightweight alloy set is really well packaged and doesn't creak or rattle on the move.

There are other clever touches, too. A set of holdalls is stuck to the rearmost windows, providing storage and acting as blinds. They're removable and can be carried over the shoulder, in order to be able to take them out and pack them before you leave. Meanwhile, there are extra 12v sockets in the back and, optionally, extra lights to illuminate the area under the tailgate when it's open.

Having the tailgate open acts as your awning, and shelter for the kitchen unit. Both the utensil drawer and the hob slide out and lock in place, so the hob can't accidentally be knocked when you're cooking. It hooks up to a gas bottle that's secured in place behind the rear seat, in a sealed compartment with a vent to the outside – if there's a gas leak the fumes should stay out of the cabin.

The Caddy California sleeps two people, but you can add an optional modular tent that attaches to the tailgate and doubles the sleeping capacity. It can also be used as a normal, free-standing tent, and can be left up on a campsite while you head out in the van.

Transforming the Caddy from car to campervan is simple. The rear seats fold flat with just a pull of a strap and are completely removable if you prefer. Once the front seats are shoved forward, the bed folds out in three pieces and rests on supports moulded into the door pillars. There's a gap between the bed and the seatbacks, which could be handy for storing slim items. The bed itself is wafer-thin but comfortable, featuring slim disc springs.

Back in five-seater car mode, the bed folds back behind the rear seats, looking like the folded roof on a MINI Convertible. The Caddy's boxy shape means there's still plenty of boot space on top of it for use during the week between camping trips.

On the road, it's easy to forget you're in a campervan. It's not too bulky to thread down narrow lanes, visibility out is extremely good, and you don't feel like all your camping equipment will make a break for it if you have to stop suddenly. A couple of bright colour options and shiny 16-inch alloy wheels are a welcome riposte to the endless gloss white campers you see at popular holiday destinations.

The Caddy California has a similar grille design to the Volkswagen ID.3 and a blank nose, so you might mistake this for an electric van like the Peugeot e-Rifter. But you'll have to wait for the VW ID. Buzz for that; only petrol and diesel versions are available here.

We tested the range-topping 120bhp diesel engine, which comes with a DSG automatic gearbox as standard for UK buyers (our German pre-production model came with a six-speed manual). What was striking was the quietness – it only got a little vocal at high revs. It certainly favours relaxed driving, but the 320Nm torque figure gives you enough for the occasional brisk run to catch a ferry. There's also a 101bhp diesel engine with a manual gearbox and a 112bhp 1.5-litre petrol engine with a choice of either transmission.

New 2021 Citroen e-Berlingo EV on sale now from £29,575

With the same platform as the Volkswagen Golf, the Caddy California feels very car-like to drive. The manual gearbox is pleasingly precise. The steering, while not offering much feel, is direct and doesn't throw up any surprises, so the Caddy is easy to drive as a result – handy if you're thinking more about the destination rather than the journey. It stays composed over all but the most awkward bumps, the vehicle's tall shape means that body roll is an inevitability, however.

The Caddy looks like a Golf from behind the wheel, too. You use the same steering wheel and touch-sensitive panels dotted around the cabin, and the infotainment system uses the same interface. As such, it looks slick but comes with the same drawbacks as the Golf – the climate control sliders are imprecise and hard to use on the move, and the screen isn't intuitive enough. We found ourselves slowing down while trying to access some of the screen functions, and at one point we managed to turn off the screen while trying to adjust the heated seats.

Our car had the optional bigger infotainment screen with sat-nav and a reversing camera. It bumps the price up, though, so we'd stick with the standard screen as it still offers smartphone mirroring and you can still use your phone's apps for navigation.

Our test car also featured LED tail-lights, heated seats, extra lights above the kitchen area and a panoramic sunroof. VW expects the latter to be popular; it floods the cabin with light, making the sleeping quarters feel less claustrophobic, and gives buyers the chance to stargaze at night. Versions without the sunroof get a shelf above the front seats for extra storage. 

Even without the options, standard equipment is pretty good. There's a digital radio, air conditioning, cruise control, folding tray tables and an electric handbrake. Safety kit includes autonomous emergency braking, lane-keeping assist and a driver alert system.

| | |
| --- | --- |
| Model: | Volkswagen Caddy California Maxi 2.0 TDI |
| Price: | £36,029 (with DSG gearbox, before options) |
| Engine: | 2.0-litre 4cyl turbo diesel |
| Power/torque: | 120bhp/320Nm |
| Transmission: | Seven-speed DSG automatic gearbox, front-wheel drive |
| 0-62mph: | 11.8 seconds |
| Top speed:  | 109mph |
| Economy:  | 53.3mpg |
| CO2:  | 140g/km |
| On sale:  | October |

Next Steps

Source: Read Full Article