New Volkswagen Polo 2021 review
The facelifted Volkswagen Polo supermini channels even more Golf DNA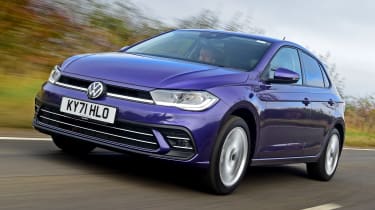 4.0 out of 5
Buy used for less at Buyacar
Verdict
The Volkswagen Polo's updates are effective, adding extra style to mimic the Golf, as well as more tech inside, reflecting what supermini buyers want. You'll have to pay for it, because in mid-spec Style trim the Polo is a pricey option, but its refined and mature personality, strong practicality and a sense of fun on the right road mean it's a solid all-rounder. Exactly as a supermini should be.
The evolution of the supermini is a fascinating story. Small five-door cars have now developed to the point where many, such as this new Volkswagen Polo, can occasionally operate as a family car, thanks to their growth in size.
This was also true of the pre-facelift Polo, so VW has focused on maximising the car's already-impressive level of maturity by adding more big-car tech that you'd traditionally find on the larger Golf or even the Passat.
Best superminis 2021

In fact, the Polo is more like the Golf than ever before. A subtle exterior styling makeover includes new matrix-LED headlights as standard on this mid-spec Style model, as well as a full-width LED running light across the front. Its nose is sleeker and the rear light clusters are sharper in their look, too – again, more like its bigger brother – but the greater advances have come inside, with more influence from the Golf than in the past.

More reviews

Car group tests

Vauxhall Corsa vs Renault Clio vs Volkswagen Polo
Volkswagen Polo vs Volkswagen Golf

In-depth reviews

Volkswagen Polo review
Volkswagen Polo GTI review

Long-term tests

Volkswagen Polo SE L 1.0 TSI: long-term test review

Road tests

New Volkswagen Polo R-Line 2019 review
New Volkswagen Polo GTI 2018 review

There's lots of kit, including a 10.25-inch digital dashboard and VW's Discover Nav infotainment system, plus wireless connectivity for Apple CarPlay. Android Auto also features.

The infotainment works well, with bright graphics and swift responses to prods of the screen, exactly as you'd want, and without the frustrating interface of the Golf 8. Part of this is down to the Polo retaining separate climate controls lower down on the centre stack, although they have moved to touch-sensitive buttons, which is still a retrograde step in our book.

Dual-zone climate control is standard, along with adaptive cruise, autonomous emergency braking, all-round parking sensors and VW's Travel Assist semi-autonomous driver-assistance tech that'll keep you in your lane on the motorway.

These were all features reserved for large executive cars and SUVs not so long ago, but now you can buy them on a £20,785 supermini. And yes, that is on the pricier side, but monthly payments of £261 on a four-year deal limited to a fair 10,000 miles per year, with just over £2,000 down (plus £750 from VW), are much more bearable.

For that money you get a very refined, grown-up small car. The 1.0 TSI 95 engine is a known quantity, offering 94bhp. As before, the three-cylinder turbocharged unit isn't that willing to rev, but it does have a torquey mid-range, with 175Nm on offer, which promotes a more relaxed driving style. It therefore means you move the Polo along at a leisurely pace; we wouldn't say lazily, just that the Polo's grown-up feel means that you're not tempted to hustle it like a Ford Fiesta, for example.

This is in keeping with the car's comfortable chassis set-up, which rides bumps relatively well, offering a controlled and fairly well isolated ride in town. The steering is light, which doesn't affect the Polo's high-speed stability, its planted feel, or your confidence, and nor does it make it obviously more agile. But it just feels keener to turn, with a decent resistance-free feel. It's nimble.

On the motorway the engine fades away into the background, with the driver- assistance tech helping further if you choose to use it. It's nice to have it in a small model such as this, but we wouldn't say it's totally necessary, even if it will improve safety. Let's call it a potential welcome secondary benefit, given that the Polo is large enough to occasionally operate as family transport.

Even with only a five-speed transmission it isn't turning too many revs at a cruise. The quiet engine is matched by relatively good isolation from road and wind noise for a supermini, which is yet another element in a mature package. It matches our current class favourite, the Renault Clio, on this front, which is a good performance.

It's also a practical small car, offering a fair level of space in the rear and a 333-litre boot, which is only 48 litres behind the Golf. Quality is mostly good for a supermini, too, but then, you'd expect it given the price.

The Polo should be affordable to run, another key trait any good supermini needs to offer. VW claims 53.8mpg and 119g/km of CO2 emissions, and we saw more than 45mpg on a mixed test route, so the Polo produces the goods, just as it needs to. But the class is incredibly tight, so we'll see how it gets on against its main rivals soon.

| | |
| --- | --- |
| Model: | Volkswagen Polo 1.0 TSI 95 Style |
| Price: | £20,785 |
| Engine: | 1.0-litre 3cyl petrol turbo |
| Power/torque: | 94bhp/175Nm |
| Transmission: | Five-speed manual, front-wheel drive  |
| 0-62mph: | 10.8 seconds |
| Top speed: | 116mph |
| Economy: | 53.8mpg |
| CO2: | 119g/km |
| On sale: | Now |

Next Steps

Source: Read Full Article