Pure-electric Silence e-moto moped launched
Electric Silence e-moto scooter can be specced with the power outputs equivalent to a 50cc or 125cc motorbike, and has a maximum range of 91 miles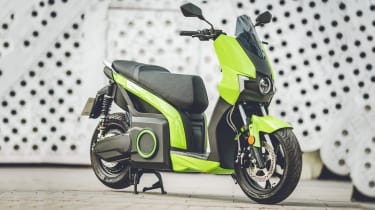 Silence, a European EV manufacturer, has launched a new pure-electric moped. It's called the e-moto and it's due to go on sale in the UK during Spring this year. Prices start from £2,695 for the least powerful entry-level model and rise to £4,995 for the flagship version.
It looks and rides much like a conventional scooter, with a step-through frame, a twist-and-go throttle and independant brake levers for the front and rear wheels. Unlike a petrol moped, it also has a reverse gear and low centre of gravity, as the heavy battery pack is mounted on the bike's floor.
Best electric scooters 2020
Silence offers four variants of the e-moto. The entry-level SO2 LS (which stands for "low speed") model features a 1.5kW (2bhp) electric motor and a 2kWh battery pack, which provides a top speed of 30mph and a maximum range of 35 miles per charge.
Above that sits the SO2 LS Long Range, which features the same motor, but a larger 5.6kWh battery pack, which increases the scooter's range to 91 miles – the maximum possible for the line-up. Prices for the middling option start from £3,595.
The more powerful Silence SO2 starts from £4,695. It features a 7kW (9bhp) electric motor and a 5.6kWh battery pack, which provides a top speed of 56mph and a maximum range of 80 miles. As the SO2 and SO2 LS Long Range are aimed at delivery drivers, both can also be specced with a range of handy options, including top boxes and windscreens.
The range-topping Silence SO1 is targeted at commuters, so it has the equivalent power to a 125cc motorbike. It has the same 5.6kWh battery pack as the SO2, but peak power rises to 9kW (12bhp), increasing the scooter's top speed to 62mph. Prices start from £4,995.
Silence hasn't disclosed the e-moto's charge times, but the company says that buyers should only pay around £1 in electricity for every 100 miles covered, which is around 80 percent cheaper than the cost of fuel. For convenience, the scooter's battery can also be disconnected and charged at a conventional 240V socket.
What do you make of the new Silence e-moto? Let us know in the comments section below…
Source: Read Full Article