Rimac C_Two hypercar completes aerodynamic testing
Croatian EV manufacturer has pushed the Rimac C_Two hypercar through its final wind tunnel tests, fine-tuning its active aero in the process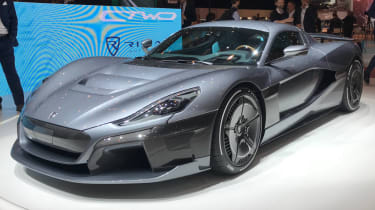 Rimac has released a short video clip, detailing the finer points of the electric C_Two's aerodynamic setup. When it goes on sale later this year, it'll feature a full complement of active spoilers, which should help to keep it competitive with the new Tesla Roadster and the Lotus Evija.
Rimac has a fleet of prototype vehicles for each aspect of the car's engineering, and the firm has already crash-tested a handful of vehicles to make sure they meet current regulations.
Best electric cars to buy 2021
Rimac says the production C_Two will feature four aerodynamic panels, including an active front splitter, intelligent underbody flaps and an adaptive rear wing, which can also function as an air brake. The engineering team also say they've worked hard to make the finished car as slippery as possible, although final drag coefficient figures are yet to be released.
The Rimac C_Two picks up where the Concept_One left off, although it apparently shares no common parts with its predecessor. It'll be powered by a 120kWh lithium manganese nickel battery pack, which will offer a maximum range of 400 miles. Rimac also says the new battery can be charged to 80 percent capacity in just 30 minutes.
Performance has crept up significantly over the old car. The C_Two features an electric motor for each wheel, which produces a combined output of 1,888bhp and 2,300Nm of torque. Rimac says that's enough for a 0–62mph time of 1.85 seconds (with a one-foot rollout) and a top speed of 258mph – or, 8mph more than the Tesla Roadster.
The front wheels are joined with a single speed transmission, while each of the car's rear wheels have their own two-speed gearboxes and carbon clutches. To keep all that power under control, Rimac has also specced enormous 390mm carbon ceramic Brembo brakes and six-piston calipers.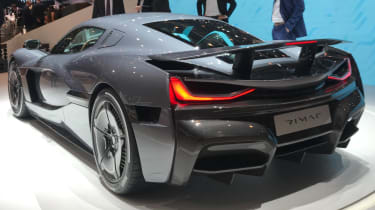 The C_Two's styling has been penned in-house by design chief Adriano Mudri and it's a clear evolution of the Concept_One. It's 202mm longer, 132mm wider and 10mm taller than its predecessor, and despite being made almost entirely from carbon fibre, it's 50kg heavier.
Rimac has built the hypercar's monocoque, subframe and body panels from the lightweight composite in an effort to offset the weight of the powertrain, but the car tips the scales at 1,900kg. However, those huge power and torque figures mean it still has a power to weight ratio of around 1,000bhp.
However, it's not all about performance – the C_Two will be clever, too. Rimac plans to offer the car with Level 4 autonomous driving technology, as well as "driving coach" function for the world's most famous tracks, which will provide the driver with data on optimal racing lines and braking points.
Rimac will also offer gadgets such as facial recognition door locks, meaning you won't need a key to drive it. Those butterfly doors have also been carefully designed to cut into the roof, which means cabin space isn't compromised – and the dashboard will feature a bank of three high-definition screens, for the gauges and infotainment system.
We've had no official word on the Rimac C_Two's price yet but, considering how close the car now is to series production, we shouldn't have long to wait. Given the amount of technology, we're expecting a premium over the old car's £880,000 starting figure.
What do you make of the new Rimac C_Two? Let us know in the comments section below…
Source: Read Full Article