The 2022 Ford Maverick Is Poised to Challenge More Than Just Trucks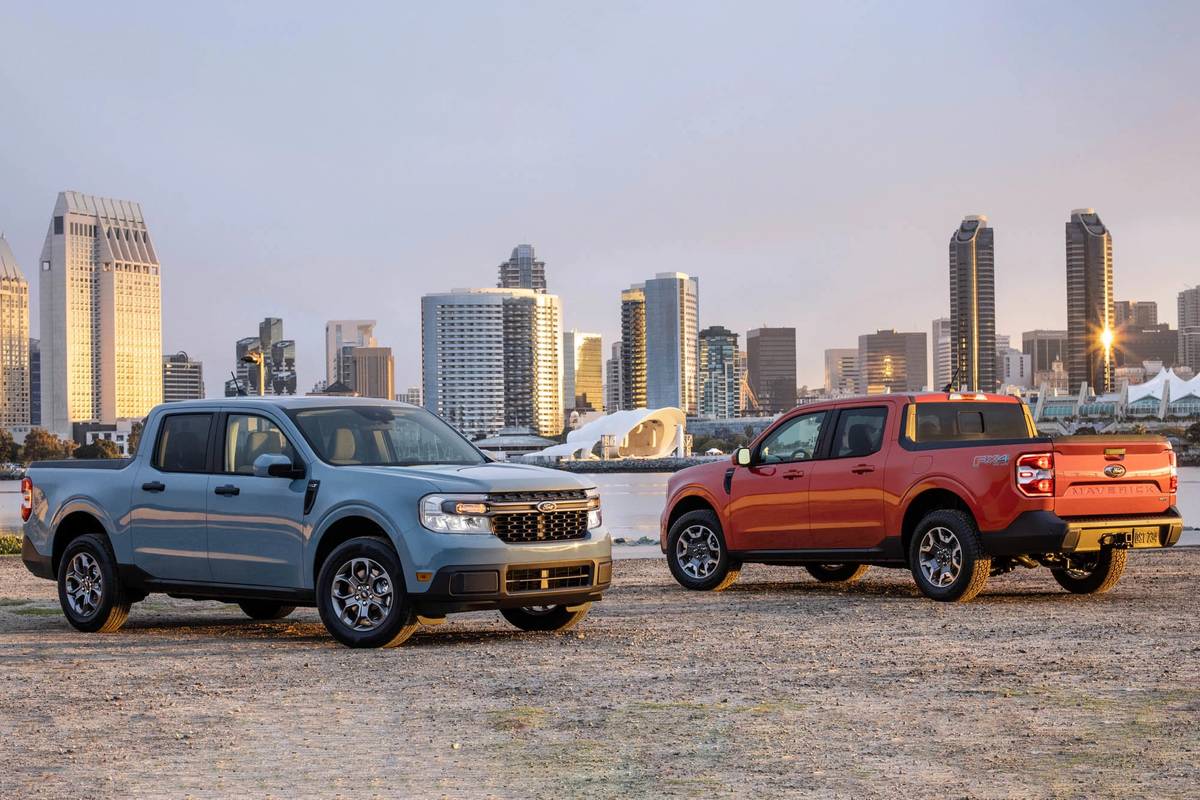 Hot on the heels of Hyundai launching its 2022 Santa Cruz compact pickup truck, Ford is bringing its own small pickup to market this fall. The 2022 Maverick looks poised to take on not only the Santa Cruz and mid-size pickups like the Honda Ridgeline but also affordable compact SUVs and even sedans.
Related: 2022 Ford Maverick: A Small, 40 MPG Hybrid Pickup That's $20K
We've covered the Maverick in greater detail over at our sister site, PickupTrucks.com, so be sure to check out the related link above for all the ins and outs. For now, here are five ways the Maverick aims to challenge vehicles in multiple classes.
1. Price
With a starting price just north of $20,000 including destination fee, the Maverick is challenging not just bare-bones mid-size work trucks but also compact cars and SUVs. In fact, its starting price isn't that much higher than Cars.com's 2021 Best Value winner, the Hyundai Venue. Feature-laden, more powerful models will cost more, but at that price buyers will get a gas-electric hybrid powertrain with front-wheel drive, some advanced safety features, an 8-inch touchscreen with Apple CarPlay and Android Auto connectivity, and, oh yeah, the utility of a pickup truck.
2. MPG
Full gas mileage estimates aren't yet available, but Ford says it's targeting 40 mpg in the city from the standard hybrid powertrain. That's a great number for not just a pickup truck but almost every other class of vehicle. The highway figure may be lower, and the figures from the optional turbocharged 2.0-liter EcoBoost four-cylinder will definitely be lower, but a vehicle that is capable of 40 mpg in the city and can tow 2,000 pounds plus provide a 1,500-pound payload capacity is fairly unique; the Maverick can tow up to 4,000 pounds with the optional EcoBoost engine and optional towing package. According to the EPA, the Santa Cruz tops out at 21 mpg in the city and 23 mpg combined, and the unibody Honda Ridgeline is rated at only 18 mpg in the city.
3. Size
One of the drawbacks to driving pickups in the city are their sheer size. Navigating a heavy-duty pickup on a crowded street or in a parking garage can be hellish, and full-size trucks are only somewhat easier. Mid-size trucks are easier, but the Maverick's small size should make it well suited to an urban environment. At 199.7 inches long, it's shorter than Ford's current extended-cab mid-size Ranger (210.8 inches) and even the last-generation extended-cab Ranger (203.6 inches); it's actually just a touch longer than a 2021 Ford Explorer (198.8 inches). The Santa Cruz is even shorter in length (195.7 inches), so the Maverick may not be the most city-friendly new pickup, but at the very least it's close.
4. Bed Tricks
One of the advantages of a pickup truck is its bed, and Ford has created the Flexbed just for the Maverick. With an emphasis on DIY, the Flexbed has stamped slots that can hold two-by-four and two-by-six boards, which can serve either as the base for an additional DIY project like a bike rack or be used to divide the cargo area. Ford placed a QR code in the bed that owners can scan to get project ideas, and it's also putting together how-to videos. 
For DIY electrical projects there's accessible 12-volt wiring that allows owners to safely use the Maverick's electrical system without dangerous or damaging efforts to access wiring. There are also two 110-volt outlets, one in the bed and another in the cabin.
More From Cars.com:
Hyundai Reveals Almost Everything on Its 2022 Santa Cruz Pickup: Size, Power, Towing
Report: Ford, Lincoln Planning Future EV Explorer, Aviator, 'Rugged SUVs' and More
Is the 2021 Ford F-150 a Good Family Road-Trip Vehicle?
6 Ways the All-Electric 2022 Ford F-150 Lightning Isn't Like Other F-150s
These 10 SUVs Have the Highest Towing Capacity
5. Tailgate Tricks, Too
But wait, there's more! The Maverick's tailgate is a multipositional unit that can be fully open, closed or partly open depending on where the cables are attached, letting owners carry longer loads without having to get a bed extender. And for when you reach your destination, the tailgate can support up to 500 pounds of you and your friends and your beverages of choice — and if you need them, the tailgate's tie-down clamps are also bottle openers.
Related Video: 2022 Hyundai Santa Cruz: First Look — Cars.Com
Cars.com's Editorial department is your source for automotive news and reviews. In line with Cars.com's long-standing ethics policy, editors and reviewers don't accept gifts or free trips from automakers. The Editorial department is independent of Cars.com's advertising, sales and sponsored content departments.
Source: Read Full Article