The world's craziest pick-up trucks – page 5
From wacky concepts to rare collector cars and ground-shaking monster trucks – the humble pick-up has always inspired enthusiasts willing to take things to extremes…
'Fedor' Trophy Truck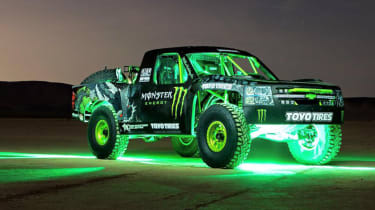 Baldwin/@sincity_crook
BJ Baldwin is the Trophy Truck racer responsible for building – and driving – the incredible 'Fedor'. It's supposedly based on a Toyota Tundra, but the 800bhp monster has a scratch-built tube chassis which bears no relation to the production pick-up. Fedor was built for long distance desert racing, and events like the Baja 1000.
It competes in the 'unlimited' class, and its 30-odd inches of suspension travel is designed to eat rocks at speeds of 100mph and more. You've probably also seen it on the Recoil video series, which occasionally monsters the internet.
Land Rover Centaur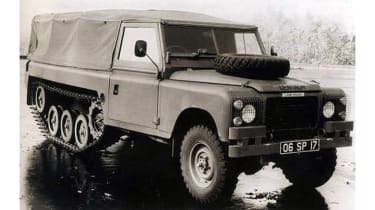 There have been plenty of whacky Land Rover conversions over the years, but few as eye-catching as the Centaur half-tracked version.
It's the odd-looking love-child of a Series III Landie and an Alvis Scorpion light tank, and you can probably work out which of its key features were inherited from its parents.
With a muscular 3.5-litre V8 engine and three ton payload, the Centaur was used for battlefield logistics as a weapons carrier. There was also a version designed to rapidly scatter 64 anti-personnel mines in war-torn countries like Angola in the 1980s.
Hummer H1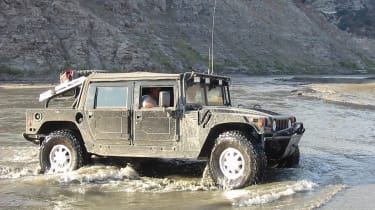 Wikimedia Commons
Celebrity owners like Arnold Schwarzenegger played a role in popularising the US military's utility vehicle, the Humvee, which was subsequently launched in civilian guise as the Hummer H1.
AM General's M996 Humvee first sprang to public prominence in Operation Desert Storm in 1991, and quickly became the 'must have' accessory for LA celebs – and the bete-noir of environmentalists due to its immense size, and terrible efficiency.
Lots of the military specification was carried over to civilian models built from 1992 to 2006, including the 6.2-litre diesel engine, and a system for inflating and deflating tyres from the cab. It's not surprising that nowadays Arnie is more likely to be seen driving a Prius.
Read about the six-wheeled Mercedes pick-up on page 6….
Source: Read Full Article