UK car production drops 18.2% in October
A big slump in production is confirmed as UK car manufacturing is down £10.4 billion and 379k units year-to-date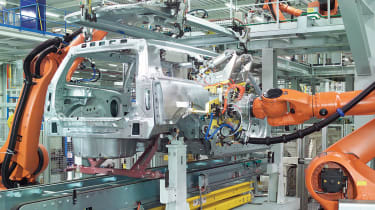 The number of cars built in the UK fell by 18.2 per cent in October, with suppressed demand due to lockdowns in export markets driving the drop. 24,490 fewer cars were built here last month than over the same period in 2019.
A total of 110,179 new cars were produced in UK factories last month, with the number of vehicles built for the European market down 25.7 per cent, and the number of cars made for America falling 26 per cent.
Best-selling cars in the UK 2020
The number of cars built here for Japan and China rose by 57.1 and 9.7 per cent respectively, but 13.6 per cent fewer cars were made for the UK domestic market, with 18,629 cars made in the UK in October being destined for UK roads, down 2,921 compared to the same month last year.
Year-to-date production figures make for equally grim reading, with 2020 so far seeing a 33.8 per cent slump compared with the first 10 months of 2019, with a fall of 379,308 units – though UK factories have produced almost three quarters of a million new cars so far this year.
The Society of Motor Manufacturers and Traders (SMMT), which compiled the figures, said October "rounds off an extremely tough 10 months for UK car makers and suppliers". Mike Hawes, chief executive of the SMMT, said manufacturing had been "battered" by Brexit and Covid, and now faced "the unprecedented challenge of a complete shift to electrified vehicles in under a decade."
As well as reiterating the need for a deal with the EU in the face of a £55.4 billion loss, Hawes urged the UK Government to put "globally competitive" investment in place to facilitate the ban of new petrol and diesel vehicles from 2030.
Subscribe to Auto Express for the best car news and reviews…
Source: Read Full Article