Used Honda CR-V review
A full used buyer's guide on the Honda CR-V covering the CR-V Mk4 and the CR-V Mk3 (2006-2012)

1Used Honda CR-V Mk4 review – currently reading
2Used Honda CR-V Mk3 review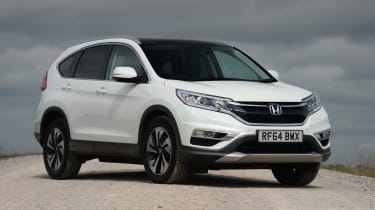 Ever since Toyota launched the RAV4 back in 1994, the compact SUV segment has mushroomed. One of the earliest alternatives was the Honda CR-V, which first went on sale just a year after the RAV4, and is now in its fifth generation.
It would be easy to underestimate the CR-V's significance, because in a crowded segment it's often seen as just another contender. But by the time the Mk4 arrived in 2012 it was the world's best-selling SUV, thanks largely to it leading the field in the US.
Whereas the current CR-V can seat seven people, its predecessor was strictly a five-seater. That's no bad thing, because as a result there's lots of space for all occupants and a class-leading boot, making the Mk4 one of the most practical family SUVs going.
Models covered
Honda CR-V Mk3 (2006-2012) – Family-friendly SUV is a solid choice, although running costs can be steep.
Honda CR-V Mk4 (2012-2017) – Practical and spacious, Honda's SUV is a solid choice for families.
Honda CR-V Mk4
History
The fourth-generation Honda CR-V arrived in the UK in October 2012. Buyers could pick between four trim levels (S, SE, SR and EX) and two engines: a 153bhp 2.0 i-VTEC petrol unit or a 148bhp 2.2 i-DTEC diesel.
More reviews for CR-V
Car group tests
Toyota RAV4 vs Honda CR-V
In-depth reviews
Honda CR-V review
Honda CR-V review (2012 – 2018)
Road tests
New Honda CR-V Hybrid 2019 review
New Honda CR-V 2018 review
Honda i-MMD hybrid prototype review
New Honda CR-V 2017 review
Honda CR-V Black Edition 2016 review
Both powerplants were available with an automatic transmission, and there was also a front-wheel-drive option for the 2.0 i-VTEC S and SE; all other CR-Vs came with part-time four-wheel drive. From October 2013 a fleet-friendly 119bhp 1.6 i-DTEC diesel engine was offered with S, SE and SR trims; there was no four-wheel-drive option for this engine.
A facelifted CR-V went on sale in March 2015 with a refreshed front-end design and a more powerful (158bhp) 1.6 i-DTEC engine, which replaced the 2.2-litre unit. Cars with the new powerplant were sold in four-wheel-drive and automatic forms.
Which one should I buy?
We wouldn't steer you towards or away from any particular derivatives, but if you're planning to tow with your CR-V take note of the limits in the checklist. Buy the wrong spec and you might breach the towing limit.
No CR-V is especially spartan, and even the entry-level S has a DAB radio, Bluetooth, 17-inch alloy wheels, dual-zone climate control, cruise control, powered windows front and rear, plus auto emergency braking.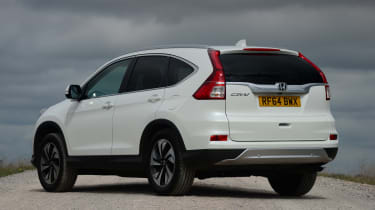 The SE adds a seven-inch touchscreen display, a rear parking camera, automatic headlights and wipers, along with front and rear parking sensors. Buy a CR-V SR and it'll come with 18-inch alloys, leather and Alcantara trim, privacy glass, active HID headlights with main-beam assist, and nav.
Range-topping EX models feature leather trim, a panoramic glass roof, keyless go, a powered tailgate and an electrically adjustable memory driver's seat.
Alternatives to the Honda CR-V
The CR-V has no shortage of rivals. Two cars that are closely matched are the Kia Sportage and Hyundai Tucson, both of which are well equipped, and tend to be reliable; the Toyota RAV4 is also extremely dependable, and should be on your shortlist. The Ford Kuga is plentiful, value for money and good to drive, while the Mazda CX-5 has a superb cabin and is dynamically impressive.
There are lots of Nissan Qashqais and Renault Kadjars to choose from; that's also true of the Volkswagen Tiguan, and its SEAT Ateca and Skoda Karoq cousins, all of which are appealing for their efficient engines and user-friendly cabins. The Peugeot 3008 has a superb interior and is very practical, too, plus there are plenty to go around.
What to look for
Towing
The 2.0i can haul 1,700kg and the 2.2d 2,000kg, but in auto form both can only pull 1,500kg. All 1.6ds are rated at 1,700kg.
Motors
CR-V diesel engines can be somewhat rough on start-up, but an engine control unit (ECU) update can fix things by increasing the revs at idle.
Headlamps
The halogen headlights aren't that great because of the design of the reflector; the xenon lights are much better, so seek these out.
Electrics
The tyre pressure monitoring system (TPMS) can behave erratically. This is usually caused by a
fault with one of the sensors.
Interior
Although some of the materials used don't feel as premium as they might, the CR-V's build quality is excellent, and everything is made to last. The layout is generally user-friendly, too, even if the infotainment isn't as slick or intuitive as systems found in German rivals, for example. All CR-Vs get height adjustment for the driver's seat, but the S and SE forego adjustment for the passenger seat.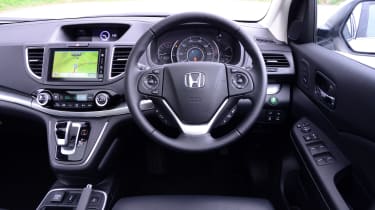 Versatility is improved thanks Honda's cinema-style rear 'Magic Seats'; there's lots of space for five adults. Boot capacity is an impressive 589 litres with the rear seats in place, with a massive 1,669 litres available if they're folded down.
Prices
Check out the latest used prices for the Honda CR-V on our sister site Buyacar.
Running costs
The service interval on all CR-Vs is set at 12 months or 12,500 miles, and now that even the newest examples are just about three years old, all Mk4 CR-Vs are eligible for cut-price servicing. Maintenance alternates between minor and major, and for petrol-engined cars the prices are pegged at £180 and £290 respectively; for diesels the equivalent costs are £200 and £310.
All engines are chain-driven, so there are no cambelts to replace. The coolant needs to be checked at each service, and any fluid replacement is covered within the cost of the check-up. The brake fluid, meanwhile, should be replaced every other year, at a cost of £70. Service plans can be taken out for up to four years, paid either in instalments or as a one-off fee.
Recalls
The CR-V Mk4 has been the subject of eight recalls, five of them because of faulty airbags. Most of the problems centred on the Takata airbag scandal that has affected hundreds of thousands of Hondas (along with other manufacturers' cars) globally, going back to 2000.
The Takata recall accounted for four of the five airbag recalls, but there was also another one, this time in October 2020, because some CR-Vs suffered from slow airbag deployment resulting from faulty inflators. As well as this there was an action in July 2015, because the AEB could activate incorrectly; a software update fixed this.
Excessive exhaust emissions prompted a seventh recall in January 2020, then in August 2020 Honda launched its eighth CR-V campaign because of faulty fuel pumps, which needed to be replaced.
Driver Power owner satisfaction
The CR-V Mk4 came 33rd out of 100 models in our 2019 Driver Power used car survey, having come 20th in 2018 and eighth in 2017. It scored very highly in the most recent poll for practicality, versatility and space. Reliability was another high spot, as was the cost of servicing. Fuel economy and dashboard layout received lower scores; owners also rated the driving experience as being below-par in most respects.
Verdict
In 2003 Honda ran an advertising campaign called The Cog. The strapline was "Isn't it nice when things just work?" While that ad promoted the Accord, it could have applied to the CR-V. In many ways this SUV isn't all that inspiring, but it's easy to drive, use and live with; for most buyers that's all that's required. The CR-V is undoubtedly a great buy, but if you take the plunge, do consider a four-wheel-drive model, because this part-time transmission is as economical in the real world as a front-wheel-drive edition, but you have the extra traction available when you need it. In poor weather or when towing, having drive sent to each corner can make driving that much easier, just like the rest of the CR-V ownership experience.
Next Steps
In this review
1Used Honda CR-V Mk4 review – currently readingA full used buyer's guide on the Honda CR-V covering the CR-V Mk4 and the CR-V Mk3 (2006-2012)
2Used Honda CR-V Mk3 reviewA full used buyer's guide to the Honda CR-V covering the CR-V Mk3 (2006-2012)
Source: Read Full Article