Used Tesla Model 3 (Mk1, 2019-date) review
A full used buyer's guide on a Tesla Model 3 covering the Mk1 model that's been on sale since 2019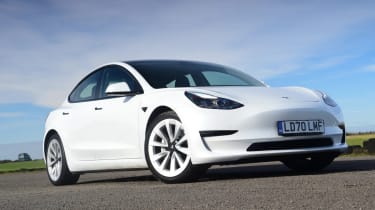 Verdict
Around the time that the Model 3 was launched, there were many who said that the company would soon be bankrupt. It had never made a profit and its cars were made in relatively limited numbers – but the Model 3 changed all of that. It would go on to become the world's biggest-selling electric car, which proves that despite a relatively high price, the Model 3 brought electric motoring to the masses, up to a point.
However, the Model 3 is a world away from previous people's cars such as the Citroen 2CV, BMC Mini and VW Beetle, with its high-tech engineering, supercar performance and relatively luxurious cabin.
But while the Model 3 is impressive in many ways, our Driver Power surveys show that build quality and reliability often leave something to be desired, although there are plenty of other areas that make up for these shortfalls. On balance you get a mightily impressive car for the money you pay – just don't think of this as a direct alternative to more established compact executive cars.
No car brand has done more than Tesla to think differently when it comes to providing sustainable transportation for the masses. When the company launched in 2003, a year before Elon Musk began to invest in it (he then took over as CEO in 2008), its mission was to focus on building nothing other than electric cars, with all of its products designed from the outset to be battery-powered.
More reviews
Car group tests
BMW i4 vs Polestar 2 vs Tesla Model 3: 2022 group test review
Ford Mustang Mach-E vs Tesla Model 3
Polestar 2 vs Tesla Model 3
Tesla Model 3 vs BMW 3 Series: electric vs diesel showdown
In-depth reviews
Road tests
New Tesla Model 3 Long Range 2021 review
New Tesla Model 3 Standard Range Plus 2020 review
New Tesla Model 3 Dual Motor Performance review
Nobody can deny that it's been a rocky road for Tesla to achieve what it has, but the result is one of the world's most valuable companies, and that's in part down to the fact that its Model 3 was the first electric car in the world to sell more than one million units, which was achieved in summer 2021.
Used Tesla Model S review
The Model 3 is also a best seller in the UK, but Tesla doesn't exactly have a squeaky-clean reputation when it comes to build quality and reliability, so should you take the plunge and buy a used Tesla Model 3?
History
Although the Model 3 was unveiled in summer 2017, and that's when the first cars were delivered in Tesla's North American home market, UK buyers had to wait until spring 2019.
Those buyers could choose between Standard Range Plus (which would later become simply the 'Model 3'), Long Range and Performance editions, with that being the model range pecking order. All Model 3s came as a four-door saloon with five seats; the difference between them was down to the battery pack and the standard equipment levels, as described in the Which one? section.
Since the Model 3 arrived there has been very little development of the car, in typical Tesla fashion; the company prefers to do occasional model-year updates rather than wholesale changes.
At the end of 2020, changes included a heat pump to help improve the range and cold-weather performance, a powered bootlid, fresh wheel designs, a new centre console, dimming side mirrors, the deletion of some chrome, and a few minor performance tweaks.
For the Model 3 Performance there was also a new 82kWh battery to replace the previous 75kWh item. Towards the end of 2021, heated rear seats and steering wheel were added to the standard equipment of the Standard Range Plus.
Which one should I buy?
The obvious model to go for is the Long Range, because it offers the longest range, as you might expect. However, unless you do a lot of long-distance journeys you'll probably find that the Standard Range Plus is all you need; this also has ample performance on tap. It also has the lowest standard equipment levels of the three Model 3 derivatives, not that it's sparsely equipped with its heated front seats, LED headlights, panoramic glass roof, plus electrically assisted front and rear doors. Also included are a reversing camera, 15-inch touch-screen display, navigation, DAB radio, front and rear parking sensors and 18-inch alloy wheels.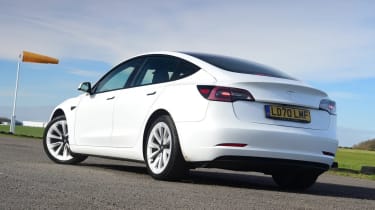 As if all of this isn't enough, Tesla also included an eight-speaker audio system, dual-zone climate control, electric adjustment for the steering wheel and a 12-way electrically adjustable driver's seat.
Buy further up the range and you don't actually get much more standard equipment. The Long Range and Performance are just about identical in terms of the extra kit that they come with.
Both feature a heated steering wheel and a 14-speaker hi-fi. The Performance model also comes with 20-inch wheels along with upgraded brakes, but one of the key ways in which the Long Range and Performance differ is the fitment of a 250kW charging system; the Standard Range Plus features a 170kW system. It also comes with just one electric motor to drive the rear wheels, whereas the two posher alternatives feature a motor front and rear, to give four-wheel drive.
Alternatives to the Tesla Model 3
Considering it's already a decade since the Tesla Model S was launched, and the original Nissan Leaf arrived two years before that, it seems incredible that the Model 3 has only a couple of true rivals, and those are the Polestar 2 along with the BMW i4.
Like Tesla, Polestar is a new brand that builds only electric cars, and this Volvo offshoot has produced a well-made five-door family hatch in its 2, which looks smart and it's very quick, but the cabin is a touch cramped.
The i4 is more costly than the Model 3 because its youth means there aren't many to choose from, but it's an impressive saloon all the same.
There are several conventionally powered premium compact executive saloons to choose from, including the Audi A4, BMW 3 Series, Mercedes C-Class and Volkswagen Passat, but none of these comes as an electric car; the best you can do is a plug-in hybrid of any of these apart from the Audi A4. However, there's a choice of bodystyles, lots on the market to choose from, they're all well made and they're also good to drive.
If you're flexible with the body type, there are a few electric SUVs that you can choose between, including the Volkswagen ID.4, the Kia EV6, the Mercedes EQA and the Jaguar i-Pace, all of which are worth a closer look.
What to look for
Range
The available range needs to be taken with a pinch of salt, because it can vary significantly, according to the ambient temperature, speed driven and what equipment you use, such as the cabin heating.
Charging
Another thing to bear in mind is that it's not recommended that you charge the battery to 100 per cent, to improve its lifespan. You also shouldn't deplete it altogether, so in the real world, realistically you can use only 80 per cent or so of the battery's capacity.
Towing
You can tow with a Model 3, as long as you don't opt for the range-topping Performance edition. That wasn't homologated to tow, but the Standard Range Plus and Long Range models were.
Updates
You don't have to visit a Tesla dealer to update a Model 3's software because it can all be done over the air. Tesla explains all at www.tesla.com/en_GB/support/software-updates.
Panel gaps
Panel alignment can be awry, especially when you consider that the Model 3 is being sold as a premium car. Poor-quality paint is also far from unusual, with damage easily caused by jet washing.
Rear window
Check that the rear screen is undamaged because it can crack through the body flexing. Also check inside the car for evidence of water leaks. Sometimes the door seals don't do their job, allowing rainwater into the cabin.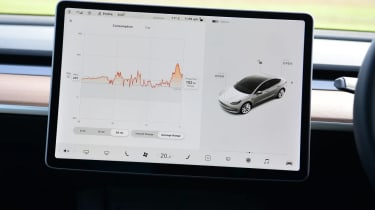 Interior
There's minimalist and then there's the Model 3's cabin. Virtually everything is controlled via the huge landscape-format touch-screen display that dominates the dashboard; the only switches otherwise, are to control the electric windows and audio. The display works brilliantly with no discernible lag, but it takes a bit of getting used to after a conventional dashboard.
Practicality and packaging are very impressive, thanks to the running gear taking up much less space than in a conventional car. The result is lots of head- and legroom for those in the back, while there are two boots rather than just one. While the one sits behind the cabin, the other is in the nose, and between them there's a 425-litre capacity, which is okay rather than spectacular. A 60:40 split folding rear seats helps to boost usability however.
Running costs
One of the promises made with the move to electric cars, would be lower maintenance costs. In many cases this has failed to materialise, but where the Tesla is concerned you should be quids in, as our owner case study proves.
With no engine or conventional transmission to maintain, the Tesla's running costs are commendably low, although a certain level of servicing is still required. The brake fluid should be checked every two years, but it doesn't necessarily need to be replaced at that point. If fresh fluid is needed, you'll pay £180 for an official Tesla dealer to do the work.
It's also recommended that the cabin filters are replaced every two years, but those are just £15 each. Tesla also recommends that the desiccant bag for the air-con is replaced every six years at a cost of £280, but with no cambelt to replace, no spark plugs, oil or ignition system to attend to, plus brake pads and discs that seem to last forever, servicing costs for the Model 3 are undoubtedly extremely low.
Recalls
Tesla has recalled the Model 3 eight times so far, the first in May 2020 because five cars made in January and February 2020 left the factory with a missing steering column bolt.
Poorly secured brake calliper retaining bolts were the reason behind the next campaign, issued in May 2021, affecting 565 Model 3s made between December 2018 and February 2020. Also issued in May 2021 was a recall for 599 Model 3s manufactured between January 2019 and April 2021, this time because of poorly secured seatbelts.
There were two Model 3 recalls issued in December 2021. The first was because 127 cars made between January 2019 and April 2021 left the factory with faulty suspension; the second was down to an airbag glitch. However, just one car was affected, and this was built in September 2020.
Another three recalls have been issued in 2022 so far. The first came in February and it affected 26,618 Model 3s built up to September 2020, because they left the factory with parking camera wiring looms that could chafe and then short circuit.
The two most recent recalls were issued in April 2022, the first one because 9,471 cars made between January 2018 and November 2021 featured faulty software, so the eCall system didn't work; a software update was all that was required. The other campaign was launched because of speedometer glitches on 10,927 Model 3s made between February 2018 and April 2022. Once again, just a software update was all that was needed.
Driver Power owner satisfaction
Having made its Driver Power new car survey debut in 2021 in 18th place, the Tesla Model 3 performed even more impressively in the 2022 poll, in which it came ninth.
That high score was in part down to a number of first places, including for acceleration, the smoothness of the transmission, the usability of the motor, driving pleasure and the servicing costs; for running costs overall, the Model 3 was placed second.
What owners are less impressed by are the value as well as the reliability, and worryingly, the Tesla was placed last of the 75 entries for the quality of the exterior finish; it didn't fare much better for the quality of the cabin materials.
Next Steps
Source: Read Full Article