Used Toyota RAV4 review
A full used buyer's guide on the Toyota RAV4 featuring the RAV4 Mk3 (2006-2012) and the RAV4 Mk4 (2013-2018)

1Used Toyota RAV4 review (2013-2018) – currently reading
2Used Toyota RAV4 review (2006-2012)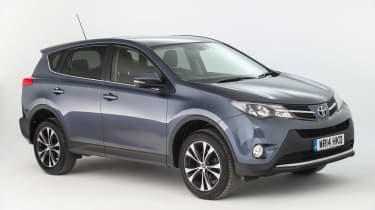 When Toyota introduced the RAV4 (Recreational Active Vehicle four-wheel drive) in 1994, it effectively invented the compact SUV. And the brand probably didn't realise just what a phenomenon it would become.
More than two decades later, most car makers have a small SUV in their model range; some have several. Meanwhile, Toyota is now on the fifth iteration of its RAV4, and the car is more luxurious and spacious than ever. So far it's also proving to be very reliable, as you'd expect from a manufacturer famed for its dependability.
The RAV4 isn't a class leader when new, but it's still a strong choice in many ways with a hugely generous 10-year/100,000-mile warranty. Toyota introduced this new warranty in 2021, but it's applicable for any UK-registered Toyota with full dealer service history that meets the age and mileage requirements. Even cars with servicing history at independent garages can get a year's warranty by having a main dealer service.
After a used Toyota RAV4 SUV? Here, we show you how to find a sound used one produced between 2006-2018.
Models covered 
The Toyota RAV4 first went on sale in 1994 and is now in its fifth generation. We're focusing on the Mk3, which was in production between 2006 and 2012, and the Mk4 model on sale between 2013 and 2018 in this review – including the 2015 facelift. Check out the latest model in our RAV4 review.
More reviews
Car group tests
Ford Kuga vs Toyota RAV4 vs Skoda Karoq
Toyota RAV4 vs Honda CR-V
In-depth reviews
Toyota RAV4 review
Toyota RAV4 (2013-2018) review
Road tests
New Toyota RAV4 plug-in hybrid 2021 review
New Toyota RAV4 2019 UK review
Toyota RAV4 Hybrid 2WD 2016 review
Toyota RAV4 diesel 2016 review
• Toyota RAV4 Mk3 (2006-2012) – Long-established SUV still makes a fine second-hand buy 
• Toyota RAV4 Mk4 (2013-2018) – Fourth-generation version of the original compact SUV scores on reliability and quality
Toyota RAV4 Mk4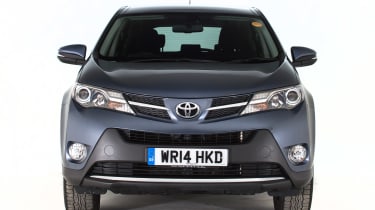 History
The fourth-generation RAV4 reached UK showrooms in March 2013. At launch, there was a choice of a 2.0 petrol along with 2.0 or 2.2-litre D-4D diesels. Buyers could pick between Active, Icon and Invincible trims, but from January 2015, there was a Business Edition, too, based on the Active.
Initially, the 2.0 D-4D came in front-wheel drive only; from January 2014 there was a four-wheel-drive option. At the same time, the Icon and Invincible got extra kit and more optional driver assistance systems.
A facelift in December 2015 brought a new 2.0-litre diesel engine, an exterior redesign and an overhauled cabin, while Excel trim replaced Invincible. A month later, the RAV4 Hybrid arrived, combining a 2.5-litre petrol engine with an electric motor. As of September 2017, that model made up 65% of sales, so the engine was made available across the entire range.
Prices
Three-year-old cars on BuyaCar cost between £20,000 and £26,000 depending on specification, while a four-year-old RAV4 with around 50,000 miles is closer to £15,000.
• Visit our sister site BuyaCar for the latest used Toyota RAV4 prices and deals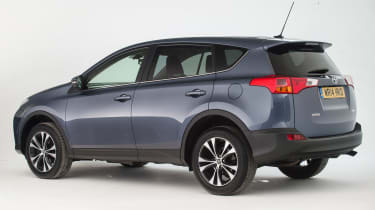 Toyota RAV4 Mk4 reviews
Toyota RAV4 in-depth review
Toyota RAV4 2.0 D-4D review
Toyota RAV4 2.2 D-4D review
Toyota RAV4 Hybrid 4WD review
Toyota RAV4 Hybrid 2WD review
Which one should I buy?
All petrol-engined models are four-wheel-drive automatics, while the 2.2-litre diesel RAV4s have four-wheel drive, but there's a choice of manual or auto gearboxes. All Hybrids are autos and the 2.0 diesel gets a manual gearbox, but both of these come with a choice of front or four-wheel drive.
Toyota doesn't skimp on standard equipment; even the entry-level Active features 17-inch alloy wheels, Bluetooth, air-con, privacy glass and heated mirrors.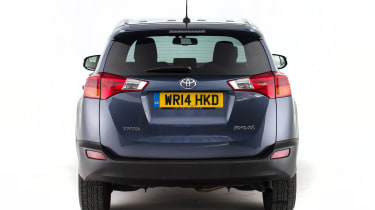 The Icon also has a powered tailgate, 18-inch wheels, touchscreen multimedia, folding door mirrors, cruise control, sports seats and automatic wipers. Invincible spec adds leather trim, heated front seats, rear parking sensors and keyless go.
Alternatives to the Toyota RAV4 Mk4
While the Audi Q3 and Volkswagen Tiguan are at the more expensive end of the spectrum and very capable, well built and come with excellent engines, they're also rather clinical. In terms of driving enjoyment, build quality, standard equipment and smart styling, you'll have to go a long way to beat the Mazda CX-5. This car has an excellent reliability record, too.
The Ford Kuga is also dynamically accomplished and decent value, plus there are lots to choose from, many of which are top-spec examples. Nissan's Qashqai is another cracker that's good to drive, plentiful and well equipped. 
What to look for: 
Interior
The cabin is a winner in terms of practicality, as the seats are comfortable and there's plenty of space front and rear. But the dash design wasn't in keeping with the Toyota's asking price; it looks a bit outdated, while some of the plastics feel disappointingly flimsy – although that may be less of an issue when buying used. Boot space is good, though, at 547 litres – or 501 litres for hybrid models.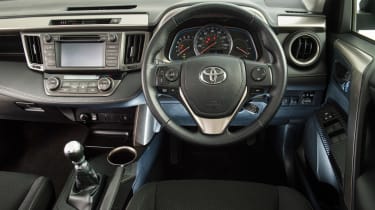 Tyre pressure
Problems with the tyre pressure monitoring display are usually because the system hasn't been set up properly after new tyres have been fitted. 
Lights
Some light condensation can form inside the headlamp glass, but it should disappear very soon after the headlights have been switched on. 
Rattles
Some owners have reported rattles and vibrations that appear to be a failed dual-mass flywheel – it's usually just the exhaust or the manifold cover. 
Spare wheel
A tyre-repair kit was only offered at launch, but Toyota changed this to a space saver following customer feedback, so make sure you check any purchase.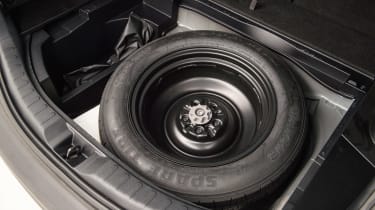 Running costs
All RAV4s have to be serviced every 12 months or 10,000 miles for private owners; fleet users can stretch the latter to 12,500 miles. The first check-up costs £180 and after that, the services alternate between minor and major, priced at a hefty £330 and £390 respectively.
However, when these cars reach five years old, they're entitled to cut-price maintenance, with service costs dropping to £100 and £180 respectively. The brake fluid needs to be replaced every two years, while coolant has to be changed after 100,000 miles then every 50,000 miles; these are both included in the relevant major service. Luckily there are no cambelts to worry about.
Recalls
Toyota has an unrivalled reputation for making reliable cars, and the Mk4 RAV4 has proven this, as it's yet to be recalled. Since this version of the compact SUV arrived in spring 2013, several Toyotas have been called back, but most are cars built up to a decade earlier. Across all four generations of RAV4, nine recalls have been issued in all. In 2017 Toyota (and some other manufacturers) had to recall many models due to their Takata airbags.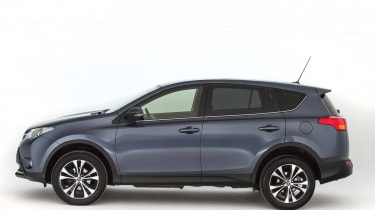 Potential glitches included tyre damage and airbag faults, plus the accelerator pedal issue that hit Toyota's range in 2010. But the car's record is unblemished.
Driver Power owner satisfaction
The latest RAV4 enjoyed a strong debut in our Driver Power satisfaction survey, ranking 29th in 2015. Several years later, it fell to 39th. Apart from a rating of 114th for running costs, the Toyota finished in the top half across the board, including 20th for reliability, 25th for practicality and 30th for build quality. Toyota as a brand, meanwhile, scored an impressive sixth-place result in our 2020 list.
Verdict
Over the years, the RAV4 shifted further upmarket as the focus moved more towards luxury and away from off-road ability for those on a budget. Although that has helped Toyota's profits, it's also pitched the car squarely against a raft of very talented compact SUVs, each of which is also much more capable on the road.
However, if you do need to tackle rough terrain, the Toyota is surprisingly adept off the beaten track. Plus, every RAV4 of this generation with less than 100,000 miles can be covered under warranty, so there's peace of mind on the off chance that something goes wrong.
Click through to page two for our full buyer's guide on the Toyota RAV4 Mk3 sold from 2006 to 2012… 
Next Steps
In this review
1Used Toyota RAV4 review (2013-2018) – currently readingA full used buyer's guide on the Toyota RAV4 featuring the RAV4 Mk3 (2006-2012) and the RAV4 Mk4 (2013-2018)
2Used Toyota RAV4 review (2006-2012)A full used buyer's guide on the Toyota RAV4 featuring the RAV4 Mk3 (2006-2012) and the RAV4 Mk4 (2013-2018)
Source: Read Full Article