Volvo to go all-electric by 2030 with new small EV planned
Volvo will sell only electric cars by 2030 and push more sales online, away from conventional dealers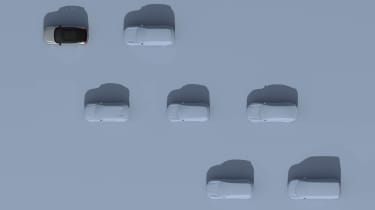 Volvo has announced that it will offer only electric cars by 2030 – and that it will push its sales of EVs into online transactions instead of conventional dealerships.
The Swedish brand hit the headlines back in 2017 when it became the first major manufacturer to say it had a plan to no longer sell cars powered by combustion engines. That announcement was made in 2019, and Volvo is now focusing on achieving half of its sales volumes with pure-electric models by 2025.
But in a statement released this morning, Volvo says it now expects to phase out any models containing a combustion engine at all – plug-in hybrids, in effect – by the end of this decade. Volvo says the decision "builds on the expectation that legislation as well as a rapid expansion of accessible high-quality charging infrastructure will accelerate consumer acceptance of fully electric cars".
Best electric SUVs to buy now
Volvo's plan follows a number of significant brands committing to an all-electric future within the next 10 years. Ford announced last month that it all of its sales in Europe will be electric only by 2030, while the Jaguar nameplate will switch to EVs even earlier, by 2025.
"To remain successful, we need profitable growth," Volvo CEO Hakan Samuelsson said. "So instead of investing in a shrinking business, we choose to invest in the future – electric and online. We are fully focused on becoming a leader in the fast-growing premium electric segment."
Volvo 'XC20' on the way
Volvo will reveal its second pure-electric car, a new 40-series model, later today. Samuelsson confirmed to Auto Express last year that it is also working on a smaller EV, potentially to be badged XC20 and based on the new SEA platform developed by Volvo's owner Geely. A top-down teaser image, released by the company and labelled "mid-decade electric portfolio" includes a car that's similar in size to the current XC40, but also a slightly smaller model. It's the first official glimpse of the baby EV.
The push to all-electric cars will take place solely online, Volvo has also announced – as these zero-emissions models available only through digital sales, alongside the firm's existing Care by Volvo subscription offering. Volvo's head of global commercial operations, Lex Kerssemakers, said, "We want to offer our customers peace of mind and a care-free way of having a Volvo, by taking away complexity while getting and driving the car. Simplification and convenience are key to everything we do."
Volvo says that it will involve its dealers in the push towards online, saying they will "remain a crucial part of the customer experience and continue to be responsible for a variety of important services, such as preparing, delivering and servicing cars".
Now read our review of the all-electric Volvo XC40 Recharge…
Source: Read Full Article