What Is That Round Thing On the 2021 Hyundai Elantra's Dashboard?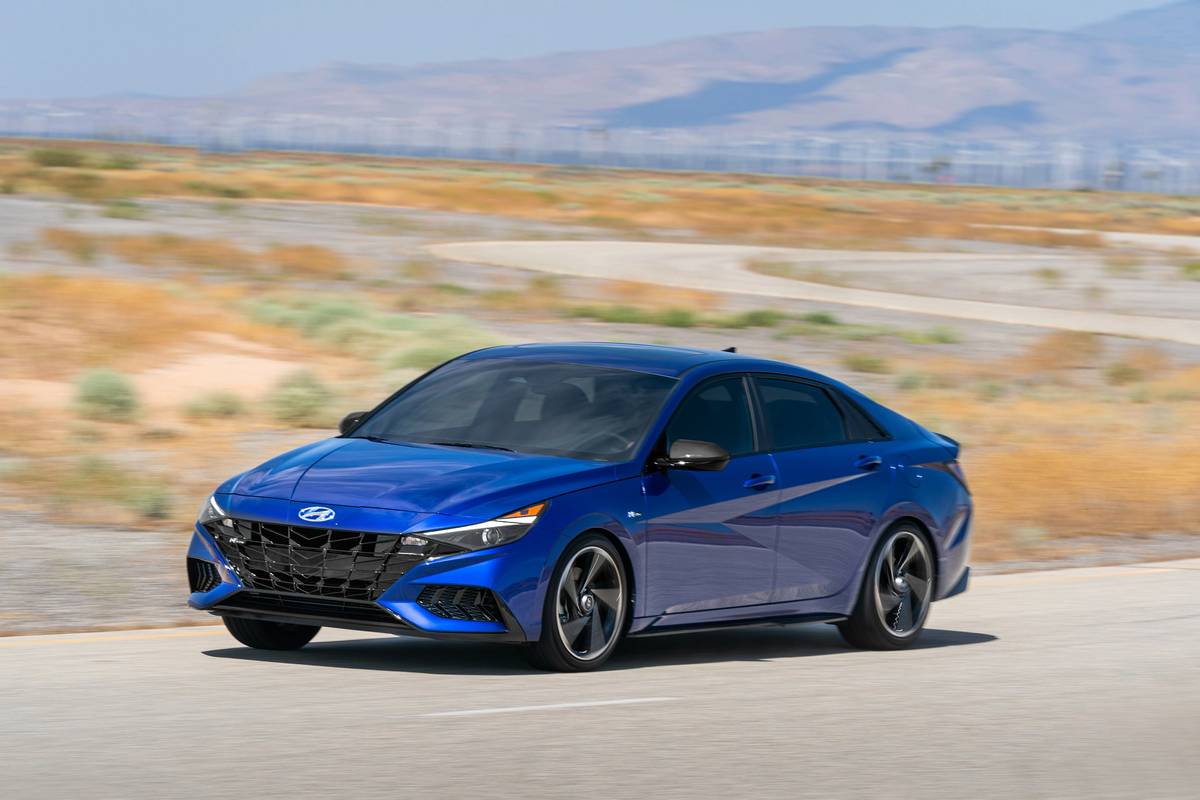 It's important to Hyundai to keep its Elantra sedan fresh, so the automaker put a lot of money and attention into the mainstream model, which is a little surprising in a market so focused on SUVs. A new Elantra has been launched for the 2021 model year and, overall, we're fans of it. The new Elantra drives beautifully, looks good, has all the latest and greatest technology, and has a roomy interior that — hang on, what the heck is that?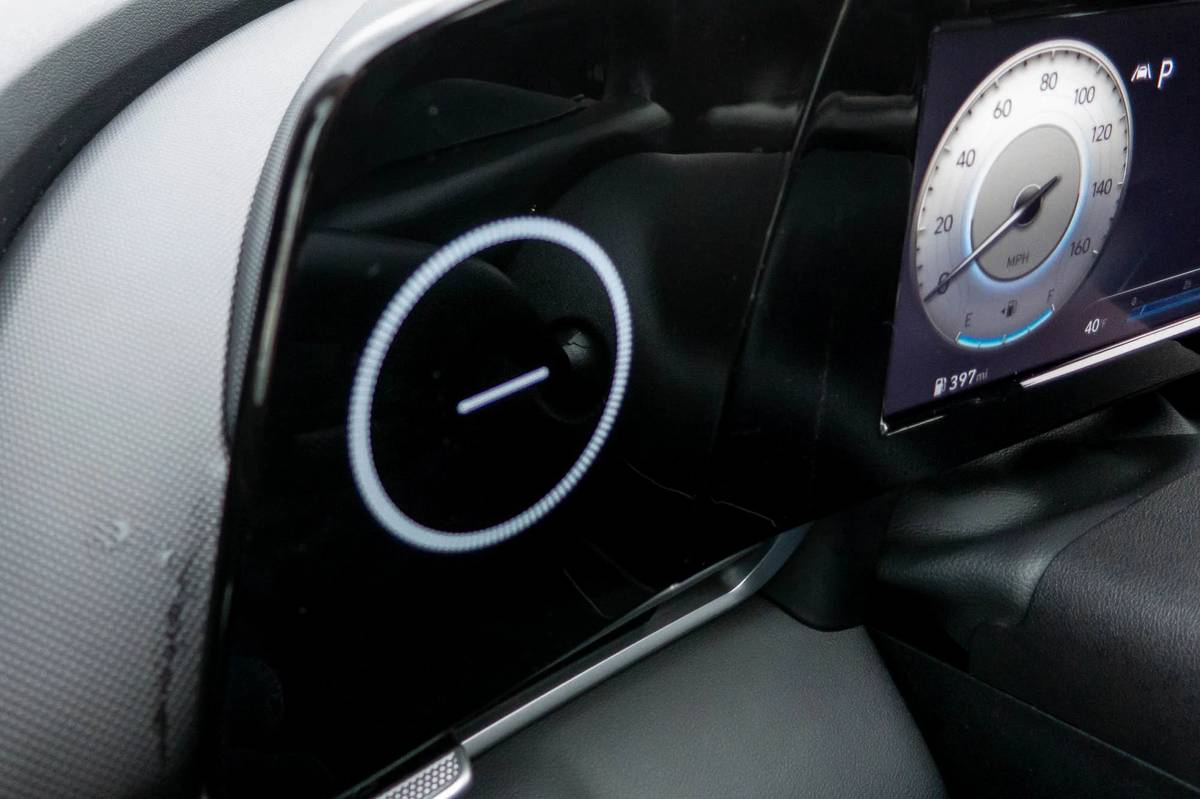 Yes, that. The round thing on the dash panel, to the left of the gauges. Installed on uplevel Elantra models (a faux-vent cutout otherwise occupies the space), it sort of looks like a clock, but it's not. It's apparently just an illuminated, decorative surface. It doesn't do anything: It isn't touch-sensitive and it's not even an LCD — it's just a strange plastic panel with a pattern on it. 
Related: How the 2021 Hyundai Elantra Stands Out Vs. Honda Civic, Toyota Corolla
We asked Hyundai what it was, and the official answer was this: "The circular design in the Elantra on the dash, to the left of the steering wheel, is purely decorative to balance the look of the wide screens, at this time." 
Which is pretty much what we expected Hyundai to say. We figured that this is probably a placeholder panel that's eventually going to be something else — kind of like the nonfunctional, fake buttons you might find in a bank of switches in a car, representing features you didn't spend enough money to actually get in the example you bought. The key phrase in Hyundai's answer is, however, "at this time." So we polled the staff here at Cars.com to see what they wished that big fake button did, and what they eventually think it will do down the road. Here's what our editors said.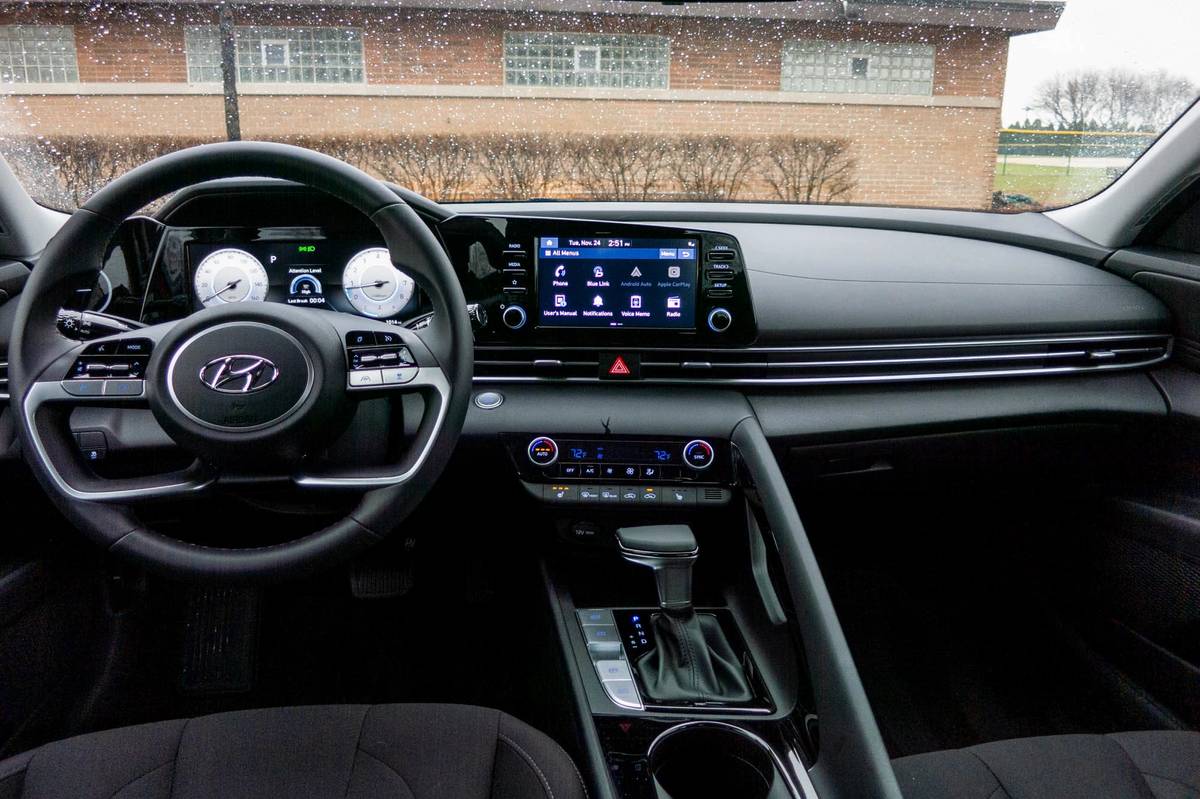 Joe Wiesenfelder, Executive Editor: 
What do you wish it did? "I wish it were a big button you could press that would summon a team of Hyundai workers who would manifest in your driveway and set to work swapping the hard, low-cost cabin materials for higher-quality ones, because this was my only gripe about the Elantra redesign. Hell, they could even leave behind this dumb minus sign as a reminder of the negative that had been addressed."
What do you think it will be? "I think it will be a display. The mystery of the symbol has people imagining that it must be something pretty mind-blowing, but the odds are that Hyundai just ran out of time or money (see my No. 1 gripe), and expectations are way too high. If I've learned anything in decades covering autos, it's that the companies are like any others. Sometimes departments don't communicate well or deadlines get missed, and the product ends up omitting a feature. Usually it's just not as obvious as when Team A makes a space for the feature and then Team B doesn't deliver it or Team C says we can't afford it, prompting Team D to decide a conundrum of a symbol in the feature's place is preferable to a blank space. (That was all conjecture, but it sorta rings true, doesn't it?)"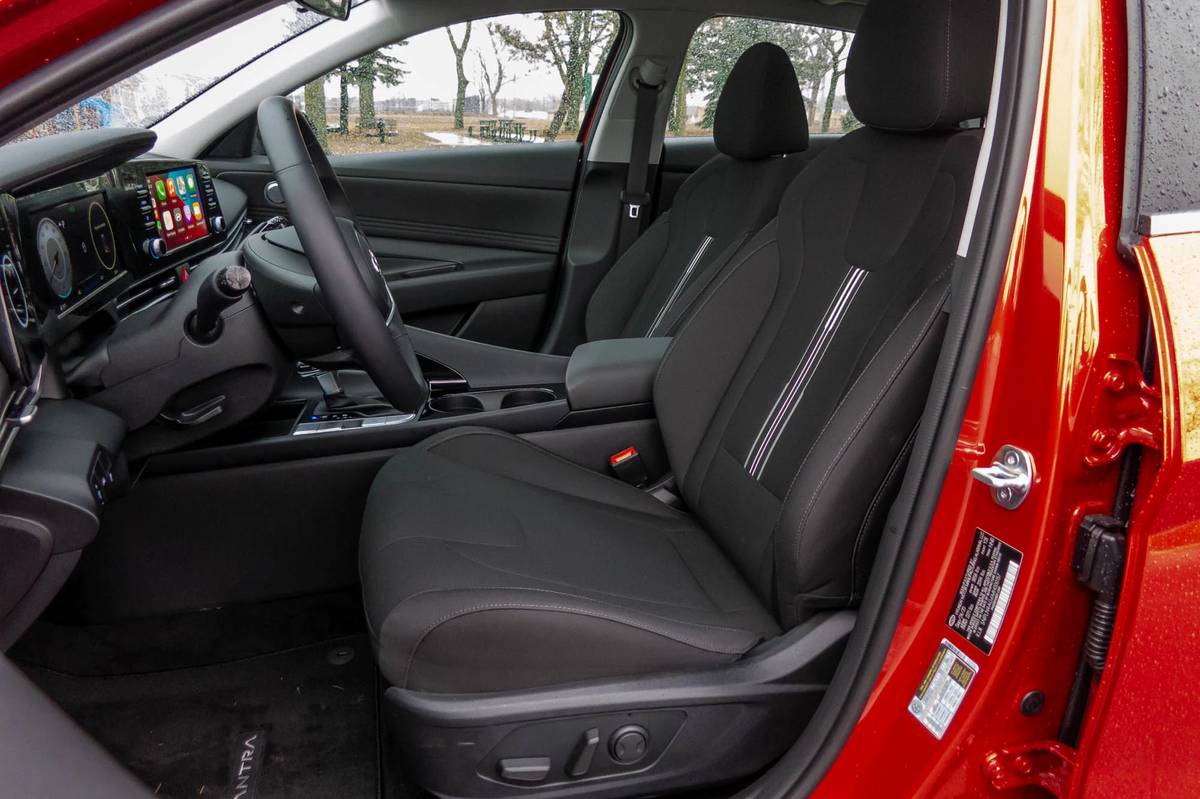 Joe Bruzek, Managing Editor:
What do you wish it did? "I wish it did something. Anything, really. Even if it made a clown-nose honking sound when pressed, it would be more rewarding than pressing it, dragging a finger around it, tapping it and then realizing it does absolutely nothing."
What do you think it will be? "Perhaps a performance timer or gauge for an N version. That may seem out of place for a Hyundai compact sedan, but if Hyundai goes all out for a proper N version of the Elantra like it did for the Veloster N, then it wouldn't be out of place one bit."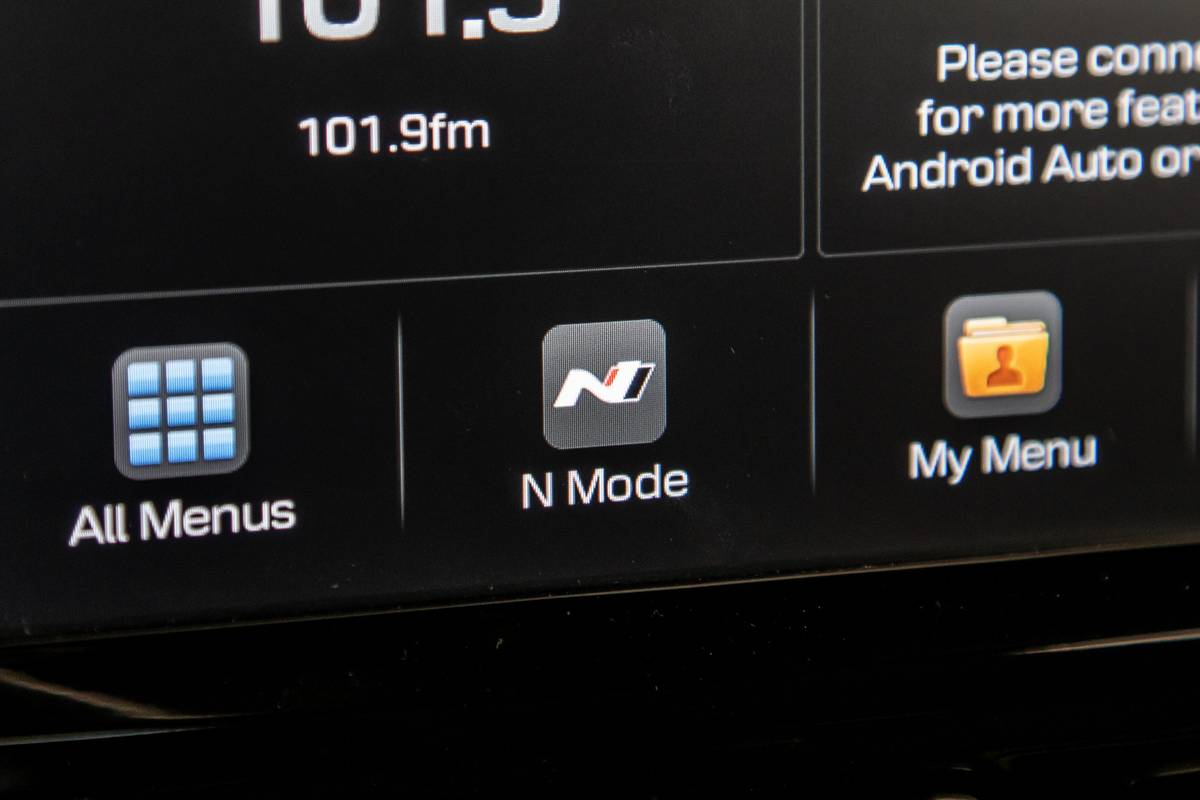 Kelsey Mays, Assistant Managing Editor:
What do you wish it did? "I wish the space showed the view from a new pair of blind spot cameras, something Hyundai-Kia's been putting into a few vehicles these days. (Granted, that would mean the Elantra would need to get those cameras.) It would be a natural space for the left-camera view, though the right-camera view would probably need to go somewhere on the instruments or center touchscreen for a more intuitive location."

What do you think it will be? "A secondary touchscreen for tertiary submenus. Naturally, those menus are probably now in the main touchscreen or gauge display, with no deficit to usability. But that never stopped any automaker from adding an extra feature that's more style than substance."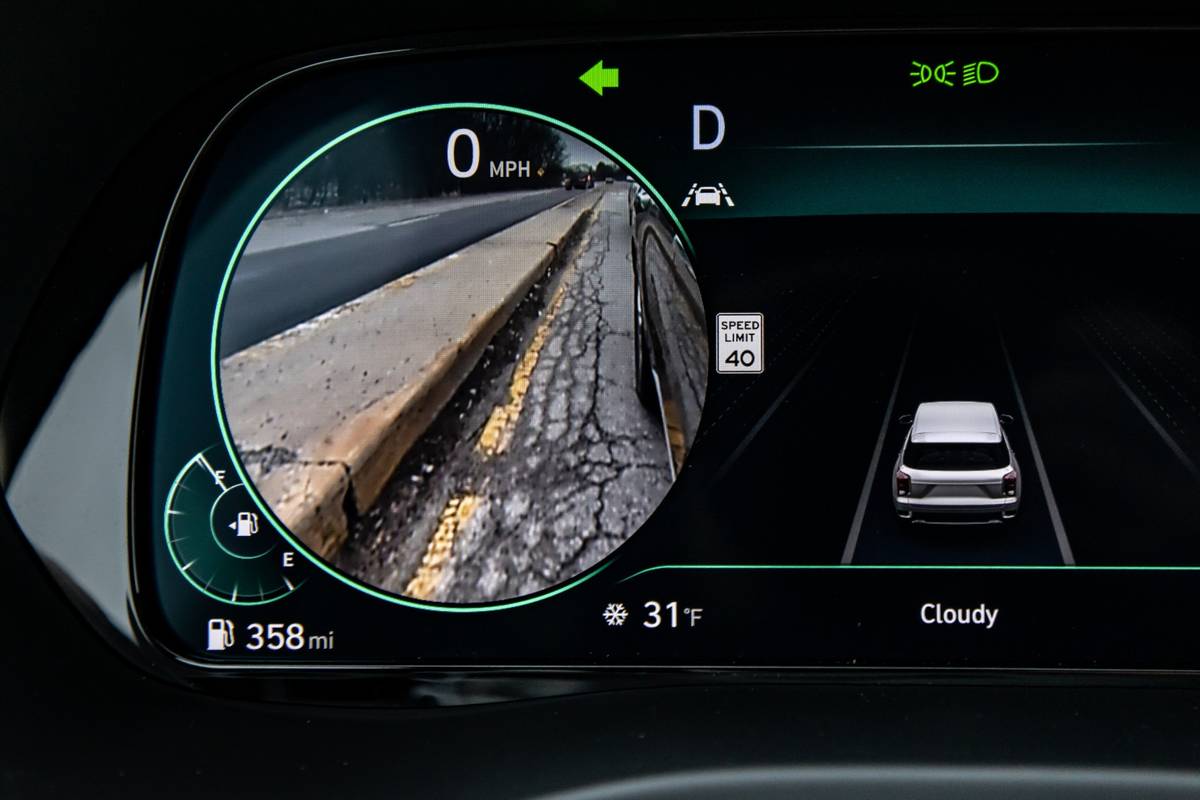 Aaron Bragman, Detroit Bureau Chief: 
What do you wish it was? "I wish it was a turbo boost button, a la TV's 'Knight Rider,' and that pressing that spot engaged some sort of invisible rocket that let you jump over anything in your path. Why should 1980s Pontiac Trans Ams have all the fun? It's the 21st century, your average garden-variety Hyundai should have this technology by now!"
What do you think it will be? "I'm betting it's going to be a touch-panel display like the one seen in the latest 2021 Cadillac Escalade. The dash on the '21 Escalade is stunning, and it features three different screens, the leftmost side of which is a reconfigurable display for all sorts of features. Combine that with the upcoming high-performance N version of the Elantra that we're expecting (which, if it's anything like the Hyundai i30 Fastback N I drove a year ago in Belgium, will be a knockout), and I'd bet that's Hyundai's true plan for that dead plastic eye." 
More From Cars.com:
2021 Hyundai Elantra Brings High Tech, High Style, Hybrid
2021 Hyundai Elantra N Line Sedan Teased: Here Are 3 Safe Assumptions
2020 Hyundai Sonata Hybrid Review: Ordinary in the Best Way
2021 Hyundai Santa Fe Adds Class, Sass to Family SUV
The 2020 Hyundai i30 Fastback N Is the Hyundai You Want But Can't Have
Related Video:
Cars.com's Editorial department is your source for automotive news and reviews. In line with Cars.com's long-standing ethics policy, editors and reviewers don't accept gifts or free trips from automakers. The Editorial department is independent of Cars.com's advertising, sales and sponsored content departments.
Source: Read Full Article