1966 Rambler American Convertible Out-Horses Mustang, Valiant, Corvair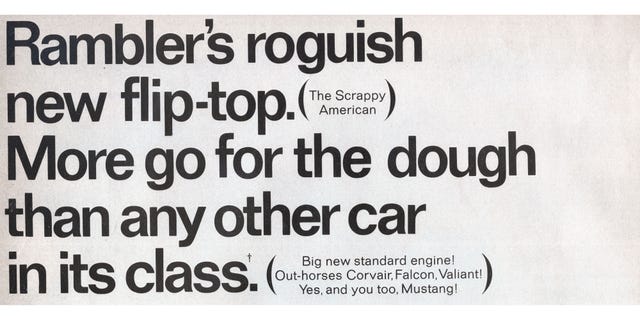 In 1966, Detroit offered some great deals on sporty compact convertibles… but Kenosha managed to undercut the Michigan Big Three on price while offering more power in the base six-cylinder engine. Here's a full-page magazine advertisement for the 1966 Rambler American 440 convertible, calling out GM, Ford, and Chrysler over their high sticker prices.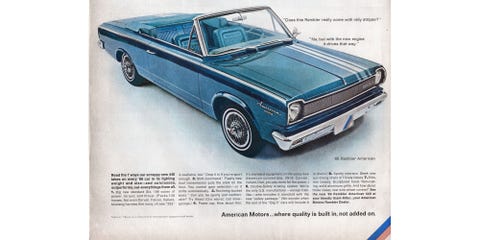 The base price on the 1966 Rambler American 440 convertible was $2,486, or about $20,560 in 2021 dollars. For that price, your new American came with a 199-cubic-inch (3.3-liter) straight-six engine rated at 128 optimistic gross horsepower. Meanwhile, a new Ford Mustang convertible cost $2,653 and had a 200-cubic-inch six making 120 horses. The $2,493 Chevrolet Corvair Monza convertible had a 164-cube boxer six in back and had 95 hp. Once you got into optional engines, the Rambler still looked like a great deal: An extra $65 got you a 327-cubic-inch V8 with 270 horsepower, while the Mustang's optional 271-horse 289 cost a whopping $435. The Corvair's hairiest engine that year was a $161 turbocharged plant with 164 hp.



Source: Read Full Article