Enjoy the Weather with These Collectible Convertibles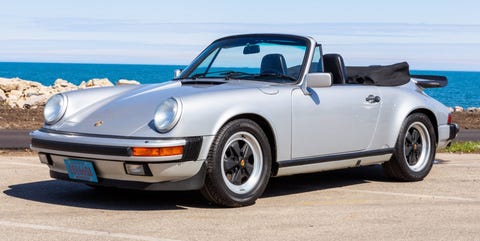 We've made a list of vintage convertibles before, but we figured new year, new you! As summer quickly approaches, we swung by our friends at Bring a Trailer to see what kind of open-air fun was up for grabs. As you'd expect, there are plenty of convertibles for sale, so we picked a few of our favorites. Without any further ado, let's check out these cars.
Bring a Trailer is also owned by Autoweek's parent company, Hearst Autos.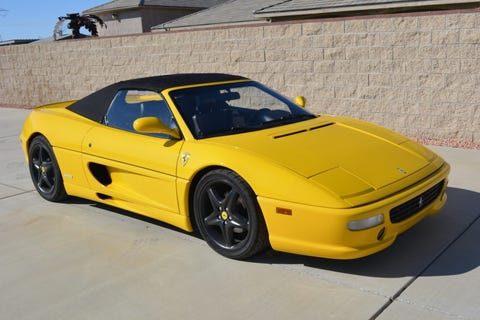 Made famous by the seminal scene from the 2001 classic The Fast and the Furious, the Ferrari F355 Spider is bound to be a future collector's favorite as people start looking at it through even stronger nostalgic lenses. Obviously not the particular car from the film, this 1995 example is the same model year. More importantly, it sports a 3.5-liter V8 that's mated to a six-speed manual transaxle. The listing says that this Ferrari has traveled 50,000 miles, which means it has been well loved. The listing also notes that the cam belts, a tensioner pulley, and accessory drive belts were replaced in 2017.
1995 Ferrari F355 Spider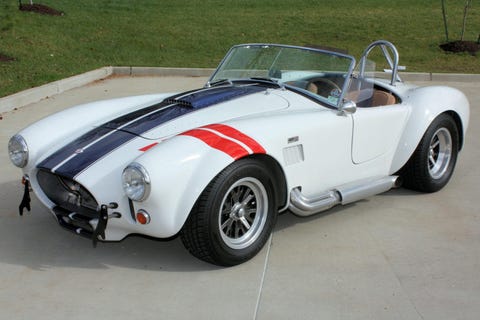 The Shelby Cobra is one of the coolest—and most desirable—collector cars in the world. Because of that, not many people can own them, and even fewer people can afford them. Thus, replica cars, like this Hurricane Motorsports example, fill the void. This fiberglass-bodied Cobra replica sports a stroked and fuel-injected Ford FE under the hood. It also features a Mustang II-style front suspension, so it could handle better than an original Cobra. It will also be much more affordable.
Hurricane Motorsports Cobra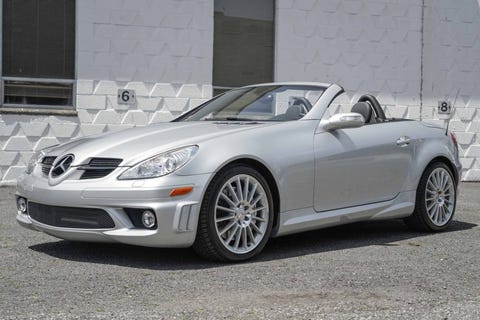 Budget-friendly and Mercedes-AMG don't generally go together. However, if you're shopping used, you might be able to find some deals. This SLK55 features a 5.4-liter V8 under the hood and only 9,000 miles on the clock. This open-air cruiser could be a really affordable way to get behind the wheel of an AMG 'vert.
2005 Mercedes-Benz AMG SLK55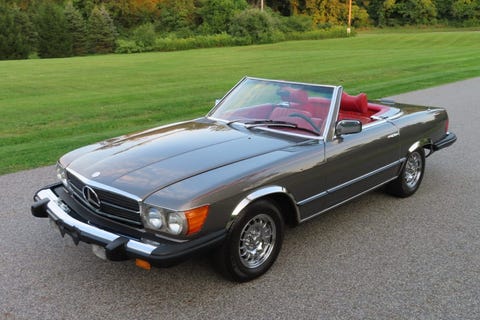 If you're looking for something older but still sporting a Benz badge, this could be a better path. This 1979 Mercedes-Benz 450SL features a 4.5-liter V8 under its hood, which is mated to a three-speed automatic transmission. Despite its folding top, the listing reports that this Benz also has air conditioning, which means you can stay cool with the top up, too. The listing also notes that this SL has seen 84,000 miles.
1979 Mercedes-Benz 450SL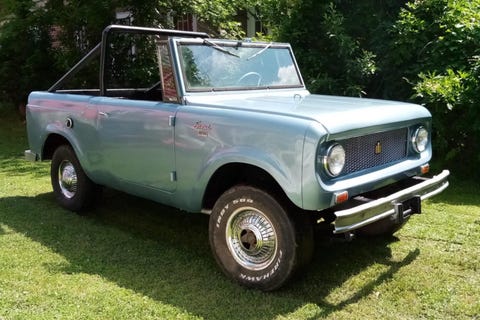 Not all of these open-air cruisers are cars. This 1965 International Harvester Scout 80 has all of the attitude of 1960s Ford Broncos without the premium price tag. Packing a 152-CID inline-four under the hood, this might not be as potent as the Ford Bronco, but it does offer just as much open air fun. The listing also notes that this Scout comes with a removable hard top, in case you wanted to cruise around protected from the elements.
1965 International Harvester Scout 80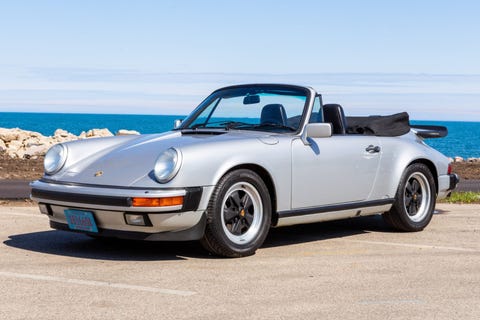 You can't have a list of collectable convertibles and snub the Porsche 911. This 1987 example features a 3.2-liter flat-six under its engine cover that feeds power to G50 five-speed manual transmission. The listing notes that this Porsche just saw a 60,000-mile service, which reflects its 59,000 odometer reading. This Porsche might need some TLC down the line, but right now it looks like a nice driving example.
1987 Porsche 911 Carrera Cabriolet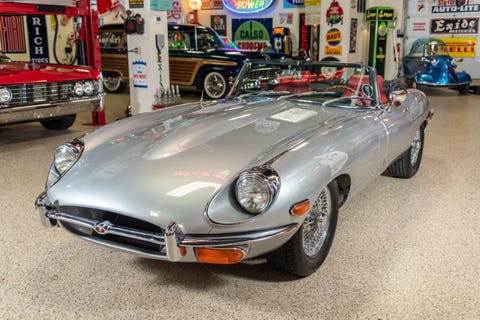 When it comes to British convertibles and roadsters, Jaguar's XKE might be at the top of the charts. This 1970 Jaguar XKE Series 2 sports a 4.2-liter inline-six engine that's mated to a four-speed manual transmission. According to the listing, this Jag was refurbished by a previous owner, who is also responsible for its refinished silver paint. If you want to impress everyone at the local country club, this might be the 'vert for you.
1970 Jaguar XKE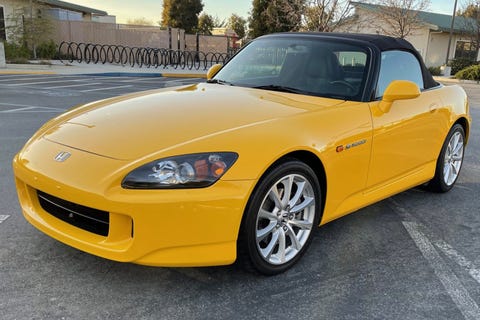 The Honda S2000 might be one of the best front-engine cars Honda has ever made. This 2006 S2000 has seen only 48,000 miles and still has the 2.2-liter inline-four under its hood. Behind the I4 is a six-speed manual transmission. Judging from the pictures, this S2000 looks like a sound, unmolested example of Honda's future collector's item, and could be a nice addition to a Honda collection or just a fun car to enjoy.
2006 Honda S2000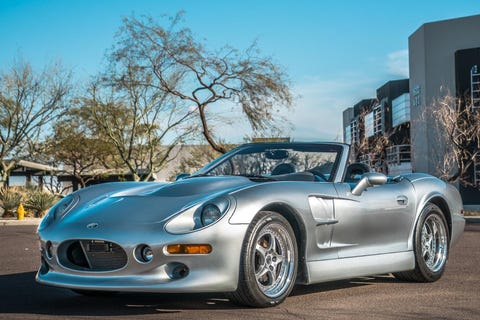 The Shelby Series 1 might not go down in the history books like the Shelby Cobra, but it does have its own interesting place in car culture. With an Oldsmobile Aurora 4.0-liter V8's 320 hp traveling through a six-speed transaxle, there's no doubt that this limited-production Shelby will be a lot of fun to drive. We're also sure that it won't blend into the background at your local cars and coffee.
1999 Shelby Series 1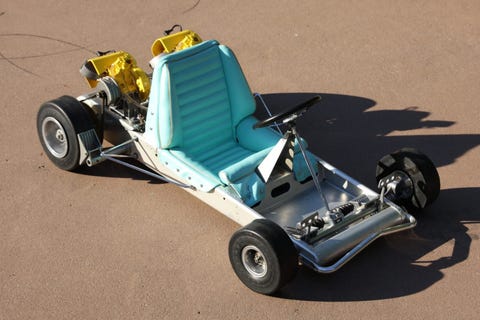 Okay, so this isn't a car, but it is an open air toy! This 1960 Rathman Xterminator features two McCulloch MC10 two-stroke engines and is reportedly able to hit 80 mph. While that sounds terrifying, this vintage go-kart looks like an incredible piece of history and is probably a ton of fun to drive.
1960 Rathman Xterminator
Source: Read Full Article