Is This The Coolest Chevy C\/10 Ever?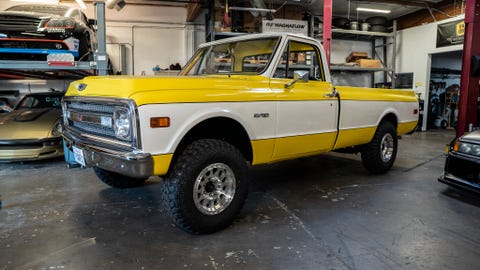 In Formula Drift, almost every driver is also a fabricator. And an engine builder. And a parts go-fer. And a floor-sweeper. These aren't gentlemen drivers who are helicoptered into the track and whisked to their paddock trailers in air-conditioned golf carts driven by perfect-bodied assistants to spend the weekend sipping champagne with pinkies extended just so.
Nope. Most of them have built their own cars, or at least had a hand in building them. Most can weld, fabricate, and wield a hammer when necessary. So they know how to build stuff. And rebuild it. Then, when it hits the wall a little too hard, rebuild it again.
So when sponsor Fix-A-Flat wanted to celebrate its 50th anniversary by giving away a 50-year-old vehicle, it naturally picked a couple of drifters to do the job: three-time Formula Drift champion Chris Forsberg and up-and-coming driver Dylan Hughes. The pair share a shop in Costa Mesa, Calif. and have built many things in there, old and new, all with no adult supervision.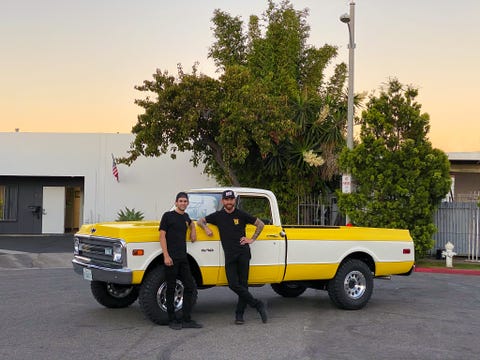 "We just talked to these guys and said, 'What would be a fun project to do," said Chad Ellman, marketing manager of Fix-A-Flat. "And they said, 'You know what, we work on cars all the time. Wouldn't it be great if we got a truck?"
So they got a 1970 Chevrolet C/10 pickup. It was a California car, so no rust, and it had been with the original owner since new.
"This is everyone's truck," said Ellman. "Our product has evolved, it still fixes flat tires, but it's gotten better over the years, so that's what we wanted to do with the truck, kind of 1970 but let's make it better."
Forsberg and Hughes make a lot more race cars than they do restorations and, frankly, they prefer the race cars.
"I think we what really gets us going is taking a unibody chassis down to its bare frame and putting all the good suspension bits on, putting in the good motor and good trans, all the good stuff in it and making stuff go way too fast."
Which was clearly not the goal with the C/10 truck. That required a lot of detail that you never have to do in a race car.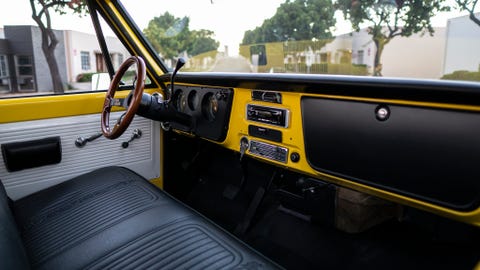 "With a race car, we just take it all down to the metal and then build it into something fast. We don't go through all the daily driver amenities like making the windows roll up, putting all new seals in, getting the climate control to work. In a race car we take all that out."
So the C/10 was an all-new challenge in that regard. Luckily, like all good racers, they had sponsors.
"Fix-A-Flat and AutoZone were the main sponsors, and then Edelbrock helped us out with the engine," said Forsberg.
The Edelbrock Performer Small Block 350 crate engine came into the shop complete, and an Edelbrock technician spent a day helping them install it. A standard three-speed automatic bolted on, and then the rest was a long parts list. Most of the parts came from Duralast, another sponsor of the build.
"Every control arm, bushing, ball joint, tie rod, pitman arm, idler arm, springs, shocks, everything is brand new Duralast," said Hughes.
"The frame and the body and all that is the original. And then the engine, brakes, every suspension bit, the transmission, the driveshaft, all the rotating bits, was all replaced," said Forsberg.
And then, even though the truck had already been consigned to the winner of a Fix-A-Flat promotional drawing, they let me drive it. Ha!
After a few adjustments to the TV cable, or throttle valve cable (a new term for Forsberg whose used to FI: fuel injection) the transmission shifted just fine. I climbed in and fired up the Edelbrock.
"Nice, huh," asked Forsberg, who was riding shotgun.
Nice indeed.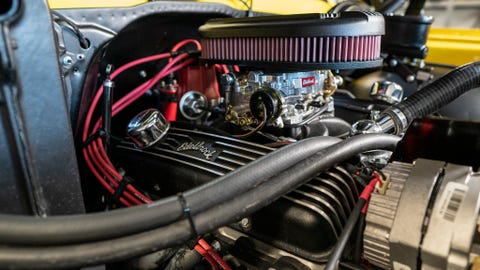 The body looked immaculate, the interior, too. All the switchgear was either original or NOS, new old stock. And the driving feel was definitely from 1970, too.
"That took a bit of getting used to," Forsberg admitted. "I asked a buddy of mine who works on a lot of trucks from this era and I said, 'Is it supposed to feel like this?' and he said, 'Oh yeah."
If you're used to modern cars and trucks, with extraordinarily tight clearances and ultra-low NVH, getting behind the wheel of a 50-year-old truck, even one rebuilt as nicely as this one, is an eyeball-opener. There's a lot of play in the steering, not a lot of sophistication in the suspension. And the brakes, well, coming up to our first red light I almost had to steer around the car in front of us. But that's what life was like 50 years ago. The braking distances were longer and the lap belts were just for show.
We cruised Pacific Coast Highway for a bit then stopped at the beach for a few photos. The truck looked perfect against the bright blue sky, free, for a while at least, of smoke from California's annual fire season. There were even a couple palm trees.
Back at the shop I asked if the boys see themselves doing more of these projects, perhaps after Forsberg's done being a Formula Drift champion?
"Dylan and I work really well together and we like the fabrication aspect of it more so than the restoring aspect," said Forsberg diplomatically. "So not just spending time, like making old things work right, more so creating new things with our hands, getting a flat sheet of metal and turning it into something is more fun for us. And so that's where I think we'll be spending most of our time. Our next project is going to be the world's first to chassis drift car."
He pointed to a stack of laser-cut tube sections plasti-wrapped to a pallet.
"We're going to be building that here in the shop, that pile of tubes over there's basically the car, so that will be a next thing to do."
Next year at Formula Drift events there will be a four-door tube-frame Altima that also seats four, with one professional drift pilot and three screaming passengers. Should be fun.
Are old trucks cool? Let us know in the comments below.
Source: Read Full Article