It Costs $33,000 To Replace A McLaren F1's Windshield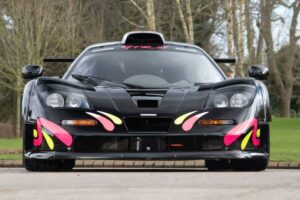 The McLaren F1 is an expensive machine. Not only does it cost tens of millions of dollars to purchase, but thanks to a dwindling parts supply and highly specialized maintenance requirements, it's expensive to maintain, too. A windshield replacement alone will run you $33,000, Motor1 has learned.
We suspect there are only two people on earth who would actually care about that number: The two McLaren F1 owners whose windshields cracked during last weekend's Velocity Invitational event at Sonoma Raceway in California. A video published to Instagram from the paddock shows the two cars each sporting sizable cracks on their respective front windscreens:
A source familiar with McLaren F1 replacement costs confirmed to Motor1 the price for the glass itself is $25,000, plus another $8,000 to cover installation fees. That means the damage in the video above equates to about $66,000 worth of damage. Just for a couple of windshield cracks.
Another source familiar with F1 parts told Motor1 there are still a small handful of original replacement windshields sitting in storage at McLaren's headquarters in the United Kingdom, so it's not like these owners will have to shell out to have new pieces made. In fact, this source tells us McLaren Special Operations is planning to engineer and commission new windshields for the F1, so owners won't be out of luck once the supply runs out in the future.
The windscreen isn't even the first part McLaren has reengineered to elongate the F1's service life. Our source told us the factory has begun producing aluminum fuel tanks and wheels to replace the aging magnesium units. So if you own an F1, rest assured that you'll never be wanting for factory parts support.
Source: Read Full Article