A 4500 km roadtrip across Himachal in a Toyota Innove Crysta
The distances mentioned throughout this thread are from GMap Timeline. Our Crysta apart from pampering us with optimal space and comfort returned mileage of 13.7 KMPL.
BHPian haisaikat recently shared this with other enthusiasts.
The 2022 Durga Puja was nearing and our annual vacation destination was still to be decided. The first preference was Kedarnath – Badrinath and seeing the Uttarakhand travelogue of DBHPian Samba I had made up mind to lock it but the news of an all time high pilgrim rush made us drop the plan eventually. Next up was Arunachal Pradesh, and the itinerary was readied after due discussion with resident AP expert BHPian @gunin but we had to drop it considering the shortage of leaves and holidays by at least 2 days. Eventually we zeroed in to Himachal.
The vibes of the vacation and upcoming Durga Puja season had soon started to set in, keeping our kiddo busy with listing down things of the trip including medicines or seeing Durga Puja theme getting moulded into literally everything was indeed a grand feeling to have as we made the reverse countdown.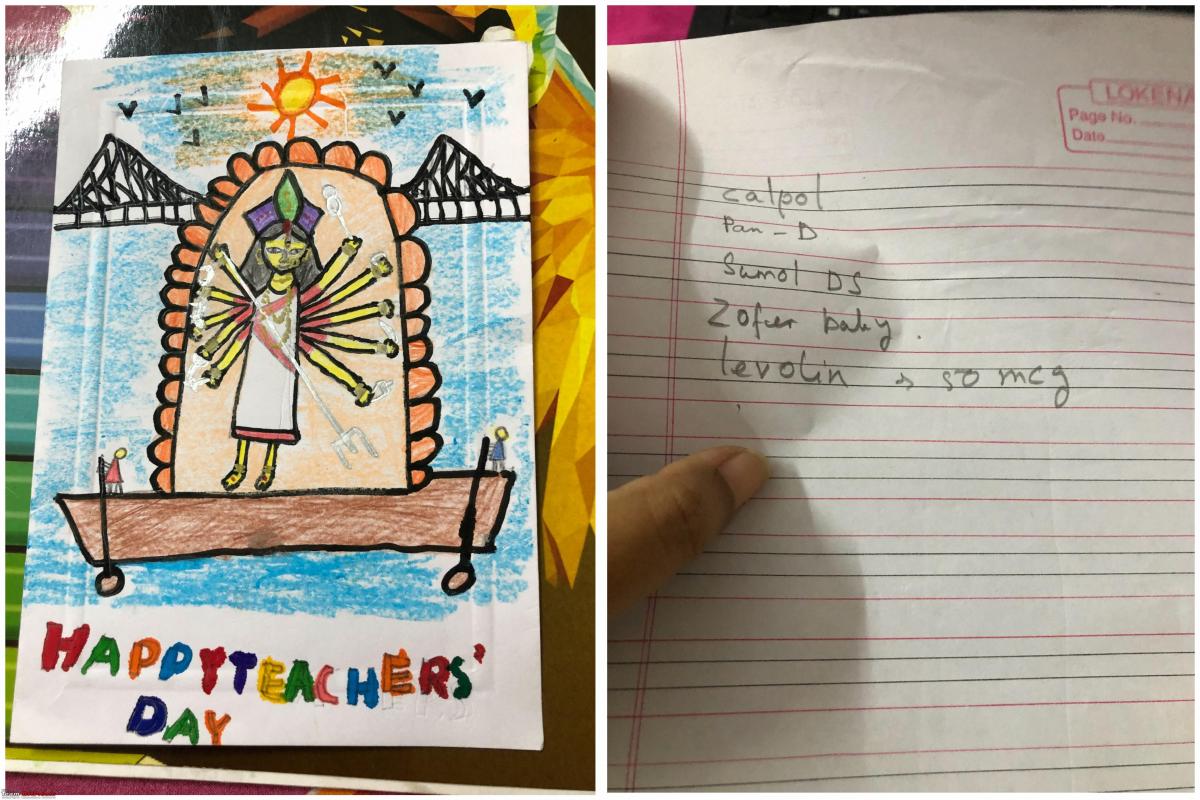 A wonderful surprise came in the form of postponing of a program where our little one was participating so we essentially got an added day into our vacation. All hotel bookings were duly adjusted and now we had one more day to add to our vacation. All hotel bookings hence were promptly pushed out.
Our beloved companion for such tours, the Innova Crysta completed its minor servicing with all check ups duly done. And I carried the regular car survival toolkit (Tyre Inflator, Emergency window pane breaker and seat belt cutter, puncture repair kit, ropes, camping mini folding shovel, torch, car inverter, jump start cable).
While you read on the details of our journey, sharing a few of the nicer captures for the cover. We did miss the Kolkata Durga Puja but saw a lot of Durga Pujas across several states during the Navratri period.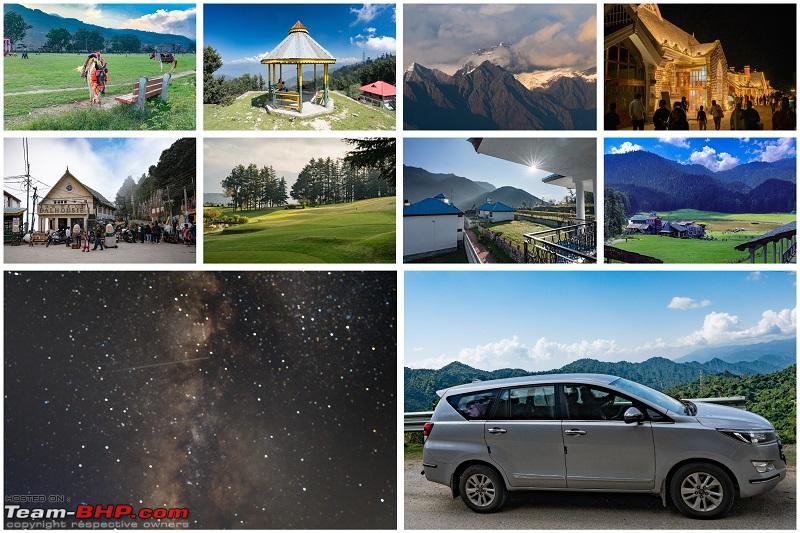 Navigation
Intro & TOC (This post): Link
Day 0-2 / Sep 24-26 – Kolkata to Phagwara: Link
Day 3 / Sep 27 – Phagwara to Dalhousie en-route Khajjiar: Link
Day 3 / Sep 27 – Continued from Dalhousie to Khajjiar: Link
Day 4 / Sep 28 – Khajjiar Valley Tour: Link
Day 4 / Sep 28 – Continued Khajjiar to Chamba and back: Link
Day 5 / Sep 29 – Khajjiar to Chamera Lake: Link
Day 5 / Sep 29 – Continued Chamera Lake to Dainkund and return to Khajjiar: Link
Day 6 / Sep 30 – Khajjiar to Naddi via Jot Pass: Link
Day 7 / Oct 1 – McLeodganj and Dharamshala local tour: Link
Day 7 / Oct 1 – Continued McLeodganj and Dharamshala local tour: Link
Day 8 / Oct 2 – Naddi to Shimla via Kangra (Mata Brajeshwari and Jwala Devi Temple visit) Link
Day 9 / Oct 3 – Ashtami Anjali at Shimla Kalibari: Link
Day 9 / Oct 3 – Continued Shimla Mall and Ridge in the evening: Link
Day 10 / Oct 4 – Shimla to Mashobra tour: Link
Day 10 / Oct 4 – Continued Mashobra to Naldhera tour and return to Shimla: Link
Day 11-15 / Oct 5-9 – Return from Shimla to Kolkata with halts at Greater Noida & Varanasi: Link
Day 0-1 / Sep 24 – 25 / Kolkata to Lucknow
Mahalaya – Day marks the advent of Devi Durga
Route: Kolkata (Bengal) -> NH-19 – till Aurangabad (Bihar) -> NH-139 until Tarari (Bihar) and crossed Son river through Daudnagar-Nasriganj Son Bridge -> NH-120 to NH-922 until Bharauli (UP) and crossed Ganges over Veer Kunwar Setu-> NH-31 until Pakhanpura (UP) -> took the diversion to enter Purvanchal Expressway until Gosaiganj (UP) -> NH-731 for a short stretch after the full length of Purvanchal Expressway -> Lucknow (UP)
Distance: 1147 KM
Time taken: 22 hours (including 4 hours break)
It was Saturday, meaning no rush of wrapping up office and then leaving, but last moment shopping made the day ever busy as it can be. It was past 9 pm we finally hit the roads but kid felt hungry soon after so effectively it was 10 pm that we properly started. Kolkata city traffic was not much of a hassle, and we went past its limits soon to join NH-19.
It was past 11 pm, huge traffic of trucks from Dankuni onwards severely slowed us down in crawling traffic. We utilized this time to dine on our pre ordered wraps while kid had fallen asleep
The truck traffic cleared after crossing Bardhaman but the true joy was the sudden opportunity to listen to Mahisha Shur Mardini on FM radio until the signal faded away as we moved into the beautifully lighted up highways of Jharkhand around 430 am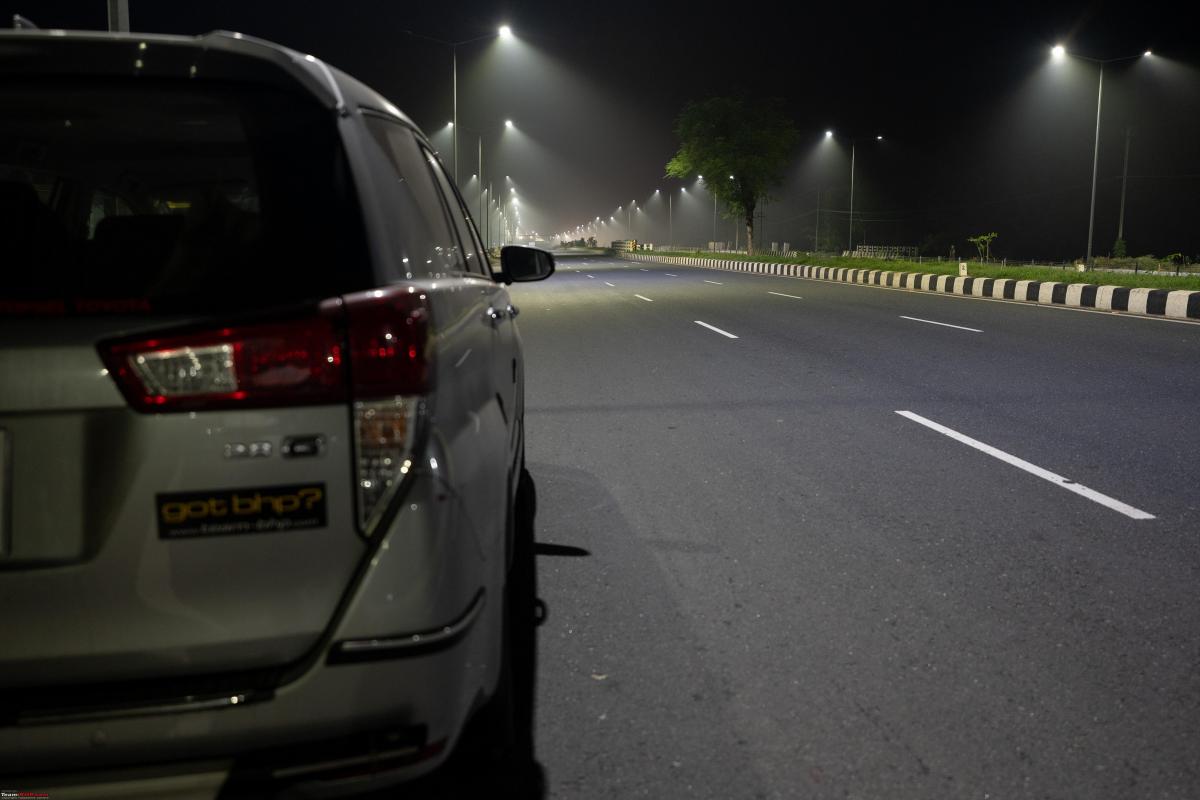 Crossed Barhi in Bihar around 6 am
Somewhere before Chouparan we made a small tea break, self made of course while kid was still asleep inside the car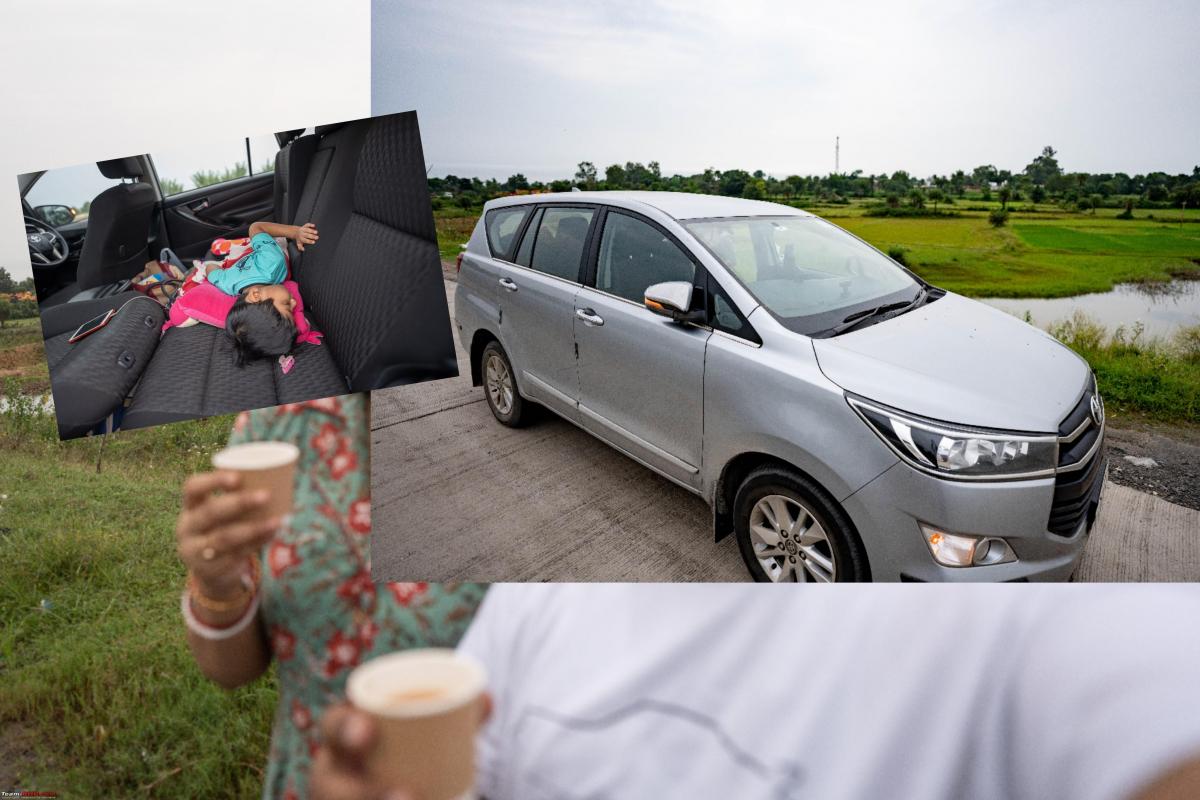 Witnessed abundance of Kash flowers while crossing the bridge over the Falgu river of Bihar
It was around 8 am when we passed by the quaint village of Budhaul with distant hills near the horizon
Our initial Google Map plot indicated we need to take the right turn after Mohania to join the Purvanchal Expressway but without our knowledge Google had silently rerouted us to take the turn from Aurangabad. So we took a 90 mins breakfast halt at this awesome resort Gargee Surya Bihar at Aurangabad who has an excellent breakfast buffet and a well maintained lawn garden. We resumed around 10-30 am but soon we encountered sudden burst of rainfall which slowed us down to some extent for concerns of safety.
After taking hours to cross the NH139 with single lane, broken tarmac and unruly local traffic, we crossed Son river from a little upstream location around Pokharaha and saw again a region full of Kash flowers, and once again good roads began, seemed new construction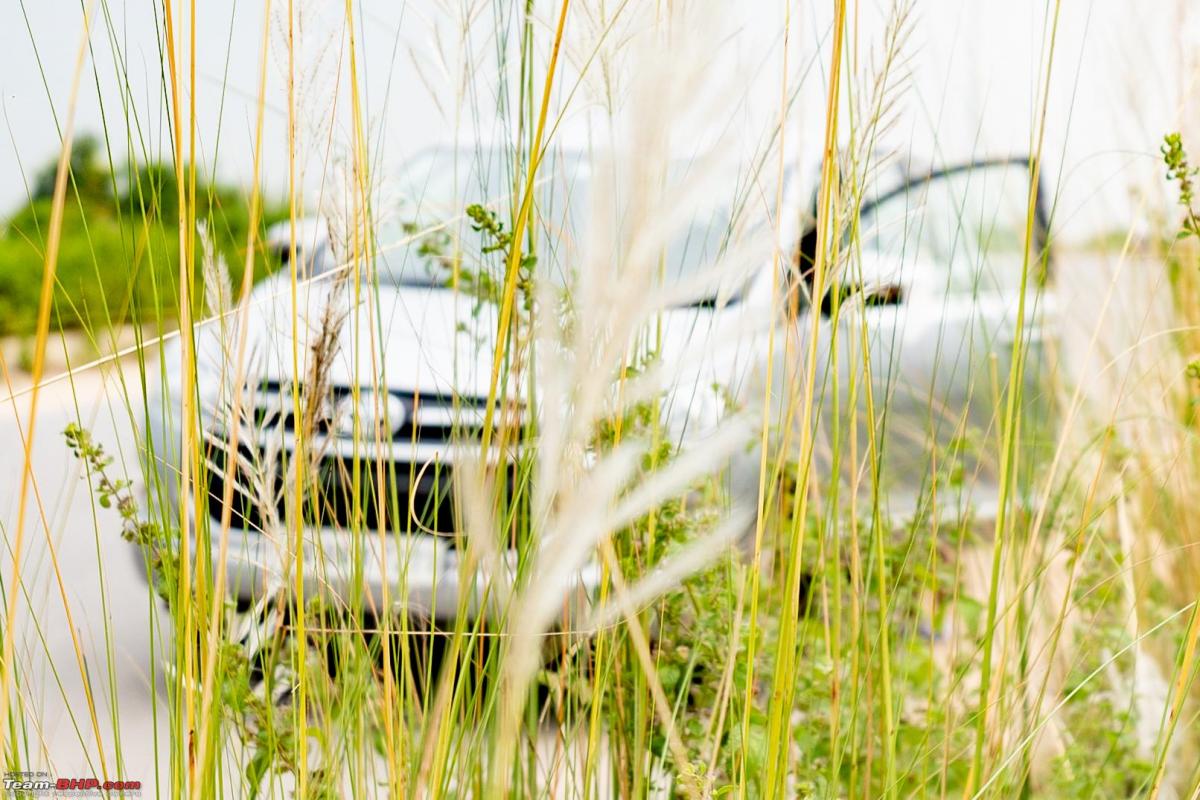 Another nightmare soon encountered was the small stretch of road with highly congested market in Dumraon
We crossed the Ganges and finally entered UP, yet there was some distance still left to hit Purvanchal Expressway. After some searching settled at Gurudev Family Restaurant at Mania for lunch. It was a rudimentary roadside dhaba on NH-31 and the last one it seemed to us in a distance. But they served excellent vegetarian food, an hour seemed to pass just like that until 3 pm. Minor glitch, kid got little indigestion owing to the heat outside.
Finally we entered our long sought highway, the Purvanchal Expressway post 3 pm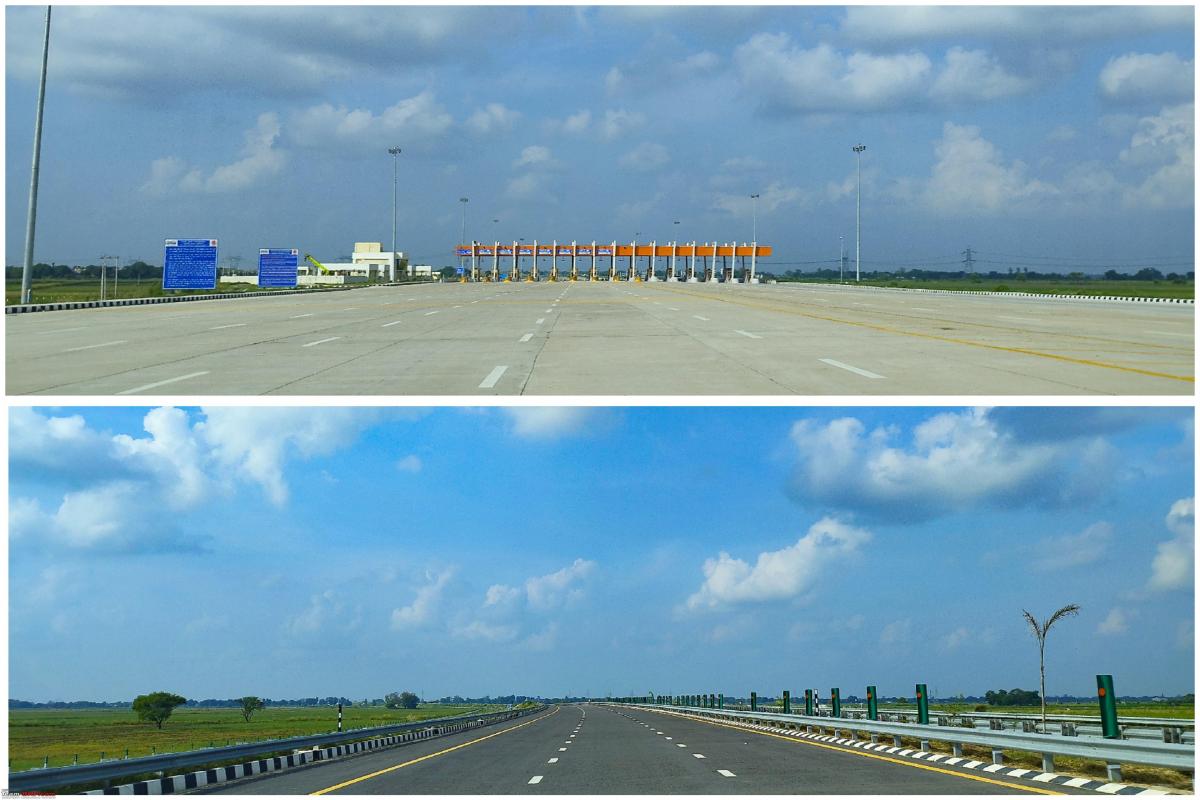 Entered Lucknow around 7 pm and then reached our hotel MANHATTEN GRAND in Alambagh area. This is the same hotel we had stayed last year during our Kolkata to Kashmir Roadtrip but the name and ownership was different (Buddha Residency). Sad to see maintenance of rooms has degraded to some extent and the 24 hour in-house bakery has also been dissolved. Yet due to its proximity to Agra Lucknow Expressway this is still our best choice. We ordered for room service of dinner and crashed after almost a 21 hour journey.
Day 2 / Sep 26 / Lucknow to Phagwara
Pratipada / Navratri Day 1 – Worship of Devi Durga in her Shailputri avatar
Route: Lucknow (UP) -> Agra Lucknow Expressway -> Yamuna Expressway -> Eastern Peripheral Expressway -> NH-44 -> Phagwara (Punjab)
Distance: 900 KM
Time taken: 16 hours (including 3.5 hours break)
We started by 630 am sharp from our hotel
navigating through the early morning fog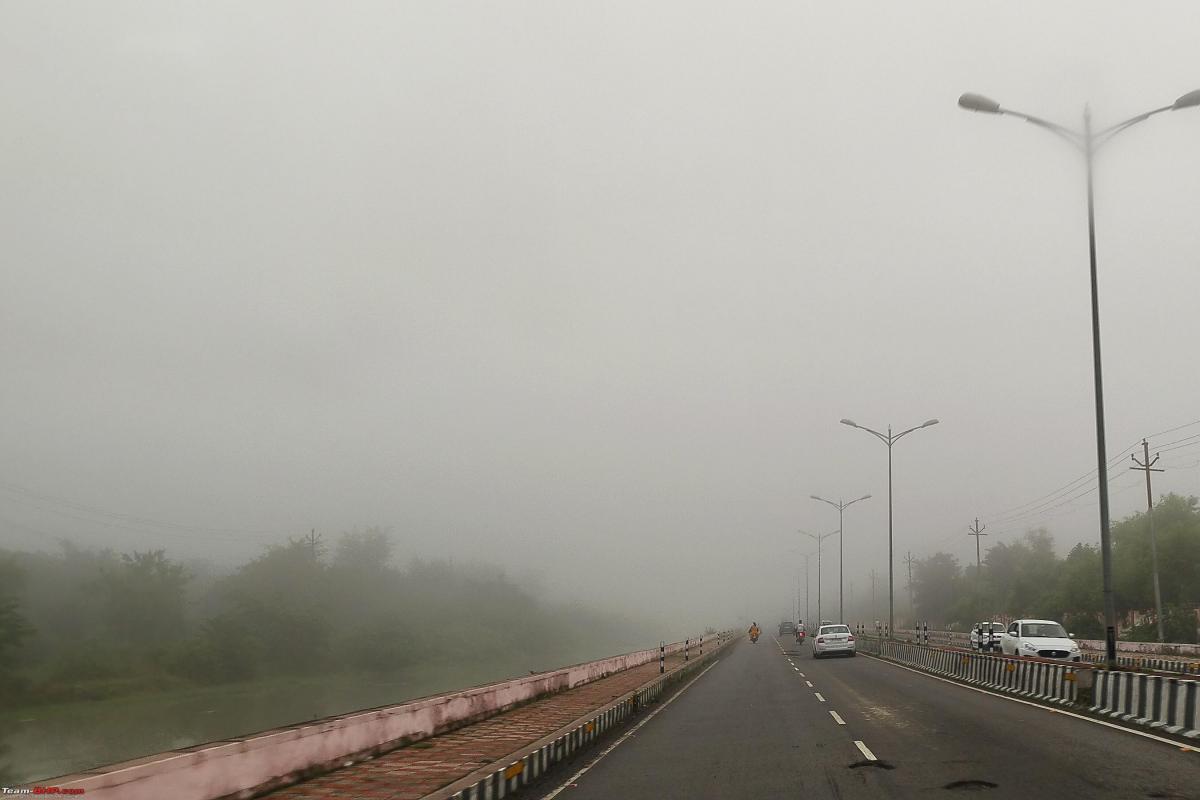 within 10 minutes we entered Agra Lucknow Expressway but the fog continued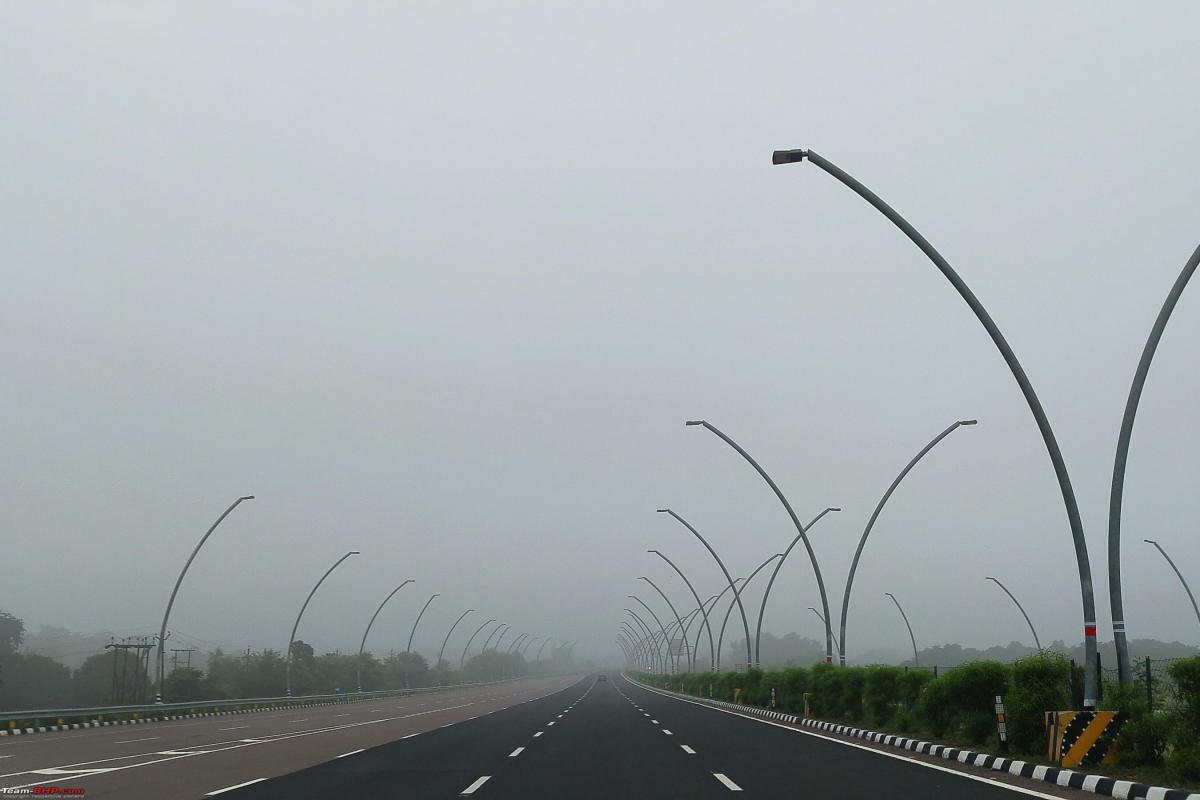 As the sun started to show up the fog began disappearing. We made a 90 min leisurely breakfast halt around 845 am at the food court along ALE near Kathua and also packed some Kati Rolls for our lunch, this is the only food court we encountered that has a dedicated stall serving Kolkata Kati Rolls, well it not entirely the original taste but finding that on ALE, we could not complain much.
Cruising steadily, we advanced well and around 1 pm we made our lunch halt at the Convenience Center near Jewar on the Yamuna Expressway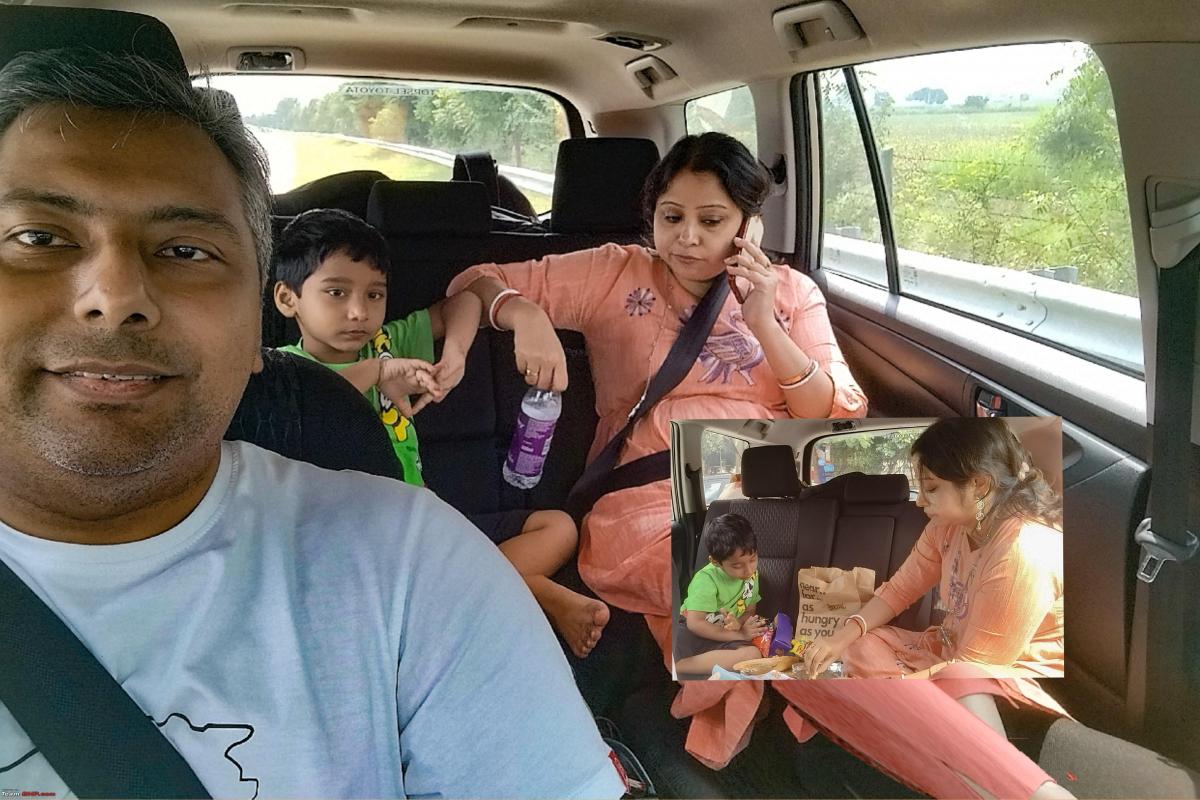 Resuming after lunch, we crossed the Yamuna expressway in a breeze and entered the eastern peripheral expressway, bypassed NCR and took the NH-44
Aero plane themed restaurant, Hawai Adda at Murthal Haryana, had been on our wish list for long, so we made an hour long halt here on request of our little one who enjoyed it to the fullest. It wasn't long after lunch, yet we decided to taste their excellent vegetarian offerings and they were great merging well with the ambience
Airplane themed restaurant video
We left the place around 530 pm with the sun gradually inching towards the horizon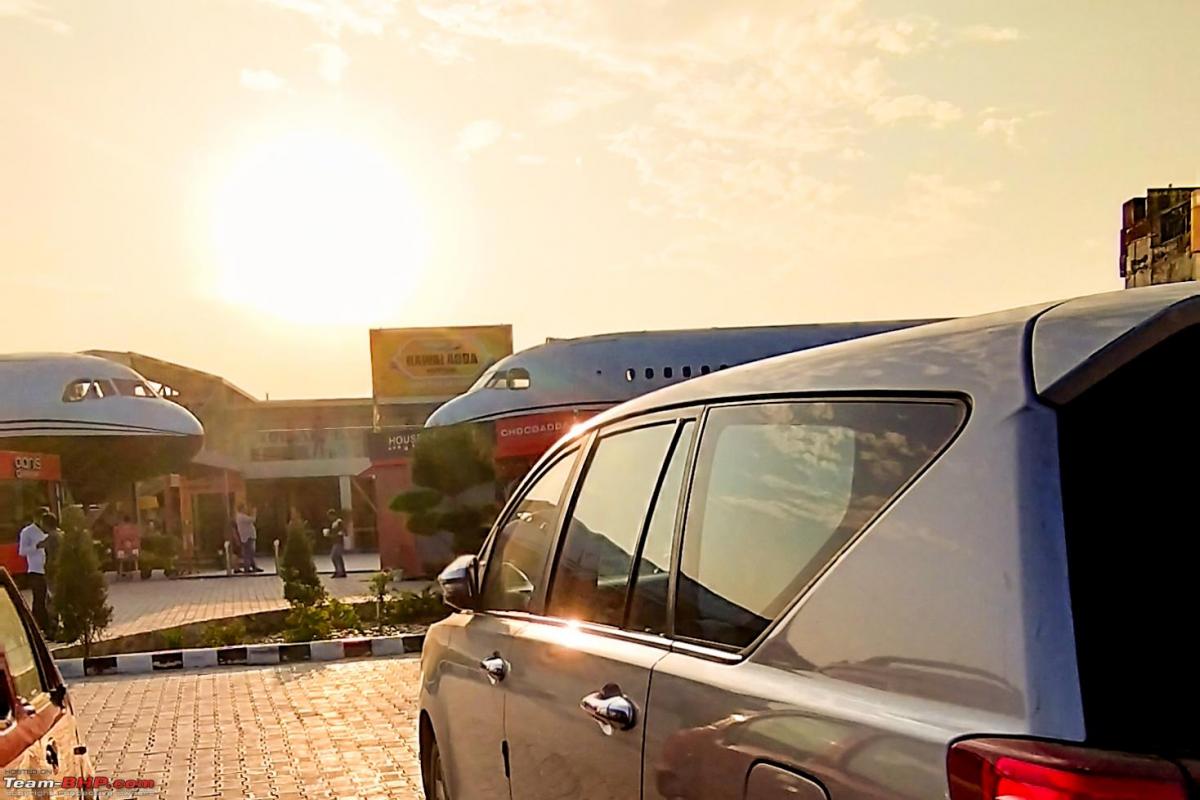 Rest of the journey on NH-44 was as fine except a few stretches of heavy traffic and congestion after entering Punjab mostly around the toll plazas. Last year during the farmer protest none of the tolls were charging money and passing through them was breeze, we weren't lucky this year though.
Found an interesting quote on a Thar that we were trailing for some time while we continued on NH-44
Pathankot was still 2 hrs away and it was past 10 pm, kid was becoming restless and wanted us to stop. So after some searching on GMaps and calling up a few hotels, by 10:20 pm we checked into Hotel Ashish International since their kitchen was still serving dinner suitable for all and called it a day.
Navigation
Intro & TOC: Link
Day 0-2 / Sep 24-26 – Kolkata to Phagwara (This post): Link
Day 11-15 / Oct 5-9 – Return from Shimla to Kolkata with halts at Greater Noida & Varanasi: Link
Continue reading BHPian haisaikat's travelogue for more insights and information.
Source: Read Full Article