Bajaj, Triumph To Announce Alliance This Month
Bajaj Auto Limited and British motorcycle brand Triumph Motorcycles will formally announce the two motorcycle brands' alliance on January 24, 2020. The decision to join hands to build mid-size motorcycles was announced as far back as in 2017, although a formal agreement is yet to be signed. And that is what is likely to be announced on January 24; a formal agreement on the non-equity partnership to manufacture a new range of mid-capacity motorcycles in India. While there's still no word on what kind of motorcycles are to be developed jointly by the two brands, more details are likely to be announced when the formal agreement is finalised.
What we know is that product development of these motorcycles has been underway for some time now. Triumph has been conducting early testing of prototypes, although there's no word on when final production-ready models will be available commercially. The announcement will likely give details of the partnership between the two brands, as well as a timeline for introducing the range of new motorcycles, possibly in the 300-500 cc segment, in which Triumph doesn't have a single model so far. According to reports, Bajaj Auto Managing Director Rajiv Bajaj had visited Triumph headquarters in Hinckley, UK late last year. What we can expect is the new mid-size Triumph motorcycles to be available commercially in a couple of years, maybe by early 2022.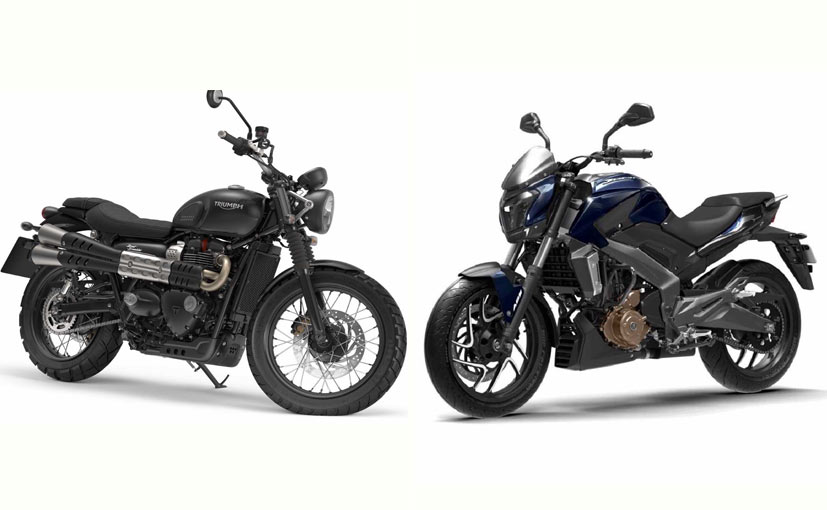 Bajaj-Triumph alliance to make small capacity Triumph bikes
The agreement between Bajaj and Triumph will be non-equity, but will likely be royalty-based, in which both brands will retain their intellectual property rights. The two motorcycle brands are likely to develop multiple middleweight motorcycles in the 300-500 cc segment based on a single engine platform. The bikes will be Triumph branded, and design and engineering will be from Hinckley, but manufactured by Bajaj Auto at its manufacturing facility in Chakan, on the outskirts of Pune, and leverage Bajaj Auto's local supply chain for components as well.
The bikes will likely be marketed by Triumph in India, but will also gain from Bajaj Auto's strength in emerging markets. After all, Bajaj is India's largest exporter of motorcycles and has a strong presence in overseas markets, like Africa and Latin America, as well as South East Asia. So, it is expected that the new mid-size Triumph bikes will not be made for developed markets like US and Europe, but will be targeted for emerging markets like India, South East Asia and Latin America. Needless to say, this will be an important milestone strategically for both brands to expand their global footprint in a more accessible and affordable motorcycle segment. More details will be announced on January 24, 2020.
Source: Read Full Article