Bought a Tata Nexon EV Max: Initial impressions & charging experience
The car has very good seating and even my father in law who is 6ft had no problem sitting at the back. Shoulder gaps are also very good.
BHPian shamanths3 recently shared this with other enthusiasts.
Tata Nexon EV MAX – Spaceship on wheels:
Hi BhPians,
This is my experience in buying and owning the Nexon EV Max. It's going to be slightly long so please bear with me.
Purchase decision:
I owned a Grand i10 Asta petrol for 3 years and hadn't thought about changing it. However the decision changed when I took my recently serviced vehicle to my hometown Coorg for a week for a family function and then came to know the pain of petrol cars in ghat sections.
So basically what happened is that, I put 12k worth of petrol to drive 1000kms. Yes I agree the car was always full and the road although smooth and beautiful, I could never go above 4th gear even which I could hardly reach.
And then it happened that every time we used to plan for a trip, the petrol topic used to come up and we used to plan shorter trips. Yes money was not the problem, but somehow we used to feel that paying 90% of the trip budget for petrol was not worth it.
Then I finally made the decision to book the Nexon EV after convincing the home minister. I was also very impressed with the power and the smoothness of the vehicle and range was not a big concern as Bangalore to Hassan highway which I usually take to travel home, has good charging infrastructure.
Booking experience:
I booked the Nexon EV Dark Edition in Kropex Electronic City on November 2021 and sold my i10 on Decmeber 2021 as I was promised January delivery. However in December, news started emerging of a longer Nexon EV variant with cruise control (which I felt was a big miss in the existing EV).
So I asked the showroom to wait till Tata releases the new variant which was supposed to be in Feb 2022. However, the dates got pushed and pushed and pushed till May and I got my booking changed to Max 7.2kw on the same day so my name was on top of the list. However I was very disappointed that the Dark edition was not available in the Max variant.
PDI and delivery:
Got delivery of my car on 17th July, but completed the PDI on 11th July to ensure they correct everything. There was only 1 small issue where the cloth was seen outside in the center console, otherwise the car was in great condition.
I also got the insurance before registration from Acko for almost half the rate the showroom was quoting, but they gladly agreed to let me get the insurance on my own.
The delivery was smooth. The delivery executive gave a handy list of Dos and Don'ts and after the cake cutting and key exchange, we were sent off.
Initial drive from showroom to home:
I had preplanned that the car is going to PPF and hence my only drive for the week is going to be from showroom to home, and since PPF detailer was nearby, I dint have to drive much.
From Electronic City to Mysore road, I took the NICE road and I got used to the car in just 5 mins, the car was that comfortable to drive. I dint feel jittery or nervous and also had no issues in overtaking in City mode. I averaged at around 174 wh/km and although I felt it was high, I knew I could always improve after I get used to the car.
Work done to car post delivery:
PPF:
I did lot of research and pros and cons of PPF and also reached out to multiple detailers for quotations and to get clarity on the need of PPF. I felt for the Intensi Teal the PPF is mandatory as it's almost Black and even a slight wipe will result in swirl marks just like the Dark edition.
Rakshith(+91 78290 12344) from Autorush Car Care Studio near Kengeri, Mysore Road was very responsive and reached out to me constantly and gave some free advice on how to check paint quality during PDI and what and what not to do post delivery for maintaining the Car. Since he was enthusiastic and gave me a good quote(not the cheapest) but the best combination of PPF and pricing, I decided to get the car PPF coated there. He used Stek and gave 5 year Warranty compared to the Chinese brands promoted by many vendors. Got the wheel and glass coating for free too which was an added bonus.
I did get slight peel off which is common on sharp contours, but he corrected it for free by bringing in the technicians. Also he is very knowledgeable on any questions related to PPF and gives an honest opinion on things.
Floor mat:
Got water proof velcro floor mat that was custom stitched to EV and the installation was pretty smooth. There are 3 wires on passenger seat and 2 on drivers seat and easily removable. I felt this was really necessary from my past experiences.
Dashcam:
Have bought DDPAI mini dashcam and installed it myself and plugged to cigarette lighter socket. I didn't go for 24 hour monitoring as it needs Internal wiring connection or a power bank.
Driving experience:
After I got the car from Detailing, planned a short trip from Bangalore to Mysore to see if the Tata's claim of Bangalore-Mysore round trip in 1 single charge is true.
Started my journey with 93% SOC as I got home late previous day and the car usually takes 13 hours to charge at 3.3kw. Since it was around 7, the traffic was moderate. I observed that the car was constantly giving an average of 134kw/km, however there was open stretch, and when I switched to cruise control at 100km, the car was actually doing 120Wh/km. Again, I had set AC at 24 degrees and also outside temperature was around 27 degrees. I was constantly driving in the range of 70-100 kms, but most of the time the car was doing 80s. Also, I was light on the pedal when accelerating from braking, but when I needed to overtake, I used pedal to the metal. So to sum up, I didn't do any hypermilling and was going as fast I can at that point of time and was keeping up or passing all the ICE cars except some you know mine is bigger kind of people.
Went to Mysore Zoo, since I had to introduce my son to his relatives and then my charge was at 49%, howing a range of 156km of which I needed 130km.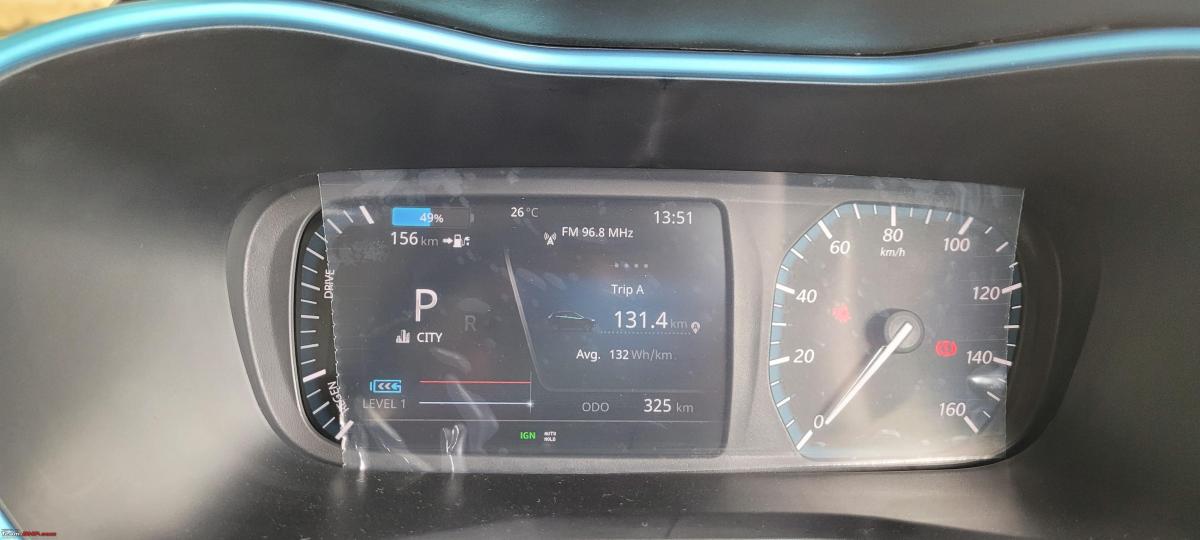 However Mall of Mysore had a Zeon 50kw fast charger and I thought I will charge my car there since my wife wanted to visit Chamundi Hills around additional 20 kms to and fro. There were 2 cars in front of me, 1 faced network issue and the charge didn't start, the other was a Prime EV and he wanted to charge fully from 18% and his charging was getting dropped constantly as there was mobile network issue. Finally after an hour he finished his charging.
Thankfully, I had the Zeon RFID card with me and the charging was effortless. I had no issues at all. I suggest anyone living in South India, if you plan to charge, please do order the Zeon Smart card and you will thank me later. One thing I observed is that the car charged constantly at 30kwh supporting the claims that the car is limited to 30kwh, but good news is that it never dropped its charging rate. It was consistent till the end of charge at 85%. Hopefully Tata gives a response soon on the same.
After charging, I visited Chamundi hills, and while traveling uphill, the  charge utilized was 9% from 85 to 76% and while on return I got 1% back. After this I started my journey back home in 1 single stretch.
While coming back, the traffic was very high which is usually the case on this Road. This started eating my battery a log but I felt keeping the regen at 3 helped in bumper to bumper traffic inside major towns. Car actually shows notification to rest after continuous driving which is good.
Finally ended my journey with 27% SOC and 65km range left.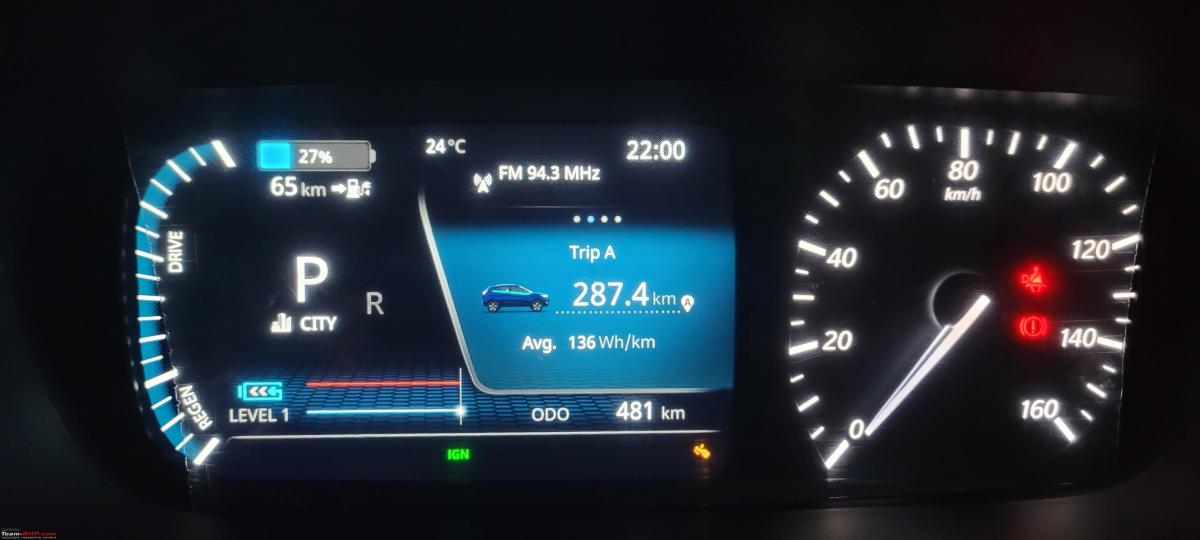 Impressions:
Bangalore to Mysore in 1 charge is totally possible with any kind of driving.
Car does better at speeds of 100 kmph if you can use cruise control.
All the additional features like Auto IRVM, Ventilated seats, wireless charging, 4 disc brakes, Multi Mode Regen are very useful and well thought out. Vehicle has very good seating and even my father in law who is 6ft had no problem sitting at the back. Shoulder gaps are also very good. I feel reviewers are spoilt with the cars above this budget and hence are nitpicking.
Brakes- Damn are they overkill. Stops on a dime which was useful on a couple of occasions.
Autohold- is a heaven send and works flawlessly. We need to make sure the vehicle is completely on stop before auto hold kicks in.
Acceleration- Coming to my first line, it's really a space ship. Only an EV can compete with this in overtaking. That too in City mode, and I never had to test in Sports mode.
Comfort- Because of no vibrations, we feel more relaxed and people are all impressed by the ride quality, comes to its own at high speeds.
Steering – Very light at low speeds, but hardening feels too much above 100km. But not that hard that it robs you of driving pleasure.
Handling – Gives you confidence to push the car more even in corners and can take turns at high speed due to good weight distribution and low centre if gravity.
Software- Again being a spaceship, everything is electronic. All systems are connected and there are couple of glitches here and there. I got Auxiliary battery charge issue warning, limited drive mode warning at separate instances but went away after restarting the car. Never experienced any issue with the drive though. Also, the brake light seems to be on even if I switch off the car, but if I restart and switch off again, they go away. All minor issues and doesn't affect the experience in any manner.
AC- Good performance and I feel ECON mode is well designed and helps in getting more range out of the car.
Gear knob – Have got used to it now and I feel it's faster than manual gear changes.
Overall, the car is amazing and everyone who looks at it falls in love with it. I have not once thought about ICE cars after driving my Evie and never had to second doubt my purchase decision.
Check out BHPian comments for more insights and information.
Source: Read Full Article