Carlinkit 4.0 review: 1 device for wireless Apple CarPlay, Android Auto
The connection is more stable & reliable than what I have felt with the factory wireless Apple CarPlay in my BMW X1.
BHPian agambhandari recently shared this with other enthusiasts.
It's always convenient to stay in your own ecosystem, same phone, same car, same cable without any change. But as you start sharing your car with your family and that family insists on sticking to iPhones, things change fast.
I'm the only one that uses Android in my house, and that wasn't an issue until I moved back home and got married. My Polo is now being used by my wife and my dad as well, so we were constantly changing the USB cable on it to connect different phones. Add to it, the smaller distances and trip times in Ludhiana now (compared to Delhi earlier), and plugging in every time seemed like an unnecessary step. So I looked into solutions and while I could find a good number of options for Wired to Wireless conversion adapters for Carplay, and also for Android Auto; there were almost none that did both with the same device.
The search ended with Carlinkit 4.0, a device that uses the native Wired CarPlay functionality of your head unit (yes, it only needs CarPlay on your head unit, not even Android Auto), and then offers to convert it to Wireless CarPlay or Wireless Android Auto depending on your phone. Reviews online looked alright, so I thought of ordering one.
Props to Bhpian Rishikapoor who around the same time ended up with 2 of these due to a shipping issue, so I ended up buying one from him for the same price. Saved me the hassle of buying it online and importing and waiting for days. Bhpian Viraat13 helped me out by sending it from Delhi to me.
While there are some mentions of this device on the forum on a few threads but no details as such, I felt a detailed thread was warranted to showcase this unique device.
Few Pics to showcase the device and specs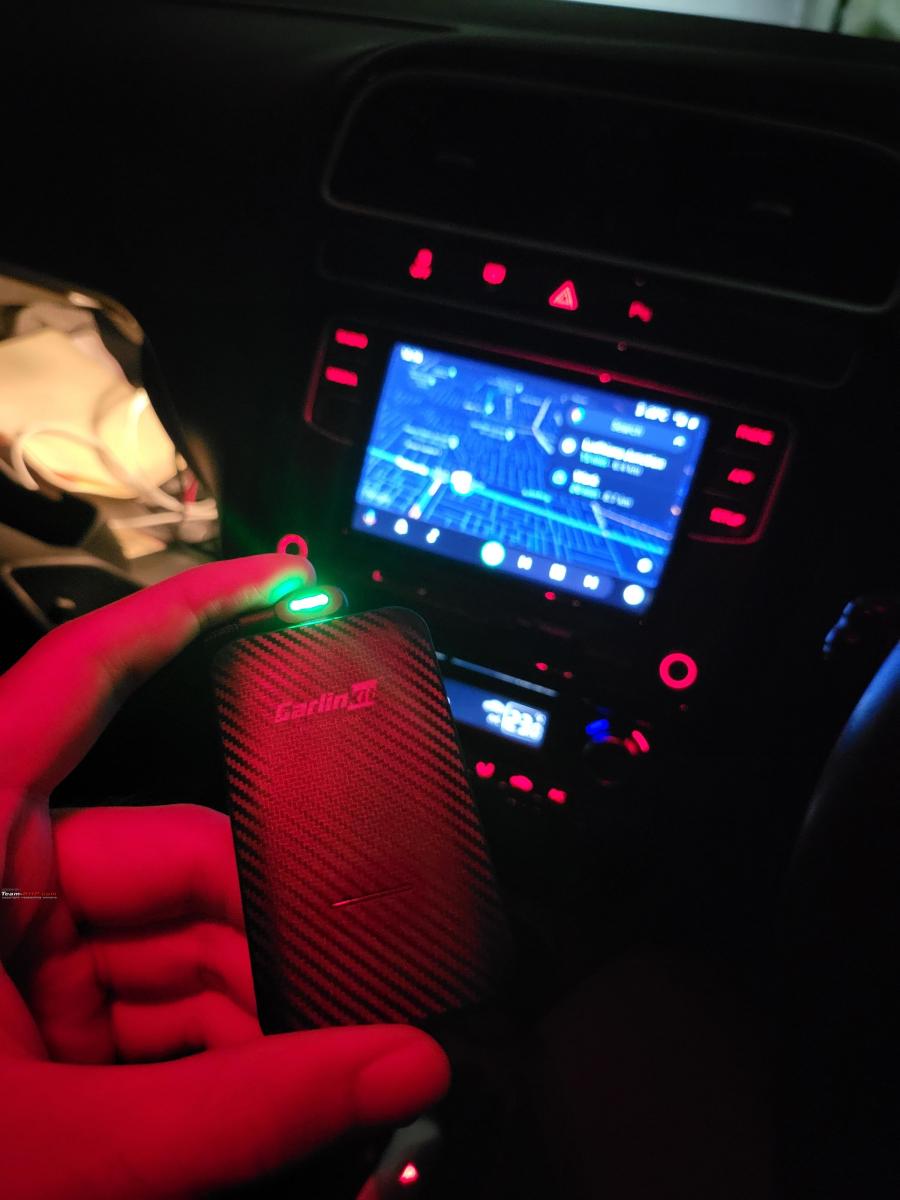 Once you connect the device, you are greeted with a login screen and you have to connect the Bluetooth from your phone to this device, after that just follow the prompts on your phone and voila, you are connected!
That was as expected but what I really wanted to see is how it worked with multiple phones previously paired, and to my surprise, it works perfectly. It starts off and gives a list of previous phones and you can choose from those. It then tries to connect and if the Bluetooth and wifi of that phone is active, it will start it off.
One tip to note is that it takes almost a minute for it to boot up from cold, so you can connect the phone only after that. Luckily in Polo, the USB port of the Headunit powers on right after the car is unlocked from the key, so by the time I reach the car, adjust my seats and mirrors, it has finished booting up. So I try to unlock the car a few seconds in advance to ensure this.
The Performance is Fine, it is just as responsive as using Native wired Carplay/Android Auto. And in fact, the connection is more stable and reliable than I have felt with factory Wireless Carplay in my X1. There is almost a 2-3 second lag between the audio sync as compared to the Wired connection. But I feel it's barely any worse than the factory Wireless solutions. Only time you'll really complain is if you decide to play Video in Android Auto (through unofficial ways of course).
Another scenario where it can be useful is if your car has only wired CarPlay and you want to run Android Auto on it. Would have been perfect for my X1 but alas, BMW feels wired CarPlay is too old school.
The price is not low by any means but I have honestly run out of cool mods to do on my Polo, so this was a nice value add.
Summary
Pros
Small, lightweight adapter, easy to hide away in Dash
Supports both CarPlay and Android Auto from the same dongle
Connects fast on every startup and manages multiple phones well
Responsive UI, no touch lag compared to Wired Connection
Can even add Wireless android auto if your HU supports only Wired CarPlay
Cons
Pricey
Audio Lag (persistent in other wireless solutions as well)
Buy here
Check out BHPian comments for more insights and information.
Source: Read Full Article