Compared: The Kia EV6 & BMW i4
Driving both these cars have made me realise that Tesla's first principle design made a car/EV so easy, spacious and functional without compromising on fun to drive quotient.
BHPian carthick1000 recently shared this with other enthusiasts.
Driving impressions Kia EV6 and BMW i4
Having driven EV6 and i4 each for about 2 hours straight in the last few days, I can report how they both faired in everyday driving situations. As my daily drive is a model 3, I can also compare with this baseline but focus less on the EV related things as you can find more about it elsewhere and per use case.
Route
Took my usual test route, which comprises of sections of slow city traffic, a bit faster city traffic, rural B-roads, highway and of course the most fun of all, the winding roads on dikes. The route is same as I did for Ioniq 5 plus some extra stretches on the dikes to understand dynamics and the highway at different speeds (100~120kmph) to see how stable and quiet each car is.
Here is the route:
Size and storage
The trunk volume shown is excluding frunk/froot (front boot) volume for EV6 and model 3. i4, Sorry, no frunk. I4 is the longest of the lot, but has the shortest wheelbase. Thanks to it's long nose, courtesy of non-electric platform, less passenger and luggage space of the lot. But both EV6 and i4 has a liftback style tailgate, which is much more practical than a model 3's sedan tailgate.
With EV6 being a ground up electric platform, the nose is very short and it helps in offering a good visibility out front. Also the muscular humps on bonnet help in locating the car better. On the other hand, the i4 with it's (6-Cylinder ) long front nose does feel a bit cumbersome to drive in tighter spaces. Me and my wife felt that the model 3 is the best when it comes to front visibility, because of the shorter nose and a very low dashboard without any display to hide the front view.
Exact model variants driven
Getting in and out
In EV6, you are sitting a bit lower than Ioniq 5, but not as low as i4 or model 3. I didn't notice any difference in i4 or model 3 for my seat height setting.
For my height of 6'3" with relatively longer legs, EV6 has ample rear space even if I sit behind myself. In i4, sitting behind myself is impossible and the rear space is okay for people under 6'. If you are 6' and have a long torso, the sloping roofline of i4 might brush against the hair. I have to droop a bit to fit myself in rear. So EV6 beats i4 fair and square. A rear facing child seat in i4 behind a tall driver or co-driver seat is impossible to fit. The Model 3 feels slightly a bit roomy at the rear than i4.
I4's frameless windows look cool, unlike EV6's windows. Inspite of frameless design, BMW's build quality is fantastic and the door thud says it all. EV6 doors feel heavy and the thud is as good as model 3's. Here is a comparison between i4 and model 3 (watch till the end ).
When you get out of the car with the key in pocket, EV6 nags you to turn off the vehicle (ie push start stop button). Luckily BMW goes the tesla way and puts the vehicle in park and turns it off automatically.
Front seats
i4's Sport seats with adjustable under thigh support is a boon for tall drivers. EV6 has no such adjustment. Also i4 has better side bolstering than EV6.
Driving
EV6 drives a bit sportier than Ioniq 5 but nowhere near i4. The i4 in comfort mode feels much better and planted than EV6. In sport mode, i4 drives like a proper BMW. In corners, I found the i4 a bit less agile than model 3 most likely due to the 500kg weight penalty of i4.
The braking of EV6 is not very linear to pedal action. There is a very gradual slowdown and a sudden bite. I4's brakes are pretty good. They respond to pedal actions in a linear way and the bite is very precisely controlled instead of sudden jolt.
Though EV6 and i4 both have different drive modes (eco/comfort/sport), EV6 alters only the acceleration, but the suspension and steering remains the same. However, i4 in sport mode stiffens (rear) suspension and tightens the steering input/feedback. This makes it feel much dynamic and stable around corners. I wish model 3 has this as well. This is where i4 shines than most other mid size EV offerings.
Because of the weight and standard rear air suspension, i4 seems much better sorted on the highways than the EV6. EV6 feels a bit like a ship in comparison to i4 and model 3.
At 100-120kmph, i4 is phenomenally silent. Much better than EV6 and my model 3. I wonder how they got is so silent inspite of frameless windows. You can even listen to smallest details of music while driving at 120kmph.
The audio system (optional Harman Kardon)in i4 is much better than the one in EV6. Model 3 is okay at best. Note that the subwoofer eats up some under trunk space in the i4.
Lane changes and corners in sport mode feels pretty sweet in the i4. EV6 is bland and wavy when compared to i4 and my model 3.
Steering response of EV6 leaves a lot to be desired. It is very synthetic. However, BMW nailed it, inspite of such a heavy car it feels pretty direct in sport mode and comfortable in comfort and eco modes.
The acceleration of i4 (0-100kmph in 5.7s) feels much better than EV6, but not as explosive as model 3 (0-100kmph in 5.3s for my Standard range plus). The EV6 I drove is the slowest variant and hence it is not apples to apples comparison. The EV6 AWD variant (0-100kmph in 5.2s ) available in India might be the direct competitor for i4. Still I think i4 has a great trick up it's sleeve compared to EV6 and even my model 3. BMW cleverly uses the rear air suspension to limit the dipping motions on heavy acceleration. So when you launch it, i4 almost doesn't dip at the rear. This is pretty cool to experience, as my tesla always dips a bit at the rear on launches. I can't really say for EV6, as the one I drove is not the fastest variant and I didn't care to launch it.
Individual driving mode is customizable in i4 for different drive modes. Say for eg. I can have comfort mode with only stiffer suspension instead of comfort for highway driving and sporty steering combined with eco mode, etc. EV6 is boring in that aspect. You can only use what modes are predefined.
Iconic sounds package is very neatly implemented in i4. Eco pro is silent, Comfort mode has slight sound based on driving and Sport mode a much sporty electric grunt. I would call this a nice-to-have gimmick than the useless emission control/fart mode gimmick of Tesla. Enjoy the iconic sounds here:
Both EV6 and i4 has 3 (no-low-high) + 1 adaptive regenerative braking modes. EV6's adaptive mode is iffy and BMW's adaptive mode is slightly better than EV6. Best is the B mode of i4 as it can be selected from the Drive selector instead of going into a menu or using paddle shifters (EV6). With B mode you can use one pedal driving. If you want one pedal driving in EV6, the highest regenerative braking mode is the best bet. I would not bother using the adaptive modes on both cars.
Fast charging
With the current crop of fast chargers in India (max 50kW), there is almost no difference in charging times between EV6 and i4. Only when we get 350kW fast chargers in India, EV6 makes a difference. Otherwise, both i4 and EV6 play on same levelling field, ie. both can charge at 50kW almost from 0 to ~80%, when it comes to fast charging.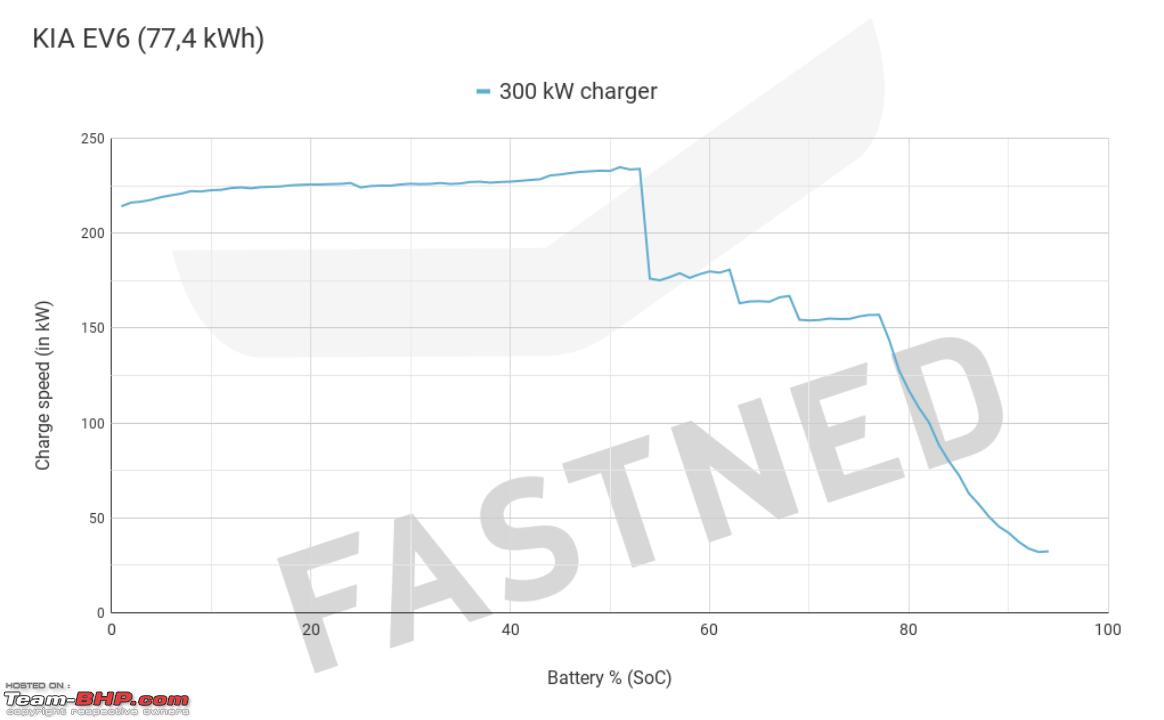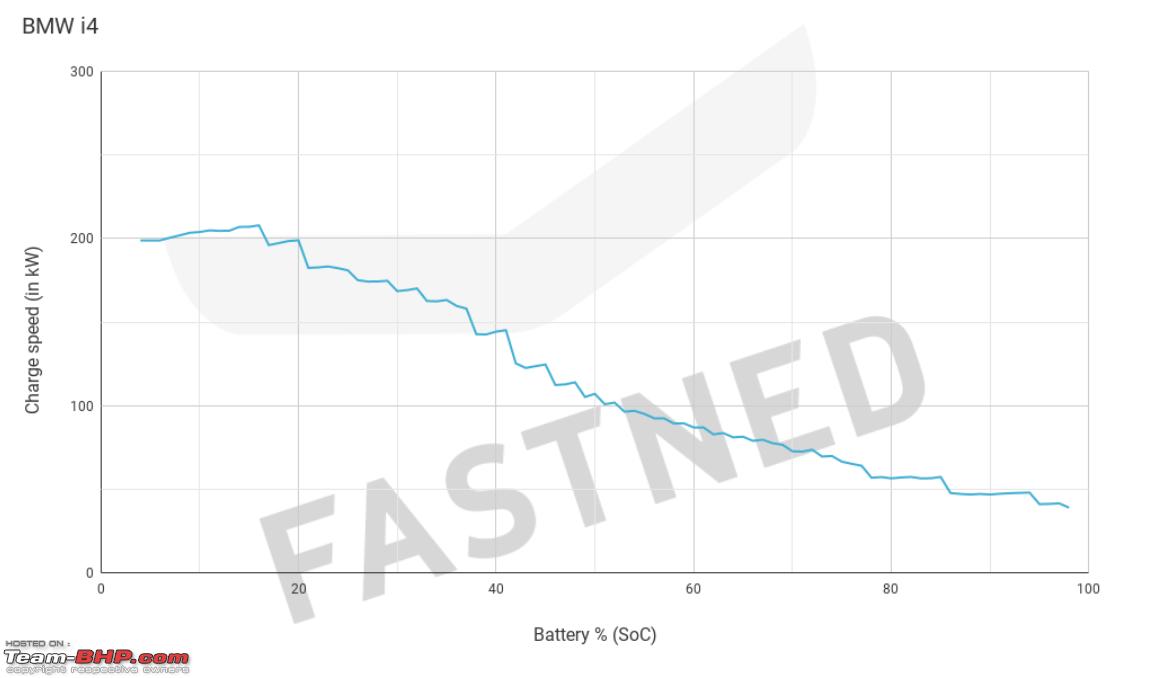 Niggles
The biggest annoying thing about EV6 is it's driving position. At my height of 6'3″ and with my comfortable steering and seat setting, I can't see the speed or the range in the instrument cluster. Here is a pic taken from my eye level: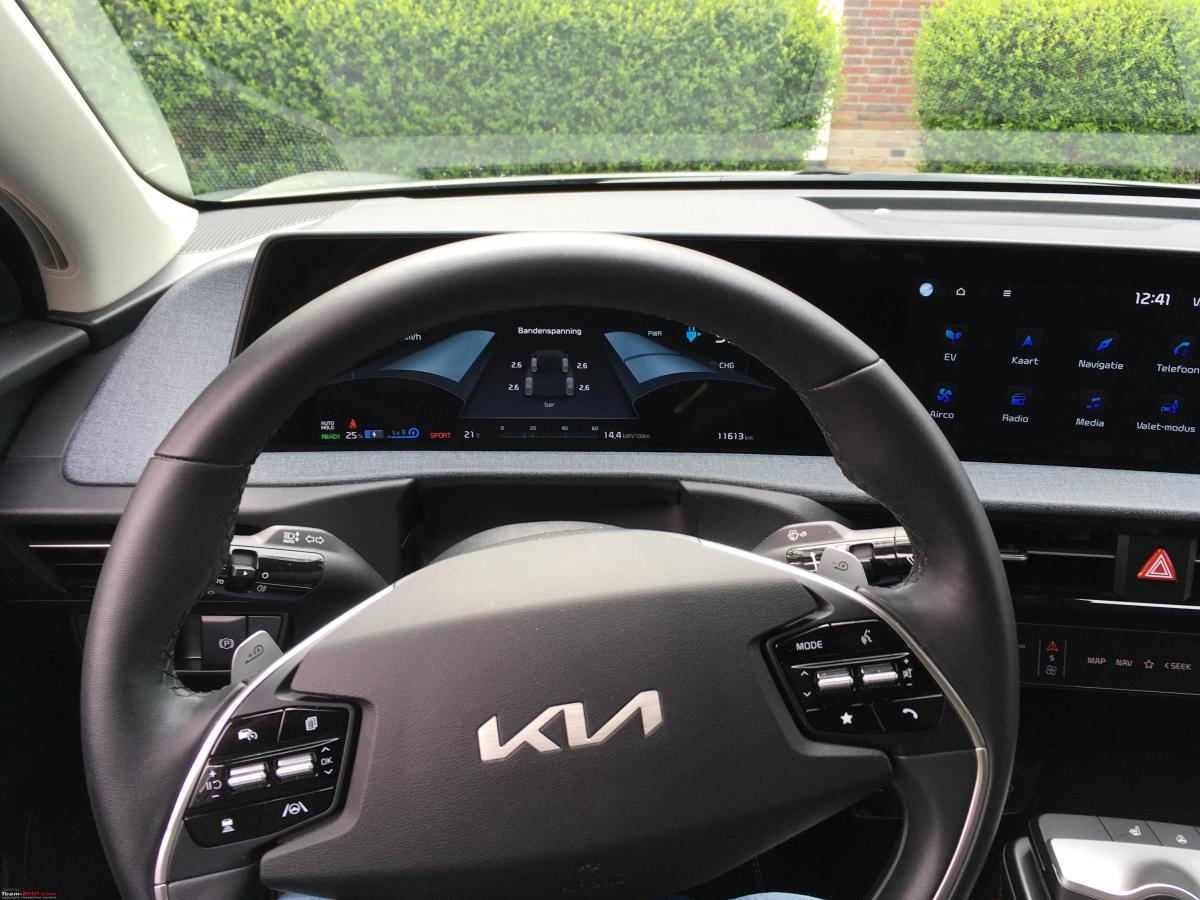 All climate control options on bmw i4 are on the main touchscreen. No dedicated buttons, knobs etc. It is much worse than Tesla's as almost every time you select/type something on the top part of display you hit the temperature adjustment part. Good luck searching a destination without adjusting temperature.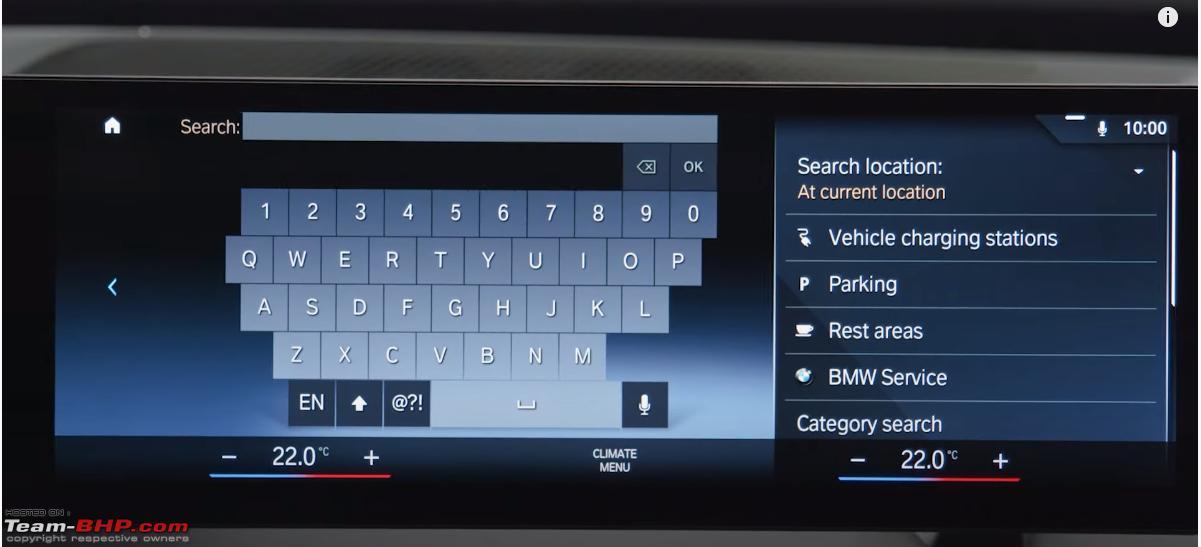 In i4, when you select sport/comfort/eco pro modes, the selected mode notification is shown in a full screen format on the main screen and stays there for few seconds. You can't use that screen until it goes off by itself. It is like the moment you fall down (say from a bicycle) and you know it is going to hurt, but you can't do much about it
At start, EV6 always crawls on releasing the brake pedal. There is no way to stop it from crawling. Whereas BMW has the B mode (gear selector to Drive and then to B) which prevents it to crawl and a very useful feature for one pedal driving. Anyone using electric car knows that it is more comfortable not to crawl when releasing brake pedal. Since the B mode is only applicable in D, while reversing you can use the auto hold functionality in i4 to use the single pedal driving. Unlike EV6, i4 remembers the previous auto hold setting on next drive.
I set the lane departure warning to OFF in EV6. For the next drive, it came back to ON automatically. Though safe, annoying at best as EV6 can't seem to remember some of the last settings.
Kia EV6 has the climate menu hidden in the separate touch interface below the main screen and it alternates with the infotainment menu using a toggle. Luckily some basic climate functionalities remain unchanged while toggling. I would say this is much better than i4's climate control positioning.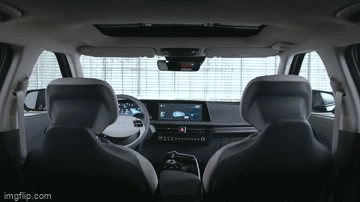 There is no dedicated button in EV6 to open the rear tailgate. You have to do it in the display. Whereas i4 has it neatly tucked in the bottle holder area in the driverside door.
Buttons in i4 are logically positioned than in EV6. For eg. steering heating is on the steering wheel (below horn) itself in the i4, whereas on EV6 it is in the center console.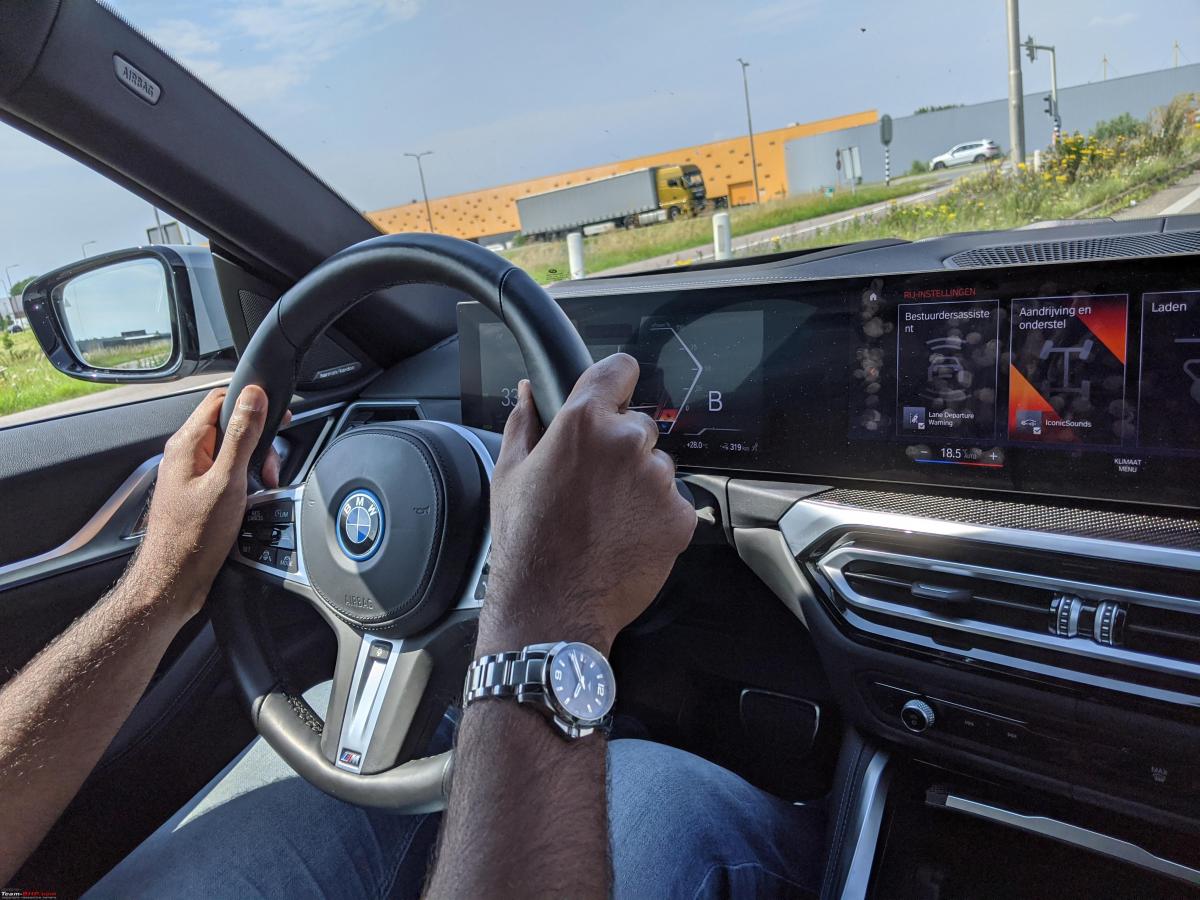 Both i4 and EV6 both have relatively decent navigation systems, but the maps are not as good as the model 3. Searching for destinations and adding waypoints is also a bit cumbersome in both i4 and EV6. Relatively speaking i4 is a tad bit better than EV6, but not far off.
Similar to Ioniq 5, EV6 has a lot of beeps and bongs which is pretty distracting. I4 is typical BMW.
Win for i4
Driving dynamics. It can be both a comfortable cruiser as well as a sporty sedan.
Super silent at high speeds
Predefined and configurable drive modes which alters acceleration, steering and suspension
Fit and finish
B mode for single pedal driving
Remembers previous settings on start unlike EV6.
Supremely comfortable front seats
Win for EV6
Rear seat space
Bigger boot
Lounge like front seat area
Vehicle to load
Charging speed (IF we get very high speed chargers (>200kW) in India)
Ground up EV platform constitutes for better space management and visibility
Driving both these cars have made me realise that Tesla's first principle design made a car/EV so easy, spacious and functional without compromising on fun to drive quotient. If I were to pick one among the two, i4 would be my choice. EV6 does nothing better than i4 or my model 3 for an enthusiast's daily driver. If BMW can make such a good electric car out of a non electric platform, I wonder what they could do with a ground up EV platform.
Some pointers for women drivers from my wife's point of view
She found the EV6 much roomy and easier to drive around than i4.
She felt i4 a bit claustrophobic coming from a model 3. EV6 is much better in terms of space and roominess.
Also the sheer length of i4's nose combined with that wide screen is pretty much a no-go for my wife, when it comes to narrow parkings/driveways.
She liked i4 for being very silent on the highway and of course for it's fit and finish
Unlike i4, EV6 had a lot of space under center console for her handbag.
She also misses the full size frunk in i4 and EV6. In Tesla model 3, the frunk is our space to store soft luggage and doubles up as diaper changing station for our 2yo daughter on long trips.
Thanks for reading patiently
Read BHPian comments for more insights and information.
Source: Read Full Article