Cost of owning & maintaining a 2019 Kawasaki Ninja 1000
There have been no issues faced in the past year and ownership experience has been pretty fuss-free as expected from this bike.
BHPian KarthikK recently shared this with other enthusiasts.
Fourth Service / 33 months update (~12,000 km up)
There have been very few updates in the past few months, we hardly did any rides since almost March due to the incessant lockdowns here in Karnataka during and after the second wave of covid-19. As things begin to open up and look a bit brighter on the travel front, I decided to first complete a long pending annual service at Rideventur motors, before we decide to embark on the next set of trips and rides for the remainder of this year.
Due to the tyre imports/ shortage last year and then the second wave related lockdowns this year, my past year's running has been at a dismal, all-time low of a paltry 2,000 km in the past year. Thankfully things do look better from here and we will definitely munch more miles in the coming days, with some trips planned in September and October for the Ninja.
There have been no issues faced in the past year and ownership experience has been pretty fuss-free as expected from this bike. Perhaps the only point I can crib about is that I was paying EMIs for a bike which was parked at home, accumulating dust during the lockdowns, lol! On the fuel front, I mostly alternate between IOC's XP100 and XP95 nowadays. XP95 retails at around 109.xx rupees here in Bangalore, around 4-5 rupees more than the regular petrol and is worth it. It is also easily available even in big pumps on the highways and in smaller towns. There are occasional XP100 tankfuls too, whenever I pass by one of the pumps dispensing it here in Bangalore.
With the general updates out of the way, let's get straight to the service update. This was the annual routine service with oil and filter changes. I reached the service centre on a weekday morning, I stepped in at around 8.30 and ran into two gurus at Kawasaki – Unni (the new service manager) and another pro called Joshua.
Customized job card for Ninja 1000, lol! I wonder if they have a separate job card for every bike model. 'No scratches' remark even after ~3 years, thanks to PPF, lol!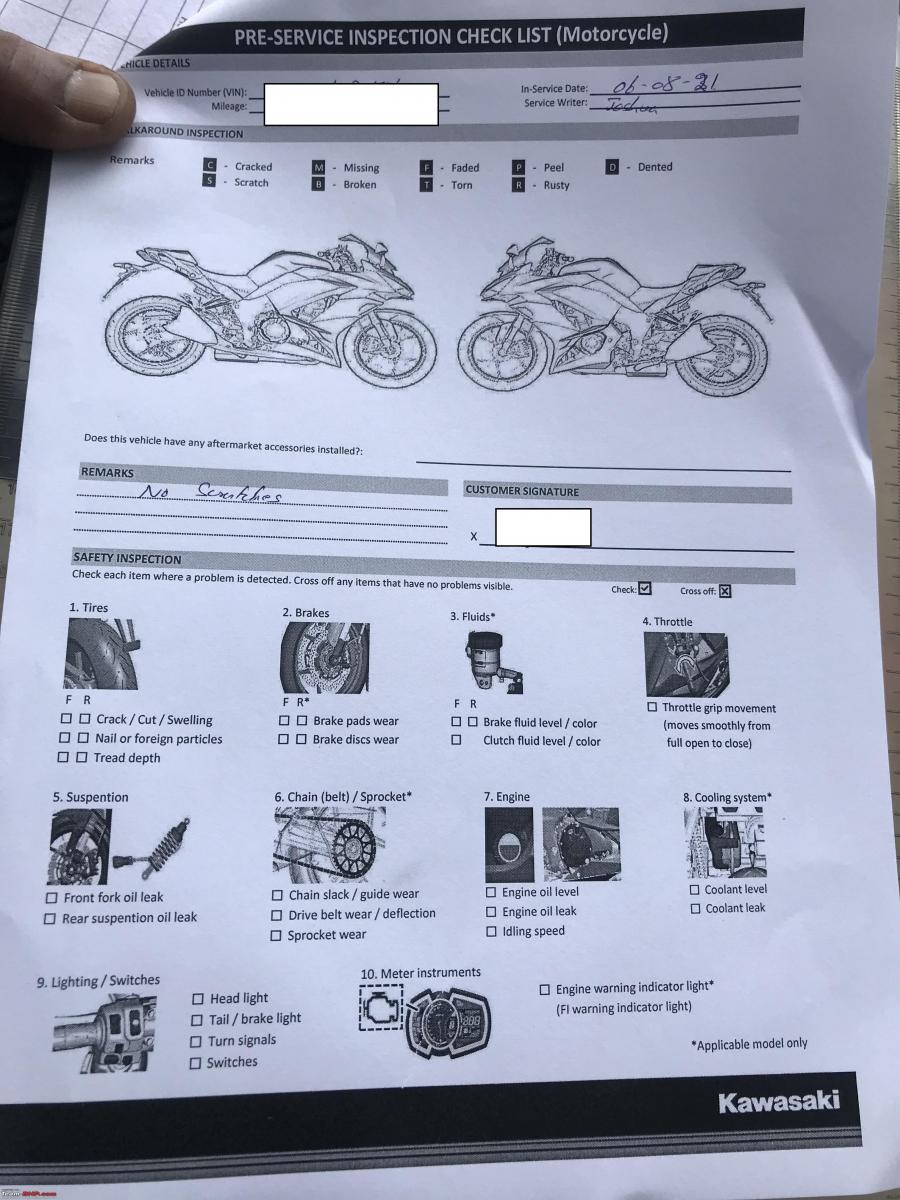 My bike was the earliest and so, the first to be taken in and worked on.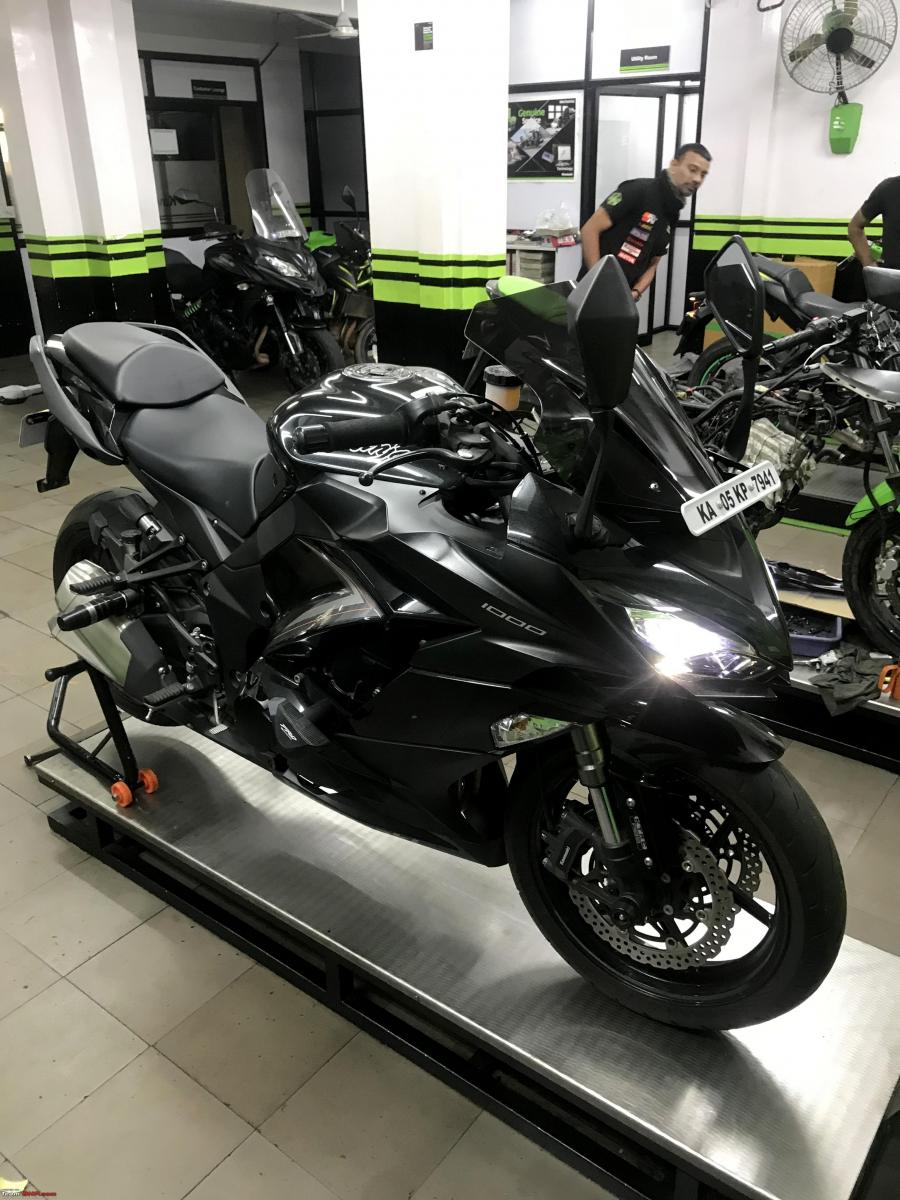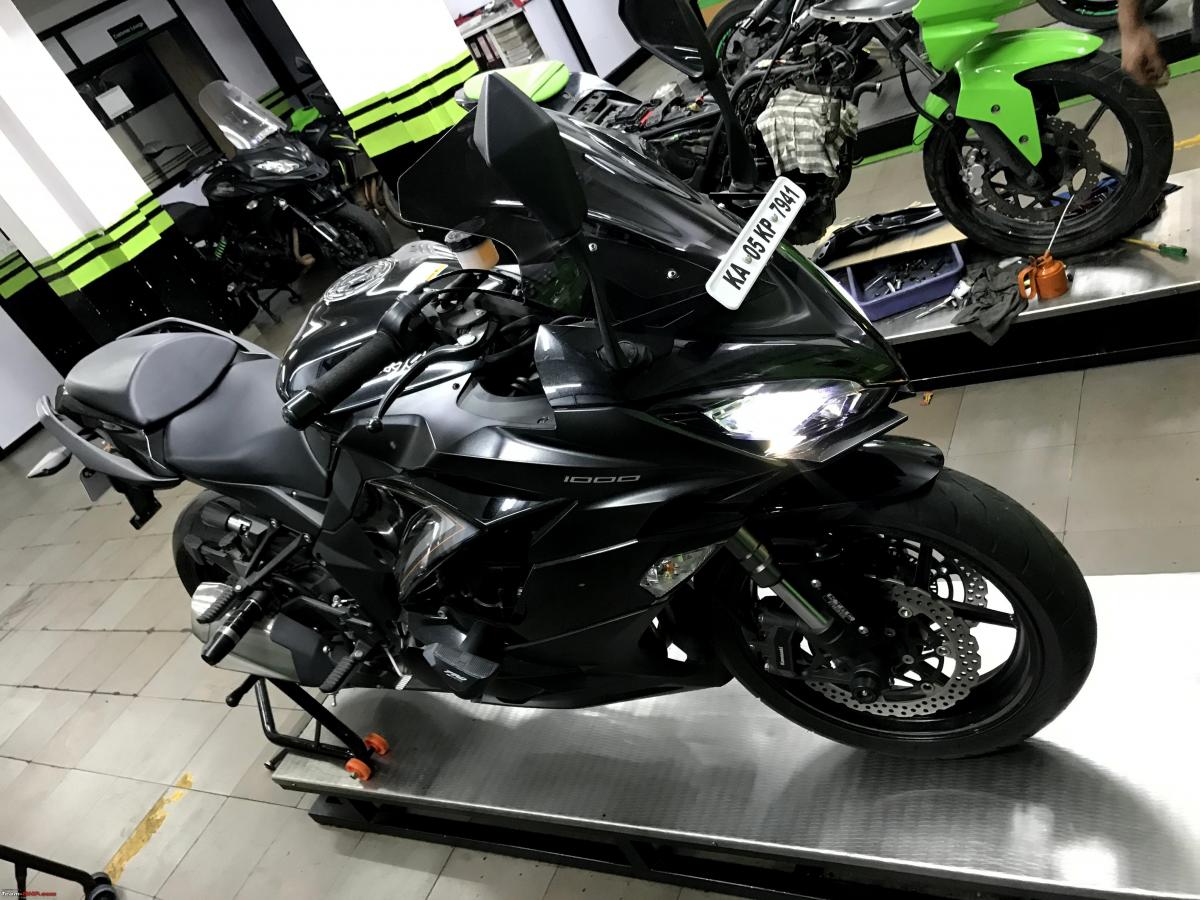 The guru Unni who himself worked on the bike. Glad I was able to go early and get his attention to look at and tweak anything needed.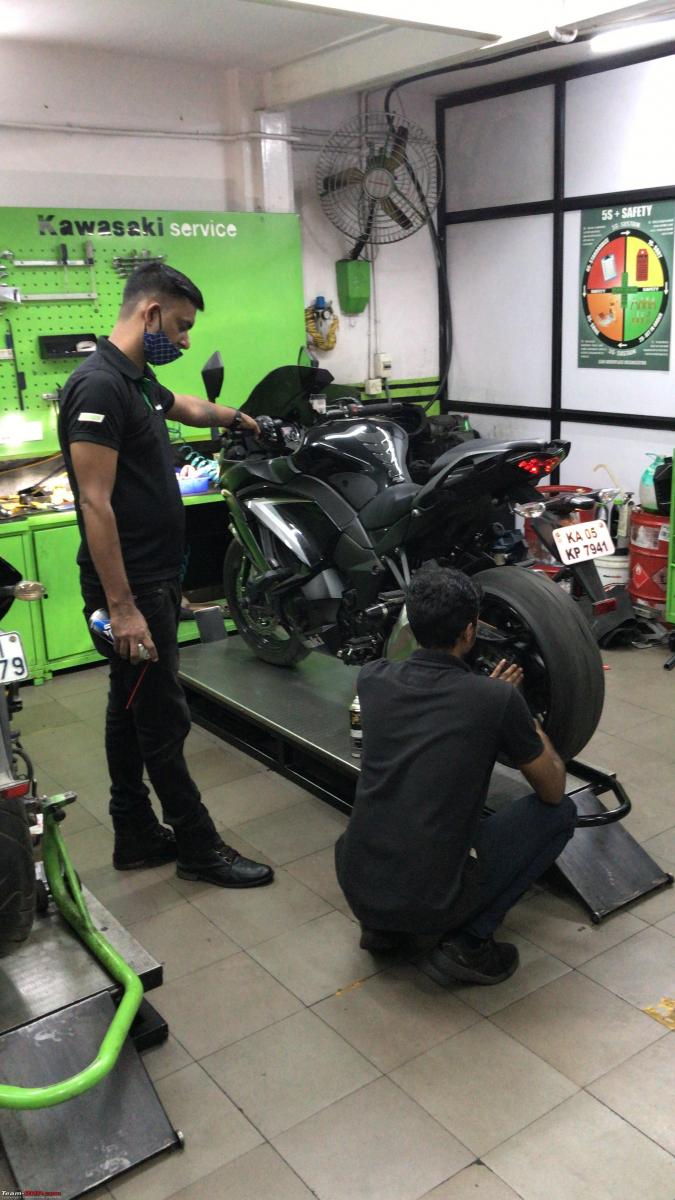 The only thing I asked them to check was a bit of play in the clutch lever. Unni cleaned up the area around the clutch lever and the gunk was removed and things were back to my liking once again. He took the efforts to also check each and every parameter on the bike and adjust whatever was needed – condition of fluids, coolant, lever play, etc. He pointed out a bit of rough idle and proceeded to clean up the throttle body thoroughly, after which the bike feels much better. The air filter was replaced last year and was still okay to use for some more time, so he cleaned and put it back. I will consider a replacement to a washable BMC / K&N air filter at some later point as a one-time investment.
The bike was all serviced and ready for delivery in under 2 hours flat. After the past experiences with the then lethargic service centre, the experience now was a revelation in how they seem to have improved!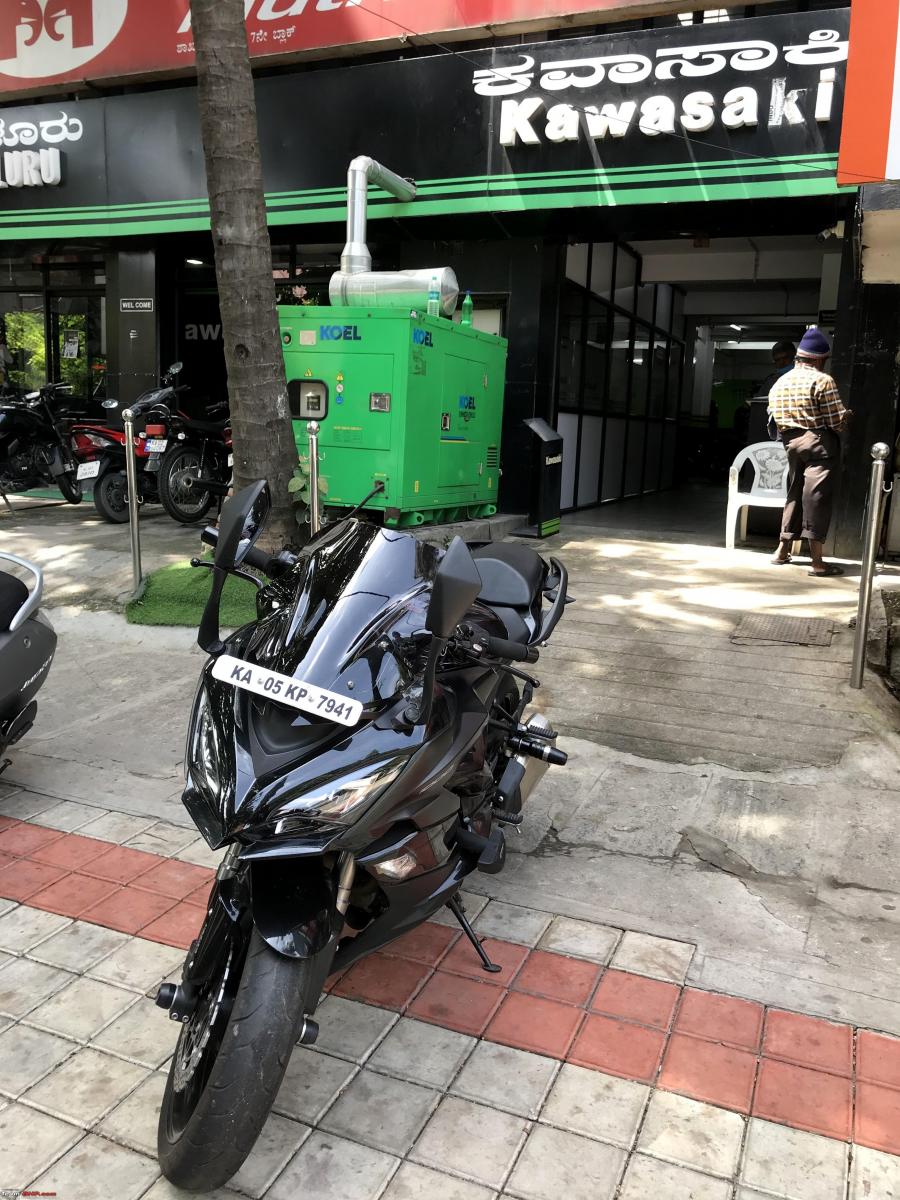 I am really impressed by the way things have changed at Rideventur service after Unni seems to have taken over things. Everything feels in place, feels professional and they worked on my bike and delivered it in record time when they learnt that I planned to wait and take the bike back instead of going home and returning later.
The total bill was INR 7787/-, as per the invoice.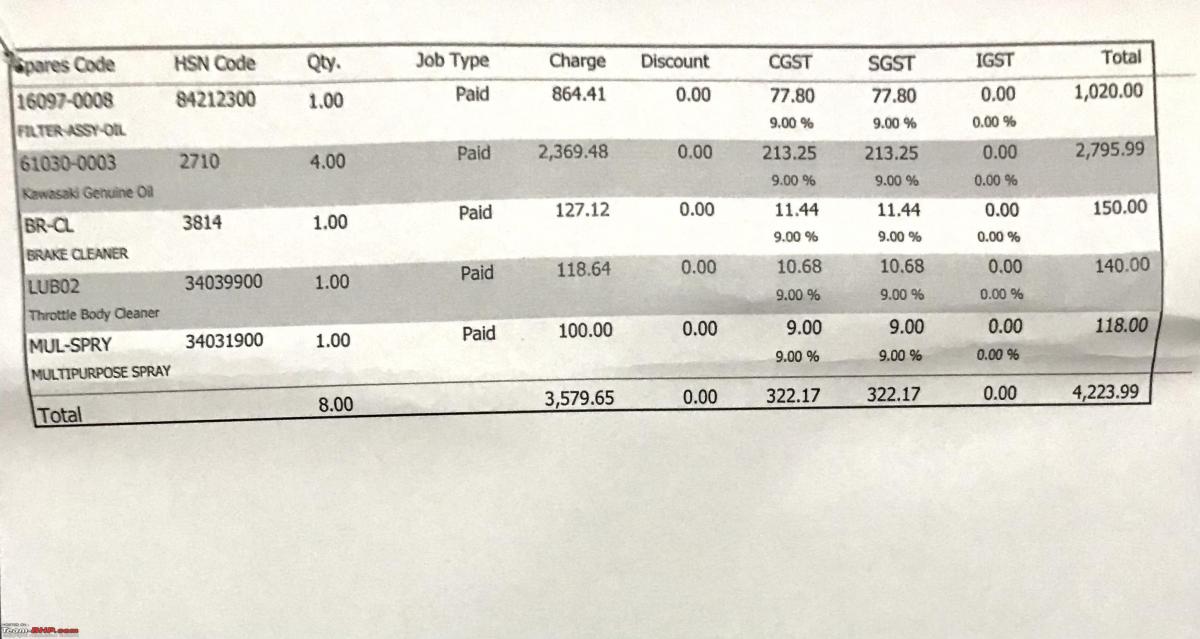 The maintenance timeline looks like this with the recent update
BHPian and fellow Ninja 1000 owner ebmrajesh and I did a short breakfast ride on Saturday to give some much needed exercise for the bikes plus make sure the bike was perfect after service. The Ninja goes to cold storage for another fortnight, while we embark on a week-long ride on the Himalayan next week and the week after that
Parking while we camp for breakfast in Empire / Vegetarea, Kunigal.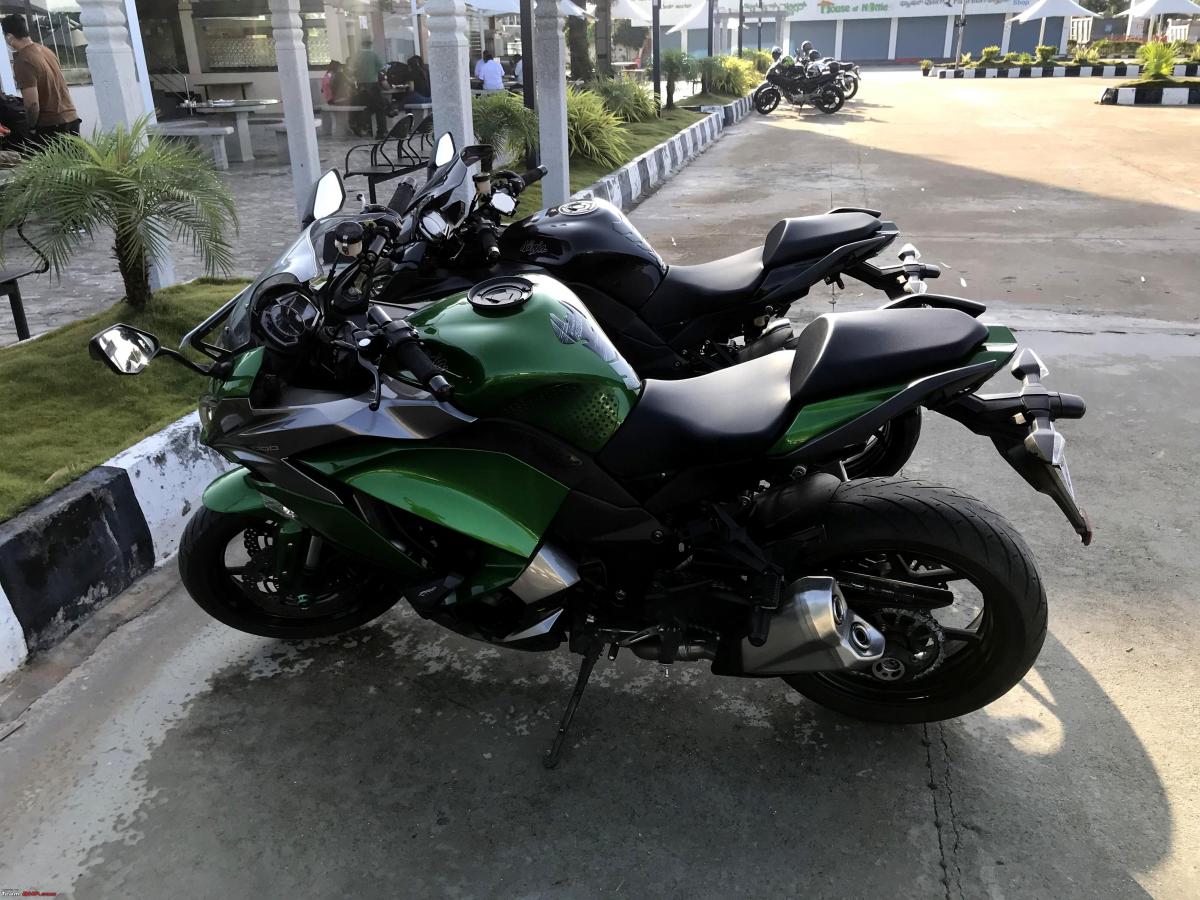 I needed a small backpack for these short time-pass weekend rides just to carry bike documents, wallet, n95 mask, phone, etc. Not a fan of backpack usage for longer rides / overnight trips due to the inherent problems they come with. After my previous backpack wore out, I was on the lookout for another one – this one from Carbonado caught my eye at Orion riding store. It is called X14 and has a X-shaped weight distribution via the shoulder and waist straps which are locked together at the chest.
Carbonado X-14 backpack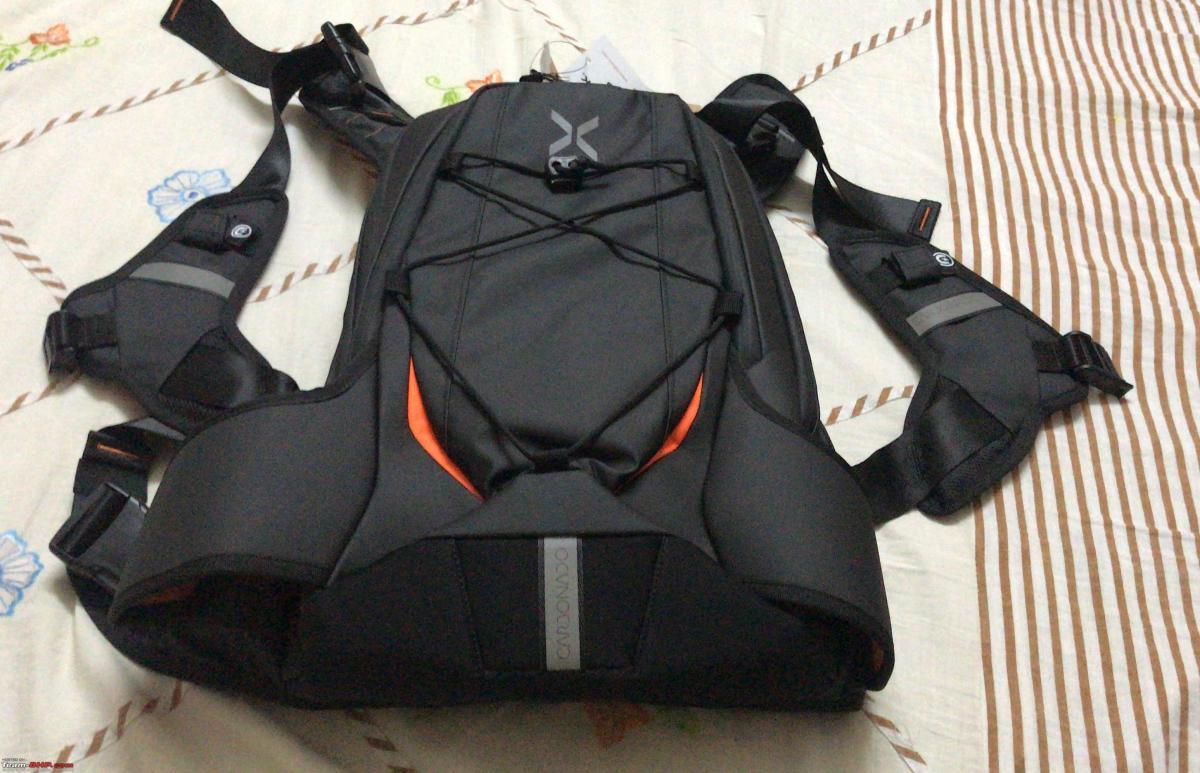 It is compact, rain resistant, has decent space (14 litres), can contain hydration bladders and is weightless when worn. There are securing loops for all the loose strap ends to avoid flapping around at higher speeds and distracting the rider. Overall great product for short daytrips and breakfast rides to carry weightless things.
The bag isn't very big though, this is how it looks when worn with riding gear.
A mix and match, all-black avatar with bits and pieces of riding gear, using the jacket, gloves and pant from my Himalayan's alpinestars gear set, helmet from the interceptor's gear and boots from the Ninja's gear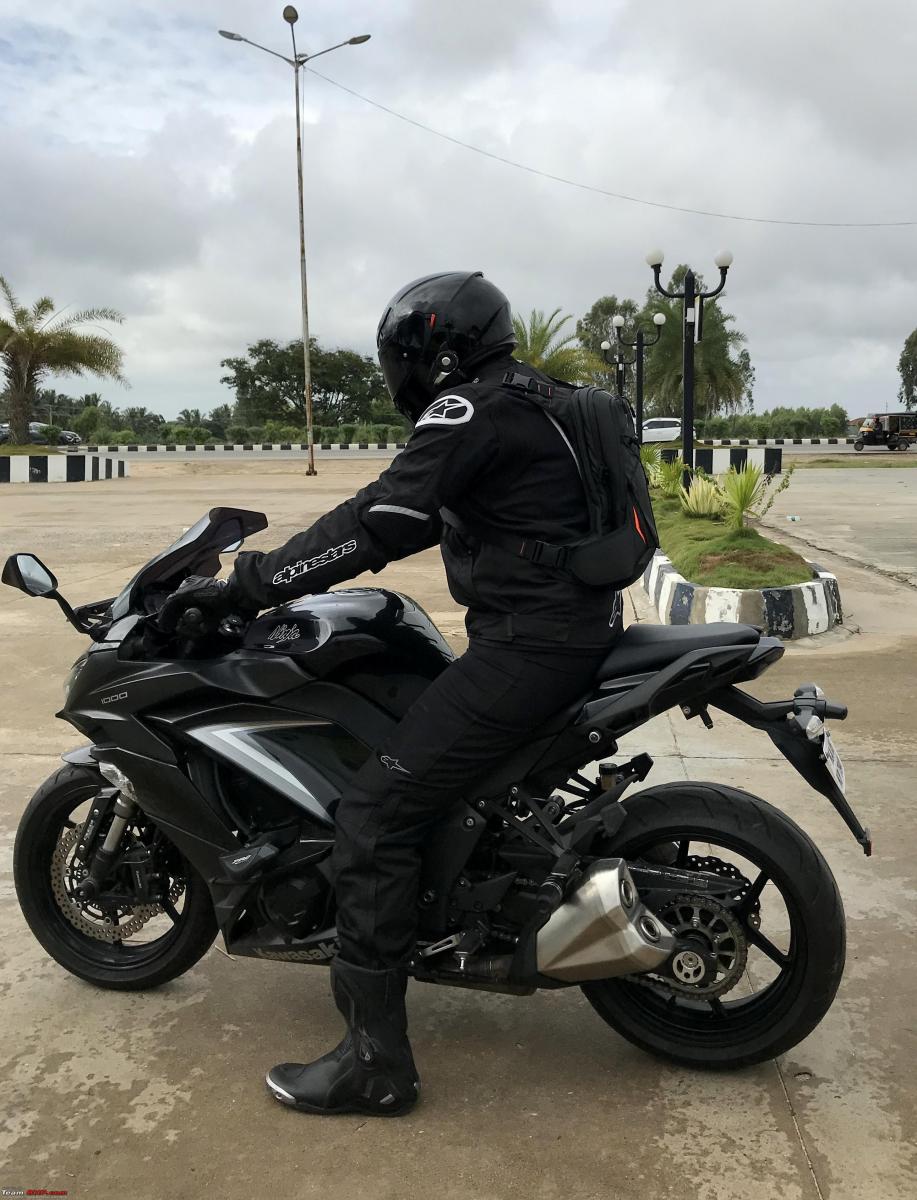 After a wash and detailing session at home, the bike was back to its old sparkling self
Those are all the updates I had for now. The stock Bridgestone tyres are good for just 1 more 700-800km trip, which I plan to do in September first or second week with my better half, and then switch to the much awaited Metzeler M9RR. More updates to come in the following weeks as travels and rides open up.
Check out BHPian comments for more insights and information.
Source: Read Full Article