Did a 3 day 1000 km trip in my Tata Harrier: Experience & key takeaways
Being a holiday weekend, I made sure, we don't end up struck in a traditional holiday destination like Ooty, Kodaikanal or Munnar.
BHPian abhigna87 recently shared this with other enthusiasts.
Hi everyone,
This is my first travelogue in Team BHP.
I own a TATA Harrier XZ variant. I have completed 15K kms of happy miles in 8 months.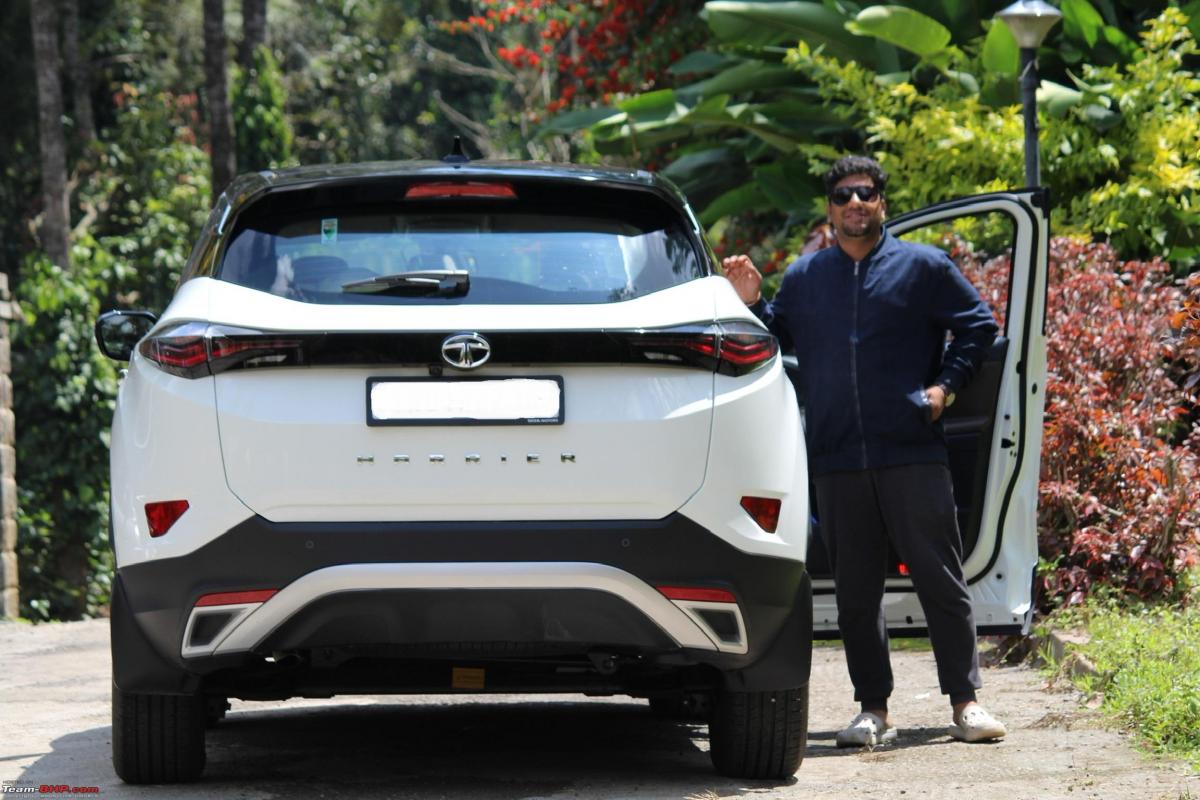 Recently gave my Harrier for a 15K Km service and a quick review of Harrier drive-abilities so far.
Pros:
The machine is a proper macho feel car. The steering is not heavy but it adds a good heft to it.
Gives a good driving dynamics & high speed stability. At higher speeds it's a drivers pleasure, a great mile muncher. Covers distances effortlessly.
The fiat 2 Litre Turbo Jet Diesel engine is my love that gives you the punch whenever required and never feels underpowered.
Suspension is rugged, soaks up all potholes and bad patches. Returns a good cabin comfort.
Returns a good mileage. I have extracted a 20 km mileage over a distance of almost 300 km for this 2-litre engine is a great plus. Average City mileage is about 12 kmpl and average highway mileage is 18 kmpl.
The drive modes especially the WET mode feels handy during wet/rainy conditions. SPORTS mode gives Speed, punch, instant boost of power whenever needed.
The car has a good balance between Technology & Core driving. Only the most required features are controlled by AI . This may not be the case in the 2023 Harrier though.
Everything feels tough in this car, the steering, the doors, the bonnet, the body frame. Gives a sense of being in a secured car.
Apart from the above, all features inside the cabin are good. Say it the AC, Music system, system interlocks, auto sensing rain wipers, auto headlamps etc.
Cons:
Fit & Finish can be better. But that's noticeable only when you have a hawk's eye.
The touch screen is laggy and needs constant resetting. TATA can upgrade the touchscreen with an updated software that is provided in all new Harriers & Safaris now.
The Trip:
As a long weekend (April 29-May1) was approaching, I was booming to press the pedal.
The Harrier 15k km which was just completed by that time was also all set to go.
I got a surprise call from my brother-in-law asking to plan for a road trip in the holiday weekend. Checklist of the trip included hills, beaches & some adventure activities. Though I am not the adventure kind of person, I just took note of the requirements.
Being a holiday weekend, I made sure, we don't end up struck in a traditional holiday destination like Ooty, Kodaikanal or Munnar. We wanted a place which is kind of low profile and gives us the required privacy. We decided to make a road trip plan of 3 days where we will start with hills and end at sea all by driving the Harrier.
So, we charted a plan like this:
Day 1- Trichy to Vagamon (297 kms), 8-9 hrs. Activity – Hill gazing, paragliding.
Day 2- Vagamon to Varkala (161 kms)- 5 hrs. Activity – Stay in beach, Kayaking.
Day 3- Varkala, Paranur lake to Trichy (532kms)-10 hrs. Activity – Hardcore driving.
Day 1:
We started from Trichy at 7:15 am. Halted for breakfast at Hotel Temple city at Theni – Periyakulam highway at 10 am. Though the breakfast was quite decent,we were blessed to have this breath-taking view .We clicked some photographs and started our journey: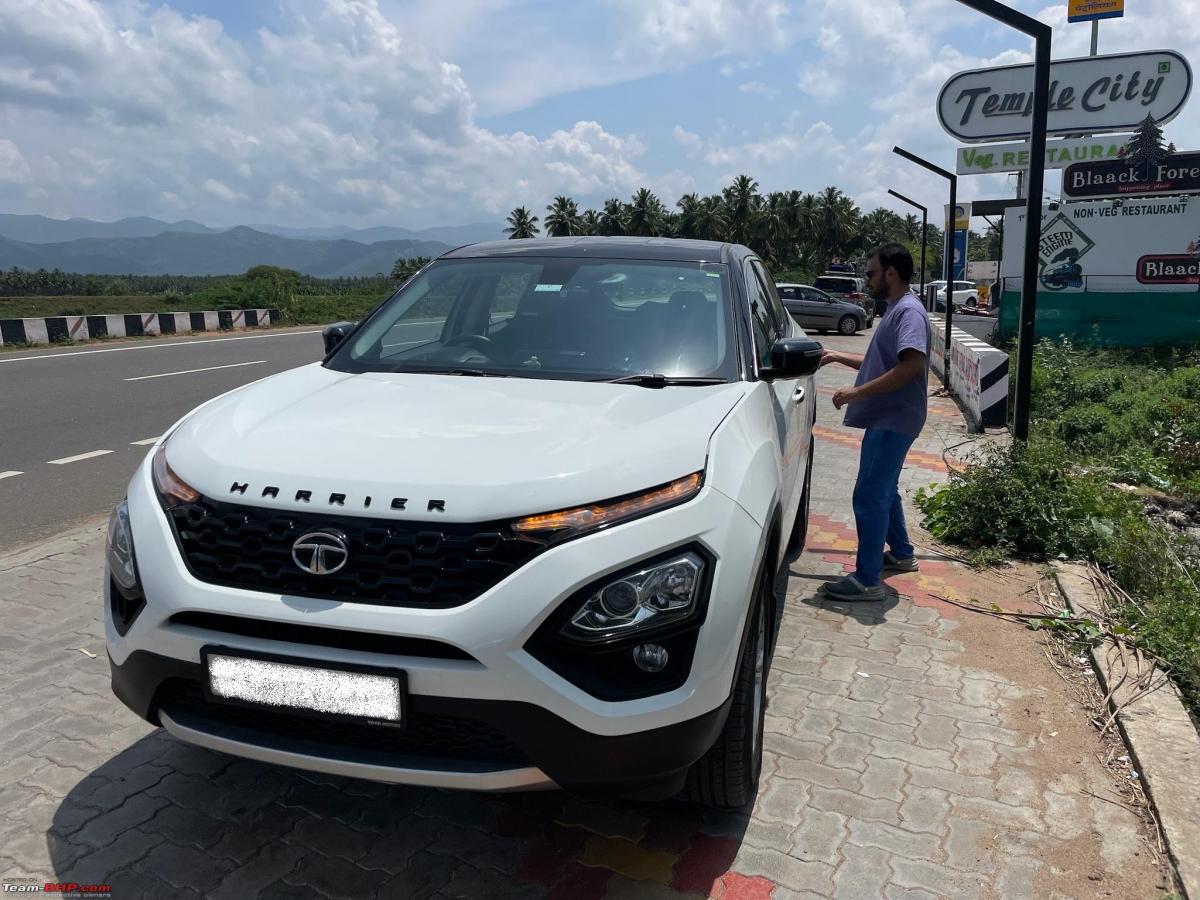 Harrier gave an impressive mileage of 22 kmpl for the first 112 kms: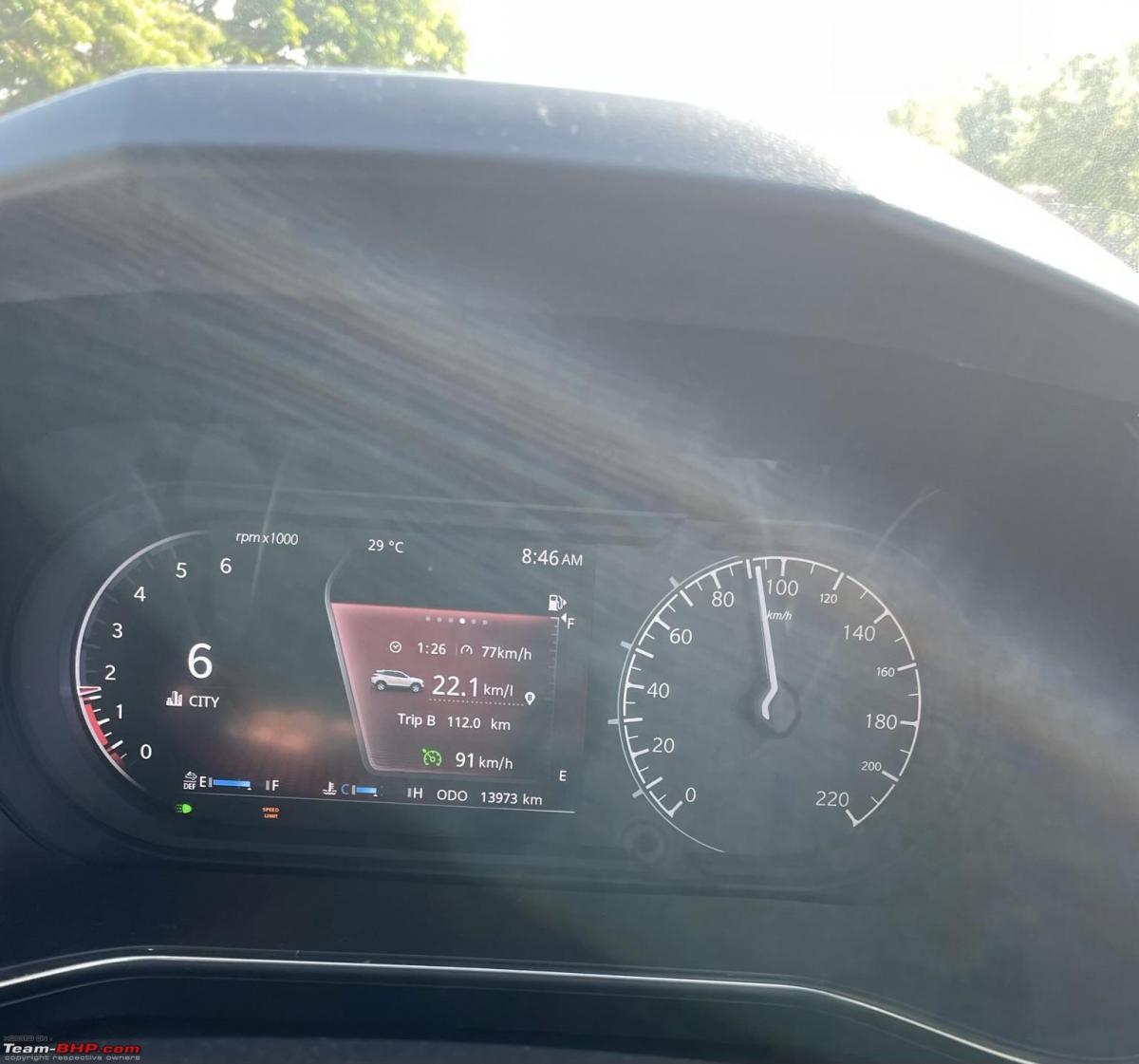 The road from there on to lower camp was just scenic and Idukki – Peerumade highway in the ascend was a bliss to drive: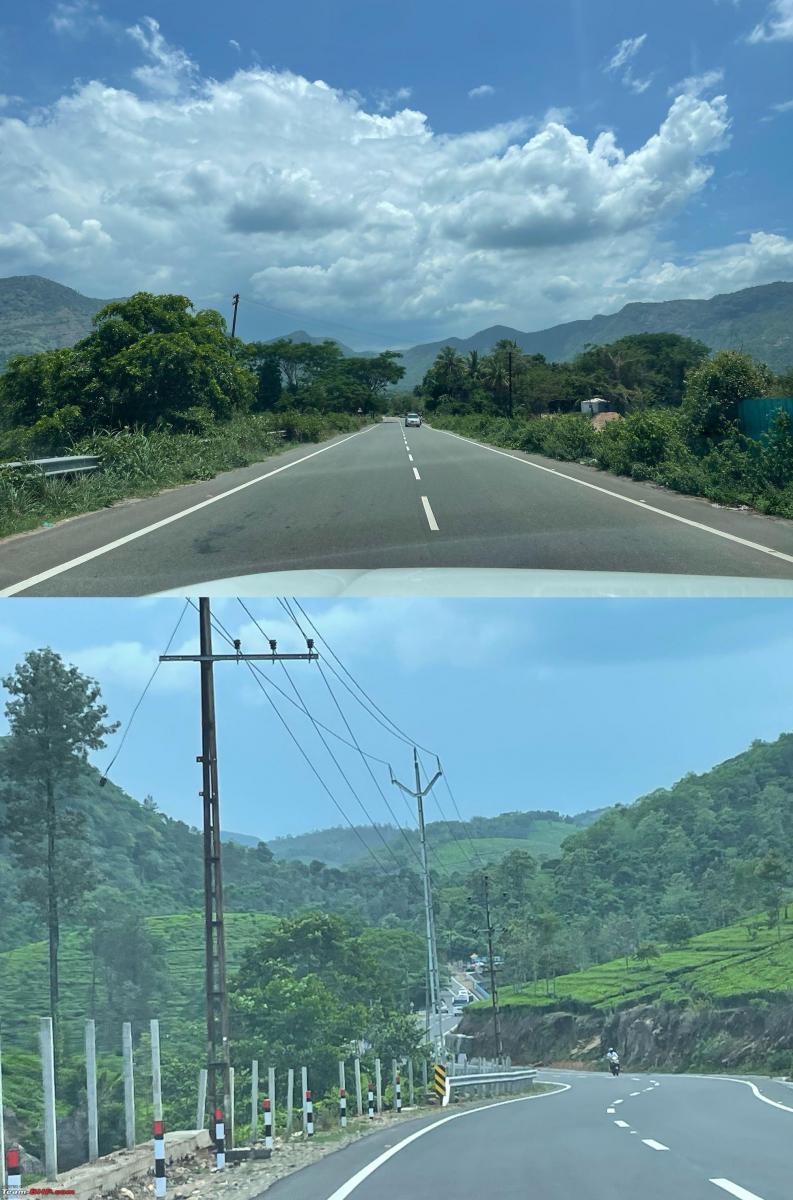 We then sneaked into the Vagamon route through elapara junction and reached Adventure Park enroute to Vagamon. This is where we pinned an important activity to be done for the next day -Paragliding: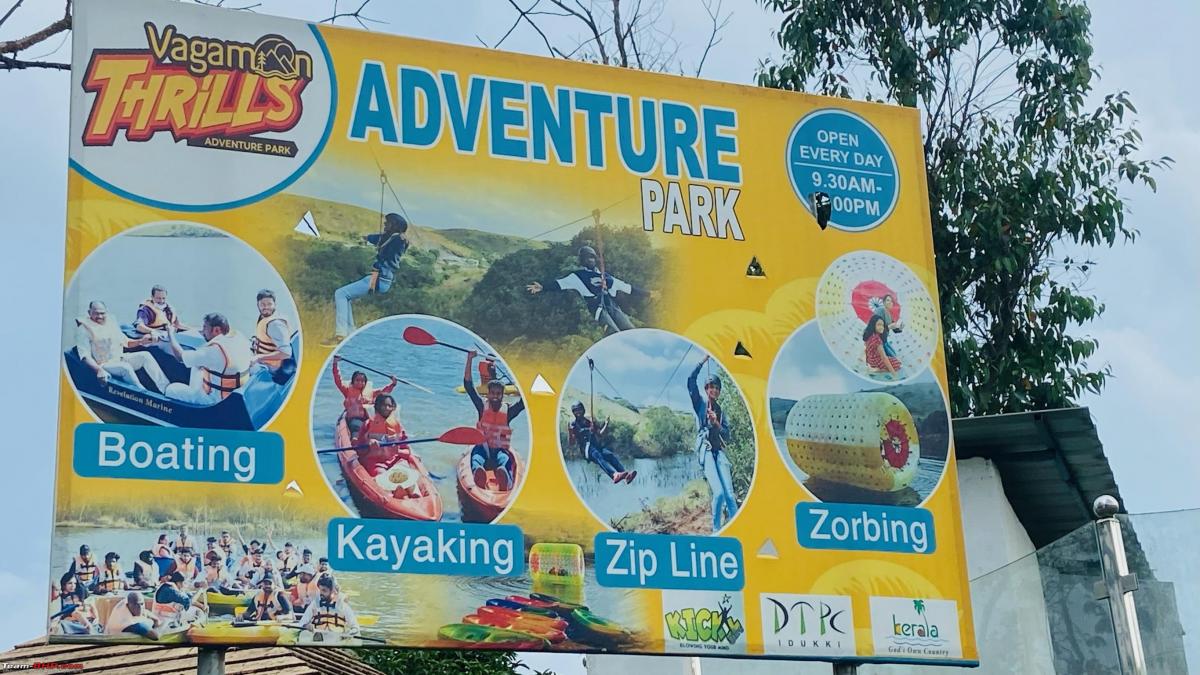 We booked our accommodation at Mount Tales, Vagamon through booking.com. The last stretch however was an unpleasant surprise. The roads were narrow, infact there were no roads. Only gravels & stones. But thanks to the Harrier which crushed everything on its way to move ahead and made the short drive memorable one.
The roads got even narrower at the turnings where it was a cliff and there was no possibility of a two-way traffic. We had our hearts in our mouth when we were making the steep uphill on the narrow cliff road. Harrier did really well to grip the wet path uphill:
We finally reached our resort-Mount Tales, Vagamon by 3:30 pm. An 8-hr drive comes to halt.
The location is a private 4 villa property among the tea plantations totally isolated from the rest of Vagamon.
Location- Mount Tales Vagamon by VOYE HOMES.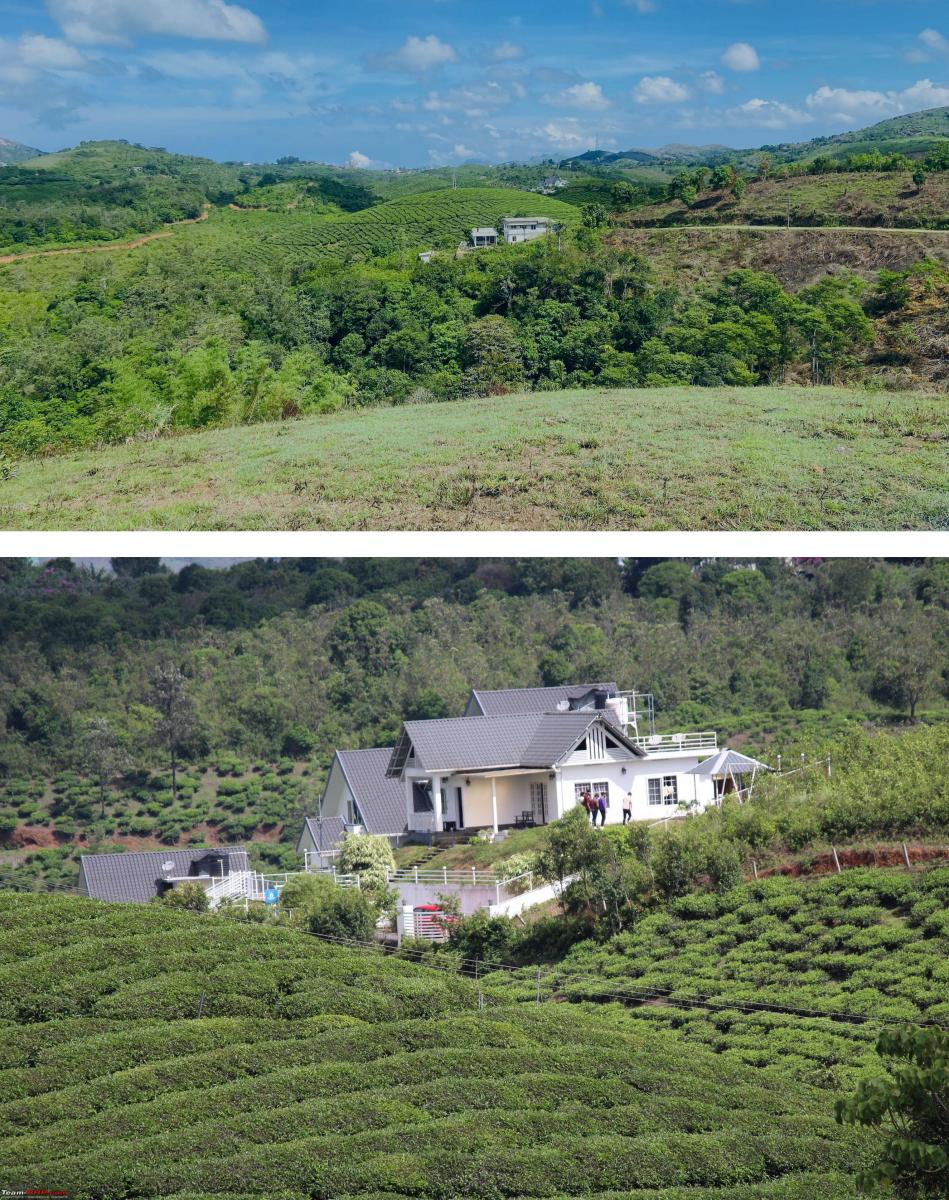 We had a late lunch by 4:30 pm and decided not to relax in bed as it was going to be dark pretty soon. So, we decided to go for a stroll:
We walked down the road by which we drove. The place was so beautiful and was out of the world:
Harrier parked: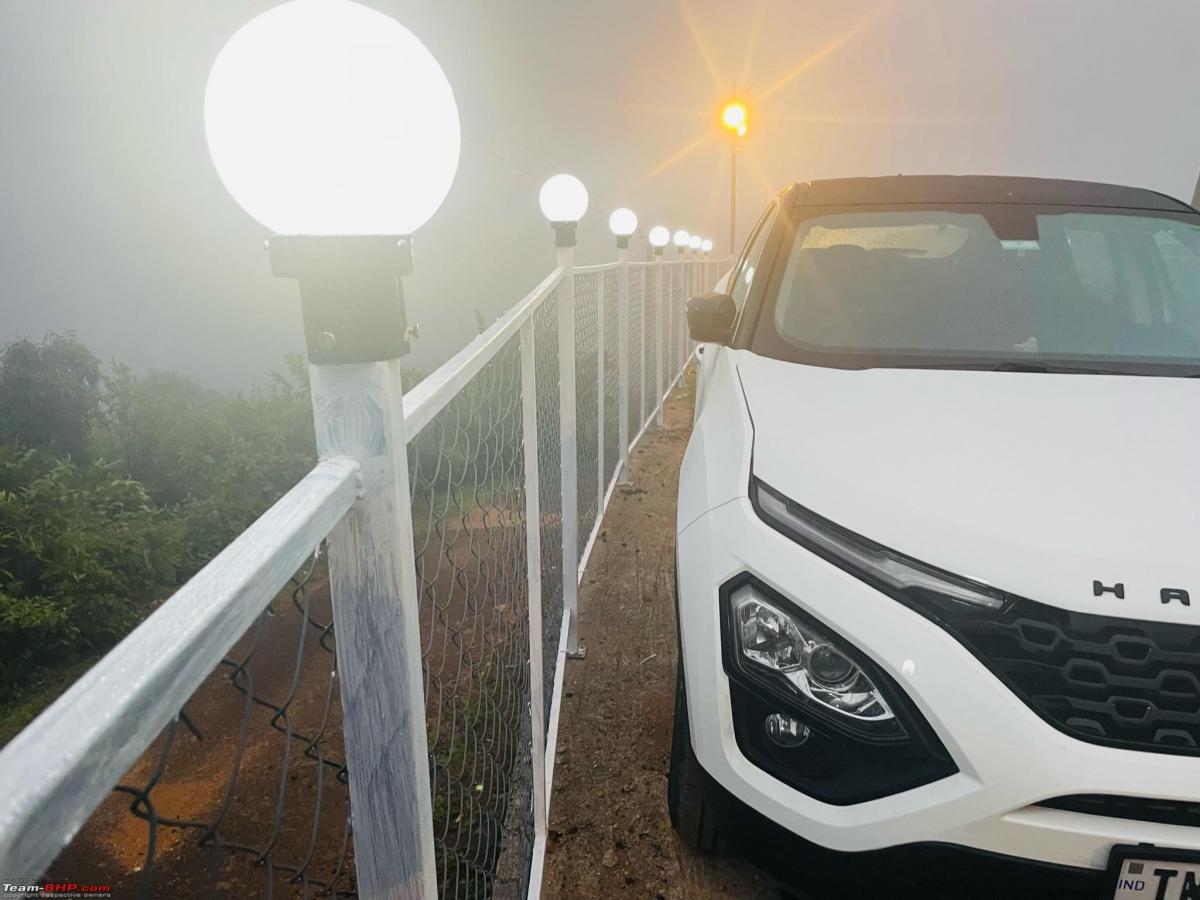 Day 2:
We started the day at 8 am with a clear sky. As I was busy checking the tire pressure, my brother-in-law was busy clicking some photographs: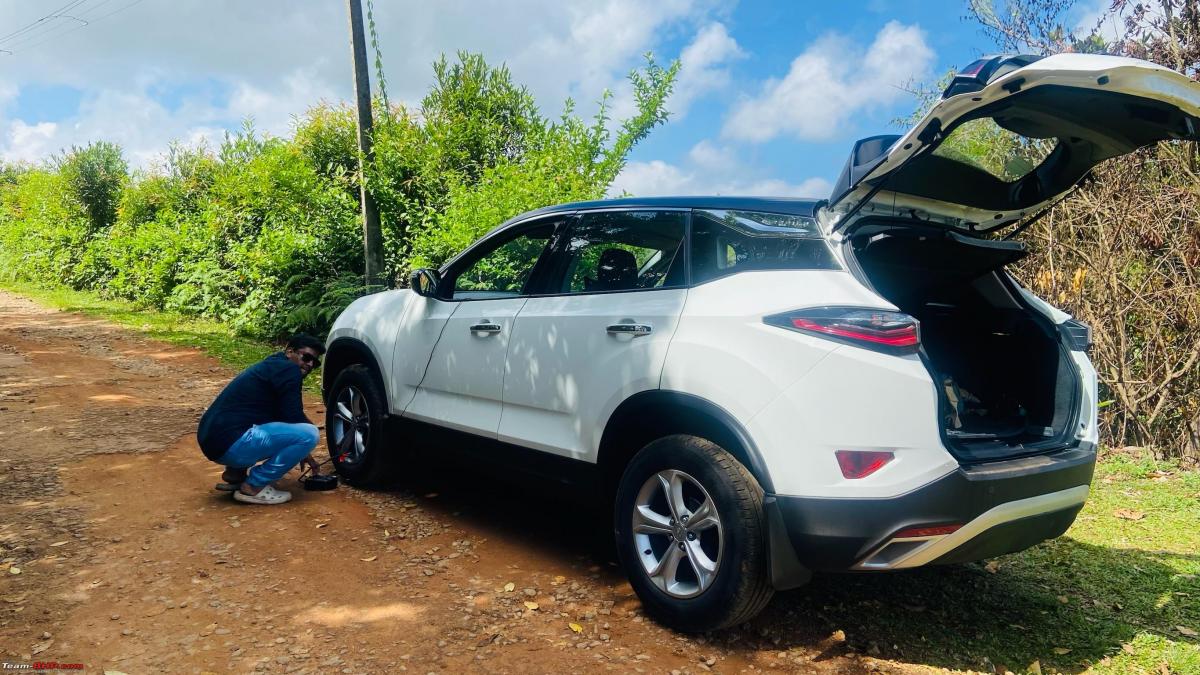 I would definitely recommend this place for friends / family who would seek privacy and totally cut off from the world.
We left the resort by 10 am and reached Adventure Vagamon for the next adventure activity – Paragliding.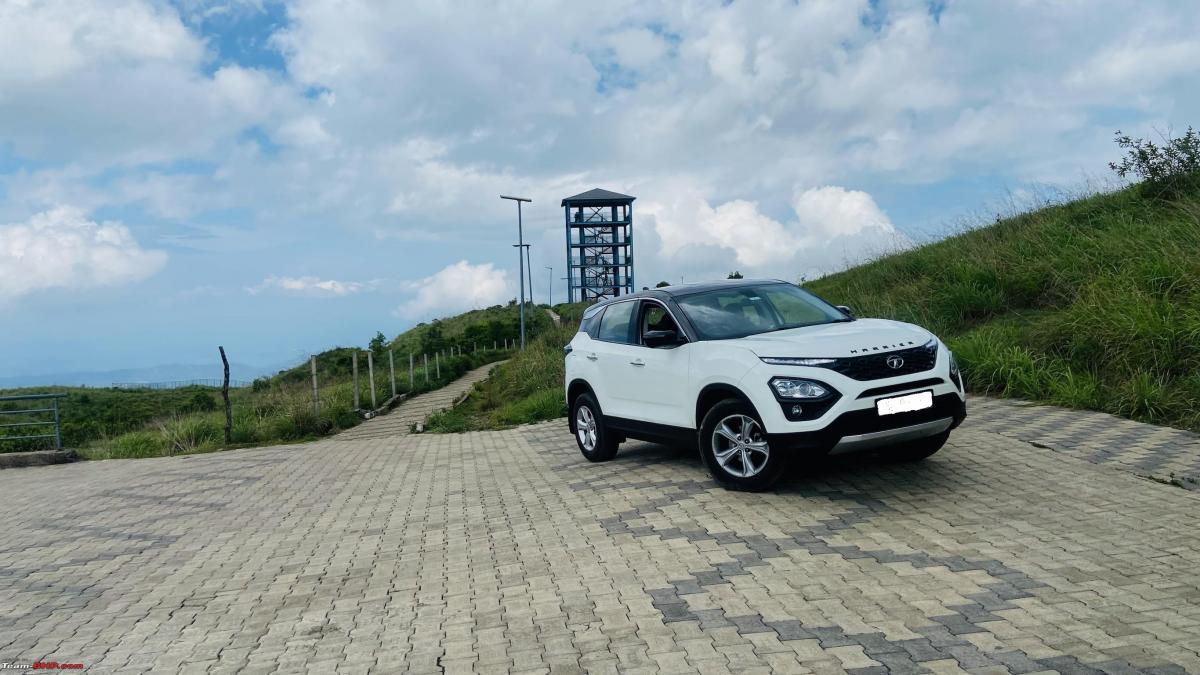 The charges were Rs. 4500 per person for paragliding including video recording of the glide . Airborne time would be 15 mins and total process would be 30 mins:
The paragliders were testing the wind to start the glide. But unfortunately our excitement was short lived when it started to rain:
The activity was confirmed to be closed by 1:30 pm.
With great disappointment, we started our descend to Kerala plains all the way to the coast – Varkala. Heavens blessed us with heavy downpour: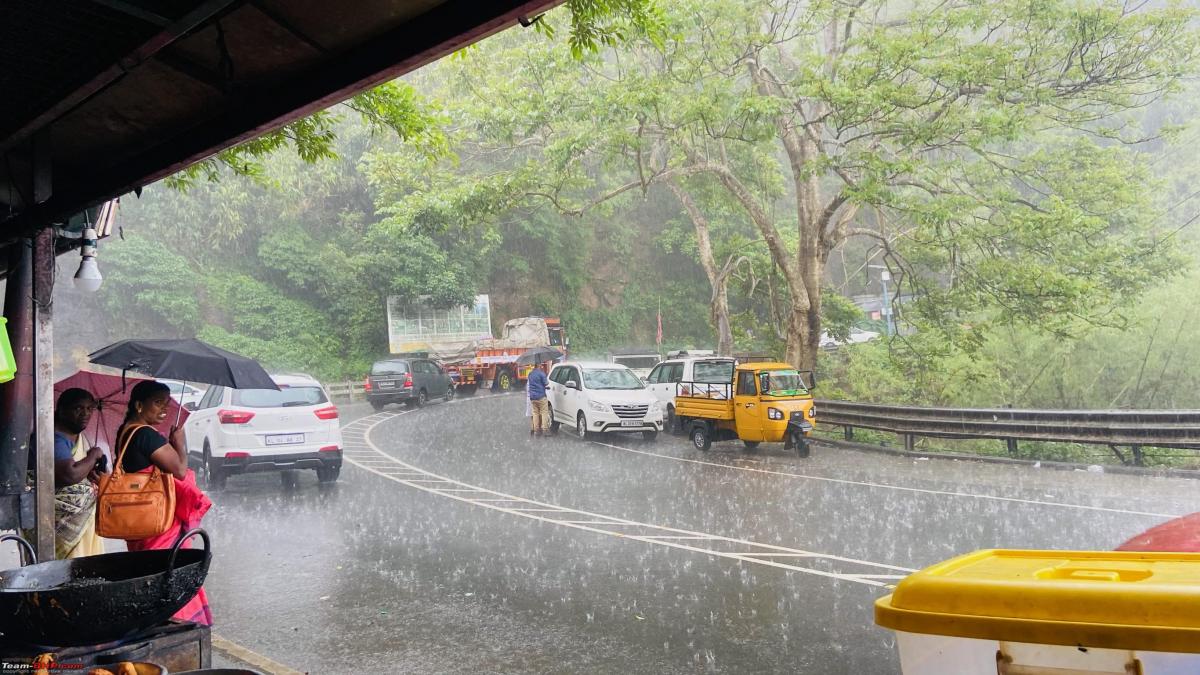 We reached Varkala north cliff by 6 pm and checked into our accommodation.
We spent our night at the Varkala cliff , the night market, ordered dinner at the Cafe Del Mar,Varkala and had at the beach . A busy day ended early and we dozed off in our beds.
Day 3:
Morning, we booked kayaking at 6 am. We left our accommodation by 5:45 am and reached Paravur lake mangroves by 6:15 am.
Some of the early morning clicks of the famous Black Beach.
Agents were Mangrove Safari .The charges were Rs 900 per head for a kayaking of 4 hrs in mangrove forest in Paravoor lake. The trained us how to row forward, backward, and to break water speed. We took a two seat boat. The experience was simple and quite fascinating.
We winded up kayaking by 10 am and were really hungry. We had to start directly to Trichy .We were clueless where to get a good breakfast when one of our Keralite friend suggested a good vegetarian restaurant in Trivandrum.
We entered Trivandrum by 11:30 and went straight to Mothers Veg plaza where we were treated with a sumptuous Kerala sadhya. We were completely satisfied with our tummies full. I would recommend to try sadhya in this restaurant which is really money worth:
Next is the last stretch of 500 km before us and we were already feeling drowsy after a heavy meal.
The Trivandrum -Nagercoil highway is a 70 km stretch which is highly congested limiting speeds to just 30 kmph. After 2 hrs of irritating drive through these congested roads, windmills finally welcomed us merging us into a 4 lane highway:
We took a quick 15 mins break to refresh ourselves . Gazing at the mountains and scenic beauty of the area was real peace:
Rains had already started by then. and got heavier at Virudhunagar almost hampering vision:
We finally reached our destination at 8:15 pm and concluded our 1000 km , 3 day trip with an overall mileage of 15 kmpl including plains & hill . Our trip route map is as below:

Highlights of the trip:
Though a closely packed schedule with most of the time spent on driving, Thanks to the Harrier the 2-day drive (Trichy to Vagamon – Varkala) almost went without fatigue.
We explored the hill, rough and roadless terrains and Harrier suspension was very impressive.
Last day drive of almost 500 kms for 10 hrs did make us feel the fatigue provided we directly started after the kayaking but harrier on cruise mode on a 4 lane highway was an easy mile muncher.
A 1000 km drive through different terrains. All driving modes (city, rough road & wet road) were put to use and Harrier returned with a mileage of 15.3 kmpl without any glitches. 15.3 kmpl for a 2-litre engine is impressive.
Check out BHPian comments for more insights and information.
Source: Read Full Article