First long drive in my Hyundai Ioniq: Observations post the 150 km trip
The autosteer deserves a separate mention. It's pretty Tesla-like that the steering moves by itself and keeps you in lane.
BHPian ricky_speed recently shared this with other enthusiasts.
Finally took my Ioniq 5 out of the garage, making full use of the rare cloudy day in the great Indian summer.
Started out with a hand wash with the specially ordered set of 3M microfiber, and Meguir water magnet as suggested in the the idiot's guide to keeping your car clean and shiny. I think I left way too many water spots – but I'm getting better!
Next, made use of the sparse traffic thanks to the Eid holiday today. When stopped in traffic, I noticed someone started to knock on the window relentlessly. I was slightly scared / confused, only to find a Mercedes E-class owner wanting to tell me that I've a nice car, and his friend has booked one too. This, and other cars simply refusing to overtake me just so that Ioniq 5 wouldn't go out of sight, has made it clear that a Hyundai badge in a green plate can command more respect than a now common place Mercedes / BMW / Audi. At least as long as the Ioniq 5 remains a rare sight, which it would.
Okay enough talking, here's a picture somewhere in outskirts of Delhi near Yamuna expressway: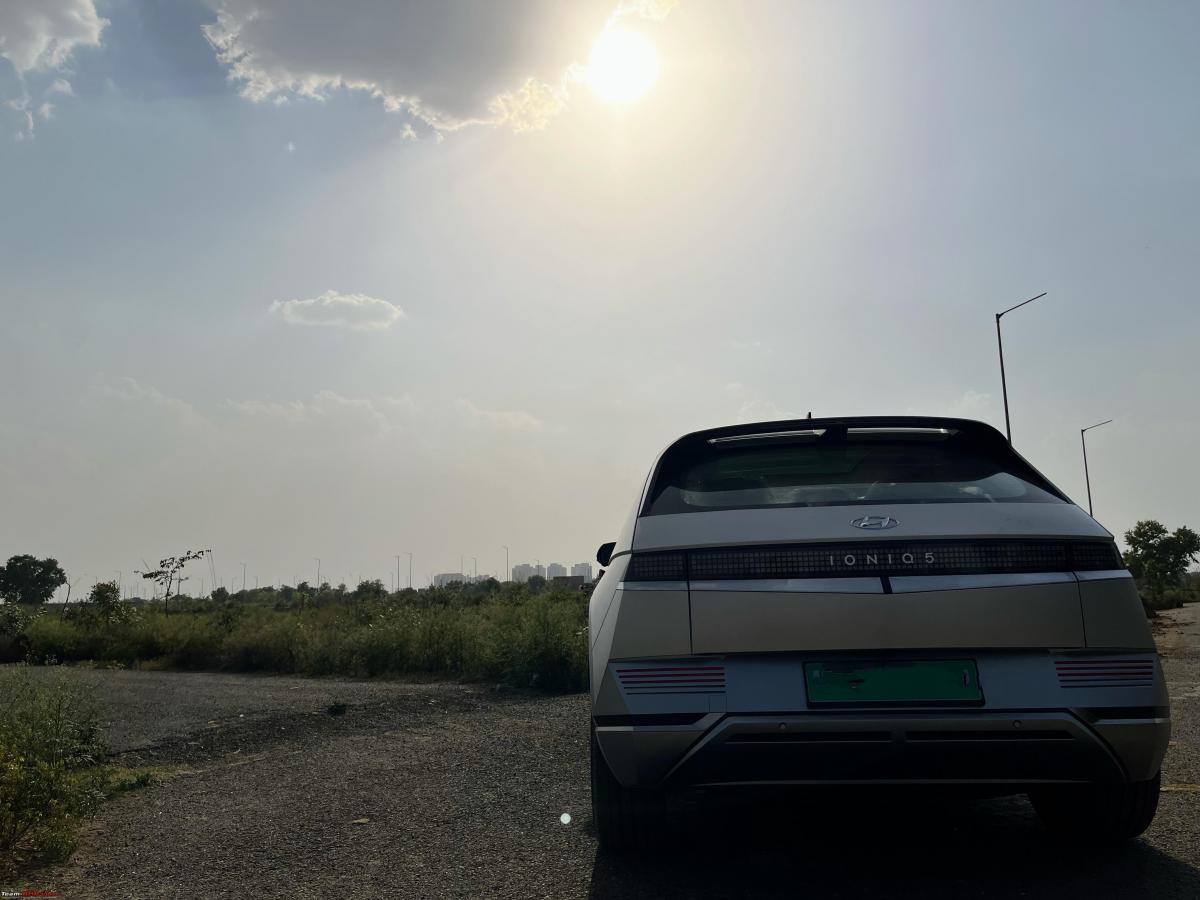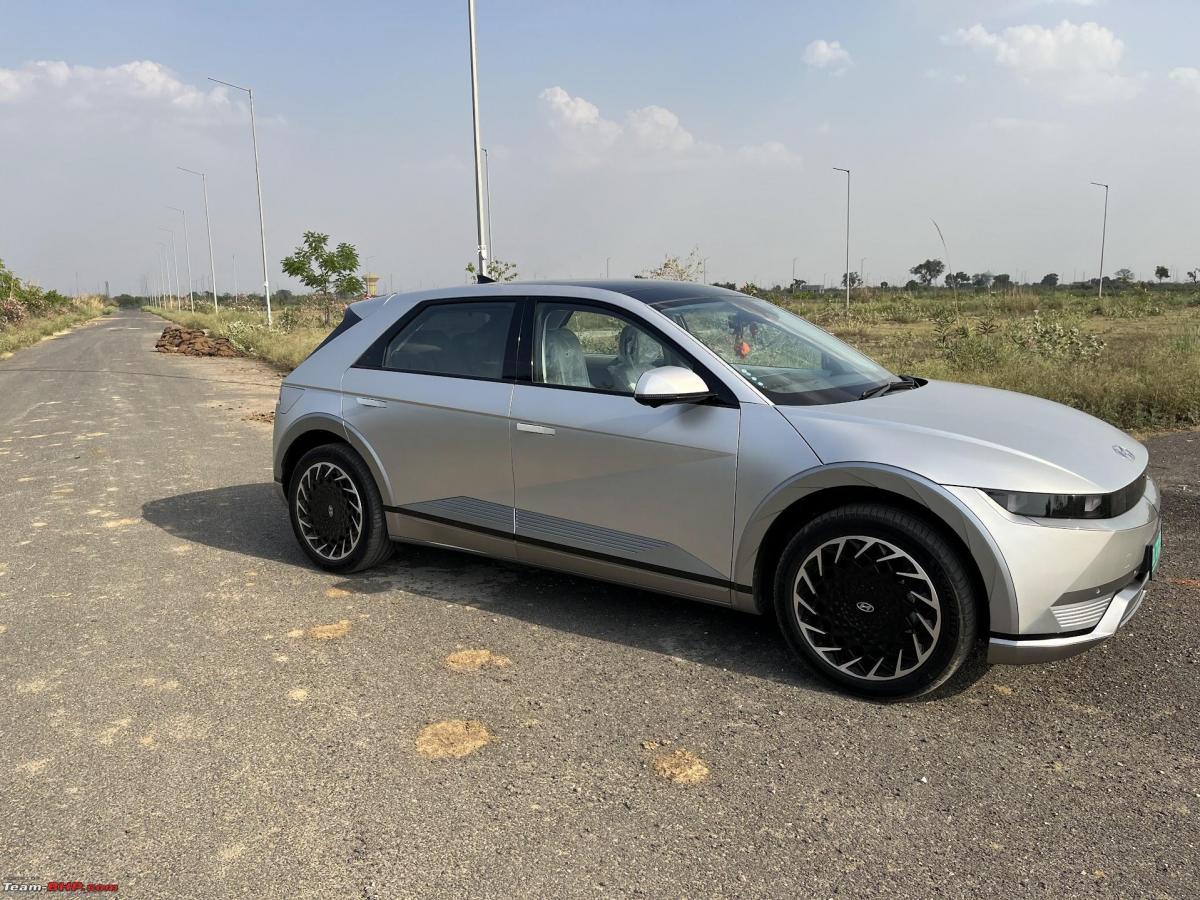 The clouds were intermittent, so kept adjusting the moonroof all the time. However, because the view is primarily for the rear bench, the roof shutter should've ideally operated from the back. I don't think the buttons on the passenger seat can adjust the roof at all.
We stopped for a break at a mall in Greater Noida. I was pleased to find a corner spot, away from harm's way:
The highlight of the trip was the Stop and Go Cruise Control + Autosteer. I extensively used this and hardly did any manual acceleration, braking and steering on most of my trip. This was possible because the Noida – Greater Noida expressway is one of the best stretches of road in Delhi – NCR. However, I used it on city streets too, and on service lanes. Basically, 80% of my trip! It works beautifully as long as you know what it won't do. For example, even though there are Hyundai videos demonstrating that the car will react to someone cutting the traffic, cars in our traffic cut other cars so close that Hyundai failed to react at all in these situations. It worked fine if a car moved in front of you from another lane with a reasonable distance in front.
The autosteer deserves a separate mention. It's pretty Tesla-like that the steering moves by itself and keeps you in lane. On a sharp bend, the autosteer seemed to stop steering everytime after a point and I had to take over. When there was no traffic, I took the risk by not taking over and it turned out autosteer made a second attempt and kept the car in lane even on a sharp bend. I'm still suspicious of it as I think autosteer is limited in how much steering it can move. Another fun part about autosteer is that it won't let you change lanes easily unless you use the indicator. There's a counter-steer, much like you'd imagine from an auto-pilot on an airplane. This worked beautifully when I wanted to avoid a pothole and autosteer brought the car back to it's lane immediately after I let go of the force on steering.
Now finally the question – kitna deti hai? I spent 30% of the 72.6 kwh battery which equals 21.78 Kwh, for my 150km trip. This translates to a whooping 7km/Kwh. Here's the driver side screen at the end of the trip: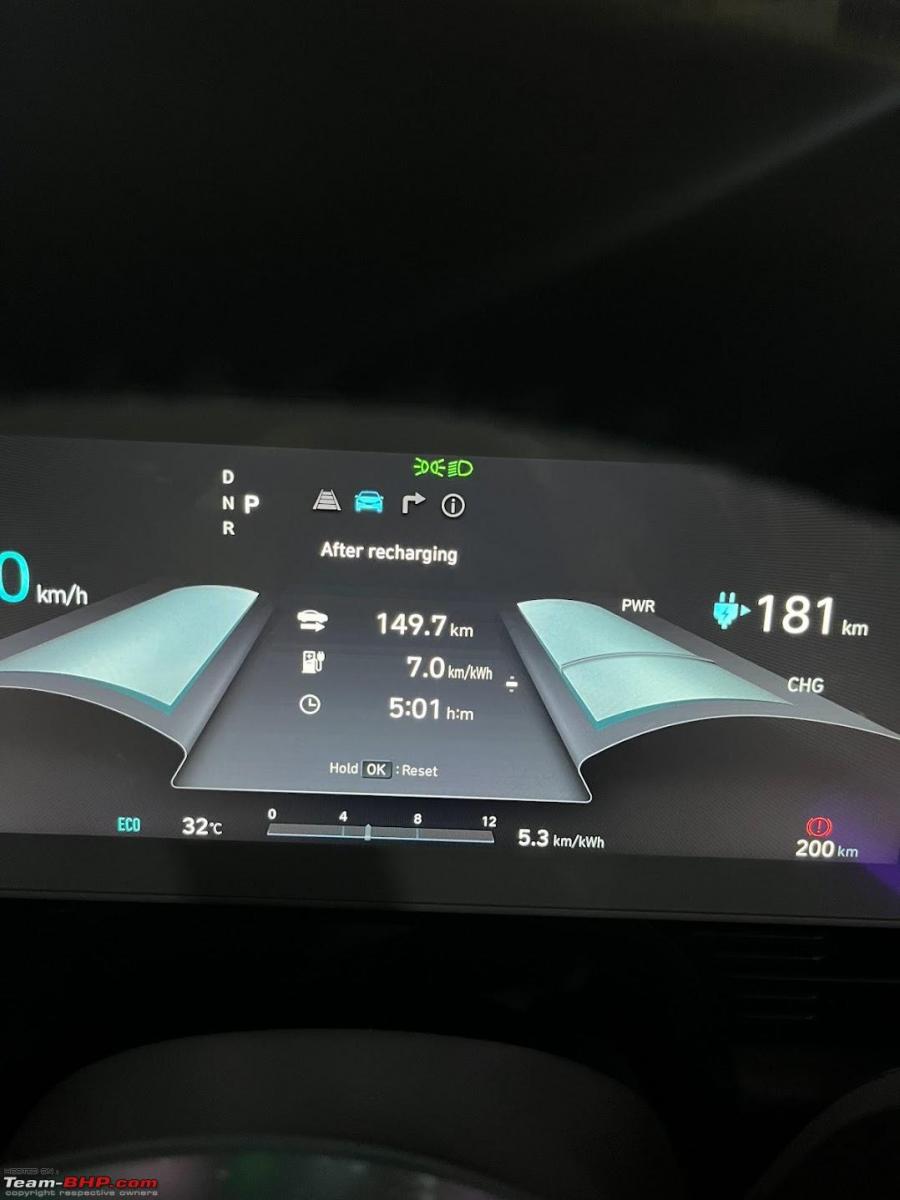 Although I was on Eco mode, and followed speed limits, I made no attempts to hypermile and only checked the stats after finishing the trip. The car didn't feel underpowered even on the occasional 0-100 run.
Check out BHPian comments for more insights and information.
Source: Read Full Article