How I ended up buying a Kia Carens as a Maruti Ciaz replacement
We took a test drive of the Carens DCT after the Seltos, and found it to be a super smooth, spacious, silent and a no-nonsense people mover.
BHPian ptaneja recently shared this with other enthusiasts.
My heart skipped a beat as soon as a news like this popped up –
"NGT refuses to modify order on deregistration of 10-year-old diesel vehicles"
"NGT rejects plea for using 10-year-old diesel vehicle in Delhi"
This was a huge blow to me – both financially and emotionally as well. TeamBHP covers it here
My trusted Ciaz Diesel ZDi+ was running flawless – absolutely no issues, had replaced all 4 tyres just 10K kms back, was scheduled for 70K kms servicing in a month or so. Add to that, I was getting an excellent mileage of 22+ kms/ltr however I drove. I had planned to keep it for at least 12 years or so.
Ownership Thread
Selling Experience
Chose the second option from the above, and posted my AD in various online forums ( Spinny, Cars24, OLA Cars, OLX Auto etc). Out of all, OLX was the most horrible – got about 30 calls and numerous messages in just one hour of AD being live. I had to literally bring down the AD in an hour !
Finally the deal stuck with a fellow team-bhp member ( who at that time was waiting for his membership to be approved), who had seen my ownership thread, and was ready to buy it – though a bit below what I was expecting, but since It was going to someone I know, it hardly mattered.
With ODO reading of 68K something, and after serving me well for 6 and a half years, I bid farewell to my Ciaz in the month of March 2022.
Getting it washed for the final time
And then waving it good bye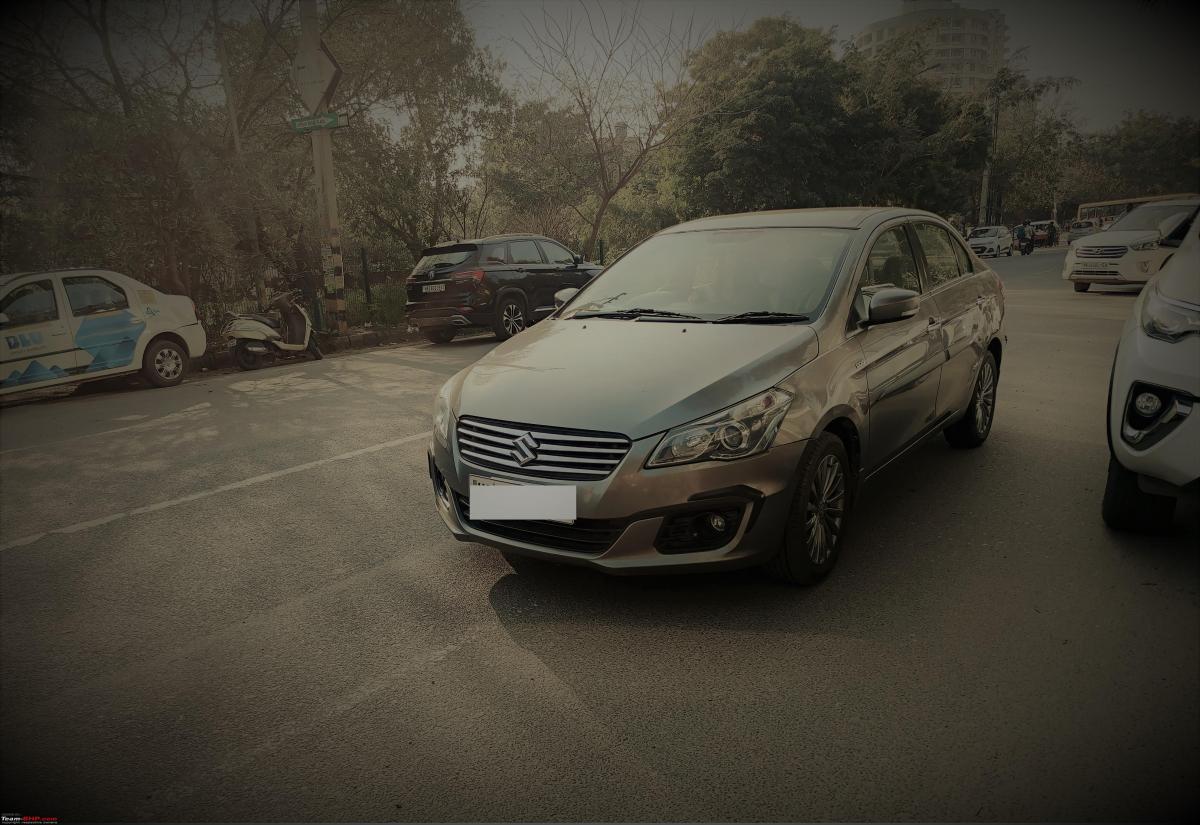 Replacement Vehicle Search !
I was on the lookout for a replacement vehicle since the start of 2022.
My main requirements were:
Petrol Engine – wanted to keep it for 10 years and then sell it with some residual value.
Preferred Auto – Manual was no big deal too
Space – With 4 adults + 1 kid + dog – and 6 to 12 outstation trips in a year, it would mean a good space is needed. I was not particular about 7 seater, but atleast minimum Ciaz like boot space.
Was not interested in drag racing within the city
Budget of max 12L/13L on road.
With the above criteria in mind, I had the following choices –
Once again a Ciaz – but with Petrol. Everyone was bored with it – even though it would have served our purpose well, driving the same vehicle for next 10 years was a bit too much. If we have to spend something, its worth spending on a new refreshed design.
Cost – Top Model – 13.80 L Alpha Auto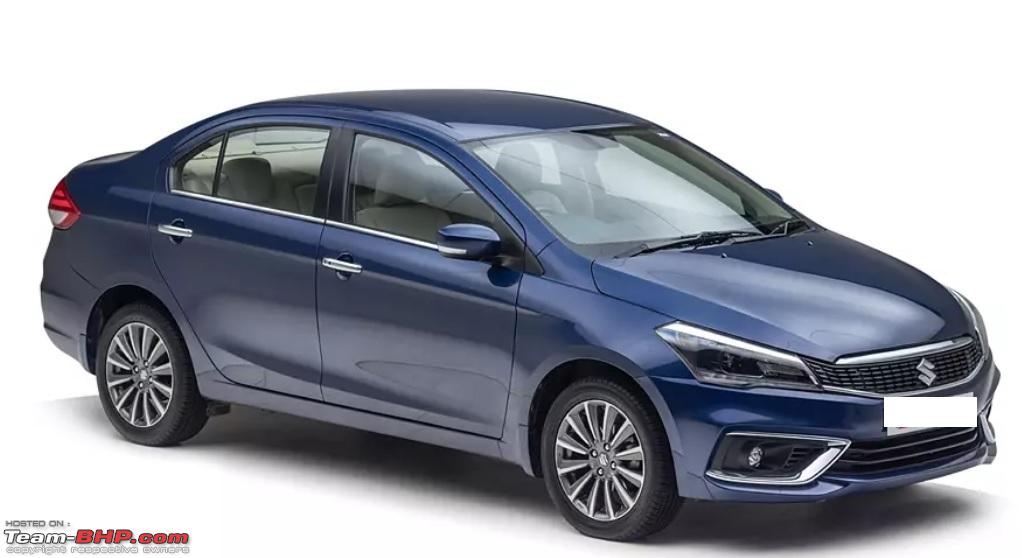 Hyundai Creta – Base model looked nice and within budget. With market flooded with aftermarket accessories, and coupler to coupler connections, it was not difficult to uplift the base model to one notch above. The biggest let down was HUGE waiting period. The situation was such that the dealers didn't even had a single display piece ! And attitude with regards to Creta on cloud nine – "Sir aap book kijiye youtube pe video dekh kar – display vehicle nahin hai" – well this was much before their just managed 3 star GNCAP rating. As a side note, earlier version of Creta was better looking than the current one & infact even the upcoming one.
Cost – Base Model – E 1.5 for 11.8 On Road.
Maybe this ?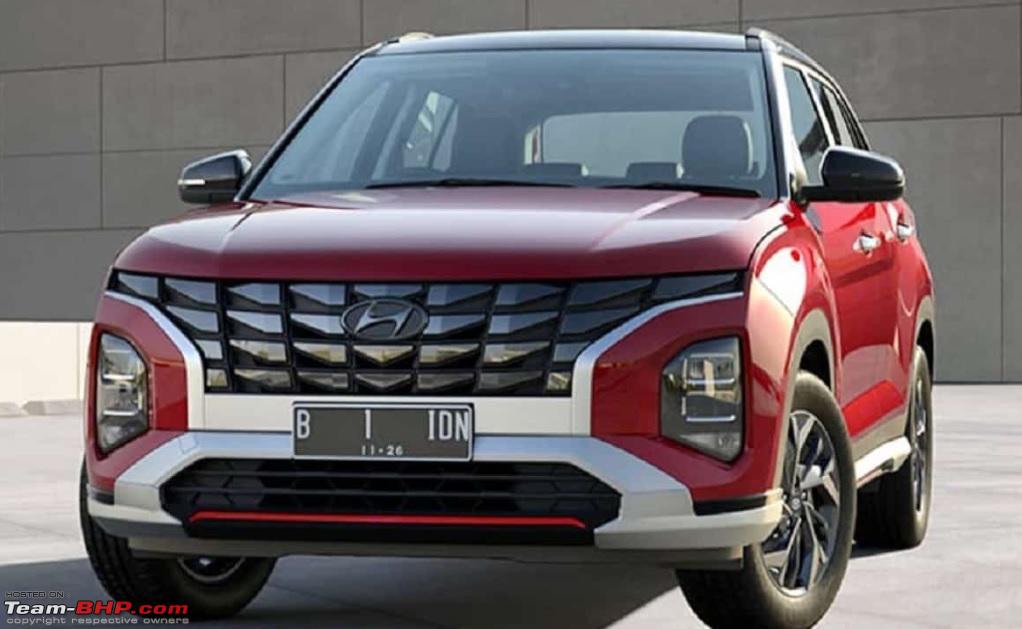 Tata Stable – Visited TATA showroom in two different cities – and the attitude and willingness (or maybe un-willingness ) to sell was evident in both. Good design, good products matched with equally bad sales and service. I wanted to check out both Harrier and Safari – though out of budget, but maybe base model ?!
No explanation , kept delaying the test drive vehicle for one reason or another till I just stopped calling them. Even though both the vehicles were out of budget, but the attitude of "Sanu Ki" – meaning I don't care, if you buy or not – was a total setback.
I had expected this coming from TATA, and in the corner of my mind I was even ready to accept it – but my wife was damn opposite – no need to buy a vehicle from someone who can't give attention "before" the sale – what would happen post sales, in the service section !
Of course, Nexon was too cramped for my liking. No offence to owners, but this looked like a beefed up Swift space wise.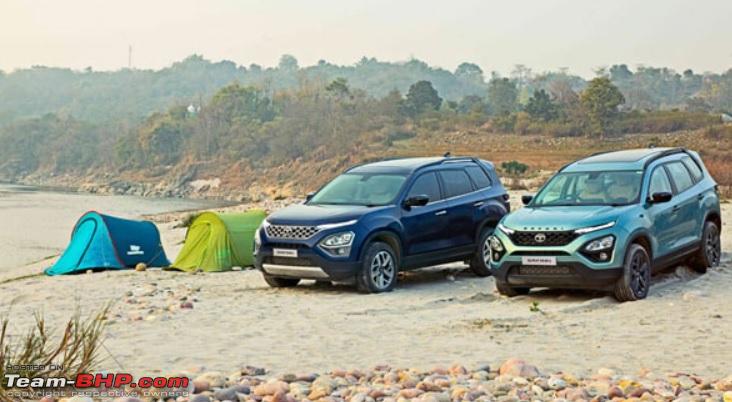 Back to "Kitna Deti Hai" showroom – you must have guessed that this is a Maruti dealership. One query on their website, and I was getting calls from 5 different dealers. This was just amazing eagerness to sell. I had enquired for both Ertiga and XL6. I had an Ertiga in my family, and though I was somehow convinced to buy it, my kid was dead against it – " I don't want to see my cousin's car in my house" , plus the same old design was a negative factor too. Even though I searched and searched, the facelift was also not majorly different.
Then came the XL6, like it space wise, driving was decent too, and we had to wait for a facelift as well. This was shortlisted, and told the SA to call me up as soon as pre-booking starts.
Out of nowhere, we visited the Kia showroom on the way back from Shimla. Even though the news of Seltos breaking into two was fresh in memory, I still visited them, and checked out the car. This was before Carens was released. We had no plans to buy Seltos, but asked for a test drive nevertheless. The car was ready in 15 mins – totally impressed. Incidentally, the test drive vehicle was an iMT, so kind of ticked both check boxes – manual and auto version. Even though I had to change gears, at least clutch engagement was missing. There was a bit of compromise space wise, but well, this was somewhat enough.
Ex Showroom + TCS + RTO + Insurance = was costing approx 13,50,000 ( plus planned an upgrade of sweeping DRL + Ice Cube Fog lamps etc for 30K – Optional ! )
First Booking : So we made our first booking by the end of Jan 2022 – Seltos iMT Grey colour in HP Dealership. Waiting period told to me was a good 18 weeks.
Second Booking : Concurrently, the second booking was the same variant, but in NCR, since the dealership was certain of providing us sooner than HP! There was a difference of about 45K between RTO charges vis a vis HP, but we can decide that later.
Price wise, it was costing close to about 14L on road. A bit over budget, but we had to choose something.
I was in Mandi(HP) in March, when I saw a Kia showroom there. Impulsively, went ahead and asked them for a test drive, an iMT in hilly terrain. The last test drive was in Gurgaon plains. The car was provided, and it comes with "no" hill hold feature – so the car did roll back a few inches every time it was picked up from incline. Coming to iMT from Manual, was a big let down in this feature – I was used to playing around with Clutch and Accelerator to hold the vehicle without the use of Emergency Brake. This was a nuisance for me, but definitely not a deal breaker.
Third Booking: When we were about to return the car, we saw Carens there. Instantly loved the space it offered. Externally in comparison to Seltos, I didnt liked it much – but that's all subjective. Took a test drive of DCT as well, and it was super smooth, spacious, silent and a no-nonsense people mover. On looking at price breakup, RTO charges were a LOT cheaper than Gurgaon – so we made our third booking – Carens 1.4 Prestige Plus DCT. It was going way above the budget, but we decided to look up finances later – not that the vehicle is ready and we have to pay.
Carens DCT was costing me 15.70L on road in HP – this was on 15th of March 2022.
And why this model only ?
Because Kia left me with no options as such.
Do you have 1.5 NA with Prestige Plus ?
Kia – "No"
Do you have an Auto Gearbox which is NOT a DCT (Petrol) ?
Kia – "No"
Do you have Carens Prestige Plus Diesel in Auto ?
Kia – "No"
Do you have Prestige Plus 1.4 Manual Petrol with 7 seater option ?
Kia – "Yes" !
So, it was Prestige Plus 1.4 Turbo Manual Petrol.
Fourth Booking : With no visible sign of getting the vehicle sooner, out of desperation booked yet another vehicle in NCR – same variant, Carens 1.4 DCT. This was our Fourth Booking with Kia ! Once again, local dealership was dead sure that we'll give you within a month or so, have contacts etc and what not.
Carens or Seltos ?!
Confused !!
Meanwhile, I opened up another thread on TeamBHP asking for responses on Carens DCT vs Seltos too.
The responses were 70:30 in favour of Carens.
But during all these responses, there were few which comments which stand mentioning – which forced me to research further, and eventually made me change my variant. The more I searched about horror stories of DCT, the more I realised my mistake. Even though I was ready to spend 1L for repairs post warranty, I dreaded being stranded in the middle of the highway with an overheated and failed gearbox with my family.
Modification of Bookings – This resulted in modification in my 2 bookings ( HR and HP dealership) – both bookings on Carens was modified from 1.4 DCT to 1.4 Manual on 25th of March 2022. Delivery timer was reset to zero again – it was to be considered a fresh booking, and I was again at the back of line.
By the end of March 2022, 2 months had passed,and there was no sign of Seltos. I was also not pushing the dealer, as by now the reports had started to come for an upgraded Seltos variant – fixing the suspension, giving 6 airbags+safety features and most importantly Hill Hold etc etc . At this point I was ready for both Carens and Seltos – whichever comes first.
Fifth Booking : Since, there was no sight of Carens, by first week of April, Maruti also started pre-booking for XL6 2022 Facelift. There goes our fifth booking for the year !
By this time I had spent 25000 (Seltos iMT – HR ) + 25000 (Seltos iMT – HP ) + 25000 (Carens 1.4 – HR) + 25000 ( Carens 1.4 – HP ) + 11000 (XL6 Maruti – HR ) on bookings alone – with no sign, confirmation or date of delivery of any one of them.
Then came a big shock on 1st of April – huge price rise by Kia on all variants. I had expected them to honour some sort of price protection which Mahindra did for XUV700 – but none whatsoever. Coming to my specific variants I had booked, the ex-showroom price of Seltos was incremented from 12,45,000 to 12,75,000 and for Carens it was from 13,49,000 to 13,89,000. Well, can't help it. First we have to be like beggars standing in front of a dealership, waiting for months and then paying an incremental cost. The market is now vendor driven rather than consumer driven.
In the first week of April – I casually called up my dealer in HP, and asked about the status. As per him my variant in Gravity Grey colour choice was next in line to be delivered. "When" no one was aware. This time I gave him an option – look for any variant, any color and can be either both – Diesel or Petrol. He promised to revert back in a day. Out of nowhere, his call came on 11th April, that they have a cancelled Prestige Plus 1.4 Carens – Silky Silver – if needed(all thanks to a cancelled booking!). I told him to keep it booked, and will do a PDI tomorrow morning.
Went to Showroom on 12th early morning, spent a good hour checking all the details. Got my VIN verified from our own TeamBHP thread, and it was confirmed to be 28th March manufactured vehicle. With that said and done, now was the time to do paperwork for loan.
Loan Formalities :
Once again, SBI Car Loan department amazed me. Even though getting things done for a normal banking operation gives headache, but loan department is way ahead.
I gave all the documents on the evening of 11th April – post their office hours. On 12th morning at the dealership their staff was there with all the forms and my documents printed out for signs.
By the time I did my PDI, they completed their formalities, and in 3 hours or so, I received a call that the loan was ready, and inform us when you want to get that disbursed directly to dealership.
ROI provided to me was 7.25% fixed + waived off documentation charges.
With the loan amount credited to the dealership, I made the transfer for the remaining amount after adjusting the booking amount of 25000. They generated the invoice, which I forwarded to my insurance agent, who in turn provided me the car insurance ( 1 year comprehensive + 3 years third party) document with the premium of 23500/- ( as per him, he could have squeezed it further down to 20,400/- , but that would mean waiting a day as he had to take official permissions ) 50% NCB certificate from Ciaz was adjusted and taken into consideration here.
Total Cost of the Car – (rounded off)
Actual Billing from Kia to Dealer = 9,60,000
Insurance = 24,000 ( includes GST of approx 4000 )
Total On Road Cost = 15,00,000
Out of the above, surprisingly giving a total of approx 5,20,000 to the government as taxes.
Delivery Formalities :
Nothing major out of the ordinary happened – whole experience was smooth, quick and stress free. There were a total of 5 deliveries that day – 2 Seltos, 2 Sonet and 1 Carens. By the time we returned post lunch, ours was the only car left to be delivered – wrapped in Red Velvet waiting to be unveiled.
Small pooja ceremony was done, and the car was delivered – completely clean and dust free.
Paperwork was collected – RTO/Permanent Number will come in about 15/20 days. ( I did pay 5000 for "choice number" with RTO – if we have to keep this car for next 12 years, why not a special number – not a VIP/Fancy number )
ODO reading at the time of delivery was 14 kms.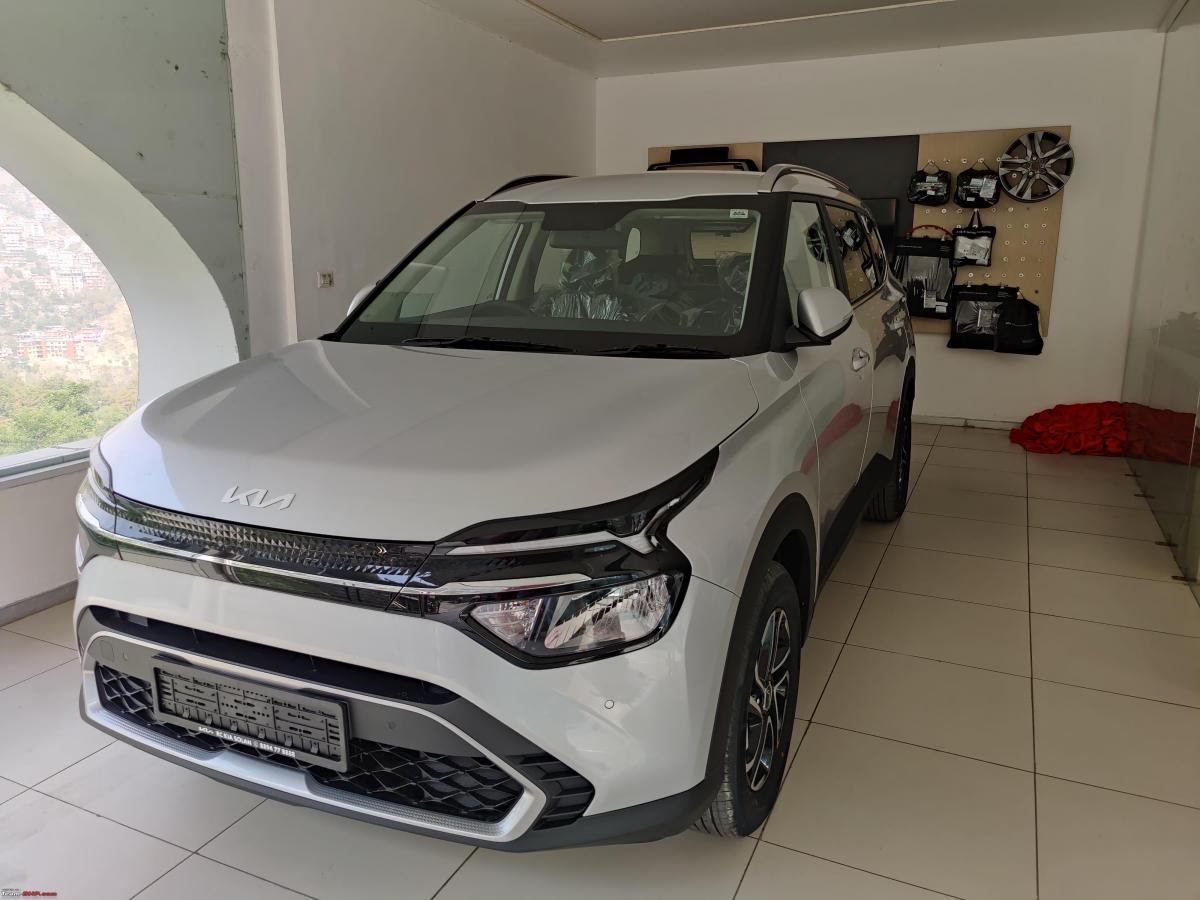 Post Delivery
Minor 50 odd kms run in Hills, then back to NCR. Had a tankful of petrol after delivery itself, and it took in 42 litres at around 105rs/ltr. Came back to NCR and refilled it again, and ODO readings were 437 – resulting mileage of 19.34km/ltr.
This was with no sudden acceleration, max speed of 90/100, 25% hill driving with good inclines and 6 people on board, 25% within city traffic, and remaining 50% on highway using "cruise" as much as possible. I know the numbers will drop as and when the car is used within the city – but first impression of 19km/ltr is terrific.
Overall, early 500km mark feedback :
Likes:
Spacious !! Multiple seating arrangements possible.
A minor boot space available even with all seats upright.
Comfortable seats
Super silent engine – hard to tell in traffic if it's really powered ON or not.
16″ Alloys – no need for an upgrade ( compared to 15″ in old XL6)
Cruise Control – was missing in Ciaz.
Automatic Climate Control, Auto Headlights
Host of safety features – 6 airbags/ESP etc
Reverse Camera with guided markings
Front Sensors
TPMS – was not present in Ciaz.
Not so nice:
Reflective ICE Touch Screen
Non sliding armrest.
Low end torque – I'll have to get used to it coming from Diesel.
Spare wheel is not an alloy – a common feature for all manufacturers.
Manual DayNight IRVM – Even 7 years old Ciaz had this electric.
Worthless headlight throw – specially high beam, when the section just ahead of car is engulfed in darkness because of missing Fog Lights/Single Headlight Assembly for both High and Low.
It's too early to find out all the niggles and negatives in just 10 days, so the list will probably expand further with time.
I have not got a chance to click too many of photos as well, but with an upcoming summer break, I'll get some chance !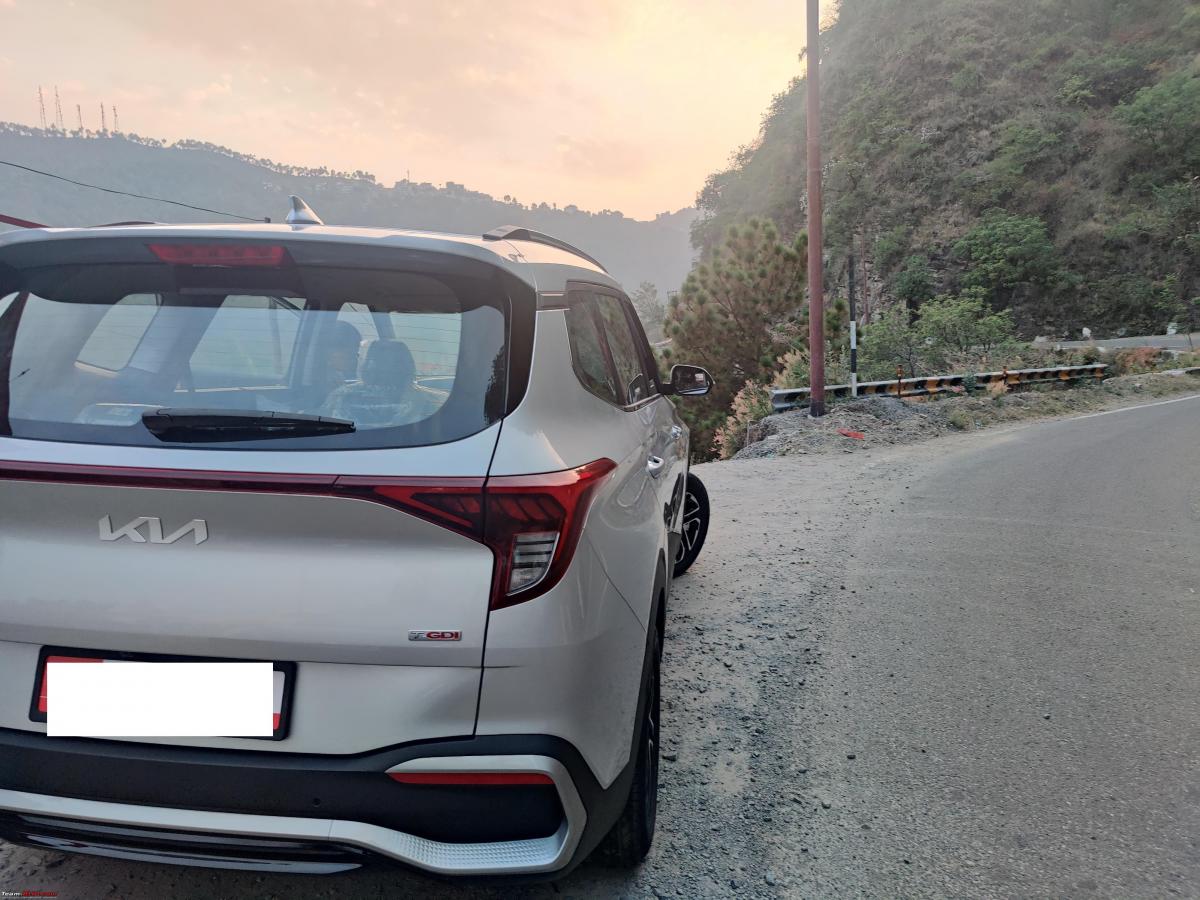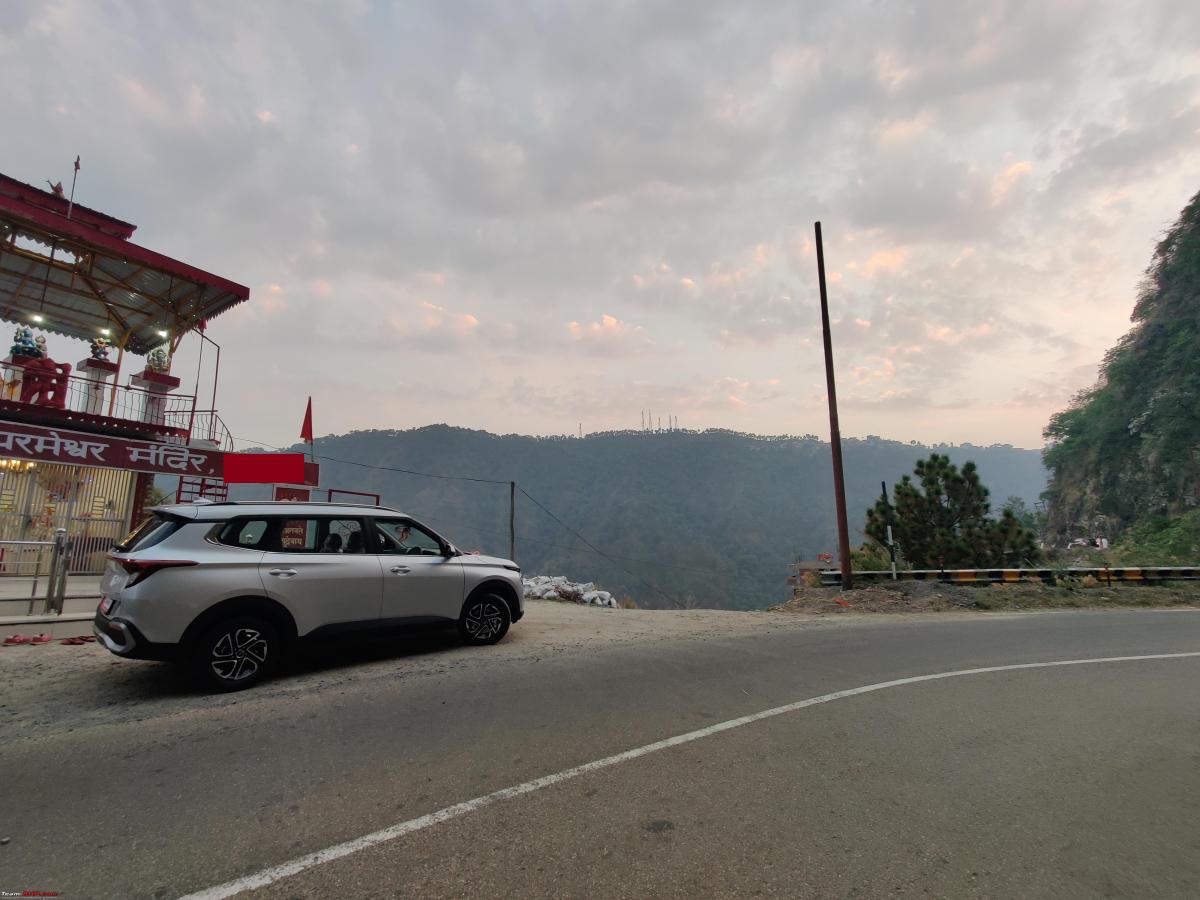 Continue reading BHPian ptaneja's ownership report of his Carens 1.4L manual for more insights and information.
Source: Read Full Article