KTM 250 Adventure ownership review: Ride, mileage, suspension & others
The famous quote 'Jack of all trades, master of none!' suits this KTM perfectly! It may not be as adventurous as a Himalayan off-road, but it sure is better on-road.
BHPian shravansp24 recently shared this with other enthusiasts.
Here's a quick review of my ADV 250 which may help you with your purchase decisions if you're looking for a multi-purpose vehicle under 3 lakhs on-road.
What I like
The engine screams in the top end and cruises sweetly in the mid-range
The quality of parts especially plastics is way better than many other motorcycles. Compared to the R15, the plastics feel 2x thicker with the tank having absolutely no flex.
The high-speed ride quality is amazing with the suspension absorbing most of the road undulations and bigger obstructions at ease
The practicality this motorcycle offers is mind-blowing. It's one of the very few motorcycles above 2.5 lakhs to have a proper and usable pillion seat.
What I dislike
Quality check/control is not great (more on this in the Problems faced section)
Low-end power is lacking. Engine knocks under 4000rpm if given full throttle
Can really feel the weight when sitting and trying to push the motorcycle due to its high stance and handlebars
Some neutral opinions
My old R15v3 bs4 had modest specs on paper(apart from the engine of course), but it over-delivered in reality. However, the same cannot be said for KTM
Service centres irrespective of brands are a hit or a miss. Stuck with a weird unique issue? Mostly will be a miss
NVH is still a step lower than the Japanese
Though the heat is very much bearable even in Chennai heat, it still gets hotter than other high-compression motorcycles (comparing my R15 again here)
Tyres though it offers sufficient grip, it feels very hard compared to the Metzelers in the 390 or even the MRF Zapper series
Buying and D-day experience
Mostly positive. Paid a token amount and once the motorcycle is shipped from Chakan, paid the remaining. A short note was that the dealer was trying to charge a 1.5% premium if paid via credit card. Had to talk that down. Absolutely no discounts, got the mandatory helmet as a freebie. (Also, the insurance mentions the motorcycle as a KTM Duke 250, not sure why and the dealer assured me it won't cause any issues and if it did, they'll take care of it)
Once the motorcycle reached the showroom, went to do a PDI check(More on this in the Quality check and issues section) and moved on with RTO registration
Once the RTO registration is complete, got the motorcycle delivered the next day and took it to the nearest Shell for a tank full. Once the tiny woman released the nozzle, all the fuel gushed out instead of into the tank and spilt out all over the tank and engine and petrol was leaking through the overflow pipe. Immediately took back to the svc and did a check, but everything seemed fine. So, again went to the pump and this time made sure another experienced adult filled the petrol and also made sure that the nozzle is perfectly vertical and started filling. This time, the fill-up was properly done. Apparently, KTM has designed the tank mouth with a deep neck(probably to avoid the fuel from spilling out during deep offroad sessions I guess) which backfired the first time. Most petrol station attendants will place the nozzle at a 60-70 degree angle(laziness?), so I had to inform them every time to fill up with the nozzle being vertical and sometimes have to assist them in placing the nozzle.
Took the motorcycle for a good 80km ride in the beautiful stretch of ECR, Chennai and enjoyed every moment of how it performed
Price as of 23/12/2021 – Rs 2,71,141
Design, Styling and some distinguishing factors over its sibling duke
The engineering idea of the motorcycle is a very simple 3-point story.

Dark Galvano vs Electronic orange
It has a very unique style in the Indian market and is a huge attention grabber due to its looks and sheer size over other motorcycles
The motorcycle is built with practicality in mind. Function over form
Starting from the front end, the headlights, though halogen, it is very bright and sufficient. Aux lights were never needed. I would've preferred the LEDs of the adv 390, I'm happy with the halogens, especially after the disappointing LEDs of the older R15v3. The unique factor of LEDs is not much nowadays as almost every motorcycle comes with them currently. Looks like halogens will be the unique ones in the near future
The stock wind visor gives good wind protection till 100kmph. After 100, the wind starts blasting over your head
The mirrors have a very very small concavity which helps in good rear view visibility, especially over your shoulders. Missed the fairing mounted mirrors of the R15 though as since they were much further,
you don't have to take your eyes off the front road much
The instrument console is another improvement over the older console of the duke. Much larger and easy to read. Also raised than the duke and inclined towards the rider so that the rider doesn't have to move their focus much (one downside is that the trip meter caps at 999.9km)
The handlebars are very wide and raised which helps in a comfortable riding position on the highways and off-road. In the city though, it's at a disadvantage during filtering the traffic
The tank is huge at close to 15 litres and for my riding style, a full tank of fuel including reserve can take you ~500kms. However, to protect the fuel injector, low fuel alerts pop up
In the console after 300-350kms of riding. Also, the quality of plastics used for the outer tank shell and sides are of very much higher quality than Yamaha or Suzuki. Feels very sturdy and doesn't even flex much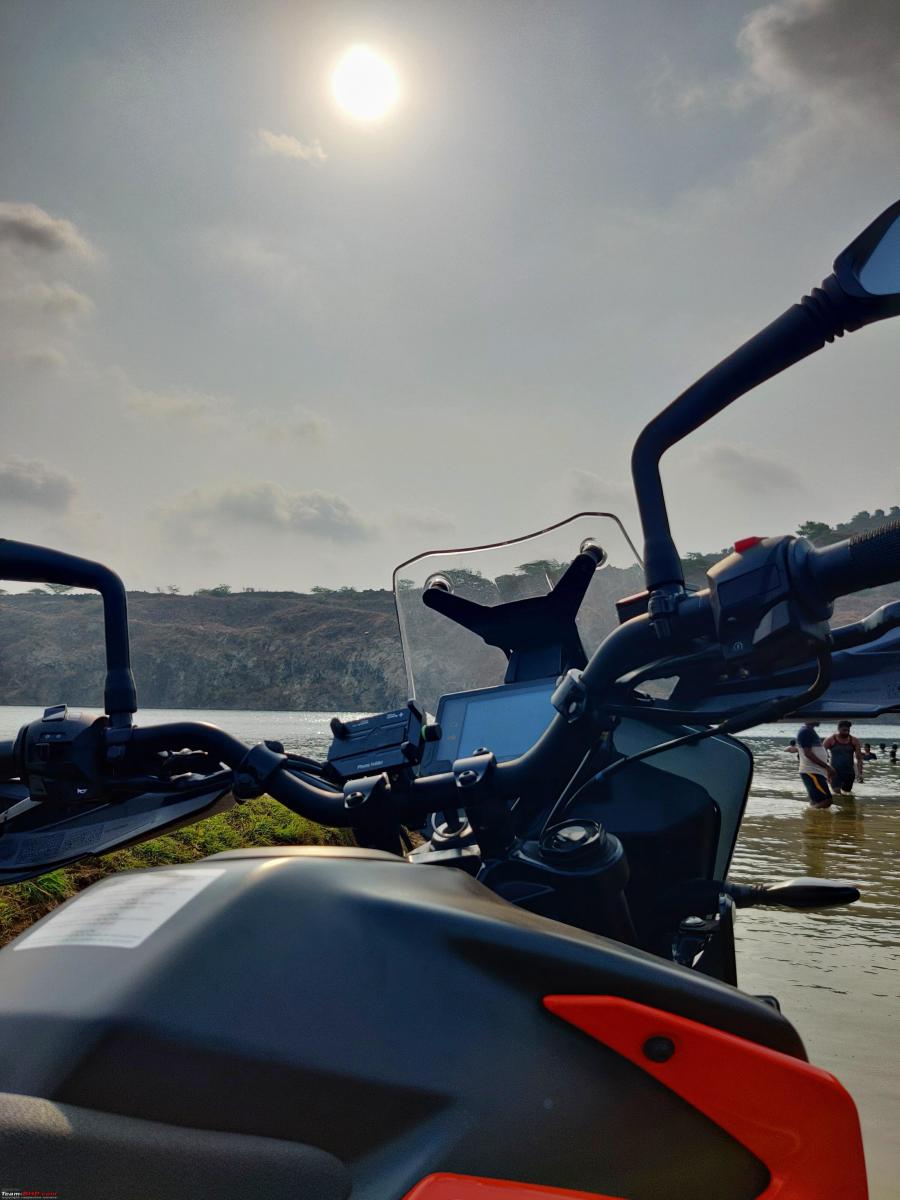 The radiator is protected by a plastic guard that comes as stock and the front mudguard also extends such that debris from the front wheel won't affect the radiator
The USD is very chunky but is hidden behind a plastic protector to protect the inner fork seal from debris. Dukes are notorious for broken seals which frequently takes 2k out of your wallet The stock frame/engine/leg guard is also very robust and much larger eliminating the need for additional guards
The stock frame/engine/leg guard is also very robust and much larger eliminating the need for additional guards
The engine sump guard(half plastic with metal for the exhaust pipe) is also very huge and covers the entire underbody along with the exhaust pipe. The actual exhaust itself is very slim and goes well with the looks of the motorcycle and also does not protrude much from the side
The seats are very wide and decently cushioned. Added an additional nylon breathable cover for ventilated seats and surprisingly it works unlike the gimmicky ones like air seats which burst or gel seats which flattens
The seat storage area is big enough for add-on modules, documentation, first aid kit, a toolbox and probably more
The aluminium swingarm is painted in a much darker hue and has a few screw holes for maybe accessories? (fitted duke's tyre hugger in one of the screw holes)
The brake lights are very very bright, but the actual tail lamp is a bit small. Would've preferred a size up.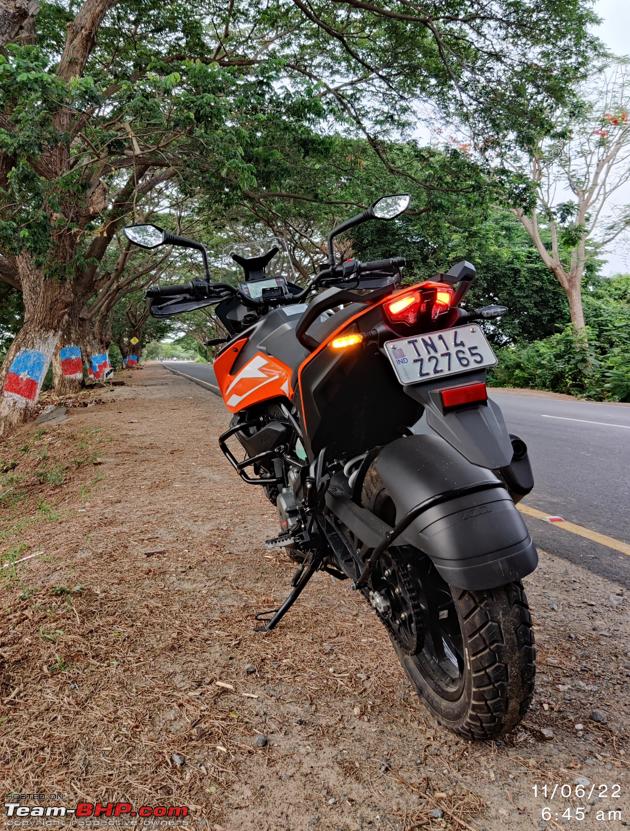 The electronic orange paint shade though increases the visibility of the motorcycle to others very much
The alloy design is very good and different from the usual design(19″ front and 17″ at the back)(the newer model comes with 10 spoke front wheels instead of the symmetric 12 you see here). Tyres are 50-50 MRF meteors
My Experience
Engine
The heart of the motorcycle is still a KTM. The engine is a screamer and punches way higher than its quarter-litre tag.
The top end feels like a segment above
It can reach 100kmph in no time and climb very quickly till 130kmph and slowly post that. The acceleration post 145kmph is tortoise-like (KTM speedos are almost precise compared to Yamaha/TVS)
The motorcycle cruises very comfortably in 6th gear at speeds of around [email protected], [email protected], [email protected]
Aside from the single cylinder buzz, vibrations are felt only at the footpegs post 7000rpm
No stalling issues unlike 390. KTM programmed the motorcycle to idle higher(>2000rpm) during cold starts to avoid stalling. As the engine reaches optimum temperature, idle rpm settles down
Heat management is very good with the curved radiator deflecting the hot air from the fan on either side instead of your thighs but overall, it is still warmer compared to the competition(but in an acceptable range)
Unsurprisingly, refinement levels are still a step down compared to the Japanese as it produces as much power as a 300cc Honda
In gear acceleration, though good is not as great as flat-out 0-100. Needs downshifting often for good acceleration
The engine has decent torque to propel without the use of accelerator in traffic in 1st and 2nd gear and can pull cleanly from a speed breaker in 2nd gear with a light foot but struggles a bit under hard accelerations
As much as I love the top end, the bottom end of the motorcycle is rubbish. The engine struggles under 4000 rpm with absolutely no power under 3000rpm and knocks heavily if full throttle is given.
The engine needs to be spinning at least 4500/5000rpm for a decent amount of power and lug-free acceleration
Braking
Contradictory to reviewers, I felt the braking to be very adequate and motorcycle stops just how I want (even emergency stops are good enough). I will try the famous 390 brake pads once these are worn off
ABS is tuned very well and kicks in just at the right moment.
Rear ABS can be turned off via the console keys
Clutch and Gearbox
Super light and progressive slip and assist clutch
The gear lever feels hard sometimes but is clicky and slots the gears perfectly. If R15 is a 9/10, this one is an 8.5
Fingers need to be stretched completely to reach the clutch and brake levers which tire out if ridden without gloves. Planning for the adjustable levers of the 390 soon
Efficiency
Mileage varies depending on your style of riding. city rides give me 28-30kmpl. Highway cruises at 70kmph give 38kmpl, 85kmph gives 36kmpl, 100kmph gives 32-33kmpl and post that, it reduces
drastically as the engine nears its top end.
Average mileage stands close to 33kmpl. Pretty accurate as I've recorded everything since delivery through Fuelio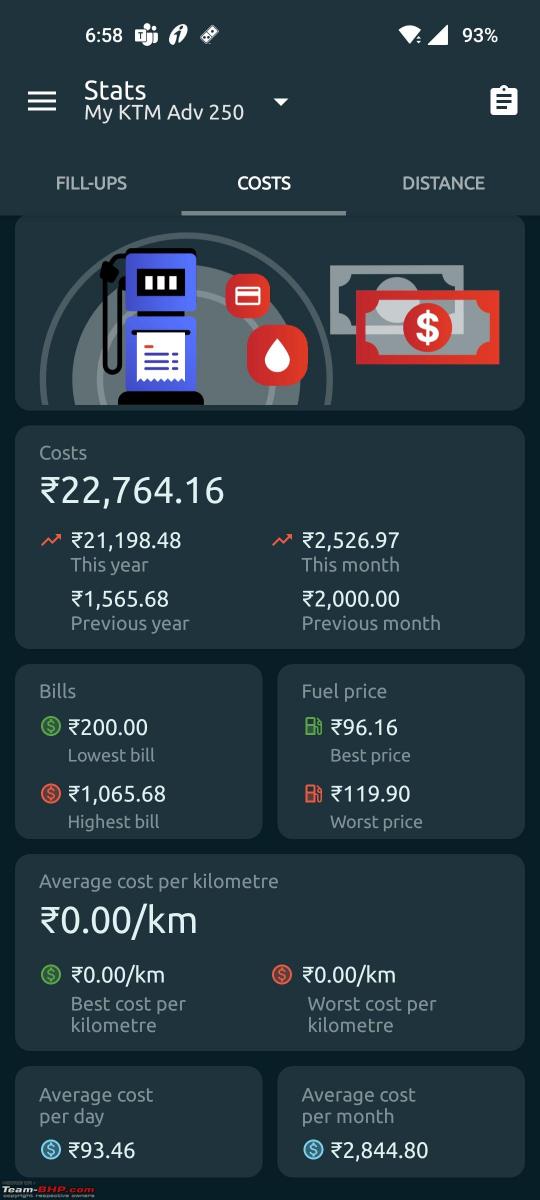 Suspension & GC
A boon or a bain on how you see it. Can tackle Indian roads at ease at the expense of a very high seating position.
Long travel suspension absorbs 100% of the bumps at speed. Feels like a german car once you're over 70kmph. Ride quality at high speeds feels very good, so much that you never realize you went over a rough patch of road
Never bottomed out and ground clearance is ample that you can ride over speed breakers like some rumble strips
However, at lower speeds, the ride quality is very stiff and every bump and pothole can be felt. This is exaggerated by the MRF tyres which feel more like plastic wheels (probably due to PSI? KTM recommends 28.5psi whereas I vaguely remember the Suzuki V-storm suggests 22psi). Also, the Adv 390's ride quality felt significantly better(the only difference between the two is the tyres)
Riding Posture & Comfort
The riding posture is upright, with centre-set foot-pegs, wide and reachable handlebars, and adequately padded seats.
This is one of the motorcycles which considers rear seat comfort with an equally large rear seat, slightly front/centre set footpegs, and huge grab handles on either side.
Due to this riding posture and the weight shift, the ride quality is extremely good at highway speeds, but inside the city, due to the stiffer suspension, it just feels like a duke
Riding Dynamics
An imposter in the Adventure category of motorcycles.
Retains most of the characteristics of Duke. Agile, nimble and extremely sharp
The motorcycle loves twisties as well as comfy sedated highway cruises.
The motorcycle is capable of slight off-roads that I have done and never came across any roads where the motorcycle felt incapable. To be honest, the offroad capabilities of the motorcycle are higher than what I can achieve (or) I wish to take it to.
One gripe is that the entire front shakes heavily under bad roads, so in long term probably I may need some duct tapes and seals to avoid any future rattling issues if any
City rides are fine but this motorcycle is not built for the traffic-prone roads. It occupies almost the space of an auto! With such wide handlebars and high seating posture, filtering through traffic is not its cup of tea, not that it can handle the task but you can see yourself struggling while other scooters and commuters filter the traffic making you look like a newbie.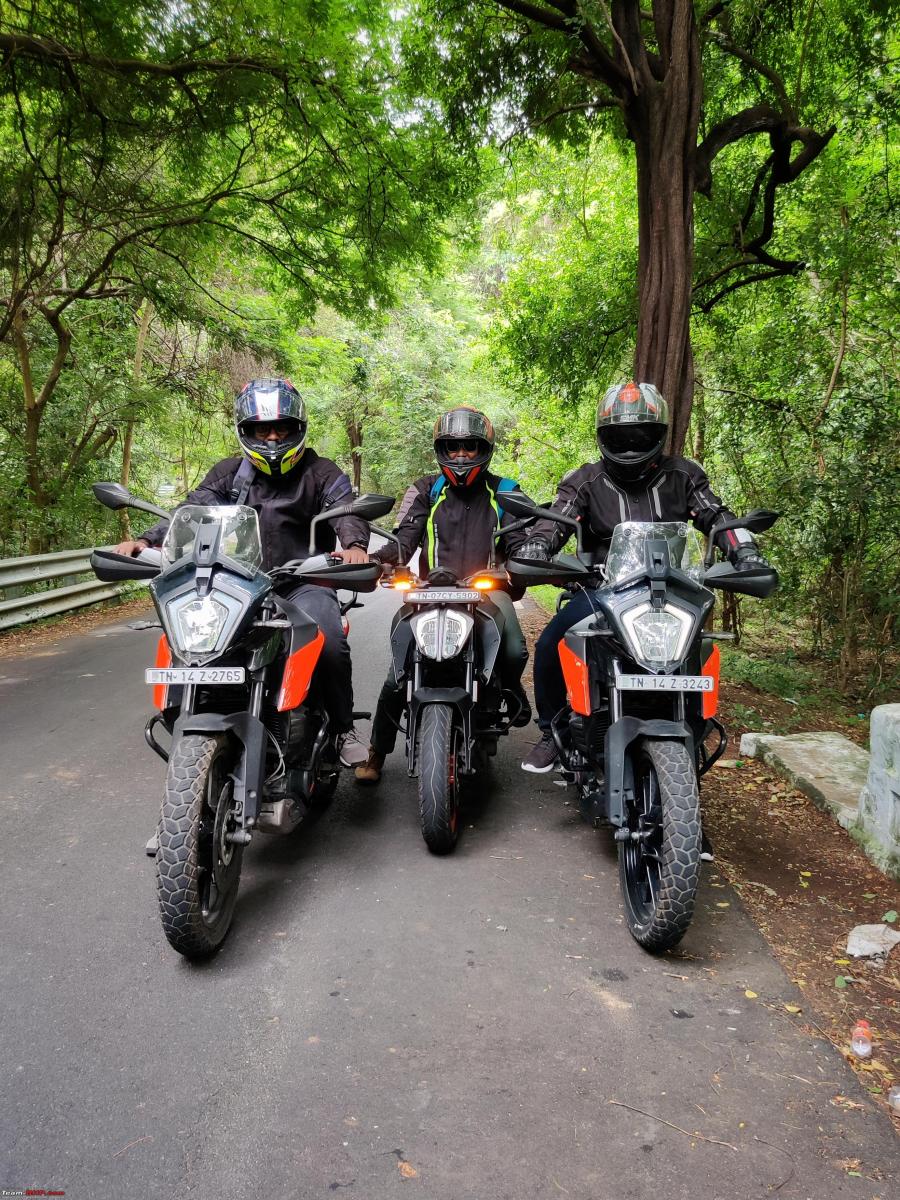 Due to the raised handlebar, relaxed riding posture and longer travel suspension, front end feel may not be as much as a Duke/RC, but for the streets, you'll never be left wanting.
The MRF rubber handles everything absolutely fine and never lost traction to date. Just that it would've been better if it's just a tad bit softer
Overall, a multi-purpose utility machine that can chug all day and night on on-road, off-road, post-rain slippery roads, on a sunny scorching Thar road
Some unique features
Just the right amount of tech you need => ABS only(rear switchable)! No riding modes, no traction control, no Bluetooth and absolutely no other distractions. It's just you, your motorcycle and the beautiful path ahead
Has a 12V socket right below the console which can be used to charge, vacuum, fill up air etc
Has a GPS mount above the console
Has auxiliary ports for additional lights, or any other electronic device that you may wish to attach separately
Problems faced
Not specific to KTM, but Quality check/control and knowledge levels of service technicians of every brand need to be improved
The front brake was not connected to the brake light during delivery. During PDI, I noted the rear brake but left out the front as I couldn't reach the front lever and the light was working for the rear. Noticed it after 2 days when a good samaritan asked me to check the brake light.
My friend who bought a KTM Duke 250 just a week before me, got his rear suspension oil all leaked out during a ride (it was replaced later for free under warranty)
Another friend of mine who got the KTM Adventure 250 got his fuel pump kaput in the middle of the highway after 9 months/9000kms on the ODO. Also, I remember the technician saying the fuel pump of the test ride ADV 390 has gone kaput while I was there for my motorcycle's second service. It is a part that needs to be monitored closely. RSA helped my friend and it was replaced freely under a warranty
My motorcycle is veering very very slightly to the right when I let my hands go off the handlebar. Forks, axle, all seems fine, cleaned cone set, replaced the T-stem under my own money just for mind satisfaction(3 service centres around my house never acknowledged the issue, however, every other friend of mine acknowledges). Yet to find its root cause, but recently I have stopped looking for a solution as the svc technicians are in no way helpful, even after multiple open threads all over the internet, there's no concrete solution except for a lucky few, also this is a common issue with even litre class motorcycles(based on some internet search) and most importantly, the motorcycle is perfectly alright when your hands are where it's supposed to be (on the handlebars ) and when speed is over 80kmph.
Toyota Fortuner of motorcycles!
But need a simple no-nonsense street sport motorcycle that is agile, and nimble for your fun-filled daily commute and weekend mountain twisties but can also handle our great Indian roads and its gigantic speed breakers, potholes and whatnot with its jacked-up suspensions and high ground clearance and also cruise the butter smooth National Highways at 100kmph all day along with your better half enjoying our scenic beauties while comfortably seated in the huge pillion seat? Probably a KTM Adventure 250/390 will fit the bill just fine!!
The famous quote 'Jack of all trades, master of none!' suits this KTM perfectly! It may not be as adventurous as a Himalayan off-road, but it sure is better on-road. Likewise, it sure can't cruise like a meteor/Interceptor on-road, but sure it can take speed breakers and potholes at speeds and take you to places where an Interceptor may not.
P.S. For people who say why not save some money and get the duke 250 instead of the adventure 250 as it has much better styling, LED headlights, fatter tyres etc, I'd say the premium over the duke with its tradeoffs is worth it if you're looking for function over form.
My first bike was a KTM Duke 200, and this KTM Adventure 250 felt just the right updates wherever I wanted:
A little longer suspension that does not bottom out often and thuds – check
A relaxed riding posture for your legs and knees – check
A usable pillion seat – check
Additional usable features like 12v socket, a larger console, wind visor, GPS mount, under seat storage, bigger fuel tank etc – check
Better heat management – check (the way the 2 fans on either end deflect heat is much better than the one big fan that deflects the heat right on your legs)
Who should not consider this motorcycle
Check out BHPian comments for more insights and information.
Source: Read Full Article