My 2012 Skoda Rapid: Endless issues with fuel injectors, ABS, EGR valve
Long story short, I've done about 31 visits to the service centre, 18 of which were related to running repairs.
BHPian techmotor recently shared this with other enthusiasts.
Dear fellow Team-BHP members. I want to share with you my predicament with respect to the endless number of issues on the car I own – A Skoda Rapid 1.6 TDI (Jan 2012 make).
A little background
I love cars. This love started in childhood itself when I and my elder brother would get a variety of car magazines, spending hours eagerly going through each page like we were studying for term examinations in school. On top of that, we used to watch content available via TV on cars including WRC on ESPN, Top Gear on BBC and series like Knight Rider. Our family typically keeps two cars and we had owned HM Ambassadors, with one of them being completely revamped to have platform gear (from the lever type gears behind the steering wheel), a new custom-built dashboard with switches to operate the music system amongst others, custom fabric/upholstery etc. The entire work – from mechanical to paint job was done at our home itself and I used to hang around there pretending to oversee everything. Also sometimes after school, when the car will be given to the local workshops to fix certain issues, we could see a lot of repairing work going on up close. I have seen an engine replacement work being carried out with the engine being shifted with pulleys and all but how much of it I comprehended is a different matter altogether. The other cars we owned include a Tata Estate (we did a lot of family trips in this one covering most of South India), a Tata Sierra (the result of my college days craze of my brother), and Maruti Zen, a Mitsubishi Lancer and Ford Ikon. I took my baby steps in driving in an Ambassador, then the Estate and graduating to Lancer and Ikon. I went to driving school just to get the license and by that time I was a confident driver thanks to all the cars I've driven with both my brother as well as family driver encouraging and giving me opportunities to drive.
Disclaimer: All my driving lessons were done in controlled environments only and under supervision. Our home being on the outskirts also helped a lot.
Except for the first Amby, the rest were diesel models and probably that's why I still prefer diesel over petrol. We never had any major issues with these vehicles and since I was so used to the low-end torque and moving the car with just clutch modulation, for a long time I couldn't adjust with petrol engines. But then I got to drive some good NA petrol engines and I learnt not all petrol vehicles are boring to drive.
That's all for the background for now before you get bored. Maybe I'll write about my different driving experiences in another thread, at another time.
Let's fast forward several years. It was almost the end of 2010 and after working for 3 years in BLR, I relocated to Trivandrum (TRV), Kerala. By the first half of 2011, it was obvious that I need a personal vehicle and thus began the search for my car. It was at this time, I got to learn about Team-BHP as well and from then onwards this has been, still is and will be, my primary and trusted source for all vehicle-related information.
Car hunting – My first car
I was looking for a hatchback as it'll be primarily used only for office commute and weekly trips to my home town (80 KMs from TRV). Following were my requirements.
It should be a driver's car. Since I have driven Ford Ikon extensively and also Ford Fusion and the first-gen Figo, the ride and handling were of at most importance to me.
A diesel engine with zero turbo lag.
The exterior design should be neat with good proportions.
Budget of up to 8L OTR.
Started taking TDs of some vehicles. I remember taking TD of Hyundai i20 (the early ones in 2011) and was left highly unimpressed with the handling. No steering feedback, having the car move unpredictably at 50+ Kmph on slight steering input etc. made me swear not to look at any more Hyundai cars. This is strictly my personal opinion and I mean no offence to existing owners and it seems they are much improved in the handling department nowadays.
Next was a car not on my list but got a chance to drive thanks to my brother who got it from a friend of his. It was a VW Polo TDI (1.2L, 75 bhp IIRC) and I was blown away by all aspects of it except for the lack of power and it had considerable turbo lag as well. There were rumours of a 1.6L engine being introduced at a later point in time but no tentative date of availability so I decided to wait for some more time as it'd fit my requirements to a T. In the meantime I did TDs of other vehicles, went back to Ford due to lack of options but didn't find anything new. I also came to know about EcoSport via scoops and still remember digging through the web to get more info on the details, launch etc. But nothing was confirmed and my hunt for a car continued. It was November 2011 and having no news about Polo 1.6 TDI or EcoSport, I finally took a decision to go with Polo 1.2 TDI. We went to the showroom and gave a token advance of 10K. Back in my mind, I was still uncomfortable with the fact that I'm going to get an underpowered engine but was trying to make a truce between mind (need) and heart (want).
The Twist
My brother comes in one day and asks me to go for a Sedan. Now, the reason for not considering a sedan earlier was that there was no need for a bigger vehicle. Moreover, I was in my mid 20's and most of my colleagues were using two-wheelers, so spending even more money for a sedan was not even in my mind. However, he gave me some solid points regarding space and comfort (especially considering our parents), powerful engines, vehicle respect etc. and by the end of our conversation, I was fully convinced. Yes, Sedan was at the cost of a final stretched budget of 10L OTR.
Now, this has opened up room for some more options and the immediate option that logically came to my mind was the Vento since it's a stretched polo with a 1.6L engine. But the variant I was looking for was exceeding my budget so was in a dilemma again. But all this confusion ended quickly as Skoda introduced the same month (November 2011), a new model Rapid based on the same platform as Vento. What was even more attractive was that it was priced lower than similar spec Vento. Team-BHP review came very soon after and the positive review of the vehicle here sealed my decision. Team-BHP always pointed out the horrible after-sales experience of Skoda but I decided to go for it considering that most of the complaints I came to know were about transmission failures. There was also this thread on dealers swapping out factory-fitted parts with fake ones.
Considering these as a rare case and that it has been brought to the public attention, I assumed (a costly mistake) I'd be having a relatively niggle free experience. Moreover, I haven't faced any issues with the cars I mentioned in the prologue, so how bad can it get? Also, it's been over a year since my car hunt started and I really needed a vehicle. So that's how I ended up buying my first car with my own money.
Booking Process
The dealer in TRV didn't have any TD vehicle and there was no proper response on when they could arrange one. The next dealership was at Cochin (COK) which is about 200 KMs from TRV. On enquiring, they told me they have a TD vehicle. Since there was a lot of work in an office, I asked my father and brother to go and check the vehicle. My brother gave a thumbs up for the car after TD and I've asked them to do the booking. Since I've driven Polo and since my brother said OK, I didn't need another TD. I didn't want to procrastinate the booking any further. Please note that this Skoda dealership at COK had just started its operations. Brother told me the red colour was sporty but they didn't have stock and mentioned a longer waiting period. They mentioned a white colour model can be arranged faster and thus we made the booking for the same. The mid-variant (Ambition) was chosen and the final price was around 9.5L OTR. No accessories were given/promoted even the essentials like mud flaps, rubber mats etc. due to unavailability – A term I started hearing thereon from all Skoda service centres. Finally, we took the delivery of the car from the COK dealership in February 2012. During the key handover process, the young lady told me "Happy Riding". Little did I know that I was going to be taken for a ride – A roller-coaster ride.
Sharing a couple of pics.
What I like:
Solid build. Be it the thud sound of a door close, the heft on the door panels, bonnet etc., everything is built to last. Clean and understated design that ages well.
Excellent fit and finish. No uneven panel gaps inside-out, no creeks, solid and premium buttons and stalks for headlamp/fog lamp operations, indicators, wipers etc. Huge boot space.
Simply clever features – One-touch window up and down for all 4 windows and with an anti-pinch function. The same can be controlled using a remote key. Another really useful feature of the ORVM is that it rotates 180 degrees in case of an impact.
I found this super useful when there were a couple of incidents with bikers knocking the ORVMs. With most other cars, this would have resulted in a broken and hanging ORVM.
Zero turbo lag. There is ample low-end torque and the car jumps into action once we engage first gear and slowly release the C pedal. Shift to 3rd gear, do a pedal to the metal and you'll be pushed back to your seat with the torque surge. Really useful when doing highway overtakes.
Steering feedback was good despite being an EPS. I was used to Ford's HPS and though I missed it due to the incredibly direct feedback (the driver and car become and act as one), there were no complaints on the EPS on Rapid. It obeys the driver's inputs.
High-speed stability is excellent. No noticeable body roll, can handle corners with ease while speeding.
What I don't like:
No points for guessing the first item. Skoda's terrible after-sales service.
There are some ergonomic issues for tall drivers. I'm 6 feet and with the seating position I preferred, my head was very close to touching the roof liner and the IRVM was blocking a clear view of the front. Also, there was this problem of left knee scrubbing against the dashboard area. Thanks to the seat height adjustment and steering adjustment (reach and rake), I was able to find an alternative seating position albeit compromising some comfort.
Pathetic tire profile at 175/70 R14. The upgrade is a must but options are limited because of the 14".
A front headlamp is strictly average.
Engine clatter (especially on cold starts) is more compared to diesel standards.
Front fascia from Fabia, especially headlight design and grill, though the facelift versions corrected it the way it was meant to be.
The never-ending issues
As you might know, Skoda had a standard warranty of 2 years/1 Lakh Km (whichever is earlier) during the time I have booked. And I haven't opted for the extended warranty because we never had the need for the same for the vehicles we owned previously. European cars being new territory for me, I'd overlooked this fact even though there was strict caution in Team-BHP forums. A lesson learnt the hard way. And the lesson learned is to pay heed to what our forum experts say from moderators to distinguished BHPians. It'd prove to be useful in the long run.
The issues started after a year with about 19K on the Odo and 6 months after the first paid service. From there onwards till now, the issue has not been properly rectified. The following screenshots contain the entire service history (in descending order).
Long story short, I've done about 31 visits to the service centre till now out of which 18 visits were related to running repairs. The major components changed were the EGR valve, fuel injectors and ABS sensors. The fuel injector complaints were the core issue with 4 of them replaced under warranty, one time on goodwill, and the other time from my pocket. I had also filed a consumer case against this during the initial years after reporting the issue but let it go as I was fed up with this extremely time-consuming process. Moreover, I was too busy with work and personal matters.
In 2015, the vehicle was involved in an accident which was not due to my fault. A bike from the opposite side hit another vehicle's ORVM while overtaking and lost control and hit my car. The front bumper and headlamp assembly on the RHS and AC condenser related work were carried out. The fuel injector has failed a couple of times since then and the glow plug once as detailed in the service history pics.
As of now, the car has clocked approximately 84K Kms and is currently in a non-drivable condition because of the check engine light and reduced power. It's showing all signs of an injector failure yet again. I have got the last injector replaced 4 to 5 months back only.
I also have the following doubts.
Being one of the early buyers of the Rapid model, did I end up getting a lemon? Skoda has never acknowledged this but the issues I've been facing with the car are nothing short of something that happens with a lemon. Using Team-BHP VIN decoder, MY is Jan 2012. Considering that the car was launched just a couple of months back (Nov 2011), my car should be from the very initial batch.
Did the COK dealership play something foul since the dealership was closed just one year after starting their operations and coinciding with the time I have filed a lawsuit? Was I given a display or TD vehicle? I wanted a red colour but they told me that it'll take some time and they do have a white one in stock and hence I went with the white one. I did the mistake of not doing a proper PDI as this was my first car buying experience. Also since I had only started following team bhp, I didn't go through the vast articles available on PDI.
What Next?
I have the following options now.
That leaves me with options 1, 2 and 3. What do you guys think? Please provide your valuable suggestions so that I can take an informed decision on whether to retain the car or sell it.
Attaching some more pics taken this month. Even after 10 years, the design doesn't look outdated.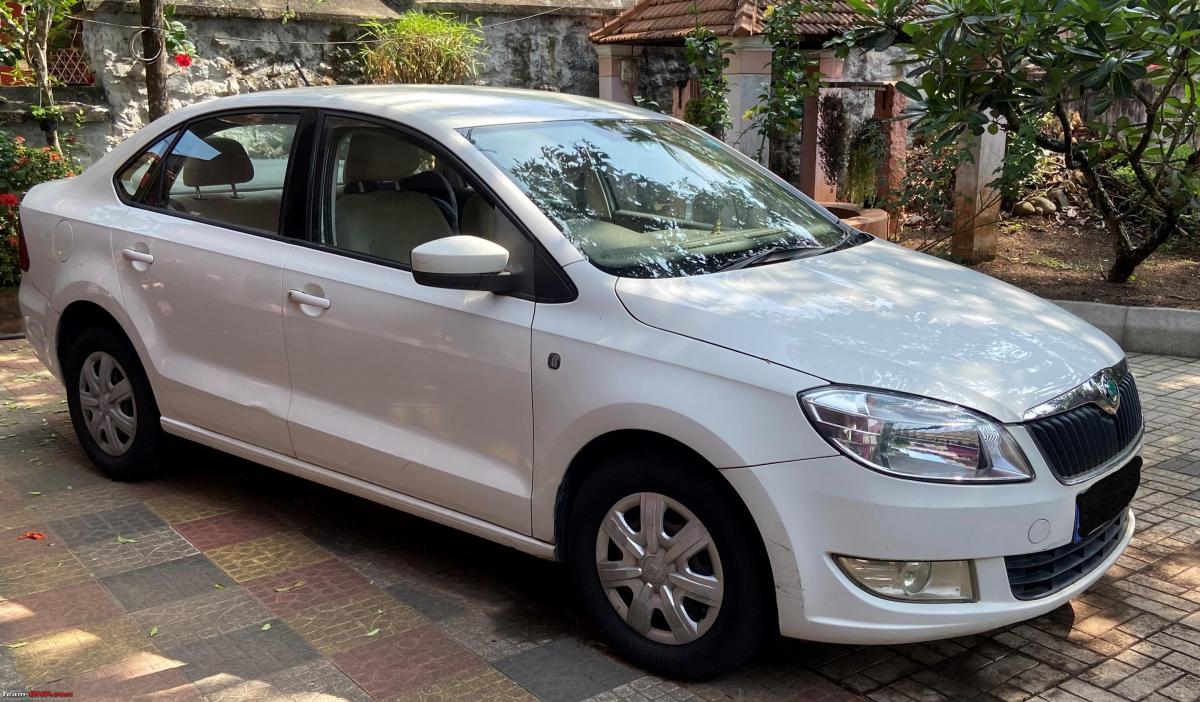 Check out BHPian comments for more insights and information.
Source: Read Full Article