My experience on 82901 Tejas Express; India's 2nd privately run train
I was always intrigued by this train and wanted to travel in it since a long time, however, as is with most things in the past couple of years, COVID meant that was not possible.
BHPian porsche_guy recently shared this with other enthusiasts.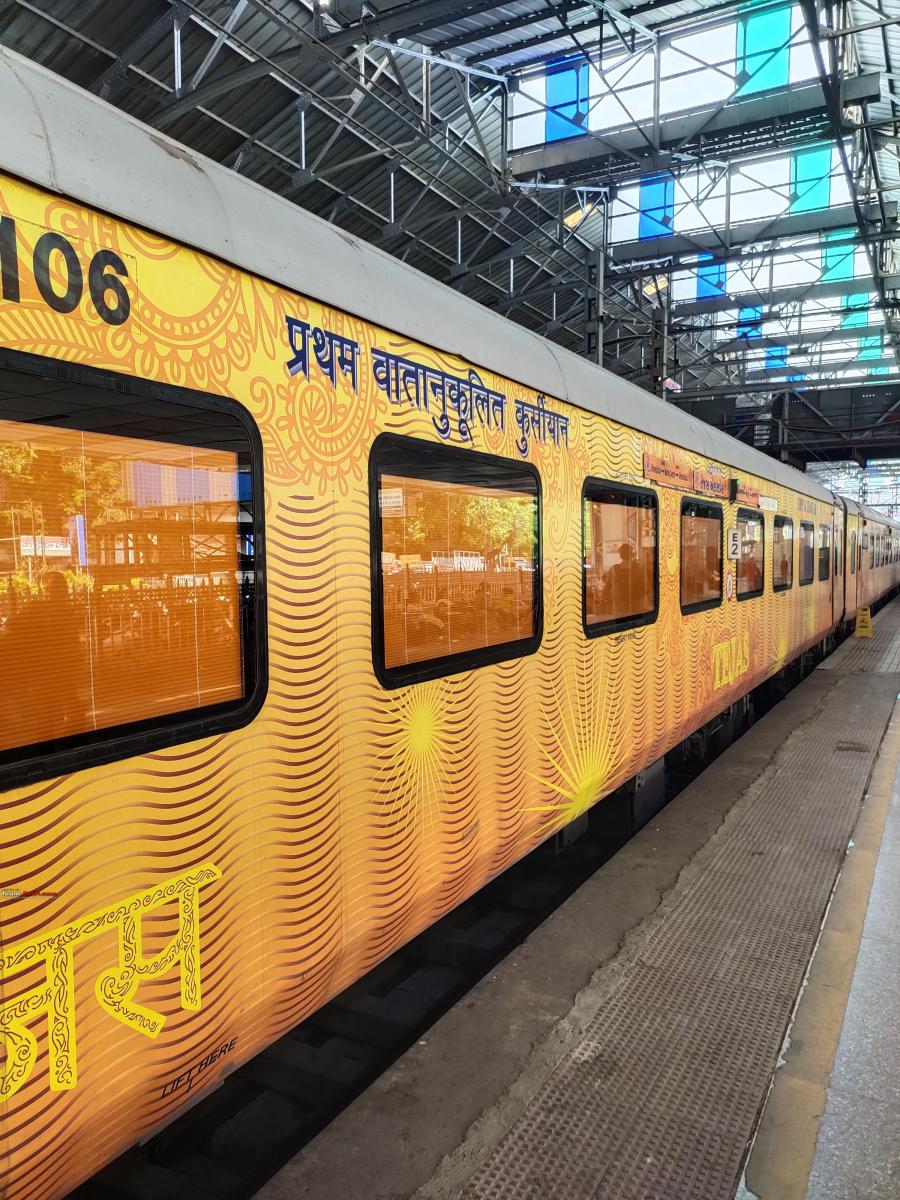 Likes:
Cleanliness- super clean!
Travel time comparable to flights.
Spacious and extremely comfortable seats.
They fill your stomachs to the brim.
Attention to detail for small things (paper cup design, frequent sanitization).
Dislikes:
Not the most affordable (Executive class).
AV systems were non functional.
Very short duration stops.
Drab colour scheme for the interiors.
No non vegetarian food options.
About the ADI-MMCT Tejas Express:
The Ahmedabad-Mumbai Central Tejas Express is India's second privately run train fully operated by IRCTC. It was launched in Jan 2020. It runs as 82901/02 from MMCT to ADI and vice versa and gets pulled by a WAP7 loco both ways. These use special Tejas rakes and have two classes- AC Chair Car (CC) and Executive Chair Car (EC). This train should not be confused with the MMCT-NZM Rajdhani (also known as Tejas Rajdhani) which only happens to use the same type of coaches.
I was always intrigued by this train and wanted to travel in it since a long time, however, as is with most things in the past couple of years COVID meant that was not possible. So finally when the opportunity presented itself I didn't wait before booking tickets in the EC section just to experience the journey aboard it. I will keep this crisp since most of the things about the coaches have been covered by BHPian Vigsom in his thread about the Tejas Rajdhani.
The journey:
I was to travel from Mumbai Central (MMCT)to Vadodara Junction(BRC) in the EC coach. As I reached the station about half hour early, I had some time to spare. The very first thing I noticed was the bright yellow and orange livery on the coaches. There is no way you will miss them with that scheme. On few coaches though you could see the "wrap" peeling off at some places. Note- these rakes don't seem to be painted but have a layer of (wallpaper?) on them.
While I was waiting outside, a thorough cleaning and sanitization was taking place with boards placed outside to warn passengers to not climb in just yet. 15 minutes prior to departure, boarding started and we were greeted to a brown interior. Each passenger's temperature was diligently checked and luggage sanitized.
Right off the bat, the coaches seemed very spacious with the overhead luggage racks having more than enough space (unlike a few other chair car rakes). The seats were arranged in a 2×2 format (3×2 for the CC) with a total of about 56 seats. They looked pretty neat with overhead speakers although I would have preferred a more refreshing colour instead of the brown for the interiors though which makes it look quite drab.
Coming to the seating comfort, the seats were immensely comfortable- comparable or even surpassing those found in Business Class on long haul flights! They were nice and wide and offered perfect back support. A calf rest, footrest and even two individual armrests were also on offer along with a super cool height adjustable headrest to sleep without your head on your co-passenger's shoulders.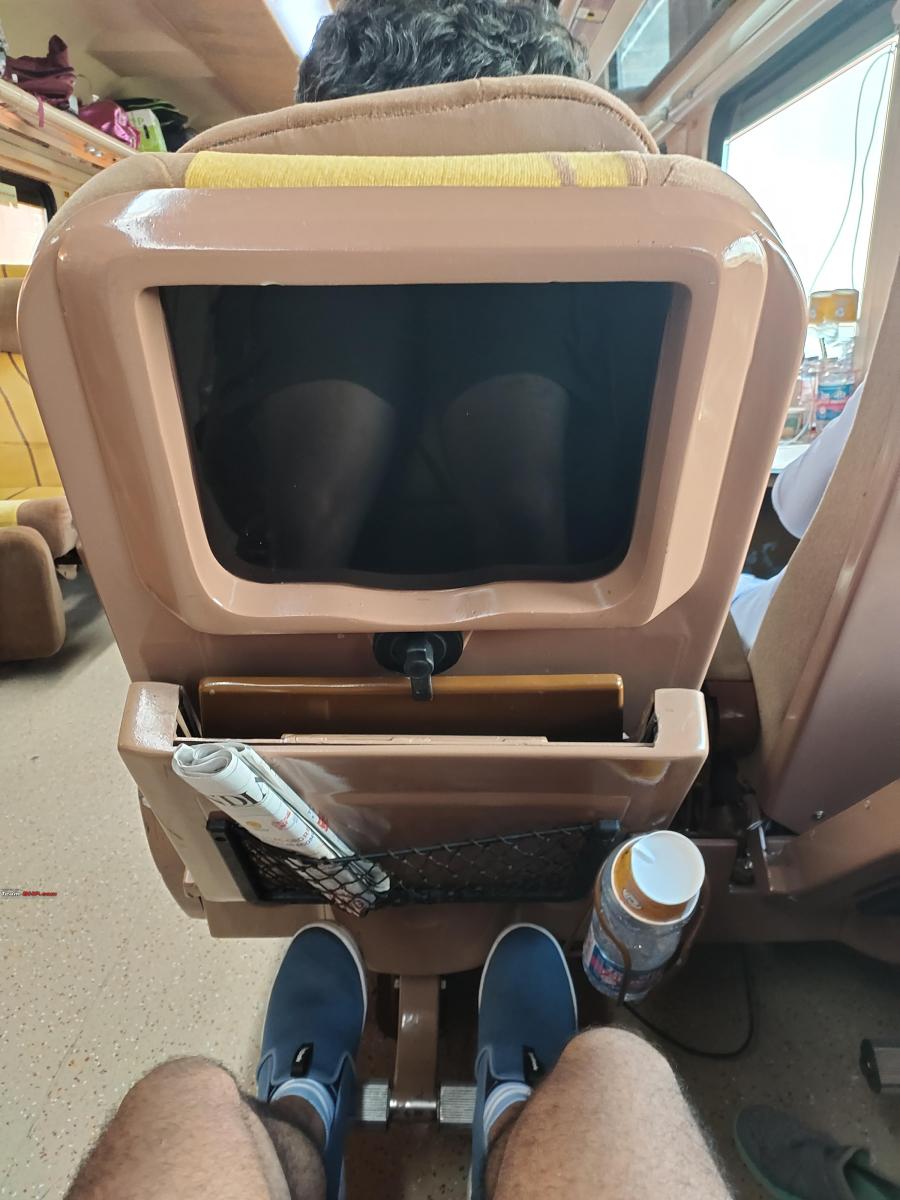 The legroom was in word- fantastic. I at 5'10 still had a very good foot and half of space left before touching the front seat.
The electrical window blinds felt very cool to use although they aren't much more than a gimmick. You can open, close, move up or move down the blinds.
By this time, the train had started its journey right on time at 15:45 hrs. What came as a major disappointment here was the fact that the AV Entertainment units which were touted as one of the highlights of this train did not work. Not an "issue" as such but a bummer anyways. I guess they must not be operational anymore after the various reports of thefts of headphones. Sad situation due to few unruly people.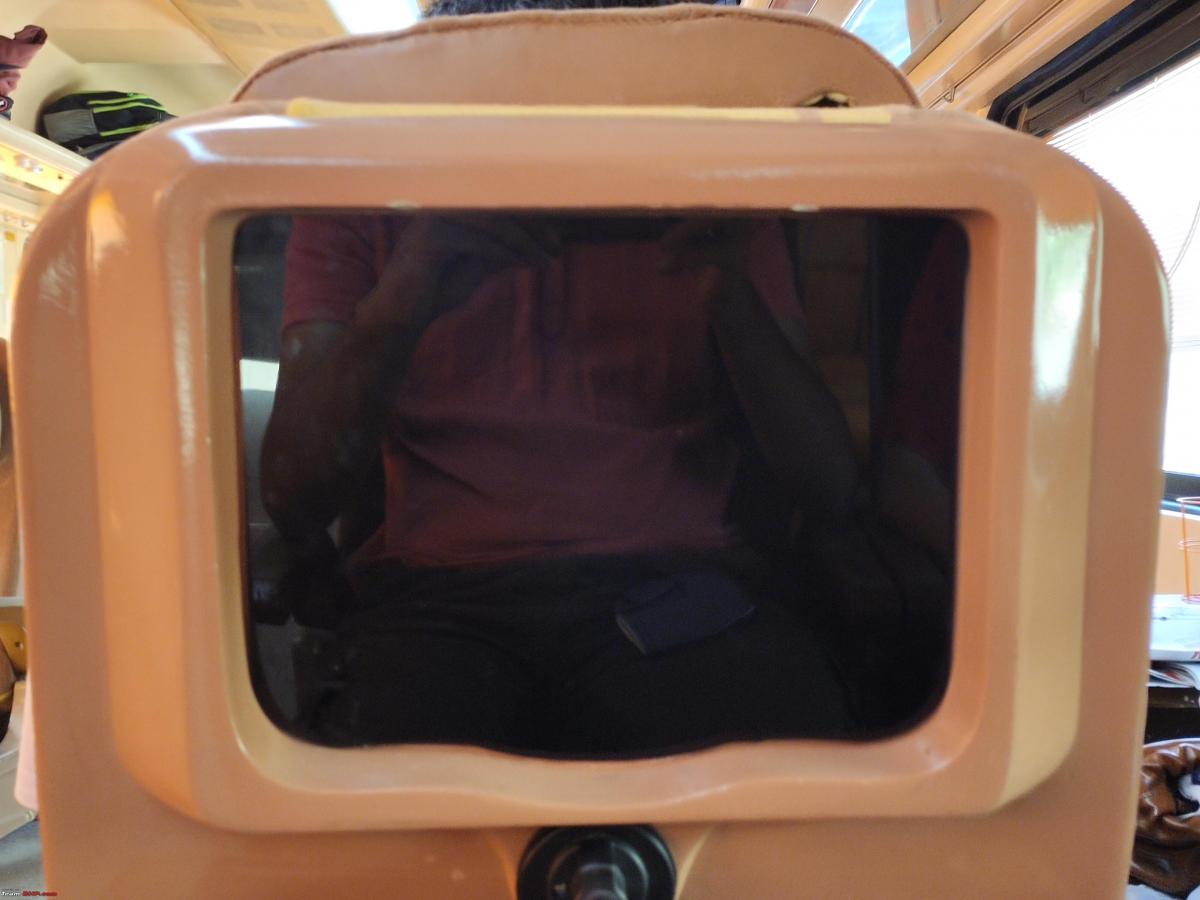 Periodic announcements in English and Hindi were also made on the speakers informing everybody of the auto-closing doors of the train as well as upcoming halts.
Soon enough, we were provided with a 1L water bottle and a newspaper.
Another thing that I immediately noticed was the superior NVH and stability of the said coaches. There was a lot less swaying compared to the regular ICF and even the standard LHB coaches. Outside noise was also extremely well controlled.
Soon enough, we left Borivali and snacks were served. A cup of instant tea/coffee was served to everybody. A choice of 5 flavors of tea were given! Snacks soon came about and in true Indian Railways fashion, they were not going to let us go without a fully filled tummy.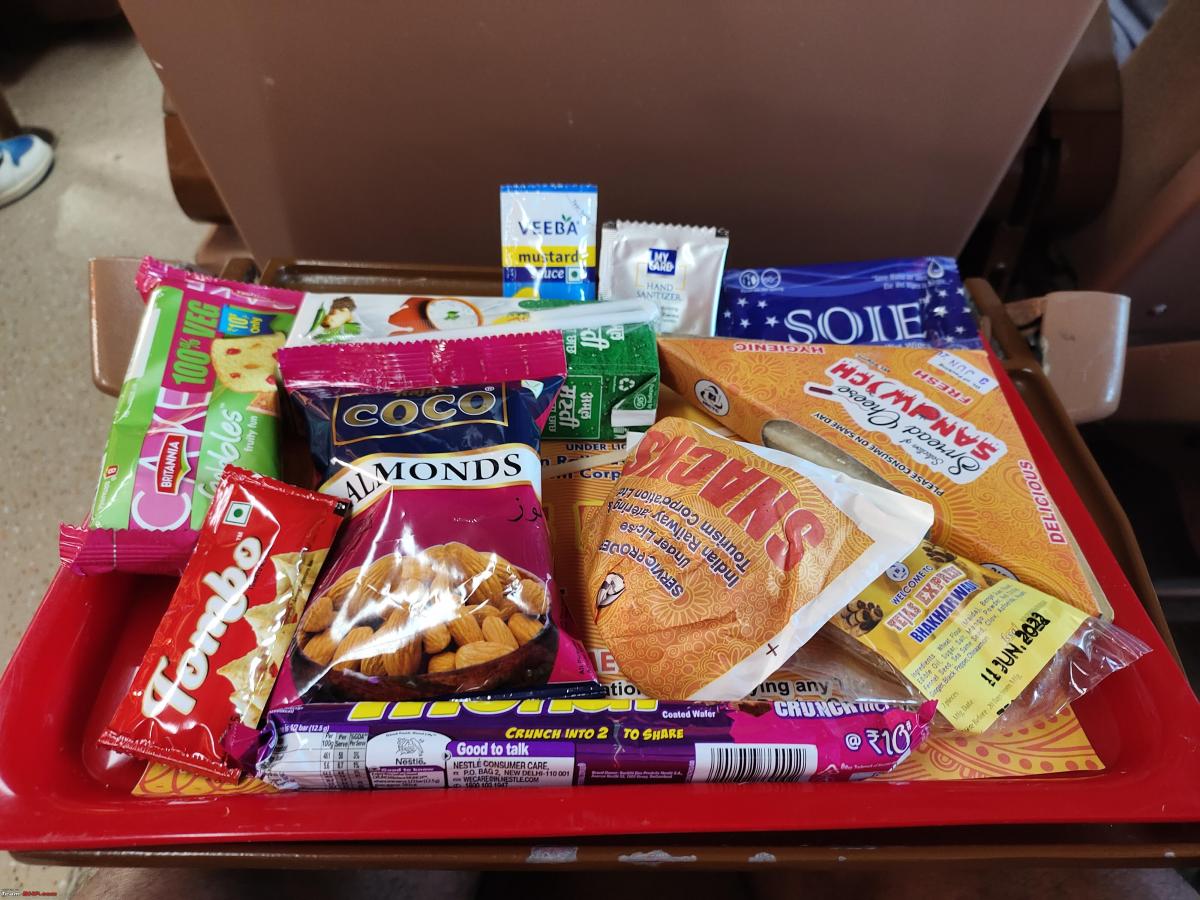 The snack tray included a packet of Chaas(Buttermilk), one Kachori, a Munch bar, a cheese sandwich, some salted almonds, two pieces of bhakarwadi, cake and condiments along with wet wipes and hand sanitizer.
Notice the cup having the same design as the train.
As we went ahead, out of curiosity I opened the GPS speedometer on my phone and we were already doing 130 Kmph! It certainly did not feel as fast and that just goes ahead to prove how much better engineered these coaches are. Note- These rakes are rated for speeds upto 160 Kmph but they operate at a max of 130 Kmph only since the tracks aren't upgraded to handle those speeds on this route yet.
Post a short nap and watching an episode of Top Gear, we were once again treated to the 3 course meal. Instant soup was served first, with an option of hot and sour and Tomato. Breadsticks and some bread was also provided post which we were served dinner.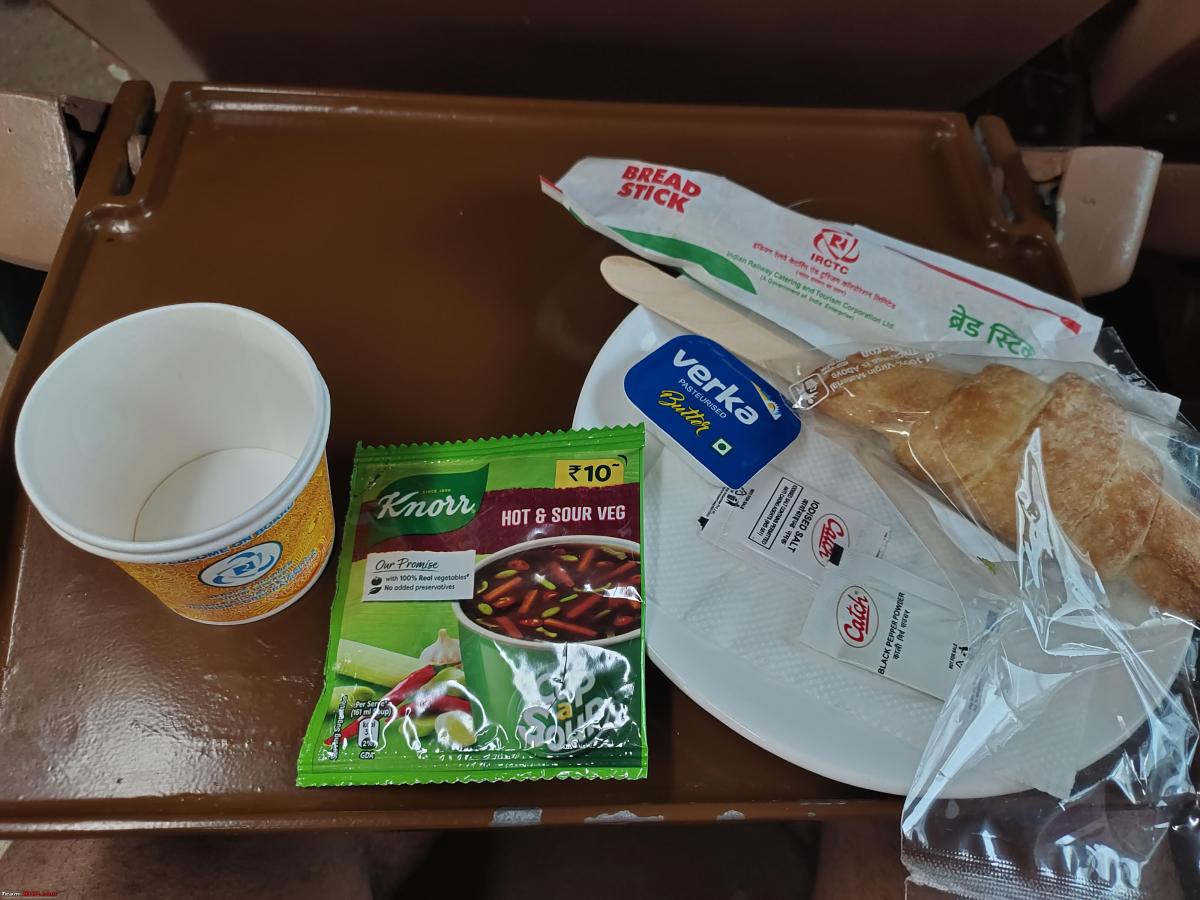 Soup and appetisers(?)
Oddly enough there was no non vegetarian option despite specifying it in the ticket. Could be some logistics issue for that day perhaps. Again, pretty much of a non issue.
Dinner was quite tasty and filling and it was over soon. I can't say everybody could finish dinner given how filled up to the brim everybody was. An ice cream cone served as dessert and an end to a very stress free and quick journey followed soon after.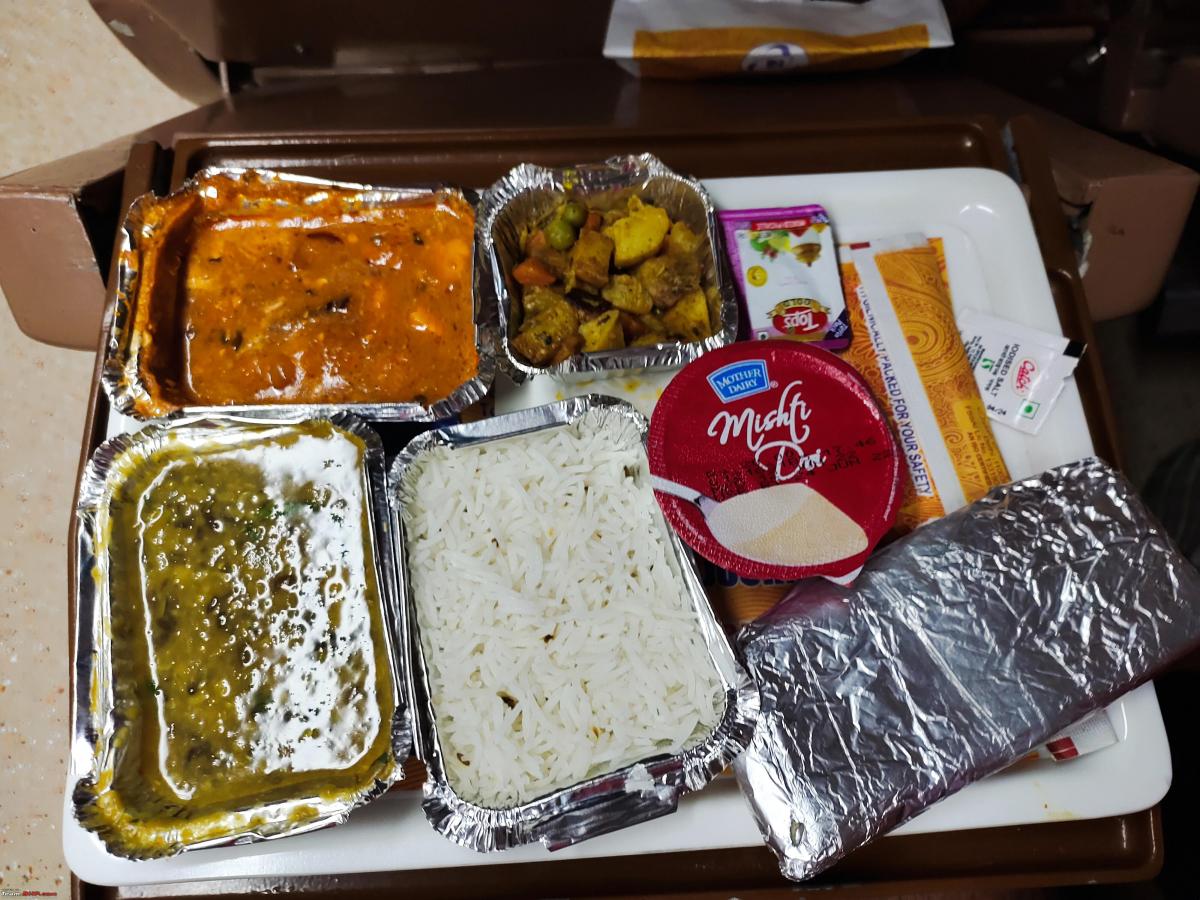 One thing I must mention here was that cleanliness and hygiene was something taken very seriously and the staff was always properly masked up throughout. The aisles were cleaned every hour and the fold-down tables were also sanitized after every serving. The washrooms were kept clean and had facilities such as vacuum flushing toilets like airplanes.
End note:
All in all, it was a very good experience barring a couple of minor niggles and I would definitely recommend it to anybody. The time taken from Mumbai Central to Vadodara Junction was 4hrs 30m which is quite fair. The time difference vs taking a flight is also not that much (considering an hour of flight time, reaching 2hrs before departure at the airport and waiting in the baggage claim queue at the destination). And while the fare difference is still fairly significant, the Tejas provides a much better way of travelling than in those cramped IndiGo seats and provides you with a full blown meal instead of a 150 rupee sad and cold vadapav you'd otherwise have to pay extra for on the flight. Oh also no baggage restrictions and security checks. The AC Chair Cars are even more value costing just above a thousands bucks typically if you can make do with the smaller seats.
This is the best mode of travel for senior citizens on this route as well according to me since the older folks are not very comfortable in the air and luggage limits are also an issue. A plus point for them is that the crew onboard here is very helpful in stowing the luggage and assisting people in need which can be a big problem otherwise.
I can only imagine how seamless the journey will be once the tracks are upgraded. I am proud to see rail travel getting so much better.
Check out BHPian comments for more insights and information.
Source: Read Full Article