Need advice: Which aftemarket flat folding rear seat for my 2020 Thar?
Ideally, I am looking for options that don't rattle and are of high-quality construction.
GTO recently shared this with other enthusiasts.
Am seeing a few aftermarket options for the Thar's rear seat folding functionality (surprising that Mahindra hasn't offered this as stock), but would love to read up on first-hand reviews from BHPians.
What I want = Full folding rear seat for airport runs & cargo hauling. Right now, only the rear seat's backrest folds down.
Ideally, options that don't rattle and are of high-quality construction.
BHPian robimahanta got something done locally (link to his post), while Shankar got a solution from Azad (post link). Am also seeing something from Bimbra and other vendors.
Who is the best provider for this? Thanks.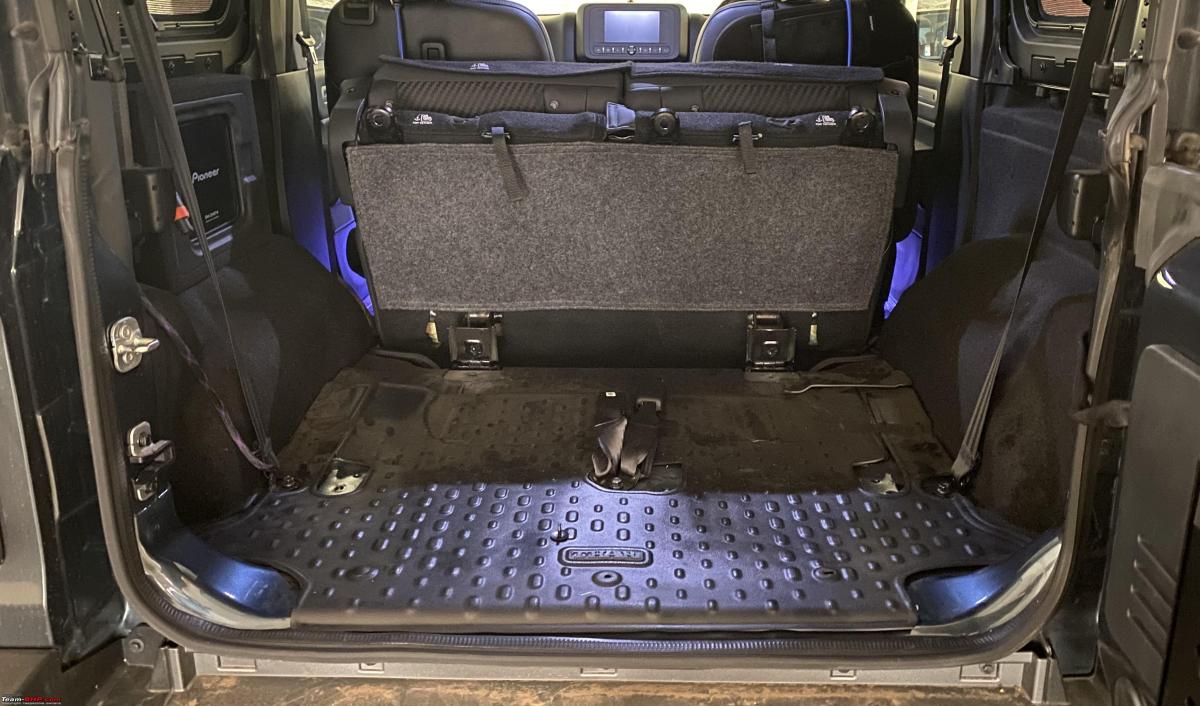 Here's what BHPian shankar.balan had to say on the matter:
I did this with Azad 4×4 in Bangalore. In my book they are better than the Bimbra one. Because Bimbra uses two support rods and those use up space.
Azad solution uses the weight of the folded seat itself plus the luggage behind shores it up. As additional security they use luggage elastic stays.

See the pictures attached. This is a huge help. I have been using this since Nov 2022 and have loafed around multiple places with all sorts of luggage including two golf bags and all and am very happy with this.
They simply introduce a hinged flange and this causes the tumble fold to happen. And use those T bolts to secure the seats if the seats are put back into their original position.
Ideally this tumble fold feature ought to have been provided by Mahindra as a factory spec.

Anyway Saksham Kaul of Azad in Bangalore will be able to get this done. It is a 2 hour job and is done at their facility in Hosakote. The contact number is +91 99801 37004.
GTO had the following update to share:
Big thanks to robimahanta for sharing this! Like Shankar, he also says Azad4x4 has the best solution for this. Contact person Inupreet Chadha @ Azad 4×4 = 9971900303.

Video 1

Video 2
Read BHPian comments for more insights and information.
Source: Read Full Article