Parts you'd need to fit OEM Bi-Xenon headlamps in VW Polo
These parts were sourced from eBay etc and came in from different parts of the world to make this as cost-effective as possible.
BHPian fluidicjoy recently shared this with other enthusiasts.
The stock halogen headlights on the Polo/Vento are nothing to write home about and this is known quite well. Most PQ25 Polo/Vento owners I know have at least tried an upgrade or expressed the desire to improve the headlight performance with either bulb upgrades, or headlight assembly upgrades, be it, OEM or aftermarket. I've written about my experience with the Philips Ultinon Pro 9000 LED here.
Team-BHP is fortunate to have a great thread on the OEM Polo 6R Bi-Xenon Headlights by Graaja. This post should be a go-to for a list of parts you'll need, so I'll not make things repetitive and keep my post as short as possible while sharing a few other details about the hardware and initial installation.
I tried upgrading my stock halogen bulbs to Philips LEDs and found them to be quite an improvement, but considering I had other plans for my car, I wanted an even better lighting experience, and hence, I started looking for OEM Bi-Xenon Headlights. Here is a list of parts that I needed to arrange, and these were sourced from eBay etc. and came in from different parts of the world to make this as cost-effective as possible, but even despite my best efforts, this was barely a budget-friendly upgrade.
Headlight Part List
6R2 941 039D, 6R2 941 040D OEM Bi-Xenon Headlights
8K0 941 597E OEM 35W D3S Ballast
N 10721805 – OEM 35W 4300K H ID
N10733101 – Turn Indicator Bulb x2
N 105 35502 – Headlight Screws x4
AFS Parts
6R0 907 357 Z0A
6R0 971 845 K – Holder for AFS Module
6R0 941 273 B – Axle Sensor
6R0 612 405 – AFS Sensor Brake Tube Bracket
N 102 25 202 – Bolts
I'll make a separate post on the Polo 6R AFS System Retrofit a little later, and transfer a copy of this list to the new post. I feel I have more to share about the AFS retrofit than the actual Headlights themselves.
Wiring With The Emulator, Wiring Connector etc.
When I received my OEM Bi-Xenon Headlights, I still had not completed the BCM Max upgrade and so I needed to use an emulator to enable most of the primary functionality of these headlights. The Bi-Xenon headlights feature a DRL, a Dynamic Cornering Light in the Headlight, and a Projector for the Low-Beam, High-beam throw, and most of these features including the DRLs dimming cannot work without the emulator. I've covered the wiring and connections related to the emulator here, where I share some details on working on the engine bay fusebox.
The headlights themselves have a T14 headlight connector, and so a few T14 headlight connectors were purchased along with the crimps to make a T14 to T10 harness. The part number is 1J0 973 737.
With that, let's start having a look at the child parts I needed to use and the climax will be the headlight assemblies.
Ballasts and Why They Matter?
Initially, 8K0 941 597 C were in use, and the last lot of headlights got updated to 597E. I purchased a pair of 8K0 941 597 E and had a spare 8K0 941 597 C. This was a good chance to compare the two parts side by side, but there was no difference in the performance.
Each ballast is mounted on the underside of this headlight with three screws.
Fortunately for these D3S bulb ballasts, there is no programming involved and you could pick up used modules of the same spec and install them with no issues. Quite a few Audi cars in India like the A4, and A6 came with HID bulbs and some of them had this part number. If buying these used, try and check if these seem to be water damaged.
The present Adaptive Headlights on most modern cars are not as fortunate as they require lots of programming to make them work as they should. Each module needs to be flashed, coded and initialised as per the headlight assembly. The wattage of the ballast however determines the perceived colour of the HID bulb and you can read more about it here.
While there are plenty of new Ballasts floating online when you search for this part number, there's a high chance plenty of these are Chinese replicas. Half of these will not bear the Volkswagen Audi branding. Buying a reliable, genuine ballast is crucial for quite a few reasons. Cheap, knock-off ballasts often cause the D3S bulbs to be under or overpowered since they lack reliable voltage regulation. This translates to bulbs that do not perform as well as they could have. This is also an electrical risk to your car's electronic systems. A few folks I know who had picked up Chinese ballasts observed electrical interference with other sub-systems like the car's radio.
Main-Beam Bulbs
The headlights use a D3S HID bulb and while the OEM one was rated at 4300K, I thought it might be a little too warm and opted for 4800K. I tried the Philips XtremeVision D3S HIDs, and these came in from Russia since Philips did not retail these here back then.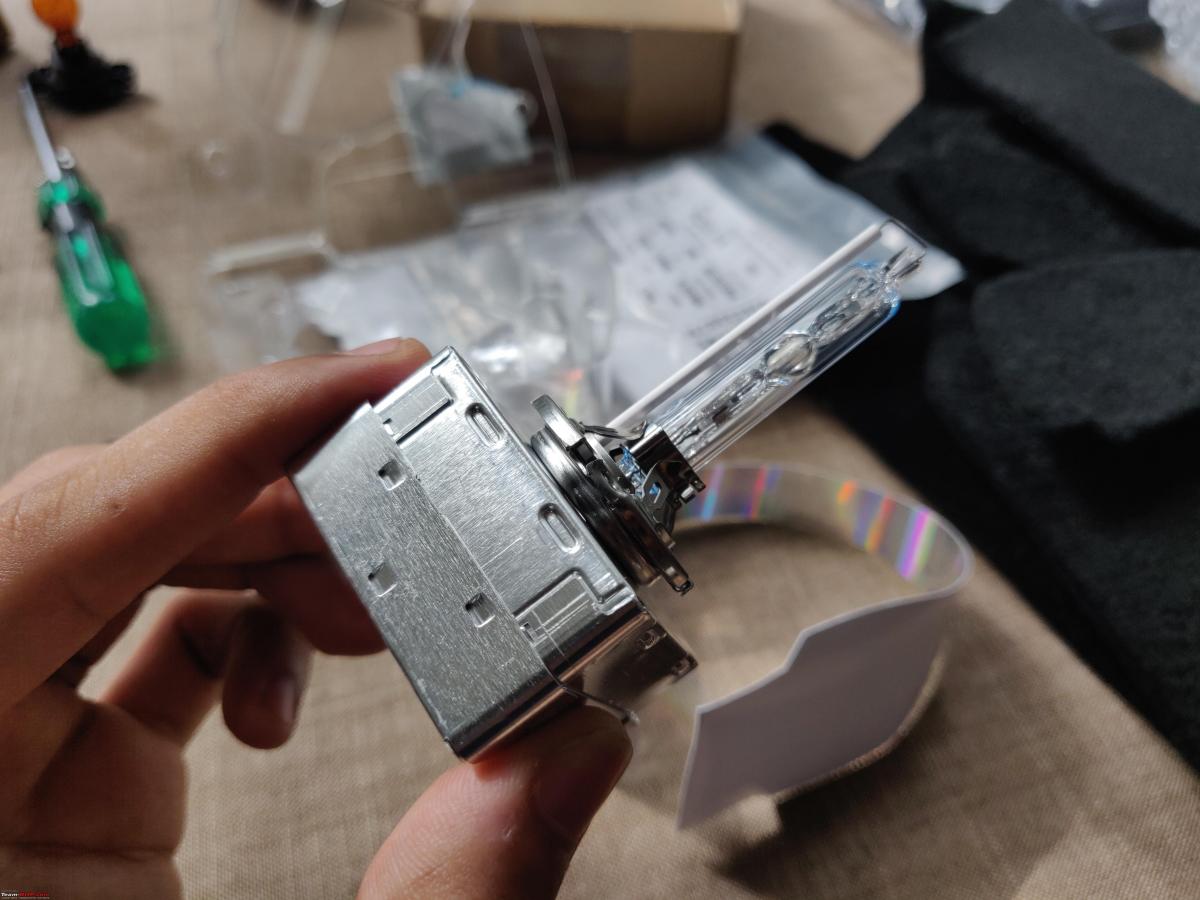 While these are fabulous headlight bulbs, looking back, it would have been better to stick to 4300K for even better all-weather visibility. 4800K is not bad, but 4300K would have been more functional. This is what the D3S bulb looks like on the inside.
Turn Indicators
The headlight assembly does not include integrated turn signal bulbs and hence these need to be bought separately too.
Cornering Lamp
The cornering lamp is a full-size H7 bulb which can take either LED or a Halogen. The H7 on this imported headlight is not like the ring-based, pseudo-H7 headlight assembly on the Indian spec Polo 6R. Notice the silver ring which I had to use to retrofit this LED bulb in a reflector Halogen housing. This ring can now safely be stored away to fight another day.
Since I was opting for 4800K in my main beam, I used my Philips Ultinon Pro 9000 lamps as the cornering bulbs, but again, cornering lamp visibility in fog, rains should be better with a good old warm halogen.
Almost Onto The Headlights
The headlights have a very fancy mounting bracket with a self-locking design and this requires longer screws than the stock screws on the Halogen headlights.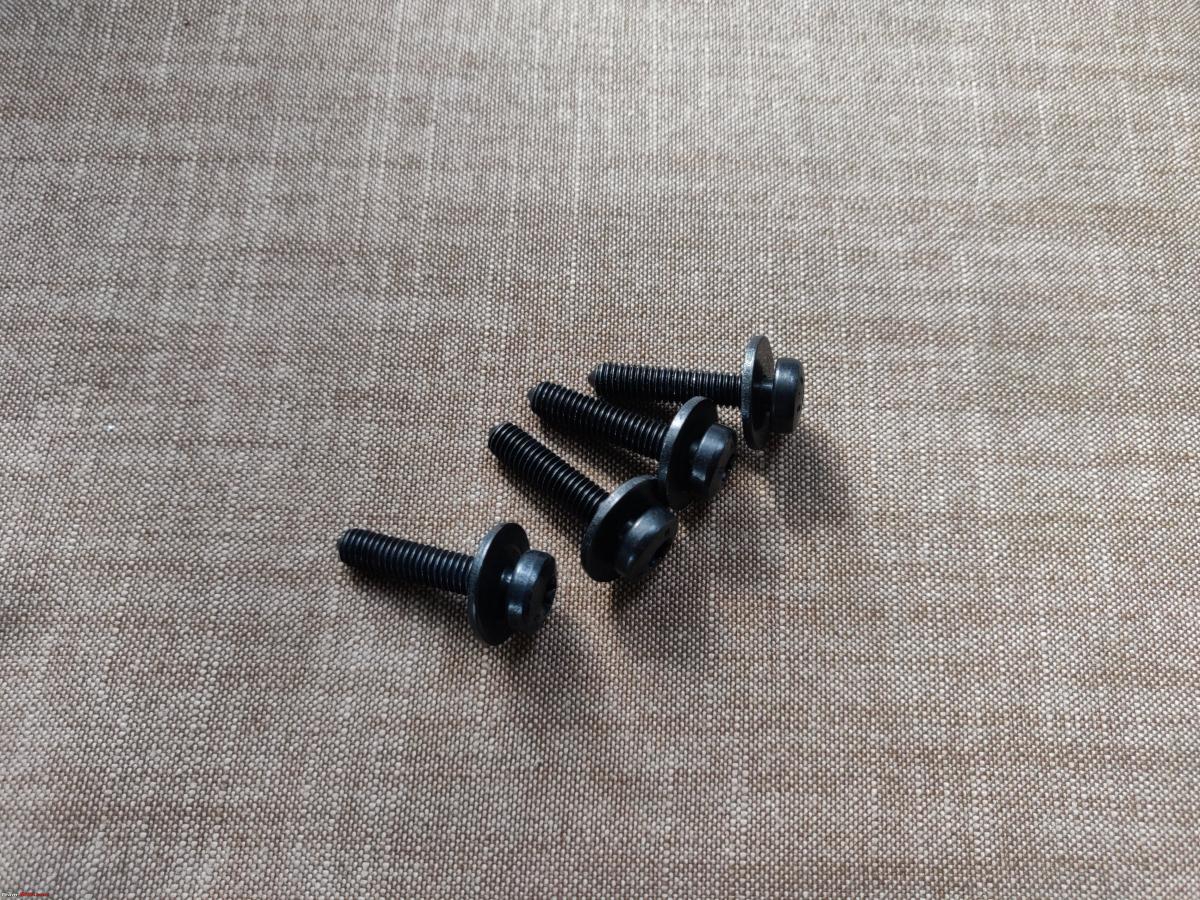 With most of the crucial hardware out of the way, I'll cover the Headlights in a later post.
Check out BHPian comments for more insights and information.
Source: Read Full Article