Real-world comparison: Honda 15L NA petrol vs Hyundai 1.0L turbo-petrol
Have daily driven a Honda BR-V 1.5L CVT and Hyundai Venue 1.0L turbo DCT for the past 15 months.
BHPian SmartCat recently shared this with other enthusiasts.
I've been using Honda BRV 1.5L CVT for the past 5 years and Hyundai Venue 1.0L Turbo DCT for the past 15 months or so. So I have first-hand long term experience of using cars powered by naturally aspirated engines and turbocharged engines, both as daily drivers. This is also a CVT Vs DCT comparison test so to speak because the transmission greatly affects the driveability/power delivery/fuel economy of engines.
Now the two cars (BRV and Venue) belong to different segments, but it really should not matter much because the kerb weight of both cars is almost the same. The engine tech specs and acceleration figures are similar too:
Honda BRV 1.5L iVTEC CVT
Power: 117 BHP @ 6600 RPM
Torque: 145 NM @ 4600 RPM
Kerb Weight: 1200 kgs
Power to Weight Ratio: 98 BHP/ton
Torque to Weight Ratio: 121 NM/ton
ARAI Fuel economy: 16 kmpl
Acceleration (0 to 100 kmph): 12.3 seconds
Hyundai Venue 1.0L Turbo DCT
Power: 118 BHP @ 6000 RPM
Torque: 172 NM @ 4000 RPM
Kerb Weight: 1125 kgs
Power to Weight Ratio: 105 BHP/ton
Torque to Weight Ratio: 153 NM/ton
ARAI Fuel economy: 18.1 kmpl
Acceleration (0 to 100 kmph): 12.8 seconds
City Driveability:
If you are used to driving naturally aspirated petrol engine cars and have never driven turbo diesel or turbo petrol, you will be disappointed with Hyundai's 1.0L turbo engine + DCT combination. My dad felt that Venue was quite sluggish compared to his old Santro and thought things would get "better" after the first service!
At low city speeds, the 1.0L turbo engine feels like it is 'held back' by an invisible force. And when the turbo wakes up, it feels like the invisible force is now pushing the car faster and faster. So this non-linear driveability takes getting used to. However, do note that our mind will eventually get used to the engine's driving characteristics and this issue fades away after a month or two with the car. Your right foot will automatically "learn" when and how much to press the throttle for smooth progress.
But with Honda 1.5L iVTEC, there is no such learning curve. Move the gear lever to D and car jumps forward instantly. Gaps in traffic can be covered with a slight dab on the accelerator pedal. CVT transmission helps here too. At city speeds, it does not "feel" like the car is decelerating at all unlike in cars equipped with DCT/TC/manual/AMT transmission, which sees small 'breaks' in acceleration while changing gears.
Highway Driveability:
Now, this is where Hyundai 1.0 Turbo + DCT combination starts making sense (paisa vasool). As long as the engine is spinning over 1500 rpm, one can make rapid progress at Indian highway speeds (40 km/h to 120 km/h). The car actually "feels" powerful (with even a push-back-in-the-seat feeling). Gearshifts (both up and down) are significantly faster than what an average driver can achieve in a manual transmission car. 2+2 laned highways or low traffic density single laned highways are its home ground.
As an added bonus, at highway speeds, Hyundai's (1.0L turbo engine + DCT) feels significantly more refined than its Honda counterpart. However, this could be due to better sound insulation in the Venue when compared to BRV. iVTEC in Honda City might be better.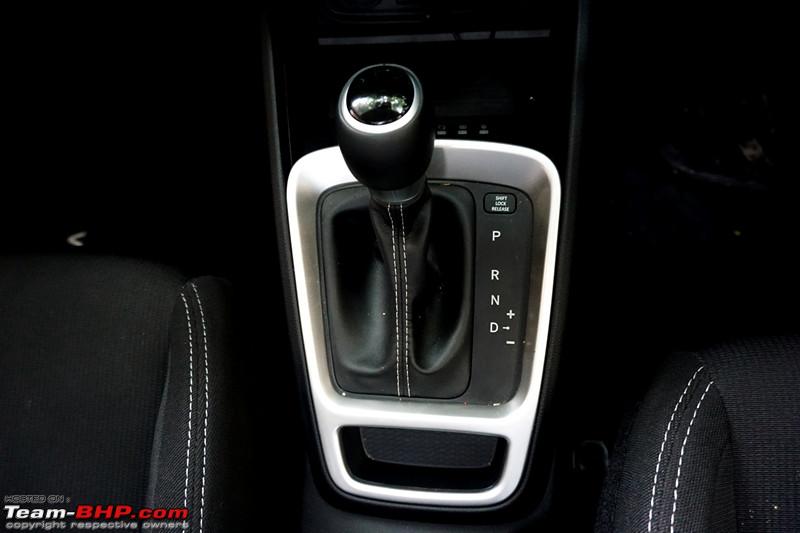 However, turbo lag in Hyundai 1.0L makes it unsuitable for heavy traffic single laned highways or heavy traffic ghat roads. There is simply no "getting used to" this because overtaking opportunities on such roads can be fleeting.
If one were to describe the highway performance of Honda's i-VTEC + CVT combination, two words come to mind:
And this 1-minute video best describes its linearity (note the smoothly climbing speedo & tacho needle) & NOISINESS (switch on the speakers).
However, the noisiness is not a significant problem for those who prefer to cruise. It rears its ugly head only during quick acceleration bursts (for overtaking).
Fuel Economy:
For the past week, I have been using the two cars exclusively for school runs so that driving/traffic/speed conditions are similar.
10 km one-way
50% residential roads/50% 2+2 laned ring road
Low to moderate traffic
One traffic signal with 2 min wait time
30 km/h average speed (10 km takes 20 to 25 mins) and 80 km/h top speed
Under these similar conditions, Hyundai 1.0L Turbo DCT showed 13.1 km/l on Venue's MID while Honda 1.5L iVTEC CVT showed 11.9 km/l on BRV's MID. So turbo petrol is 10% more fuel-efficient than the naturally aspirated engine, with similar engine output specs
Here's what GTO had to say on the matter:
Nothing beats Honda's superb 1.5L engine & smooth CVT for an urban commuter. That engine is the best naturally-aspirated motor on sale in India, while the CVT has been impressively improved upon with time. In the latest 5th-gen City, I found the rubber-band effect to be well-controlled.

For city use, yes, at lower rpm, Hyundai-Kia's 1.0L DCT does feel lethargic. Turbo lag & dual-clutch AT cons. But once the revs rise, it is something else.

Hard to make a choice on the poll. I love them both.
Here's what BHPian FAIAAA had to say on the matter:
That's a good and credible "real world" comparison from an actual user. Fellow BRV CVT owner here, couldn't agree more with your apt description of the CVT characteristics – smooth yet noisy when pulled hard and at high speeds.

CVT over DSG for me – what tilts it in CVT's favour is the reliability. On my cross country and late-night drives, I don't need to worry about the transmission dying on me!

Of course, it's not for the enthusiast and that's where I do hope the Japanese come with a TC paired to turbo petrol. Wishful thinking I guess!!
Here's what BHPian d3mon had to say on the matter:
1.0 turbo beats the 1.5 NA all day long. It's just a more characterful engine, and turbo lag can be fun at times. But a dry clutch DCT is just a strict no, and for that reason alone it's got to be the reliable and smooth 1.5 CVT combo for me.
Here's what BHPian asit.kulkarni93 had to say on the matter:
Although I prefer turbocharged units the red flags for this turbo petrol are way more than the NA engine. A dry clutch and a product from Hyundai with questionable Quality control are enough reasons for me to choose the not so exciting but practical 1.5 i-VTEC with CVT.
Check out BHPian comments for more insights and information.
Source: Read Full Article