Switched from Versys 650 to Tiger Sport 660: Opinions after 5,000 km
Larger engined options like the Versys 1000, Ninja 1000, Z900, Tiger 800, etc were available at a similar budget and represent more value on paper.
BHPian CrAzY dRiVeR recently shared this with other enthusiasts.
It's been 7 years since I got myself a Versys 650 and fell in love with its versatility. I christened it the 'One bike to tame them all' and had good fun with it for 30k kms, before eventually having to part with it due to an assumed relocation. It was a mile muncher par excellence, comfortable, fun, reliable and fuel efficient. That whole story is here.
11 months later, I ended up with the next chapter of this story – the replacement 'One bike' that I hope will keep me happy for the next few years to come. Here I intend to continue my biking diaries from where the above thread left off… This is a story of my unintended 10cc upgrade, from a Kawasaki Versys 650 to a Triumph Tiger Sport 660.
Disclaimer – The vehicle has completed only about 5000 kms in about 99 days of my ownership at the time of publishing this initial report. Will keep this a running report for long-term observations.
What I love:
Lovely 660cc, Inline triple motor that produces 80 bhp & 64Nm.
Good performance. 388 bhp/ton, 4.26 seconds to 100!
Boy, can it sing! Always wanted an i3/i4 motorcycle before the world went electric silent. A bassy rumble when started, a sweet whistle in the city, a raspy but muted roar when accelerating and just pure silence on the highways – this is just a lovely orchestra for the rider without disturbing anyone else.
Compact packaging and excellent weight distribution! Way easier to handle than most adventure styled big bikes – especially for me, coming from the top-heavy Versys 650.
Effortless to ride at any speed. Linear, punchy performance throughout the rev range. Sixth gear can be used all the way from 35kmph to 120 kmph and beyond.
Brilliant mile muncher – SUV-like seating position, upright and comfortable stance, good suspension manners and decent fuel range. Can do 12-hour, 800 km days without fatigue.
Good suspension manners. Showa suspension is comfortable and yet – confidence-inspiring. Fun into corners unlike what the stance suggests!
Good pillion comfort – "chair-like" seating comfort and very minimal vertical movement. Smooth and linear acceleration causes less pillion anxiety.
Excellent choice of tyres. Michelin Road5 tyres grip well – both in the dry and the wet. Can't get better for a road-biased tourer.
Looks. A desirable motorcycle (subjective!) and quite a head-turner (that sound helps too!)!
Excellent fuelling with the electronic ride-by-wire throttle control provides butter-smooth lower rpms. Picks from idle rpms without a jerk.
Excellent engine refinement – feels butter smooth at most rpm ranges with only a slight coarseness felt from around 3000-3500rpm.
Better safety – ABS and Traction Control with two riding modes – Road and Rain.
Good feature upgrade over the Versys – Triumph Shift Assist Quickshifter (accessory added), Slip and Assist Clutch, All LED lighting with well-integrated OEM foglamps (accessory added), self-cancelling indicators, immobiliser, TFT instrumentation and My Triumph Connectivity System (accessory added) – all features that are additional compared to the Versys.
Practicality – Well-designed, colour coded and neatly integrated side panniers with a single key system. Provides 57 liters of storage capacity.
Decent fuel economy of ~22 km/l on the highways with consistent 120 km/h cruising.
Industry-leading 16,000 km /12-month service interval. Lesser visits to the infamous authorized centers, although I plan to get a half-yearly inspection done at my trusted FNG.
Compliant with E10 and above till E25 as per the owner's manual. That's a good thing to note, given the current volatile political situation.
Bought preowned – But with just 6 months and 2288kms used – at a price I consider a win-win.
Previous owner loaded it with OEM Accessories, some of which the 'miser in me' would have chickened out otherwise – Frame protectors, engine cover protectors, fork protectors, colour-coded belly pan, hand guards, rubber tank pad, My Triumph Connectivity Module, Triumph Shift Assist, LED Auxillary lights, Side panniers with colour coded infills, USB charger. In fact, the only non-OEM accessories were the bike cover and mobile holder.
Came paid with 2 more years of extended warranty till Nov 2026, 2 years RSA and a 2-year pre-paid service package till Nov 2024.
No major accessory purchase list was required as it often happens with big bike purchases. The only essential accessory that was missing and needed purchase was a radiator guard.
What I hate:
Engineered for weight savings and not durability. The entire windscreen and front console shake on bad roads and potholes. Irritating to see and hear, but thankfully with an aftermarket fix available.
162mm ground clearance is just about adequate. You can hit the bottom if you are careless over the larger speed breakers. Oil sump is placed dangerously in the line of a hit and can cause significant engine damage if the owner is careless.
Throttle drop during shifts is a bit slow and the ride by wire is on the lazier side during shifts. Gets difficult to rev-match during downshifts. (Quickshifter helps here!)
Gearing is on the shorter side. 100 km/h comes in around 4900rpm and 120km/h comes in around 5800rpm. And although (theoretically) this can go on to hit 200 km/h – many owners have gone in for a smaller rear sprocket to go taller.
Clutch is slightly on the heavier side – neither light for city traffic nor too bothersome. However, certainly not in the league of Kawasaki and Honda offerings.
Over the longer 500km journeys, you do realize some buzz in the handlebars that make the hands feel all tingly. Grip puppies might be able to solve this. Never needed one for the Versys though! That said – Overall NVH is much, much better here otherwise.
Euro-5 / BS6 has killed some of that engine note – the old Street Triple 675 has an even more delicious exhaust note in comparison.
Seating ergonomics are comfortable enough for 12-hour days, but these are not the perfect cushions that the Versys had. The thin padding requires you to move around in the seat slightly every hour or so, as to avoid taking breaks.
Namesake TFT console that neither benefits from the looks nor the information overload that a (KTM!) TFT is capable of! None of the information display options are to my liking – wish one custom option was there to show the ODO, time and DTE on the same screen.
No center stand. No accessory or after-market options available either. Bad!
Wind protection is less than the Versys 650 and people used to large shields on their ADVs will surely find this amiss! I am liking it though as the draft of air feels enough to keep my head fresh inside the helmet and not too much as to push back the helmet or make it bob around.
Connectivity features feel useless IMHO, but that is my opinion on most vehicles except for some smart new-age ones like the Ather. Navigation is better achieved using a phone mount.
OEM USB charger is located under the seat. Somewhere on the handlebars would have been more useable to charge the phone.
17.2 L tank gives less tank range than the Versys 650. Three fuel stops required instead of two that I needed on the Versys for an 800km day.
Had to sort a couple of niggles post delivery – with the ABS pulsar ring and quickshifter enablement.
Personally spent a huge premium over the sale amount of the Versys 650, for what is essentially a slightly better, but 'similar on paper' proposition. Larger engined options like the Versys 1000, Ninja 1000, Z900, Tiger 800, etc were available at a similar budget – and represent more value on-paper.
What I don't mind, but could be misses for you:
Smaller size and road presence. As the comparison photos with some similar themed motorcycles below will show – this comes in very compact packaging. Not good if you are looking for a commanding road presence. Excellent if you are looking for the one bike to do it all.
Road-biased! Period. This one is a sports tourer – with a comfortable ADV stance and styling. Think Taigun 1.5 TSI, not Scorpio! I wasn't looking for an offroader either. In fact, I specifically wanted a sportier ADV-styled vehicle than the Versys.
Priced higher than expectations – But I bought preowned at a price I consider a win-win. However, I was also looking at buying it new, before this deal came up – it's a beautiful motorcycle to own and I wouldn't worry about the price of purchase as long as the peace of ownership remains good.
Reviews on the suspension setup – One of my most admired journos said "there is no state of tune on this suspension setup that actually works here" in India. I have been struggling to understand what and why – to a layman like me – this feels like at least 80% as competent as the Versys setup. In fact, pillion comments it is even better and the Versys was one of the best and most praised ever. Or it could be because laymen like us are only able to ride bikes at 80% of their limit.
835mm seat height on paper, just 5mm less than the very intimidating Versys. But trust me, the difference is drastic due to the weight distribution. Switching from a Versys 650 or the VStrom 650 to the Tiger Sport 660 makes it feel like a regular commuter. In fact, the CB500X from a segment below feels more significant in weight and presence.
Questionable local support for service, spares and accessories. Keerthi Triumph Bangalore has a very bad reputation, no doubt – but I still bought a Triumph because of Bajaj taking over the distribution and looks like the promise of more dealerships came true. I was also able to get my issues resolved from Keerthi without escalations.
Heat from the 660cc triple is felt constantly, much more than the Versys 650 with its brilliant heat management. Not a bother for me so far as it isn't enough to cause discomfort or pain – just something you will always be aware of!
91 RON minimum claimed, 95 RON recommended. Higher compression ratio of 11.9:1 compared to 10.8:1 of the Versys. Not a worry as XP95 is very widely available now.
Adjustment mechanism of the windscreen does not require tools, is a single-handed operation, and can even be adjusted on the fly. But feels rather flimsy! Guess it does not matter as I would just leave it at the highest setting forever.
Non-adjustable clutch lever could be a pain for some. I find it ok since the stock positioning seems to be good enough for my hand length.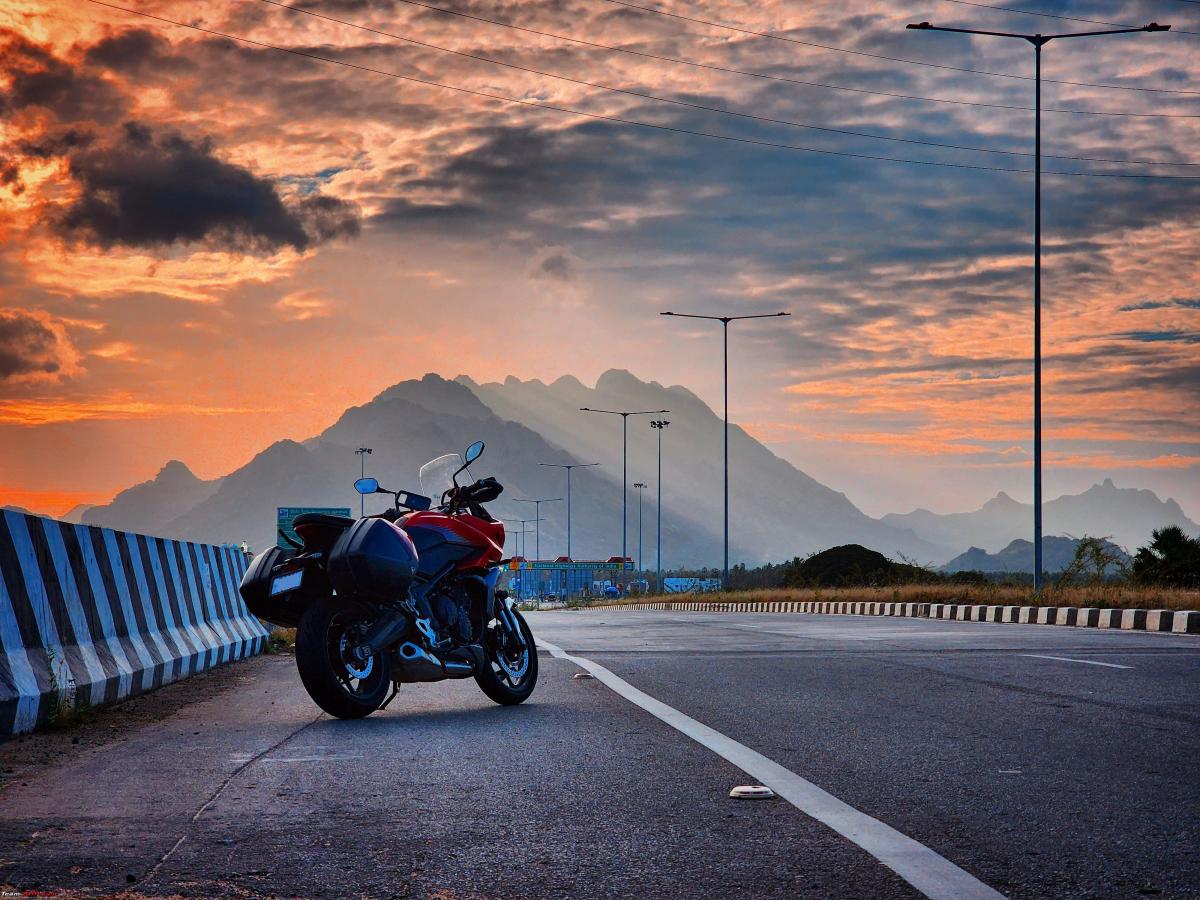 Check out BHPian comments for more insights and information.
Source: Read Full Article