Tata Altroz DCA 2022: Our observations after a day of driving
Tata knows the 1.2L NA engine is weak and has smartly tuned the transmission to extract maximum performance out of it. In that sense, the dual-clutch AT is well-integrated.
Driving the Tata Altroz 1.2L Petrol Dual-Clutch AT
1.2L naturally-aspirated petrol motor puts out 85 BHP & 113 Nm and is mated to a 6-speed dual-clutch automatic transmission. Given that the NA engine constitutes about 85% of total Altroz sales (as claimed by Tata), Tata has chosen this engine and not the turbo-petrol for the dual-clutch automatic. Of course, it's also down to the price; the turbo-petrol would've made it more expensive: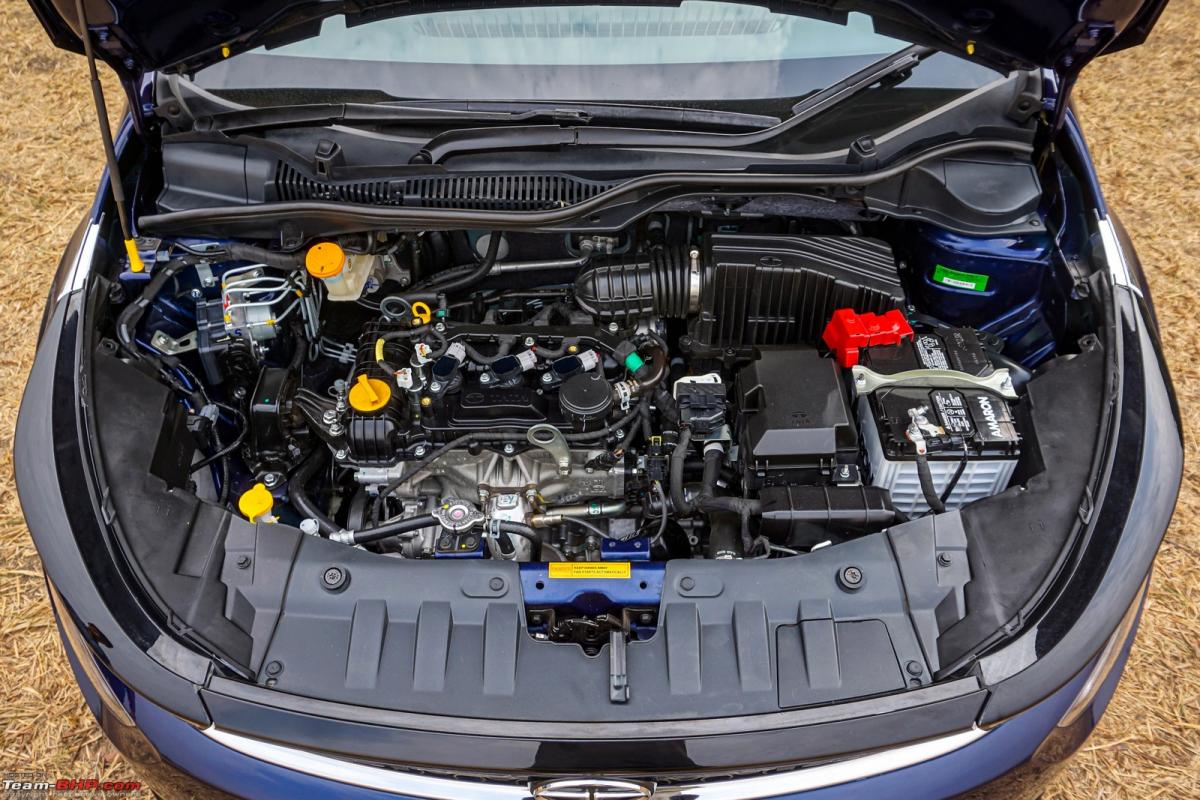 There's been a lot of fuss about why Tata chose the dual-clutch automatic over an AMT (thank God!) or a torque converter. Well, Tata understands that the Indian market is now mature enough to prioritize a smoother driving experience for an additional premium over a jerky AMT. Additionally, dual-clutch ATs are comparatively more fuel-efficient than torque converters and more suitable for cars with low torque. This dual-clutch automatic is the first on a Tata car and comes from a Belgian company named 'Punch Powertrain'. It has been specifically developed for the compact vehicle segment. The 'DT1' gearbox is designed to be cost-effective, compact, fuel-efficient and focuses on smoothness. It is made for vehicles with max engine torque of up to 200 Nm, so we surely hope to see it on the 1.2L turbo-petrol engine in the days to come.
This is a brand new gearbox that has been in development for over 10 years with over 45 patents, it is claimed to be the world's first dual-clutch AT with a planetary gear system. Most dual-clutch transmissions are essentially two manual gearboxes packed together that are operated by two sets of clutch packs. One operates the odd gears and the other operates the even gears. Hence, this kind of gearbox needs two input shafts and can be seen in Volkswagen DSG gearboxes such as the DQ200. The DT1 gearbox in the Altroz utilises two clutches, but gets a planetary gear system that uses just one shaft. The design is therefore pretty compact and it uses lesser shifting components (35% less claimed). It uses 13 gears with this planetary system instead of 20 gears in conventional dual-clutch transmissions. Furthermore, shift-by-wire eliminates the use of shifter cables.
Instead of opting for a dry clutch pack that's more suited for cars with low torque, Tata has gone for a wet clutch pack. For India's varying climate conditions, a wet clutch pack makes a lot more sense. The DT1 gearbox also has machine learning software that optimises transmission behaviour based on its diagnostics and analysis of thousands of parameters (almost 100 times per second). And while wet clutch dual-clutch ATs sap more power than dry clutch packs, Tata claims that it has managed to have no oil between friction surfaces, which avoids the drop in engine power. Another clever feature of this transmission is self-healing technology. Wet clutch gearboxes usually have a filter that keeps out debris and dust. The DT1 prevents such a build-up through an automatic vibration system, which reduces the need for active maintenance.
Now, let's see how the transmission performs on the road. Slot into D, take your foot off the brake pedal and the car crawls forward at ~9 km/h without any throttle input. With a light foot on the accelerator, the transmission moves up the ratios smoothly in a way that the competitors' AMTs can only dream of. In stop and go traffic, you will appreciate the smoothness of shifts and the one-foot operation. While throttle response is satisfactory, downshift response time is acceptable at most times…and slow during a few others. Overall though, it's just fine for a commuter hatchback. The engine's low power and gearbox's not-so-quick response might get irritating if you want to suddenly close a gap in traffic. On the move, while doing 40 – 70 km/h, you'll notice that the gearbox isn't upshift-happy (moving up the gears quickly for higher fuel efficiency) like we've seen in many automatic transmissions. It does its part to keep the engine in its powerband, which makes city performance more acceptable. Tata knows the 1.2L NA engine is weak and has smartly tuned the transmission to extract maximum performance out of it. In that sense, the dual-clutch AT is well-integrated. With the super light steering, smooth dual-clutch AT and agreeable ergonomics, the Altroz DCA is a great hatchback for the city.
The Altroz DCA is more of a cruiser on the expressway than an outright performer. It can cruise at 100 km/h in 6th gear with the tachometer reading ~2,500 rpm and at 120 km/h, the engine spins at just under 3,000 rpm. You will keep up with 100 km/h traffic on the expressway, although you will be working the engine hard. Straight line performance till 100 – 110 km/h is still acceptable. But if you drop speeds down to say 80 km/h (in case of a slow truck, as an example), getting back up to 120 km/h takes time. Over 100 km/h, you can feel the lack of muscle in this engine. The not-so-strong mid-range means overtaking at speed requires planning & effort too. Floor the pedal and the DCT willingly takes the engine to 6,000 rpm (although we wish there were more revs to play with). Compared to the MT in which you have to vigorously work the shifter & clutch, here, the dual-clutch AT does all the hard work for you.
From a relaxed driver's perspective, the AT is well-matched to the engine. It's smooth & the response times are acceptable in most driving conditions. Sure, there are some conditions where it might take long (up to 1.5 seconds), but this isn't a car to be driven like a Polo 1.2L TSI DSG. There were times on the highway when the transmission downshifted even though there was no need for it to, and sometimes it shifted up when we wanted it to hold the gear.
Manual mode is available, although we didn't find much use for it. In our opinion, it's best to simply let the electronics do all the work for you as Tata has tuned the AT well for the engine.
Noise, Vibration & Harshness (NVH)
The 1.2L naturally-aspirated engine is the weakest link in the Altroz's package. This is a 3-cylinder engine and there's no hiding that fact. You can feel vibrations seeping into the cabin when you start the engine and at idle. These vibrations are felt in some areas even after the engine is warm. On the open road, to get any kind of performance from the motor, you have got to floor the accelerator. When you do floor it, at higher revs, the engine does make a racket!
Mileage & Fuel Economy
The Altroz DCA has an ARAI certified rating of 18.18 km/l (MT = 19.05 km/l). Dual-clutch ATs offer more acceptable fuel economy than torque-converter petrols, so we expect real world FE to be fair. We're surprised there is no 'ECO' mode or an 'Idle Start Stop' feature for the FE lovers.
Transversely mounted 6-speed dual-clutch transmission can be seen from the bottom: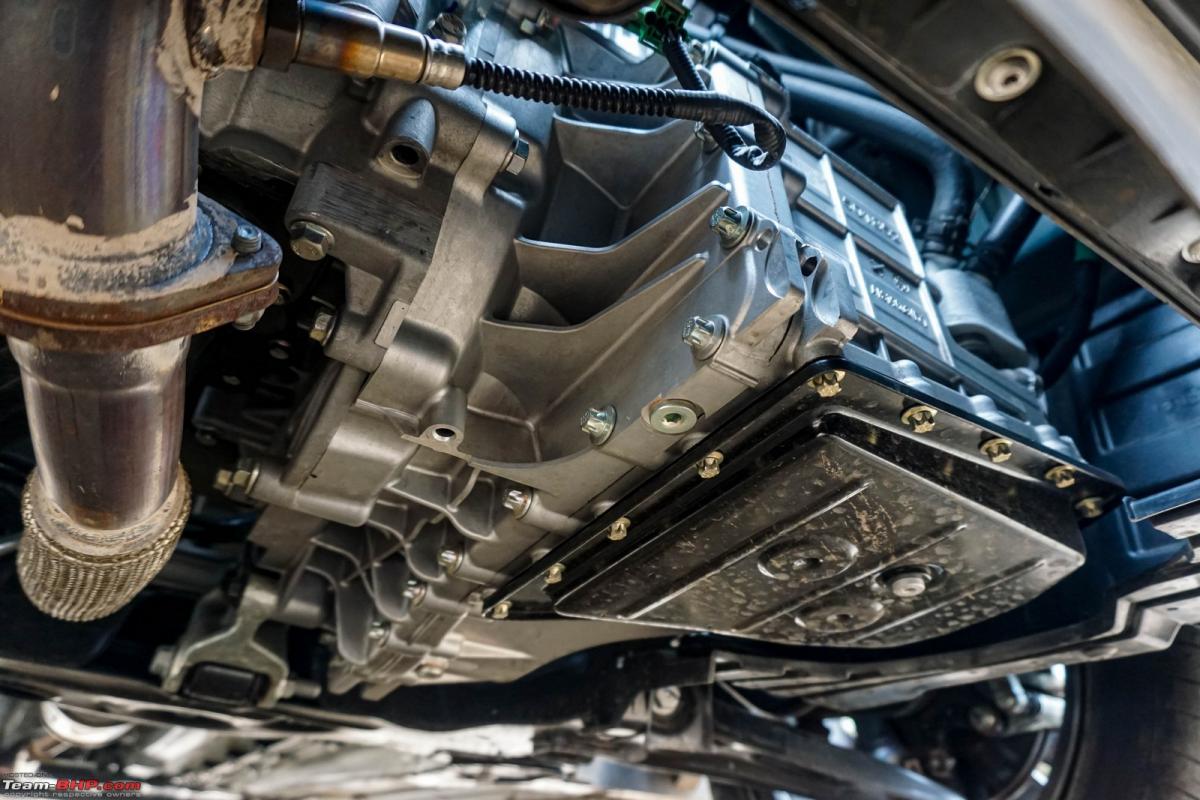 If the car comes to a halt on an incline, the driver takes off his seatbelt, the gear shifter is in "N" position, the brake pedal is not pressed and the driver's door is opened, the car will sense that the handbrake is not engaged and to prevent the car from rolling backwards, the transmission will engage "park lock", which stops the car in its tracks. The MID will display "Auto Park Activated" and will ask you to engage the handbrake. Could save a careless driver from a bad crash:
MID asks you to shift to "P" when you turn off the vehicle in other gears:
In manual mode, if you try to downshift when the revs are too high or try to upshift when the revs are too low, the MID tells you clearly that your command is rejected! We didn't find the conservatively-tuned manual mode to be of much use here and preferred driving in full-auto mode only:
Suspension
Ride Comfort
The Altroz is equipped with an independent McPherson strut dual-path front suspension and twist-beam rear. The dual-path strut has two separate paths for energy to be transferred from the springs & dampers, allowing it to be better tuned (it's a 2-cup system).
The Altroz's suspension has a mature tune and is kind of European car-like in nature. At low speeds, the ride has a firm edge to it. It's not all soft & plush, yet compliant nevertheless. Big potholes will be felt inside though. Another contributor is the 16″ wheel size of the DCA. Unlike the MT, there are no variants with smaller wheels & taller tyres. As speeds increase, that mature suspension results in good ride quality. On the expressway, there is no bounciness – she rides quite flat. Firmer suspension tunes also recover well from road undulations. On the highway, the Altroz handles broken roads decently and dismisses smaller potholes with aplomb. Most of the time, the suspension goes about its job silently and isn't clunky or loud.
Handling & Dynamics
Straight-line stability is exceptional and the Altroz drives like a "big car" on the expressway. There is no floatiness or nervousness at all. The car is well-planted with superb high-speed manners. The 185/60 R16 Goodyear Assurance tyres provide fair grip levels for an average Joe. Enthusiastic drivers might want to swap to grippier tyre models. The Altroz holds onto its line well and doesn't understeer easily. Body roll is controlled and the car never gets unnerving. But again, we felt that the Altroz 1.2L NA lacks the sort of power to unsettle it in corners. Hope to see this DCA in the more powerful motors soon.
Steering
The electric power steering is one of the nicer units around. That thick steering wheel is a delight to hold. It is light at city speeds (one-finger-light at parking speeds) and weighs up sufficiently well as the speedometer needle climbs. The EPS isn't dead and does give you some feel of what the front wheels are up to.
Braking
We found the brakes to be progressive and doing the job as expected. They have cornering stability control too (Tata says "CSC supports / stabilizes the vehicle during partial braking in curves by reducing pressure at the required inner wheel. This helps to reduce the probability of vehicle oversteer during cornering + braking"). From high speeds, the car stops in a straight line sans any drama.
Niggles & Problems
This dual-clutch transmission in the Altroz seems impressive in terms of technology. However, there's no denying the fact that it's a complex gearbox & DCTs have never proven reliable in India, whether from VW-Skoda, Ford or even Hyundai-Kia. We sure hope this gearbox doesn't face any of the problems that some of the other DCTs in India have seen. The standard warranty is of 2 years / 75,000 km. Extended warranty is available for up to 3 years / unlimited km and we strongly recommend getting it.
Continue reading the discussion on the 2022 Tata Altroz DCA on our forum.
Source: Read Full Article