Tesla Model 3 Performance: Impressions after an hour-long test drive
It's just not legal for a car to be this fast and be driving around public roads in that unassuming guise.
BHPian mobike008 recently shared this with other enthusiasts.
Tesla Model 3 Performance Test Drive Report (2022 Model)
When I test drove the Model Y Performance, I was bowled by its performance as well as handling. Admittedly, the ride was slightly on the harder side but, nothing to complain about.
But, when Inwebster posted about his unhappy experience with a Model Y, I was taken aback as it was exactly opposite to what I felt. I mean, the Y felt decently planted, had good handling for a large SUV and performance was blistering.
I decided to test drive the affordable "supercar" in their lineup— Yup, the Tesla Model 3 Performance
I called my friendly Tesla Pal – Jason who gets me into a test drive faster than I can say "Test Drive" to hook me up for a test drive.
I had called him on Saturday and told him I am scheduled to be in that area on Monday (August 1st) as I had to drop off my BMW for service. His immediate response was what time you want to come in I told him 10:00 am on Monday (August 1st, 2022) and he confirmed the TD appointment immediately.
When I reached the Tesla showroom, he told me he got a brand new (< 1 Month) old 2022 Model 3 Performance for my test drive. It was charged to 270 miles and ready to go.
I never had a better experience with any dealership in my life to date. His actions and service are faster than the acceleration of Tesla Model 3 Performance. And, I did tell him that and we both had a good laugh. LOL!
Super happy with his service as he was not selling me a car, he was selling me an experience.
While Tesla gives a 1-hour as a standard test drive, Jason winked at me and said, take it for a longer spin and come back in 3 hours as he had no other appointment that morning being a Monday. But, I had to get back to work myself but, I still took the Model 3 Performance for 1.5 hours spin and drove over all surfaces and roads.
I will keep my review short as I had already outlined my feedback on Tesla Model Y Performance and will focus on the differences between the Tesla Model Y Performance and Tesla Model 3 Performance
Model Y Performance vs Model 3 Performance
Acceleration
Model Y Performance was blistering fast and felt like you are being launched into the air. But, the Model 3P left me shocked and scared witless as it reaches the speed limit (speed locked to 85 mph) in a blur.
It's just not legal for a car to be this fast and be driving around public roads in that unassuming guise.
The acceleration difference between the MYP and M3P while on paper is not much (0-60mph in 3.5 Seconds vs 0-60mph in 3.1 seconds), in reality, you can feel the difference due to :
I'm not new to powerful engines and drive a 4-second 0-60mph BMW but, M3P acceleration left me absolutely speechless and if you are not careful or judge the distance between you and the car ahead, it can be disastrous.
Steering and Handling
The steering feels overtly heavy but, is accurate and well weighted, with three different settings that adjust the level of steering effort. It's pretty sharp like MYP, M3P changes directions quickly and with just with a flick of the steering wheel input.
Handling is lithe and lots better than the MYP which itself is not a slouch in this department.
Model 3 Performance has all the advantages of being a sedan. A lower centre of gravity, larger 21" Ubertine wheels, and Sticky tyres make the car feel driven in supercar territory.
A simple google search list the following cars that are "slower" than an M3P. I was not aware and was shocked to see some of my favourite cars on that list.
Ride
Ride quality n M3P was slightly harder than the MYP. I felt the imperfections of some of the backroads seep through the cabin but when on the freeway, the ride becomes smooth.
In short, if I was looking for a hard-core performance that knocks the socks of sports cars that cost 2 or even 3 times its cost, I would get the Tesla Model 3 Performance eyes closed.
Here are some pics of the Model 3 Performance that I test drove. It was a super-fun experience thanks to Jason.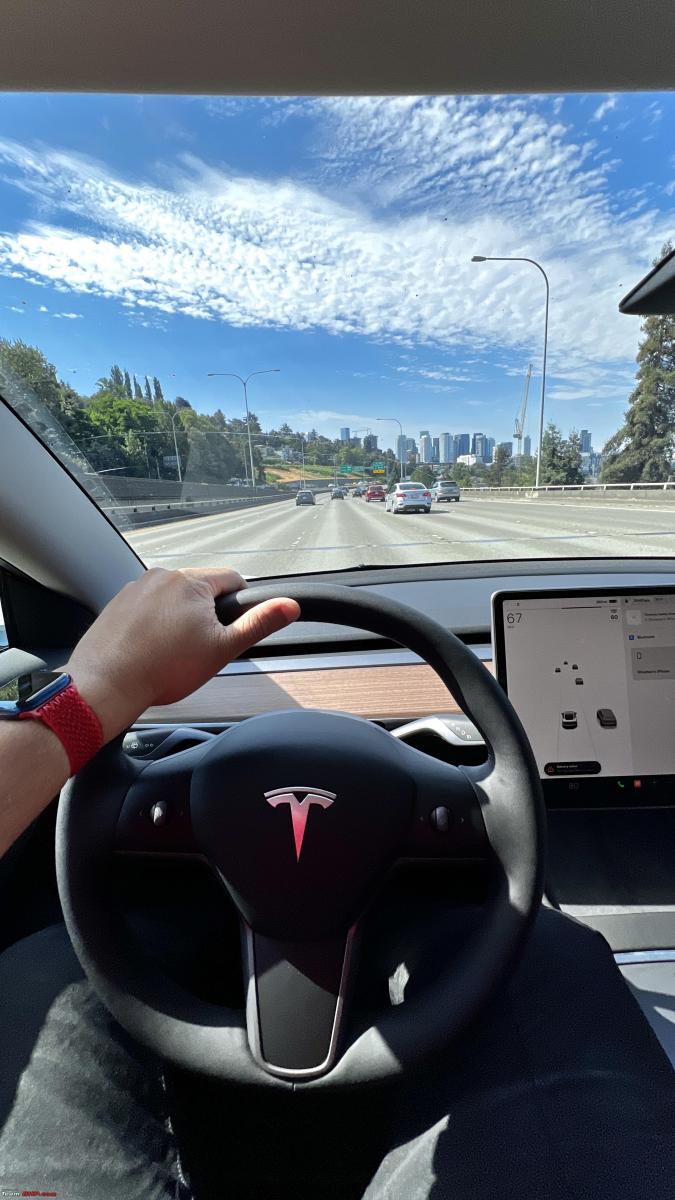 Check out BHPian comments for more insights and information.
Source: Read Full Article