The 10 Coolest Adventure Motorcycles You Can Buy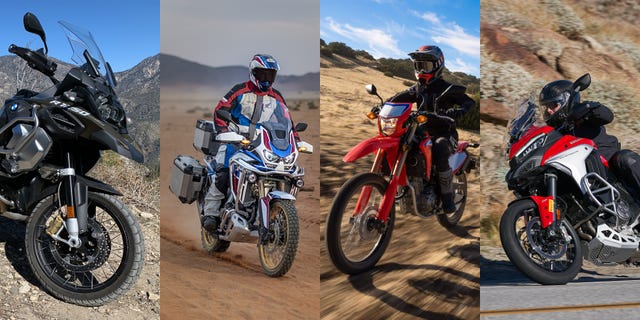 There are so many different kinds of motorcycles out there now, from pure motocross dirt bikes you can fling off ramps like Evel Knievel, to luxury long-distance moto-cruisers as comfortable as your living room couch. Each has a distinct and often narrow purpose, and most achieve that purpose with elan. But there is one category of bike that can do everything and do it well: the adventure bike.
On an ADV, as they're called, you can cross the Kalahari as easily as you can cross town. Snap-on hard cases mean your fresh T-shirts and other gear stays dry and doesn't get crushed if you're crisscrossing the globe. Windshields on most ADV bikes make long days in the saddle not only bug-proof but bucolic. And the seats on which your keister rests are comfortable enough that you don't need to stop every half hour to get the circulation back.
Adventure bikes are the SUVs of the two-wheeled world; they do everything and have more practicality than other segments of motorcycle. Yet unlike their four-wheeled friends, these bikes can actually go off-road—and you can actually have fun going there. Then, when you're ready to ride home on the freeway, they're about the most comfortable pavement pounders around, except for cruisers and sport tourers.
Here, then, is a fairly broad sampling of the best adventure bikes available right now, from the full-zoot high-end and brand-spankin' new Ducati Multistrada V4, to a couple more affordable bikes you might not need to get a co-signer for. Read on and start planning your 'round the world ride.
Ducati Multistrada V4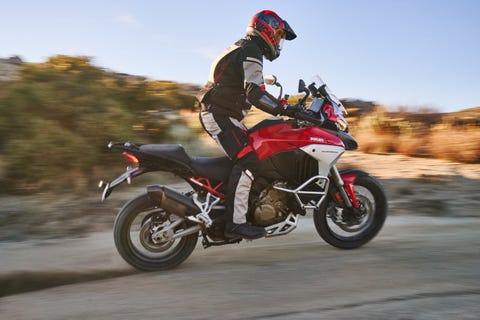 If you wanted to mix metaphors really, really badly, you could say this is the Cadillac of adventure bikes. It is brand new, so it's loaded with new technology and increased efficiency almost never before seen on a production motorcycle. It has radar front and rear that not only aids safe-distance following with adaptive cruise control, but also offers blind spot detection and an efficient and speedy overtake function, the latter which accelerates when the road is clear and you hit the turn signal and lean into the passing position. There is an IMU, or inertial measuring unit, that works in conjunction with everything from ABS to traction control to offer wheelie control, stoppie control (where the rear wheel might lift when braking) to cornering ABS. The "inertial platform" of electronics even adjusts the semi-active Ducati Skyhook Suspension system, changing the hydraulics of the fork and shock absorber on the V4 S trim level. It even adjusts the auto-leveling function.
The new Multistrada V4 has a new four-cylinder engine, too, replacing the V2 used in previous models. The new powerplant uses springs and rockers to open and close the valves instead of the Desmodromic system for which Ducatis are famous. With 2 mm more bore than the V4 engine found on other Ducs, the power and torque curves are flatter and more accessible. Peak power is 170 hp at 10,500 rpm (a 25% increase), while torque tops out at 92.2 lb-ft at 8,750 revs. The new valvetrain stretches service intervals to 36,000 miles—it was 6,000 miles on the first-gen Multistrada when that model came out in 2003.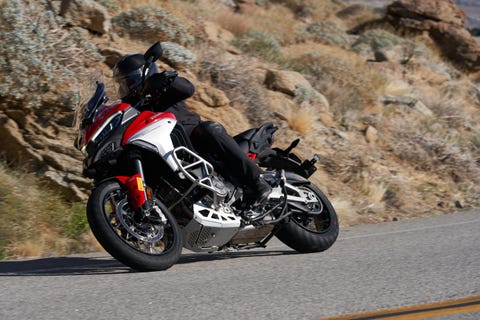 There are four riding modes (sport, touring, urban, and enduro), all displayed on the bike's new 5.5-inch—or optional 6.5-inch—TFT screen. The first three modes are for on-road and the third is for off-road.
Over the course of a long day of riding in and around Borrego Springs, California, I got to try the new Multistrada on a lot of street and a lot of dirt. The most remarkable thing was how well it handles both surfaces. In fact, on the way to and from our afternoon session in the dirt, we rode the same winding mountain road as we did for the on-road ride, except that we were riding on the dirt tire. The Pirelli Scorpion Rally STRs felt surprisingly grippy on the winding mountain road, while they chopped through the dirt and sand of our off-road ride with aplomb. Depending on how much dirt riding you have planned, you could probably get this dirt tire as the only rubber for your Duc and be happy riding on it. I was pushing it about as hard as I could going up and down the twisting mountain road and I never felt any slip or squirm. I'm not as good a rider as you, of course, but I'd think most riders will probably be satisfied with this combination. If you rarely go off road, then you can get the Pirelli Trail IIs for a little more contact patch.
The V4, with its counter-rotating crank, was smooth all the way up to about 8,500 rpm, when it got a little raspy loud. At 140 mph on a long, flat, empty stretch (professional rider, closed course!), the whole bike was smooth and unfettered. After a fairly longish day in the saddle, I felt just fine.
Is it the perfect all-around-do-everything bike? Yes, in all aspects except sticker price, where you pay for all that Italian engineering. The new Multistrada V4 ranges from $19,995 to $26,095. While you can't put a price on happiness, versatility comes with a little sticker shock.
BMW R 1250 GS Adventure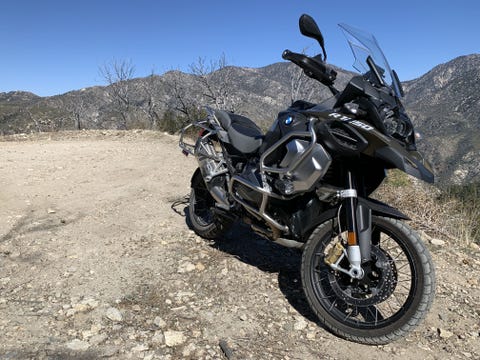 This is the grandaddy OG of adventure bikes. The GS line launched 40 years ago with the 1980 R 80 G/S (Gelande und Strassen, dirt and street). More than 1.2 million GS models have been built over six generations. Since Hubert Auriol's victory in 1981, BMW motorcycles have won Paris Dakar four times. In the hands of regular adventure riders, they have circled the globe countless times.
The modern R 1250 GS Adventure version of this line is much more refined, of course, with a smooth and quiet 1,254cc flat-twin making 136 hp at 7,750 rpm and 105 lb-ft of torque at 7,550. It's not as crazy powerful as the Ducati, but you might find that it is more than enough. Three years ago, the R 1250 GS Adventure got an enhanced version of the traditional flat-twin boxer with more power and torque while achieving a smoother operation and greater refinement. The 1,254ccs of displacement is up from 1,170 previously. Mileage is listed as 49.5 mpg, up 5 percent, and the engine gets BMW ShiftCam Variable Engine Timing for more balanced power delivery.
Like the Duc, the GS Adventure is loaded with electronic controls to help you through your ride. There are two ride modes standard on the bike, along with Automatic Stability Control for added safety.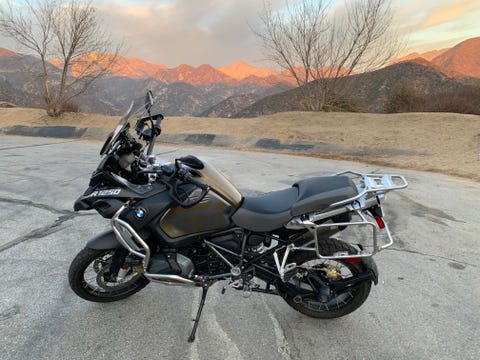 As I type these very words, I still have bugs on my grille from an afternoon of adventure that included both winding mountain roads and off-road, mountainous, dangerous dirt. The GS was at ease in both worlds. Ripping up the paved two-lane not far from my house, the Beemer held up safely and stably as far as I was pushing it. While the weight is higher up in an adventure bike, and the bike overall is heavier than BMW's more sporty street bikes, it was never a challenge to lean this comfortable adventure motorcycle through corners made more for superbikes. As long as I didn't overcook it going into corners, the ABS, traction control, and all the other electronics did their jobs and I'm here a-typin'. My press bike stickered for $20,345.
If that's too much and you still want a BMW, consider the F 900 R and XR mid-range adventure sport entries starting at $8,995. They're powered by an 895cc upright parallel-twin that makes 99 hp and 67 lb-ft. Ride height is adjustable between 30 to 34 inches. These also offer Dynamic and Dynamic Pro ride modes as options, along with ABS. Of the two, the R is setup more for street while the XR is a little more adventure-oriented.
Honda Africa Twin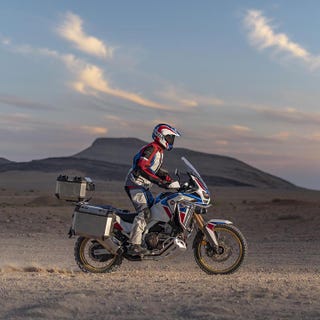 There's no question Honda lead the way in the early days of dirt riding with the popular Elsinore line of dirt bikes, but the Africa Twin adventure bikes have been around in one form or another since the late '80s. However, it was the Africa Twin's rebirth in 2016 that made the ADV world kind of go nuts.
The new model is lighter, has more power, and gets a bigger feast of electronic rider aids than ever before. The standard model and Adventure Sport ES model will both keep you comfortable and in control on long rides on-road or off. Honda calls this model its "true all-arounder."
The Africa Twin recently got another 86ccs of displacement so that it is now powered by a 1,084cc liquid-cooled upright parallel-twin (hence the name!). Like most Japanese motorcycle manufacturers, Honda doesn't list hp and torque but European models are listed at 100 hp and 77 lb-ft. The coolest thing, though, is that you get your choice of six-speed manual or six-speed DCT automatic transmissions. An automatic! On a motorcycle! Yes, the Goldwing also gets and automatic, but here on the Africa Twin it can be a real help when bushwacking through the boondocks. On top of that the chassis is slimmer and lighter than before. And it comes with six ride modes, seven levels of traction control, and three levels of engine braking.
On a long two-day ride a couple years ago, when trading off with a XR650L thumper and the Africa Twin, well, I admit I much preferred the Twin. I am getting soft. But it was so nice. The Africa Twin starts at $14,399 and goes up to $17,999 for a Sports ES with the DCT transmission. That's still a fairly affordable ride, and worth it if you're going to be riding long distances. You can also get that XR650L for just $6,999 before destination charge. But get the bigger bike. You'll thank us at the end of the day.
Suzuki V-Strom 1050XT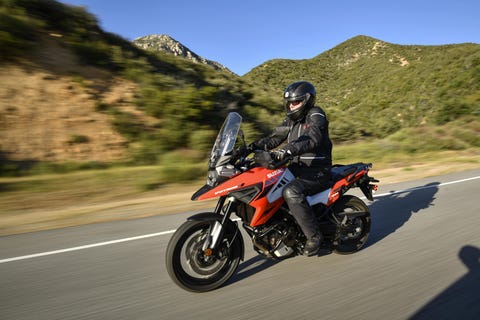 This is the third generation of Suzuki's V-Strom, a name spread out over 19 years of adventure biking. Today, you can get a V-Strom with just 645ccs for $8,849, all the way up to a full-zoot 1050XT Adventure for $16,999 before destination. The bike I had for most of 2020 was just below that top-line model, a V-Strom 1050XT that stickered for $14,799.
Why'd I have it for most of 2020? Well, they delivered it just before the pandemic shut everything down, then they just kept sending me new loan agreements to sign, and I kept signing. Wouldn't you? The result was a great year on an all-around, everything bike that I could do anything I wanted to on. I could hightail it over the mountains, eating up twisty two-lanes like black licorice, then pop out into the mighty Mojave desert and keep going in the dirt for as long as I thought I could get away with it. Or I could lane-split through traffic (even though most traffic disappeared, at least at first, as the pandemic raged). And I could do everything in between.
The 1050XT loved it all. The 1,037cc longitudinally mounted 90-degree V Twin makes a highly useable 106 hp and 74 lb-ft of torque, enough to squirt you into triple-digit speeds on the freeway without you even realizing it, and to keep you hammering on the desert dirt all day.
It's 37 inches wide and 545 pounds, so it's just a little smaller and lighter than some other bikes in this class. It felt smaller than the BMW, for instance, and it was even a little lighter. It doesn't run quite as smoothly as the more expensive bikes in the class but I was very happy to have this motorcycle in my garage for as long as I did. I kept finding excuses to put on all the gear and go riding. You will, too.
Harley-Davidson Pan America 1250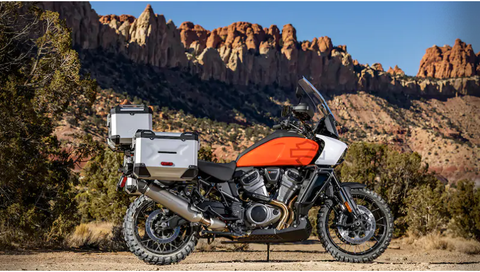 Harley-Davidson will enter the ADV segment this May with an all-new adventure bike called the Pan America 1250. Powered by a liquid-cooled V-Twin making a claimed 150 hp, the engine functions as a stressed member of the chassis, keeping weight to 534 pounds in the base model and 559 in the 1250 Special. Both models get electronic controls, with the Special getting more of them. The base model suspension is adjustable for preload, compression, and damping, while a suite of "Cornering Rider Safety Enhancements" optimize braking, ABS, traction control, drag-torque slip control, and even hill hold control. There are five ride modes (road, sport, rain, off-road, and off-road plus), all of which offer different levels of system intervention for as much help as you want when riding. The Pan America 1250 Special adds electronically adjustable semi-active front and rear dampers that adjust to prevailing conditions and riding activity, which sounds helpful if you go from pavement to dirt, for instance. Vehicle Loading Control automatically adjusts preload if a passenger suddenly climbs on board. An optional adaptive ride height can automatically lower the bike's seat height one to two inches at stops.
Price is listed at $17,319 for the base model and $19,999 for the Special. Will this be the bike that saves Harley? Could be. Looking forward to riding one of them soon.
Moto Guzzi V85TT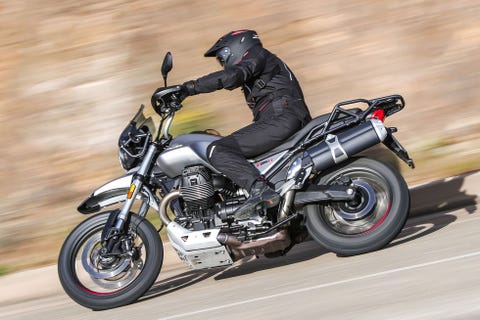 You don't necessarily have to go five-figures to get an adventure bike. There is a whole class just down one notch from the top that will also satisfy your riding lust. At the upper end of the class is the Moto Guzzi V85TT. Guzzis inspire tremndous loyalty among their owners. They love these hulking Italian things.
"I'm on my fifth Guzzi, and I love them because even if they don't make sense on paper, they have a wonderful, old-school character that makes them a joy to ride," said my friend Glenn Morgan, who loves Italian bikes so much he cofounded and still co-owns the iconic Los Angeles dealership, Pro Italia. "And because they're kind of weird, so is everyone you meet riding them—always in delightful ways."
I have ridden them and I am, indeed, a little weird.
TT stands for tutto terreno, or all-terrain, Italian for adventure bike. Moto Guzzi has taken all the character its bikes are known for and applied it to a new adventure machine. The V85TT is powered by a 79 hp and 59 lb-ft, 853cc 90-degree V-twin. That puts it solidly in the midsize category. It gets electronic help to keep its rider upright, and there are three riding modes (road, rain, and off-road) that let you tune the traction control, ABS throttle response and engine control to your riding style and to the conditions. Weight is over 500 pounds wet, so power-to-weight is not going to be as responsive as some other bikes.
I had one last year and enjoyed it on all types of terrain, as its name implies that you can. True, if you are winding the throttle all the way to redline, you will see the drop in power compared to some other bikes, but for most of the rest of your riding, it's perfectly fine. And, as Morgan says, they have a wonderful, old-school character that makes them a joy to ride.
Pricing starts at $12,990 for the 2021 model.
Triumph Tiger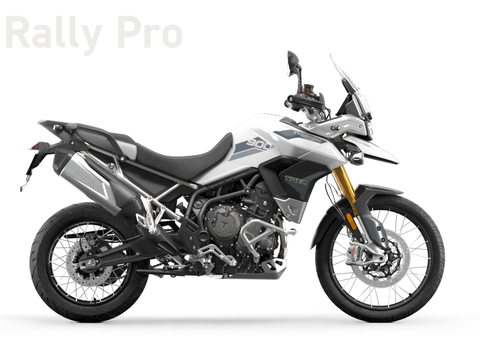 Triumph has produced a Tiger model since 1937 when it started with the Tiger 70, 80, and 90, with those numbers representing each model's top speed. Today there are six Tiger 800 models (and no, that's not top speed, it's displacement); they range from the 800 XR starting at $12,000; five 900s from $14,700 to $17,100; and eight Tiger 1200s that go from $16,500 to $19,700. The 900 Rally Pro is a popular choice, with 93.9 hp and 64 lb-ft of torque from an 888cc inline-triple. Weighing in at 476 pounds wet, it should be light enough to get the most out of the power and torque on tap.
KTM Adventure Bikes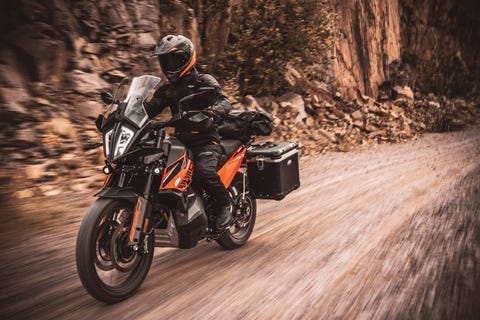 You can start with a highly affordable 390 Adventure for just $6,199 and have a pretty darn good time with its 373cc four-stroke single, or you could top out on a mighty KTM 1290 Super Adventure R for a price getting near 20 grand—the Austrian bike maker has you covered. A popular choice lies right in the middle, with the 890 Adventure. The 890 got another 90ccs of displacement for 2021, up to 889ccs. Published figures list horsepower at an even 100 for the parallel-twin, with torque at 74 lb-ft. At 464 pounds, that sounds like it might even be more fun than the Tiger. A full suite of electronic controls should help keep you safe while allowing as much fun as you dial into it. Prices start at $14,199.
Yamaha Tenere 700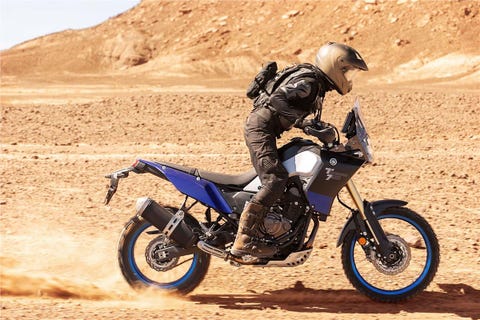 While the full-size Super Tenere ES stickers for $16,299 and offers 110 hp from an 1199cc two-cylinder, you might have just as much fun on Yamaha's new Tenere 700. Its 689cc parallel-twin is shared with the MT-07 street bike and makes 73 hp and 50 lb-ft of torque. With a big skid plate, lots of ground clearance, and even a big windshield, long rides in the desert look like a breeze. Its best feature may be price, which starts at $9,999.
Honda CRF300L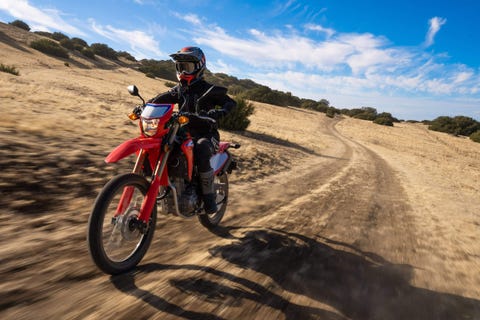 Another, even more affordable option for getting out and exploring all the BLM and USF land we have is the so-called dual-sport bike. These are closer to dirt bikes but with all the lights and turn signals you need to legally register them.
I was lucky enough to ride both the CRF250L and the CRF450L when they were introduced and I liked them both. If you are really good, like Johnny Campbell winning Baja 11 times, or even if you're just more experienced and can use the extra power, then go for the 450. If, however, this whole dirt thing is new to you, or if you're looking for a safe and even fun way to transition from street to off-road, or from driving a car to riding a motorcycle, then I recommend the 250/300. Having ridden both, I had more fun on the smaller bike.
The CRF250L gets more displacement, more power, and a new name for 2021 as the CRF300L. With a 286cc dohc fuel-injected single cylinder, the bike should have just the right output for those getting the hang of riding and enough for those with more seat time to have fun. Like many dirt bikes, it has a fairly high seat position at 34.7 inches above the ground, but that just encourages you to keep your feet on the pegs. At only 309 pounds of curb weight, it's a lot easier to maneuver than some of the bigger bikes above, in fact, it's easier to ride than all of the bikes above. The best thing about it is its sticker price, which starts at just $5,249. And remember, it has all the requirements for street-legal riding, so you can use this for just about everything.
There are many other motorcycles in this class you could consider, from the Suzuki DR200S for $4,649, the Kawasaki KLX250 at $5,399, or the Yamaha WR250R starting at $6,699. All have everything you need to register and ride on the street, but when the pavement ends, feel free to keep going.
If you're not familiar with off-road riding, there are plenty of places to learn. I spent a day at the Honda Powersports' Colton Rider Education Center in SoCal, and then there's the Motorcycle Safety Foundation's Basic Rider Course. And there are schools like RawHyde Adventures that specializes in BMW adventure bikes and offers classes in California and Colorado. There are adventure out there waiting for you—go chase it!
Source: Read Full Article