This Bicycle-Powered Honda Is Exactly What the World Needs Right Now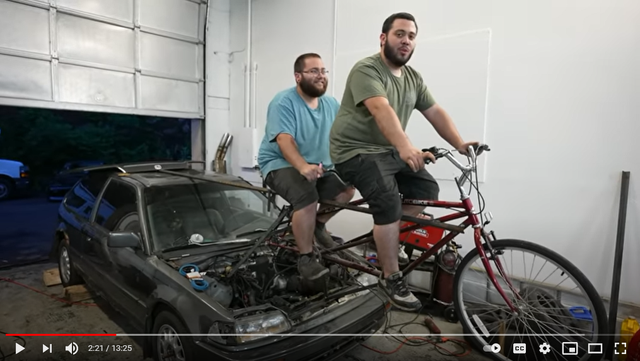 On the same day that Honda announced its all-electric Prologue crossover for 2024, someone forwarded this to us: Three people welded a bicycle-built-for-two into the engine bay of a 1989 Civic Hatchback and pedaled off to McDonalds. At 2 mph.
This was published on YouTube under the name, "Life OD." And it wasn't their first "engine" swap. They've also set up four turbos on a Yamaha FZ-09 stacked up on a stick like an exhaust; converted a '98 Forester into the World's Cheapest Snowplow; and made tires out of duct tape, zip ties, rubber bands, and shopping cart wheels. This very same Civic has previously been converted to ride on ultra-dinky 4×100 wheels from Harbor Freight Tools, set up like a bro-dozer, added what looks like the same four turbos as the FZ-09, added dually rear wheels so they could use it to tow a 13,000-pound trailer, and removed the engine entirely and powered the car with an 18-volt handheld drill.
So, after all that, it seems only natural that they would weld the bicycle-built-for-two onto the front, install a pulley drive from the bike to the axle, and head out for milkshakes at McDonalds.
As entertaining as the engineering itself is the dialog:
"Dude that's mint!"
"I got some faith in this, dude!"
"Dude THAT IS MINT!"
"Alright boys, we're gonna take the bike to McDonald's. We got it all welded up, we got the back pulley on, tensioner's good, pulley on the tranny's good, we're clearly out here going to McDonald's."
And off they rode, two up front pedaling, one in the driver's seat shifting and steering.
"Watch yer head! Watch yer head, dude!"
"Awright here we go boys."
"It's going swimmingly."
"Fifth! Fifth!"
"Everybody in town loves this."
"It's definitely a crime."
"Go, go, go, it's green!"
Did they make it? You'll have to watch to see. Can't wait to see what they're going to do next.
Source: Read Full Article