This Week's Forza Horizon 4 Season Change: An Italian Autumn Affair
Autumn has come around once more in Forza Horizon 4. The traditional season switch also means another fresh batch of content and events for players.
The changeover arrives alongside the second expansion, LEGO Speed Champions. Brick-based content stays exclusive to that fenced-off new island though — for now — but nonetheless, there's a selection of new content and events for FH4 players. Read on for the whole breakdown.
Returning Classics Dominate Prizes
Another update to the playlist is on the cards this week. New prizes are also available for completing the season to 50% and 80%. This week is a mostly Italian lineup.
Let's take a look at what challenges await.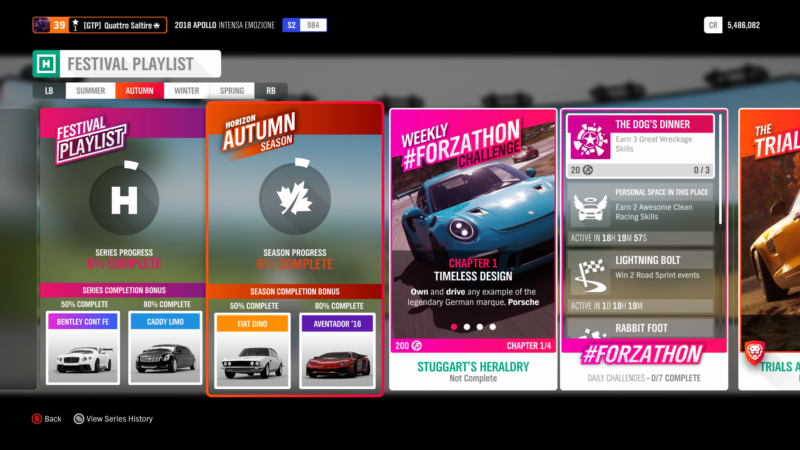 New Events & Cars
Headline prizes this week are a pair of Italian beauties, but from very different stables.
The 1969 Fiat Dino 2.4 Coupe is a car that is often forgotten about, overshadowed by the Ferrari Dino that shares its name and engine.
That engine is a 2.4-liter V6, making 180 horsepower. Whilst it doesn't have the swooping mid-engined beauty of the Ferrari, the Fiat Dino will make a stunning GT cruiser for the British countryside.
On the modern end of the spectrum is the Lamborghini Aventador LP750-4 SV. This raging bull is lighter, harder and more aggressive than the standard Aventador.
With 110lb stripped out, and the 6.5-liter V12 boosted to 740 horsepower, the SV is the perfect noisy solution for blasting through the quiet UK villages.
Seasonal championship prizes fly the Stars and Stripes this week. Leading the charge is the Hummer H1 Alpha. This military brute can be acquired by winning the "Heavyweight Champions" seasonal championship.
Also up for grabs is the 1979 Chevrolet Camaro Z28. Players can grab this iconic muscle car by winning the "Retro Rally Rumble" championship.
This week's events are listed below:
Autumn Developer Championship
Series: Road Country Series
Cars: Modern Supercars
Restrictions: S1 Class, 900 PI
Prizes: 15,000 CR, 25,000 CR, Wheelspin
Heavyweight Champions
Series: Cross Country Series
Cars: Heavy Hitters
Restrictions: A CLass, 800 PI
Prizes: 15,000 CR, 25,000 CR, Hummer H1
Autumn Games – Series 10
Series: Playground Games
Cars: Super Hot Hatch
Restrictions: A Class, 800 PI
Prizes: Skill Event Horizon Sweater
Retro Rally Rumble
Series: Dirt Racing Series
Cars: Retro Rally
Restrictions: B Class, 700 PI
Prizes: 15,000 CR, 25,000 CR, Chevrolet Camaro
The Trial: Trials and Tribulations (Co-Op Championship)
Series: Street Scene
Cars: Super GT
Restrictions: S1 Class, 900 PI
Prizes: Wheelspin
Toft Speed Zone
Season Objective: 135 mph
Rannoch Shelf Danger Sign
Derwent Reservoir Speed Trap
Season Objective: 190 mph
Forzathon Events
This week, the Forzathon spotlight focuses on Porsche. As a fan-favorite manufacturer, the first objective of this week is to simply own and drive any Porsche model.
Next, take your Porsche and earn 3 victories in Road Racing Series events. For the third objective, take your Porsche for a marathon drive. The distance? A leisurely 26.2 miles.
Finally, prove Porsche's surprise rally pedigree by winning 3 Dirt Racing Series events.
Forzathon Shop
A mixed bag is on hand for the shop this week. First up is the 2015 Alumi Craft Class 10 Forza Edition. This modified buggy is one of the ultimate go-anywhere vehicles.
Powered by a 2.4-liter engine with 196 horsepower, the Class 10 can tackle the bumpiest terrain without breaking a sweat. It also comes with a Destruction Skills bonus for those looking to cause some mayhem. Costing 625 Forzathon Points, only spend those on this car if you haven't won one from the Wheelspin rewards.
Joining it is the 2009 Vauxhall Corsa VXR. Previously a seasonal prize in May, the VXR now arrives in the shop for those who may have missed it the first time.
With a 1.6-liter turbocharged engine and 189 horsepower, the VXR is certainly no slouch against comparable hot hatches. At 500 FP, if you didn't already win one then, we advise to spend those points elsewhere.
This week's novelty items up for grabs include the Strawberry Parka jacket and "The Robot" emote.
Source: Read Full Article