This Week's Forza Horizon 4 Season Change: Conquer Summer With a Hummer
Summer has rolled in to the UK once again in Forza Horizon 4. The newest season also marks the official start of Series 18, with a fresh set of content to come over the next four weeks.
A new season means a new Playlist, with a new quartet of prizes available for 50% and 80% completion. Off-road enthusiasts will welcome this week's debut of one of the toughest SUVs around.
Read on below for what summer brings to the table.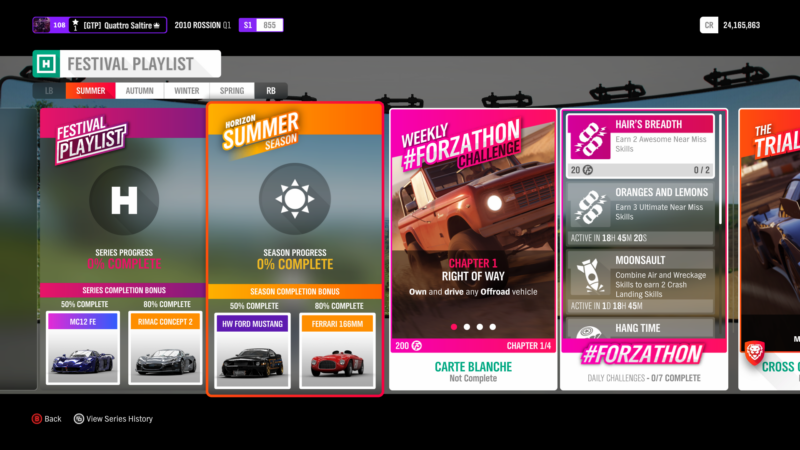 Hummer Drops Its Top
Hypercars are at the top of the agenda for Playlist completion prizes for this week. Topping the bill is the demented Rimac C_Two.
This all-electric hypercar is one of the most powerful street cars ever to exist, with a colossal 1,900hp developed by its four electric motors. You'll need plenty of space to unleash all that power, and more talent to extract its best through the corners.
Joining it is a special Forza Edition of the Maserati MC12. This V12 hypercar borrows much of its running gear from the Ferrari Enzo, with a 6.0-liter V12 making over 620hp. The Forza Edition comes with a Speed Skills boost for those eager to go fast.
Prizes for completing the Summer season are the Hot Wheels Ford Mustang and Ferrari 166MM. Championship prizes this week are populated by the Maserati MC12 Corsa and Volkswagen Global Rallycross Beetle.
Standing out this week in a big way is the titan that is the Hummer H1 Alpha Open Top. This behemoth will drive over just about anything that gets in its way. It's far from the fastest SUV though; the 6.6 liter diesel V8 produces just 300hp. Weighing in at a crushing 7,500lb, the Hummer will flatten even the biggest hills.
The H1 can be won from the "Shummer Nights" championship.
Summer sees the return of the "Motocross Purposes" Showcase Remix. Jump in to the Ariel Nomad and take on a team of dirt bikes in a sprint through the forest. A new Monthly Rivals event is also on the cards. Players will be hustling the 1998 Toyota Supra RZ around the Horizon Festival Circuit.
Prizes for this week are down below.
Flex Your Muscles
Series: Road Racing Series
Cars: Classic Muscle
Restrictions: B Class, 700 PI
Prizes: 15,000 CR, 25,000 CR, 1967 Chevrolet Chevelle
Van of Steel
Series: Cross Country Series
Cars: Vans & Utility
Restrictions: D Class, 500 PI
Prizes: 15,000 CR, 25,000 CR, VW GRC Beetle
Shummer Nights
Series: Cross Country Series
Cars: Offroad
Restrictions: A Class, 800 PI
Prizes: 15,000 CR, 25,000 CR, Hummer H1 Open Top
The Trial: Cross Country Heroes (Co-Op Championship)
Series: Cross Country Series
Cars: Sports Utility Heroes
Restrictions: A Class, 800 PI
Prizes: Maserati MC12 Corsa
Summer Games – Series 18
Series: Playground Games
Cars: Hot Hatch
Restrictions: B Class, 700 PI
Prizes: TVR Tuscan
Outcrop Crest Danger Sign
Season Objective: 623.4 ft
Wesloch Speed Trap
Season Objective: 140 mph
Croft Speed Zone
Season Objective: 110 mph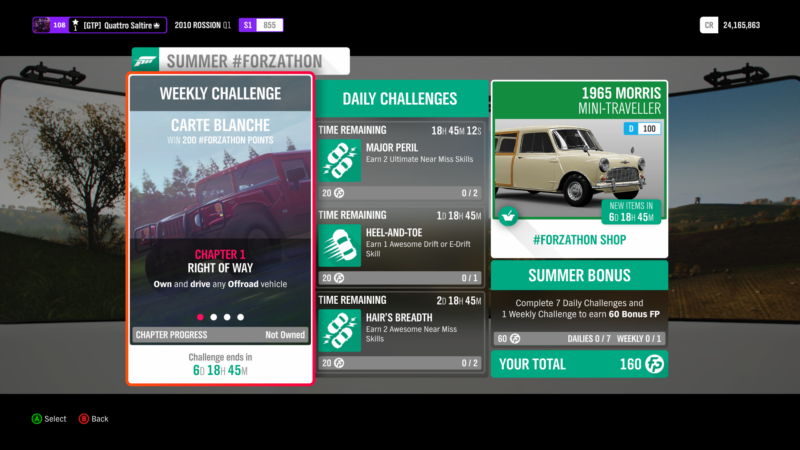 Forzathon Events
Forzathon goes off the beaten track this week, with off-road vehicles taking center stage. Own and drive one of the available tough SUVs to get the challenges rolling.
Next, head out to your off-roader's natural territory and bring home victory in 3 Cross Country Series events. Afterwards, unleash your destructive tendencies, and use your mudplugger to to earn a Wrecking Ball skill.
Finally, you'll need creative driving and a lot of bravery, as you'll need to earn a grand total of 750,000 Skill Score to wrap up this week.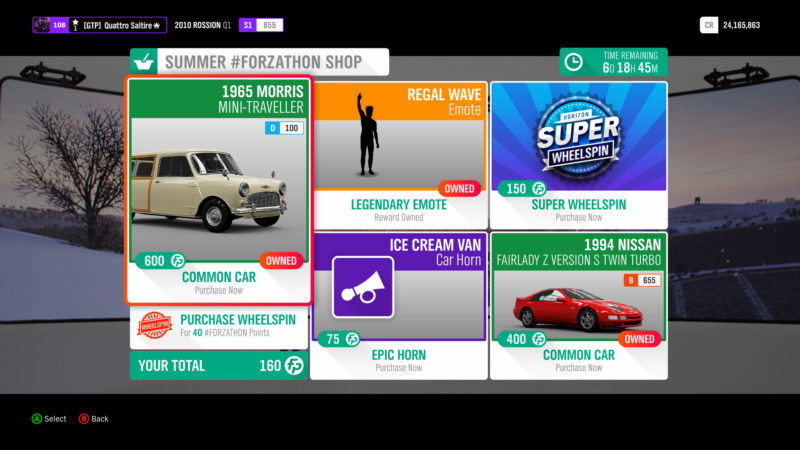 Forzathon Shop
The lineup in the Forzathon Shop looks back to the past this week, with a small Mini wagon as the headline act.
Morris conceived the 1965 Morris Mini Traveller as a more practical version of the original Mini. The Traveller became famous for its exposed wood paneling on the rear of the body. Do not go looking for performance with the Traveller, as its 850cc engine produces a measly 34hp.
If you want a Traveller, you'll need to fork out 600 Forzathon Points for it.
For those after a smidge more power, look no further than the 1994 Nissan Fairlady Z. This Z32-generation of the iconic Z car is often overlooked against more its more established brethren. The Z32 uses a twin-turbocharged, 3.0-liter V6 making a healthy 276hp, but a few modifications should extract much more power.
The Fairlady is a cheaper proposition at just 400 FP. If you're after a slice of underrated JDM history, then the Z32 is the one for you.
Novelty items up for grabs in the shop this week are the Regal Wave emote and the Ice Cream Van horn.
Source: Read Full Article