Took my Suzuki Gixxer SF250 to Kari Motor Speedway for a track day
Fitness plays a massive role in succeeding at the track. More so, as you get older. Thankfully, I am fitter now, than I ever have been.
BHPian neil.jericho recently shared this with other enthusiasts.
My ownership experience with the Suzuki Gixxer SF 250, over the last month and a half, hasnt been the most pleasant, on account of the widespread issue of excess vibrations, which seems to be common across the Gixxer and Gixxer SF 250. What better way to take my mind off it, than with a weekend at the track, in the excellent company of a couple of TBHPians?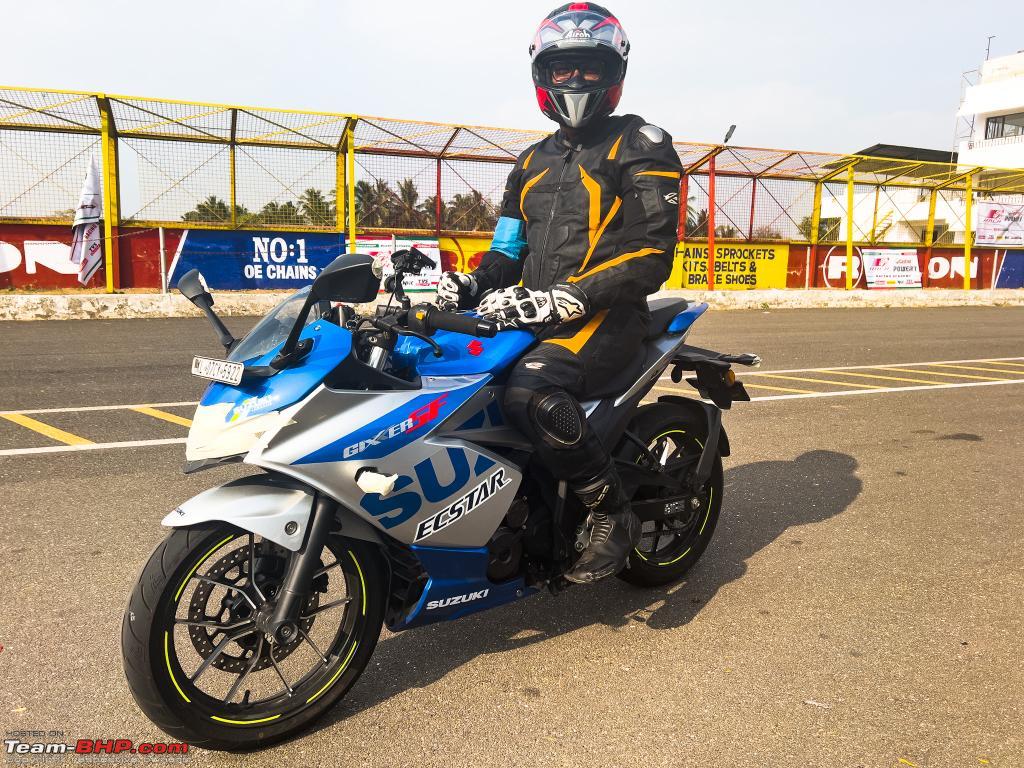 Its been several years since I attended Indimotard's Level 1 program at the Kari Motor Speedway, and the subsequent open sessions. When I attended the Royal Enfield GT Cup selections in 2021, I immediately knew that my skills were extremely rusty. The only way to get back to form, as limited as it was, was to go back to the basics and start all over again.
TBHPian deepfreak15 had completed his Level 1 and Level 2 certification with RACR [Rajini Academy of Competitive Racing] in 2020. He even went on to do their Level 3 program in 2021. Based on his positive experience, I planned to attend the Level 1 and Level 2 program with RACR in November 2022. What made things even better, was the participation of krishnaprasadgg, who would also attend the classes with me, and deepfreak15, who signed up for the open sessions. As fate would have it, that session got rained out and moved to this past weekend.
All in all, we had 35+ riders sign up for the track weekend. The Level 1 and Level 2 students were split into two batches. The handful of Level 3 participants went out on track, along with the riders of the open sessions. This way, there was enough track time for everyone to practice what was being taught in the classroom sessions. I was probably, one of very few riders attending Level 1 and Level 2, who had been at this track in the past. The overall classroom instructor was Navneet Muralidhara. The Level 1 and Level 2 students were split into smaller groups. Each group had a different coloured armband, for easy identification. A coach / trainer, who is a national level racer, was assigned to the groups. It was nice to see prodigious young talent being able to take each group of enthusiastic riders, out on track, and help them hone their skills. krishnaprasadgg and I ended up in the same group and had Lani Zena Fernandez as our coach.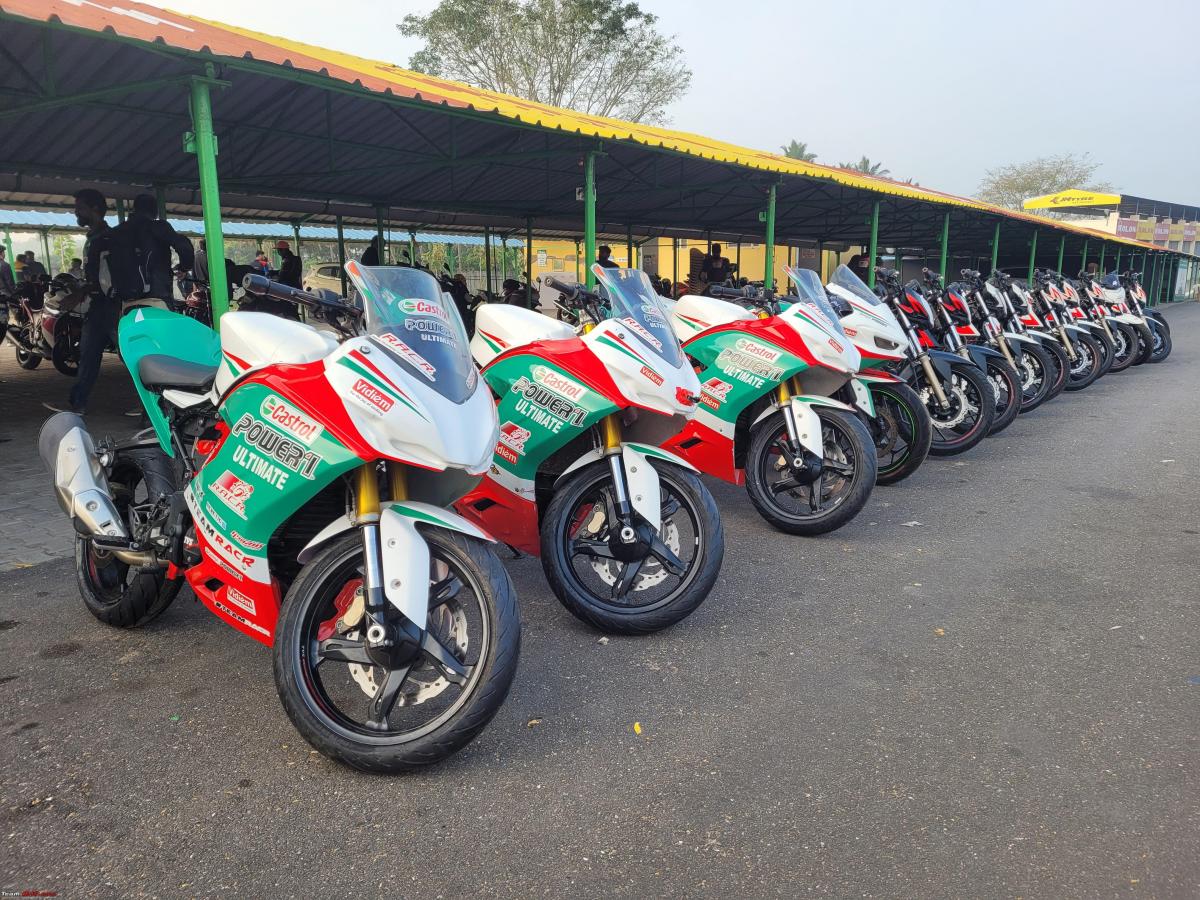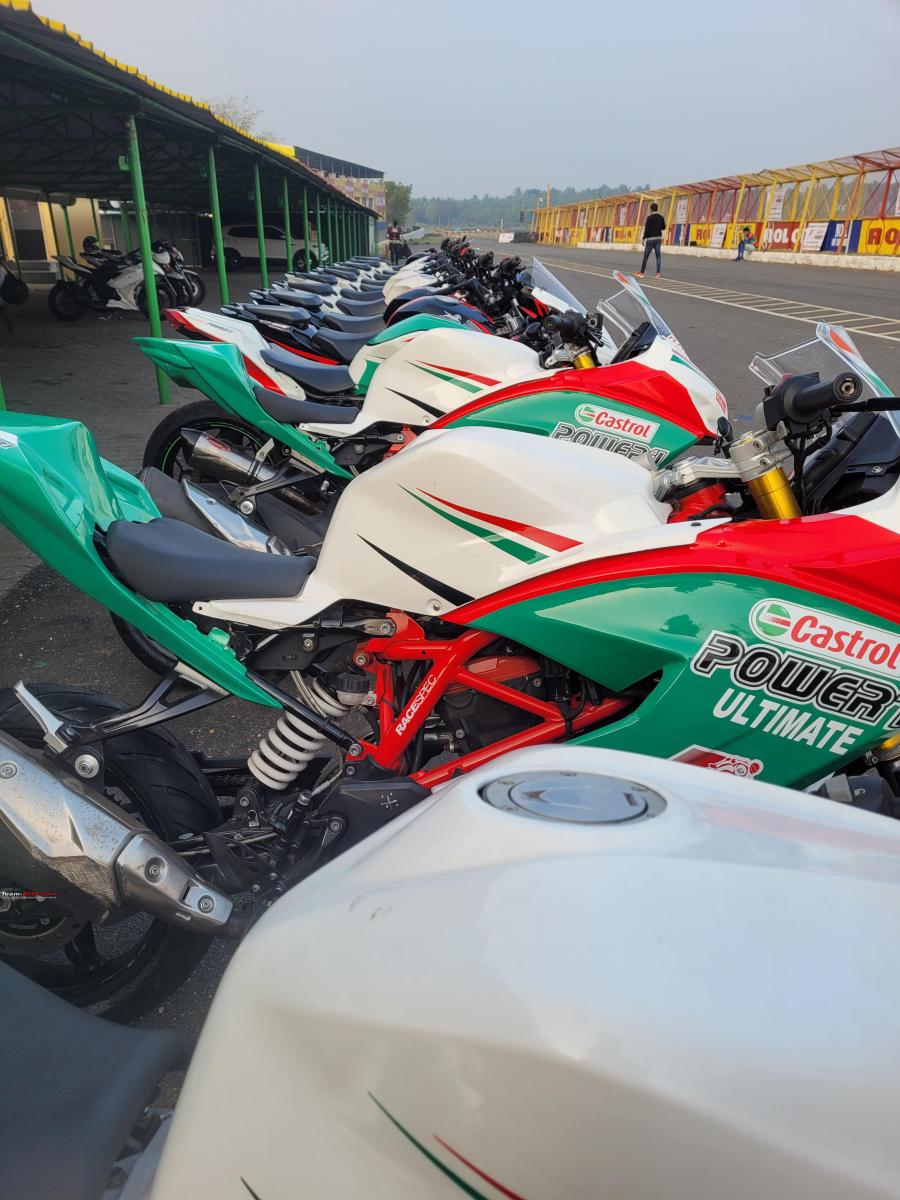 TBHPian deepfreak15 has really gone in detail, while describing the Level 1 and Level 2 program, on his thread. Hence, Ill just add in a few details to complement his writeup. As a longtime motorcycle enthusiast, it was surreal to get hands on feedback, during different drills, from Rajini Krishnan, himself. He has built himself a great racing academy and crucially, is helping to make track riding affordable enough that enthusiasts, both young and old, can dip their toes in these untested water. Not only does RACR help rent riding gear and motorcycles (thereby reducing the entry price barrier for enthusiasts), but the courses are also very wallet friendly.
Our group enjoyed learning under the wisdom tree of our coach, Lani. She patiently answered all our questions, with detailed explanations. Her individual feedback on our riding, was always on point, with the intention of helping us improve our technique, while overcoming our trepidations. By the end of day 1, all of us were a lot faster than when we started off, in the morning. By the end of day 2, all of us were even faster than what we could have imagined, at the start of the program. This progress came from the teaching, learning and unlearning.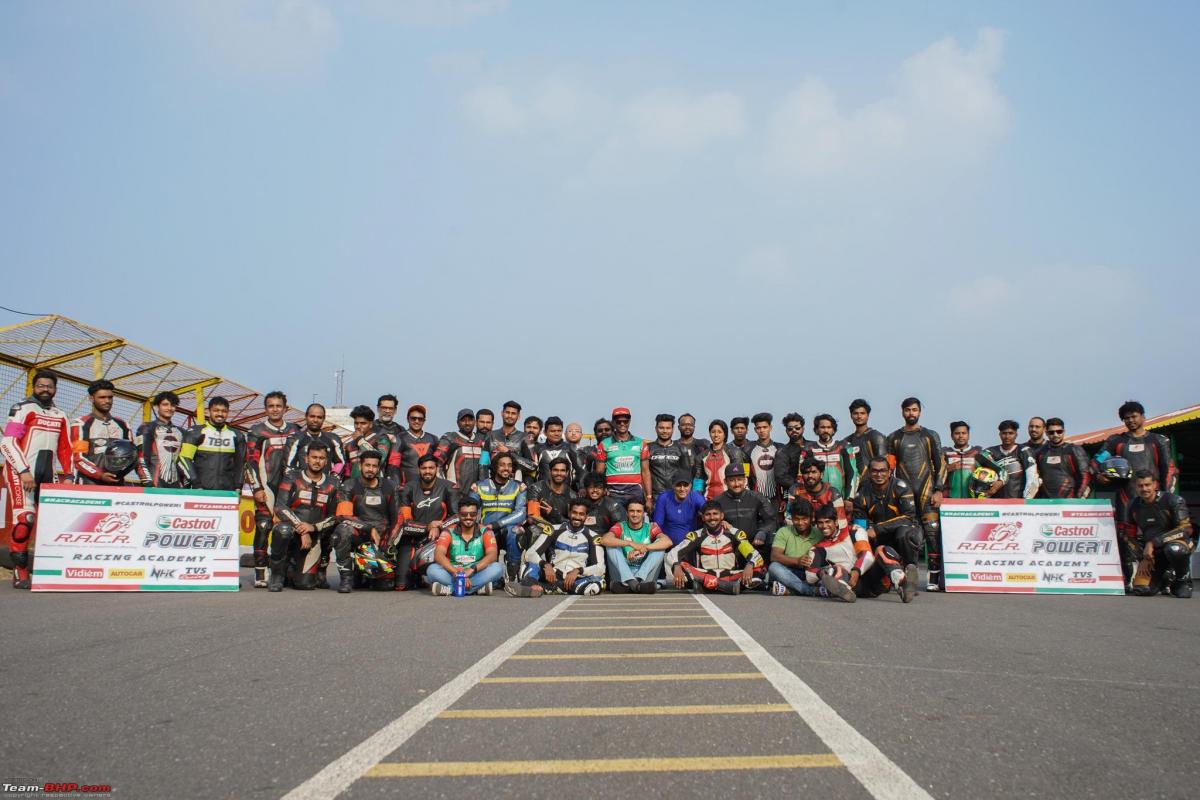 Overall, I would strongly suggest Indian motorcycle enthusiasts to sign up for a track certification program, to help learn crucial lessons and skills, that they can then carry into riding on public roads. I know that I became a far better road rider after attending my first track training program. This past weekend's session helped me further improve my riding ability. Im sure that it will do the same, for you as well.
A few notes on my riding across the different sessions:
I was able to get in a rhythm rather quickly, on account of my familiarity with the track. Where I struggled, was with consistency.
I would do 2 perfect laps, while hitting all the markers, but on the next lap, while attempting to push the pace, I would invariably fluff some of my lines. No harm, no foul. Without that, I wouldnt have known whether I was being too conservative, in certain sections of the track.
It was only once we started with the body positioning drills, that I really managed to find that extra speed in the corners. Sadly, my body positioning was nowhere as good as what it was, when I attended the Indimotard sessions. This is one area that I really need to improve on, in subsequent open sessions.
Fitness plays a massive role in succeeding at the track. More so, as you get older. Thankfully, I am fitter now, than I ever have been. This went a long way in helping me manage the track sessions. Despite that, I did find the hard braking was putting pressure on my thighs, during day 1. I definitely need to improve on my lower body strength, before the next track day session.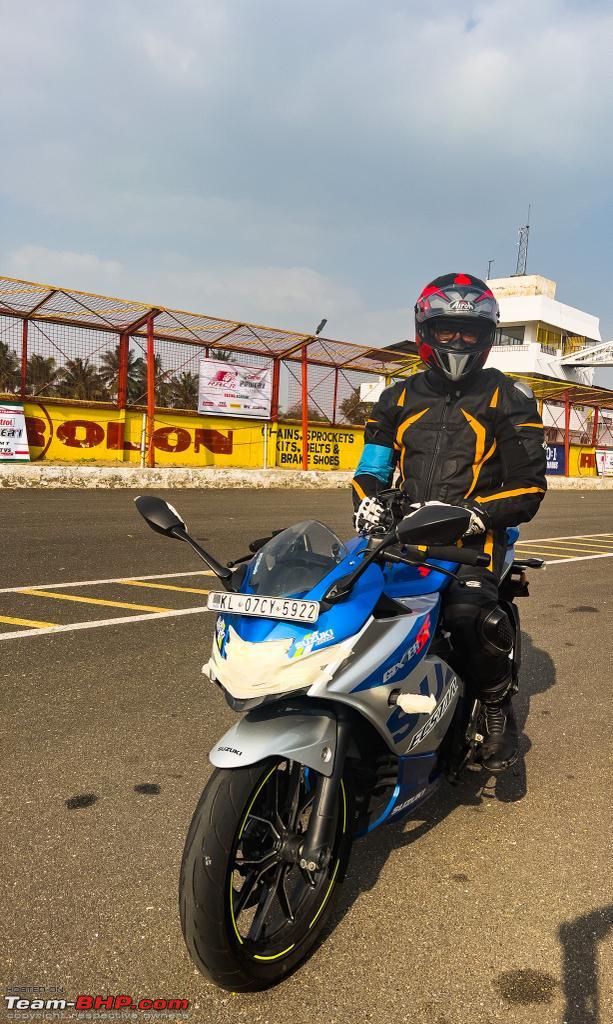 Me on the Suzuki Gixxer SF 250.
krishnaprasadgg with his Honda CBR250R.
A few notes on the motorcycle across the different sessions:
The lightweight and flickable nature of the Gixxer SF 250, made it seem like the motorcycle was built to be ridden on race tracks. The 100th Anniversary edition paint scheme did add an extra 10 kmph down the straight at the Kari Motor Speedway. I think.
The front brakes, while not being the sharpest around, performed well enough, even when stress tested on numerous occasions.
The Apollo Alpha H1 tires took everything that the weekend at the track, put them through, and passed these tests with flying colours. They didnt really need to be warmed up to perform well and offered great confidence, both during hard braking and while cornering.
If there was one weak link, it was the suspension. By day 2, I had really started to dig into the motorcycle's capabilities. On hard braking, the plush suspension (which does a fabulous job in the real world) started making its limitations known. This led to some chatter from the bike, especially the rear, which told me that the suspension needed to be sorted out, if I was really going to dial up the pace. Unfortunately, the rear suspension needs a particular type of tool to adjust the preload, which the track technicians did not possess. The next time that I head to the track with my GSXRRR errr I mean the Gixxer SF 250, I will stiffen the rear suspension before-hand. As for the front, if I need to stiffen it, I will need to install preload adjusters and put in heavier fork oil. If this bike was a keeper, I would have spent the time and the money, to do so. Let's see how things pan out.
Of course, all of this is secondary, if you don't have a great bunch of people to ride with. I was fortunate to have a really nice set of riders in my group. We were able to continuously give each other feedback, after each session. This helped us learn and steadily build our confidence. Not once did any of us put the others at risk, with a dangerous overtaking move or an over enthusiastic dive into a corner.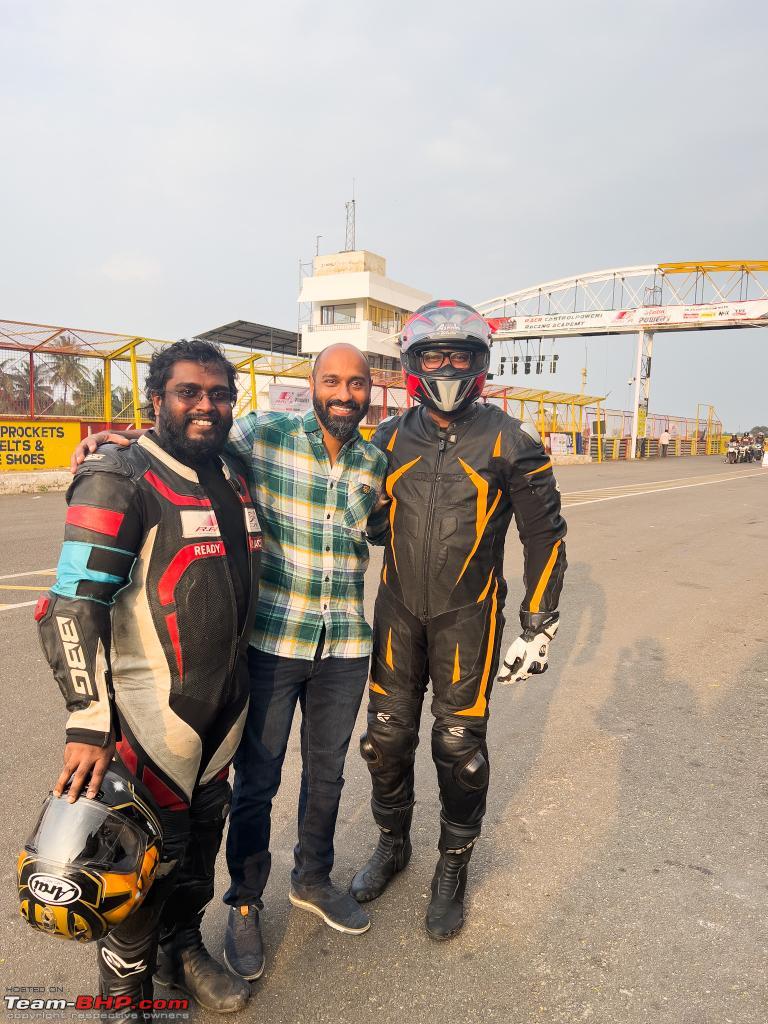 From left to right : krishnaprasadgg, deepfreak15 and me.
And lastly, a big thanks to krishnaprasadgg and deepfreak15 for making this such a fun and lively weekend. Im certain that this is only the first of many more exciting weekends for us, at the track!
Check out BHPian comments for more insights and information.
Source: Read Full Article