Toyota Innova Hycross vs Mahindra XUV700 vs Kia Carnival
God bless competition. And this isn't even including indirect competitors like the Carens, Scorpio-N etc.

Toyota Innova Hycross
Toyota Innova Hycross Pros:
A great-looking MPV. SUV'ish styling packs appeal
Upmarket interiors, good comfort in all 3 rows and usable boot (even with 3rd row up)
Loaded to the gills with features such as a panoramic sunroof, ventilated seats, electrically adjustable rear ottoman seats, multi-zone climate control, connected car features, leather upholstery, drive modes, etc.
Hybrid powertrain makes it lighter on the pocket than diesel and future-proof too. Very good fuel efficiency (expect city FE of 15-17 km/l)
Impressive performance with a sub-10 second 0-100 km/h time (Toyota claims 9.5 seconds)
Monocoque construction results in sorted handling and comfortable ride quality
Brilliant NVH levels result in a quiet and serene experience inside the cabin
Toyota's bullet-proof reliability, excellent after-sales service and fuss-free ownership experiences
Safety features such as 6 airbags, Toyota Safety Sense (ADAS), ABS, ESP, TC, all-wheel disc brakes, hill hold, TPMS, Isofix & 3-point seatbelts for all
Toyota Innova Hycross Cons:
Premium pricing. More expensive than the already-pricey Innova Crysta
Top-end variants are only available with captain seats in the middle row. No bench option is inexplicable!!
18″ wheels with 50 profile tyres compromise the overall stance; they look very small
Monocoque construction won't be as rugged & abuse-friendly as the Crysta's body-on-frame build
Rear seat ottomans are useless for taller passengers
Average sound quality from the JBL system, poor camera resolution and a basic infotainment system display
Missing features such as rain-sensing wipers, lumbar adjustment, boss lever on the front passenger seat…
The already-good ride quality could be even better with higher-profile tyres (e.g. on craters). 225/50 sidewalls are on the shorter side
Link to Review
Mahindra XUV700
Mahindra XUV700 Pros:
Handsome styling matched to solid build quality. Has street presence, feels robust
Very spacious interiors with comfy seats and sorted ergonomics. 6-footer passengers welcome!
182 BHP turbo-diesel & 197 BHP turbo-petrol make for a potent line-up
Smooth 6-speed torque converter Automatics available with both engines
Sorted suspension with good road manners & high-speed stability
AWD is available for the adventurous, unlike most FWD crossovers in the segment
Loaded with features like radar-based driver assistance system, pop-out door handles, panoramic sunroof, driver memory seat, 360-degree camera, 10.25″ infotainment & instrument cluster etc.
12-speaker Sony audio system is fantastic! You'll enjoy its sound quality
Safety features include 7 airbags, ESP, all-wheel disc brakes, hill hold, hill descent control, driver drowsiness detection, TPMS, ISOFIX…
Mahindra XUV700 Cons:
Negligible boot space with the 3rd-row seat up. Either 5 onboard, or 7 with a roof-top carrier
Cramped 3rd-row seat is best suited to children only. A sliding middle row is sorely missed
Petrol AT is thirsty due to its hefty weight, 197 BHP & torque-converter AT
Some cabin plastics & a few rough areas don't feel premium in an otherwise loaded SUV
Missing features such as an auto-dimming IRVM, ventilated seats, paddle shifters, full-size spare wheel, ambient lighting, rear sunblinds…
Concerns over niggles & bugs in a freshly baked, complex Mahindra. We saw 2!
Mahindra's after-sales service is a hit or miss. Remains a gamble
AWD is available just with the Diesel AT, and not the MT or petrol motor
Link to Review
Kia Carnival
Kia Carnival Pros:
A truly luxurious MPV that's also high on practicality
Top quality, spacious & comfortable interiors. 3rd-row is usable for adults too
Fantastic engine & gearbox combination! 2.2L diesel & 8-speed AT impress
Comfy ride quality & neutral road manners
Available in 7, 8 and 9-seater configurations
540L boot space with all three rows up and 1,624L with the third row down
Impressive kit (2 sunroofs, premium Harman Kardon sound system, electric rear doors & more)
5-star safety rating. Kit includes 6 airbags, ESP, HSA, CBC etc.
Kia Carnival Cons:
Massive size can make it cumbersome in the city, while parking & in narrow lanes
Ordinary urban fuel economy due to the 2.2-ton weight, 197 BHP engine & AT gearbox
Underbody does scrape on bad roads & large speed bumps, especially with a full load
Top Limousine variant isn't sold as an 8-seater & its 3rd-row access is difficult
Steering is a level too firm at parking speeds & a level too light at 120 km/h
Some misses such as paddle shifters, a skinny spare tyre, no auto-wipers or front camera…
Model is now 5 years old in the international market; next-gen Carnival is being tested
Stylish 4×4 SUVs like the Fortuner / Endeavour / Kodiaq can be had at the same price
Link to Review
Tata Safari
Tata Safari Pros:
The iconic brand "Safari" is back! We agree with using the legendary nameplate for this car
Stunning looks & strong road presence. Solid build too
Classy, spacious cabin with comfortable seats & a chilling air-con
Extra 3rd row of seats brings lots more practicality & utility
Superb captain chairs available as an option for the middle row (top variant only)
Extras over the Harrier include rear disc brakes, TPMS, e-parking brake, auto-hold, boss mode…
Fantastic 9-speaker audio system. Sound quality & bass are enjoyable
168 BHP 2.0L diesel offers good driveability and a punchy mid-range
Smooth & competent 6-speed automatic transmission
Sufficient ground clearance + terrain response system for rough and wet roads
Topnotch safety kit includes 6 airbags, ESP, rest break reminder, hill hold, brake disc wiping & more
Features such as the panoramic sunroof, Eco & Sport modes, auto headlamps & wipers, cruise control…
Tata Safari Cons:
Heavy steering gets cumbersome at parking / u-turn / crawling speeds (<5 km/h)
3rd-row access is too difficult in the captain seat variant
Negligible boot space with all the seats up – a paltry 73 litres
Safari AT's focus is on smoothness & comfort; gearbox is not the most responsive
Concerns over niggles & long-term reliability. Our test car had a problem too!
Service visit every 6 months / 7,500 km (12 months is the norm today)
Diesel engine does get loud above 3,500 rpm & its engine note is quite sad too
No petrol option (almost all competitors offer it). No AWD for enthusiasts either
Although improved, the Safari's steering @ 120 km/h is still a level too sensitive
Tata's after-sales service quality is a hit or miss. Remains a gamble
By 2021 standards, we'd expect wireless charging + front / 360 camera + ventilated seats
We don't agree with the excessive chrome (outside), impractical white interiors & 18" rims (bit firmer ride)
Link to Review
MG Hector Plus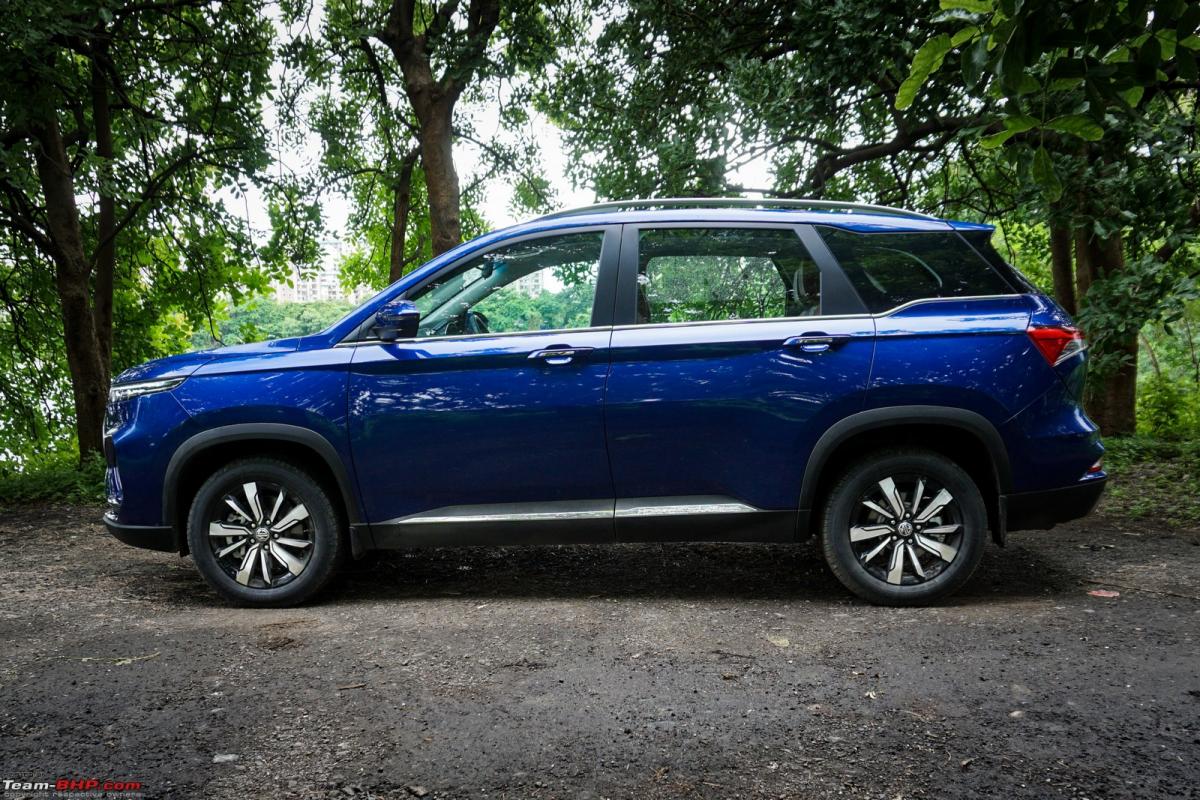 Link to Close Look
Here's what GTO had to say on the matter:
Customers sure are spoilt for choice now, aren't they! God bless competition. And this isn't even including indirect competitors like the Carens, Scorpio-N etc.
Here's what BHPian nfsfreak had to say on the matter:
Voted for Kia Carnival.

I'm currently looking for a comfortable 7 seater, having checked all cars in this list and Jeep Meridian, MG Gloster as well, with a budget of 45L. I currently drive XUV 500 – 2017, model.

My current preference is:

Carnival – waiting for a facelift – Auto Expo.
Innova Hycross – Waiting for a test drive vehicle. have an active booking but will decide after my test drive, which would happen by the first week of Feb per local dealers.
XUV 7OO – have an active booking with an expected delivery date of Apr 2023 – will proceed if the above options don't work out.

I sorely miss Endeavor which would have been my obvious choice for upgrade (was in my personal wishlist) but wouldn't want to go the pre-owned route now & take a chance with Ford shutting its shop here.

Listing my observations on the cars checked based on my order of preference – Sorry for the long post, but this could help others in a similar predicament.

Kia Carnival

Loved the ride and ease of drive though the car is BIG. Truly a comfortable 7-seater by a mile, compared to others in the list. The current drawback is the lack of features (360 camera, adaptive cruise/ADAS etc) and a dated model but not real deal breakers for me.

With the facelift, I hope will get more features and remains within my budget (wishful thinking).

Toyota Innova Hycross

I liked Crysta's comfort and this being a Toyota, I just went ahead with a booking without even test-driving the car by looking at the initial pics and variants list (a first for me) based on Toyota's surprising efforts to match the features – Sunroof, ADAS etc and the new look is not van like, which was a concern before.

But second-row captain seats only in ZX(O) is a very big downer for me – why Toyota? why!!!. Even to carry 5 we need to use a third row which would compromise the boot space. XUV scores high here, as boot space, is more with folded 3rd row, for carrying 5. Now it depends on my test drive with family – especially the ride quality and third-row comfort for 3, to really proceed with the existing booking.

The current timeline for vehicle delivery is 90 days promised by the dealer.

Mahindra XUV 700

Not a big upgrade in terms of space and seating comfort compared to my current car but really liked the ride quality, safety kit, and features (hopefully the niggles are getting sorted in the fresh batches). Downers for me – White interiors (nightmare to maintain), manual IVRM, non-slidable second-row seats. Also I don't like the new look but I think that would grow on you over time.

With no major red flags, I just went ahead with my booking last week of Dec 2022 (Diesel AT AWD – Electric Blue) and surprisingly, the delivery date per initial communication is Apr 2023.

Tata Safari

Loved the look. Surprisingly found XUV 7OO ride better than Safari (was thinking otherwise, hearing about the famed Hexa/old-gen Safari ride quality).

Second-row comfort is better in XUV, but the third row is comparatively better in Safari with a slidable second row. Scored better in terms of comfort features that matter – Ventilated Seats, Electric IVRM, Slidable second row etc but missed 360 camera and ADAS (i think it will be part of the next facelift). Overall it was a really close finish, but seating comfort and ride quality tilted the scale towards XUV ahead of this.

MG Gloster

Loved the space on offer, and the features list (matched almost all the features of XUV and offered some more like ventilated seats). High & commanding seating position but the ride quality was harsh and my home minister did not like the drive. So removed it from my list straight away. Also expensive on the list with no discounts on offer (the top variant is close to 50L).

Jeep Meridian

Not a real 7-seater. The third row is only for kids. Heck, even in the middle row – you can only comfortably seat 2. I think Jeep consciously wanted to ensure the middle passenger is not welcomed – with no headrest or seat belt. With 3 in the back seat, it was not comfortable at all. So it is 4 + 2 seater.

But I loved the car for its ride quality, stability and interior quality. Actually, test drove the car clearly knowing I won't be getting this as I heard great things about the capability of this car. The test drive was very enjoyable as the SA had helped with roads/sections that you can really test this car – bad/no roads ride, highways etc. Great car for 4.

MG Hector Plus & Skoda Kodiaq

They are not real 7-seaters, strictly 5+2. Last-row space and comfort are laughable and only for kids below 5 feet in height. For Kodiaq, I did not even get the test drive vehicle from my local dealer.

Haven't driven Hector Plus after checking the third-row space & having driven Gloster
Check out BHPian comments for more insights and information.
Source: Read Full Article