Volvo XC60 AWD ownership review: Driving & other general impressions
The car feels royal especially from back and front. It is a true luxury car with all the creature comforts you would expect at this price point and which are largely ignored by the German trio.
BHPian deepak_bajaj recently shared this with other enthusiasts.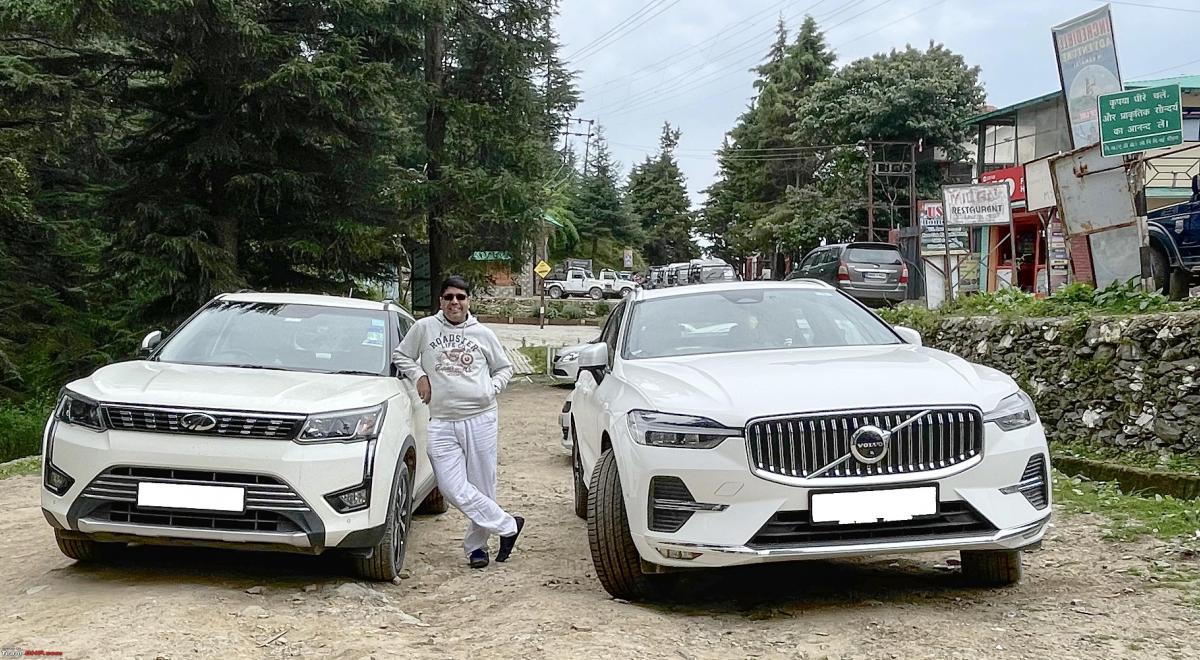 Finally on 23rd June 2022, in the late evening, we bought home our first "true" luxury car Volvo XC60 B5 Inscription AWD, a mild hybrid, in Crystal White Pearl shade. And on 24th June 2022, early morning, it was gone! Read on to find out.
I decided to pen down this ownership review, a first for me so that other prospective buyers and casual readers can get acquainted with the XC60. There are very few reviews and ownership threads on XC60 but perhaps none on the latest B5 mild hybrid. I do not possess technical knowledge unlike other fellow BHPians so my ownership review is simpler and more aimed to explain my experience to a common man rather than a techie. At the time of this writing, the car had done 2500 km within 60 days (mystery explained below about how come 30 days between June to September).
Please excuse me for very few photos as I felt that general photos of the car are readily available and posting them again will not serve any purpose. I will try to add photos later to this thread as I keep updating it with my experience.
Note to Team Bhp: There is no review of Volvo cars recently and for sure not on XC60 B5 AWD. If possible, please review the car and if required, I will be more than happy to lend mine for review. Volvo as a brand is largely unknown in India and this forum is also read by casual car owners/lovers for accurate information. A detailed review might help them make an informed decision.
Quick Pros and Cons of XC60
Pros
Cons
Selection Process
We (me & my wife) were quite happy with our white X1 20d. It was about to turn 5 this year in August. However, the extended warranty would have expired in August and the new warranty for the 5th year was quoted at around 86k excluding GST and 2.7L for the sixth year. We were not in the mood to spend that kind of money on an extended warranty which is a diesel car, we were also apprehensive about its resale after 6 years given 10 years restriction in Delhi NCR. We were also not comfortable maintaining the car without a warranty as three shockers had been replaced in warranty within 26k km and I can assure all that I'm not a rash driver hitting potholes. A few other minor repairs had also been carried out in the warranty. So, we decided to move ahead with a new car.
This time we both were very adamant about buying an Indian car with the following criteria:
Safety
Reliability including ASS
Worry free. Can travel anywhere in India. (Had to be very careful with X1).
Tried both Tata and M&M but failed to materialize a purchase. The Tata's ASS and horror stories of issues in new cars at delivery time, within months of delivery and horrible sales service, kept me away from them (No offence to any of the owners. This is purely a personal choice). Being in a manufacturing line with extensive customer service experience, wherever I feel that my business and satisfaction are not important to a company, I simply take my business somewhere else where I'm more important and I'm treated well. We were very much interested in Harrier but due to the above issues, did not even go to check the car.
Next in line was XUV700. The moment we entered Prime Mahindra; we were told that it was on the waiting list for 18 months. The SA was remotely interested in showing the car forget any test drive. Anyways, we checked the car standing in the showroom and were pretty impressed with the interior quality. But waiting 18 months is not our cup of tea. No product can justify that long a wait. So, this was also deleted from the list.
There goes our resolve to buy an Indian car and we were soon scouting for Europeans.
BMW X3
Was not very inclined but anyways went for it to complete the process. The experience was lacklustre. Deutsche Motoren, Mathura Road was not interested in X3. There was no car on display. The SA took us down to the basement where we were asked to look at the car. We, just for the sake of it and confirming our decision that X3 is not for us, checked out the car. The top-end M Sport variant was shown that still lacked most of the creature comforts at that price point. We did not find X3 to be a suitable upgrade to X1. We were hardly gaining anything except the fat invoice. The showroom experience made our decision easy. Rejected.
Lexus LX300h
Was very enthusiastic about Lexus so booked the appointment at Lexus New Delhi. Very impressive showroom with lots of elements. But LX300h was nowhere to be seen. We reached a little early at showroom so we had to wait. We did not mind enjoying excellent coffee served with cookies. The car was outside and shown to us along with a test drive. We were not very impressed, especially with wifey. The interiors looked luxurious with lots of leather and the HUD was very crisp but that is all about it. The interiors somehow looked dated even though bathed in leather. I did not find the car enjoyable to drive due to the CVT rubber band effect although it is much less than Honda City. The AC could not cool the cabin in approx. 20 minutes of a test drive. The sound system was really hopeless (again no offence to owners. Personal opinion). The central console unit was tilted more towards driver than required. BMW has perfected this. It came with RFTs (a strict no-no for us) and no spare tyre (another no for us). The ride was harsh due to RFTs and stiff suspension. I soon lost interest and when told that it is on one year of waiting, the decision was clear. Rejected.
Mercedes-Benz GLC
Wifey had soft corner for MB and somewhere I also agree to this. When we were kids, luxury cars meant MB. So felt good that we are going to try the MB (the second time. We tried while purchasing X1 also). GLC is much better than GLA in many aspects. We were treated promptly at the showroom and offered coffee. Although we had the appointment, the car was not immediately available which was ok with us. We enjoyed coffee with cookies here too. Had a discussion about various loan facilities, maintenance packages and extended warranties. Good to know that MB offers 10 years maintenance package. Our car arrived and we commenced the test drive. There was no restriction on the test drive and we were told to drive as per our requirements. Nice. The car's interiors really look uber-cool and modern and not overdone (I still feel ambient lighting is over the top for me). The ride was very comfortable and most of the bad patches were quietly absorbed. However, I did not enjoy driving. Even in sports mode, the throttle response was not accurate. Twice the engine roared too much without any increase in power. Never happened with my X1. Even in comfort mode, you floored the pedal and the beast will never disappoint you. Heck, it never happened in Eco mode too. The car, as a whole, offered little more than X1 like better interiors, massaging seats (it was good in my second test drive), a central console, manual thigh support, ambient lighting, a slightly better music system and a very comfortable ride quality. However, I did not find it worthy of an upgrade. The car also comes with integrated running boards which I found fouling while stepping out and in. At least I did not find it useful in this size of the car.
At this price point, I wanted more. I also had in mind that a new version of GLC will be announced soon after the C-Class. But wifey was almost sold on it.
Volvo XC60
It was never on my mind but I had a soft spot for it somewhere back in my mind. So, this time, I asked my wife if we will try Volvo too. She was also surprised but was quickly ready for the same. So we paid a visit to Scandia Volvo, Mathura Road, in mid-afternoon after the test drive of GLC. The moment we enter the showroom, I saw Thunder Gray XC60 standing there in all royalty. I was smitten by its looks at the first glance itself. Upon entering the car, I was almost sold pending the driving experience. Wifey found it a little bigger than GLC in looks but was equally impressed with the interiors and build quality. Volvo showrooms generally showcase the contribution of Volvo in safety aspects. Wifey on reading those stories had also made up her mind as we both were looking for a safe car.
Within 15 minutes, a test drive was arranged for us. That was quite impressive. We, all in all, took 4 TDs of the vehicle out of which one was more than an hour comprising of city traffic and Greater Noida Expressway run. We were very impressed with the features offered by XC60. It is still not equivalent to X1 in driving dynamics but in no sense a slouch. It was way better than what we had already tested and a genuine upgrade from X1. It has no driving modes (yes you read it correctly). You simply drive and when you need that surge you put your foot (right one !!) down and the car does the rest. The features and creature comforts offered in this price band far exceed the competitors. We finally zero down on this and decided to go ahead with the XC60 mild hybrid.
Booking Experience
The booking experience was weird. The initial SA, who was attached to us from the beginning and had been very professional and forthcoming while arranging test drives, a day after taking the booking cheque from us from our home, called me not to book it as the car is having issues such as sudden stop, parking sensor to name a few. To cut the long story short and keep the negativity at bay, we feel that were played by him as resigned on the same day. And our booking was delayed. Finally, the car was booked on 9th May 2022. We were sold on Thunder Grey colour but that had no availability for another four months. We did not want to wait so long as we had already sold our X1 and we were without a car for our road trips. So white with amber interiors was booked. We were promised delivery by end of June.
First Delivery Experience
The car was delivered to us on June 23rd, 2022. An email invite was sent to me on the previous evening confirming delivery. We, very excitedly, reached the showroom around 17:30 hrs and they were ready with all the paper works. There was a small ceremony comprising of cake cutting, and the unveiling of the car followed by a box of chocolates and a flower pot. A proud moment and a very nice feeling. We both were elated and jumped with joy. The whole delivery process took about 40 minutes. Fast and efficient. The car was spotlessly clean including the engine bay and all promised accessories (mud flap and mats) were installed. All controls were functional. The car has done about 8 km.
Took the car straight to mandir for pooja. It took us approximately 35 minutes to reach the mandir in the choco-block of evening traffic. During the drive, I felt that the engine is making more noise than required and somehow car was not smooth to drive (the first signal was ignored by us). I checked with wifey whether the TD car was also making that much noise and she confirmed no. The TD was much smooth and silent. I thought maybe the Google drivetrain logic issue and ignored it to enjoy the happy moments. But I made a point and informed my SA at Scandia who also told me not to worry and that if it persists, I can bring the car for a check-up later (because the next day, we had planned a short trip to Rajasthan). Satisfied, I ignored it but in the back of my mind, it was always there. Unfortunately, the pooja also could not be completed because on Thursday, the mandir was overflowing with a crowd and there was no parking nearby. We went home without pooja (the second signal which was also ignored).
The next day morning, we left for our two days road trip to Rajasthan, ultra-excited but I had that annoying feeling at the back of my mind. The car was not smooth during this drive too. To cut the long story short, the car developed a snag (can't reveal that) and we had to abort the trip. The car was towed back to the service station (the first in my life).
We were very very disappointed. During our selection process, I was very vocal with my wife that does not want a car that can leave us stranded or is unreliable. For me, peace of mind is most important. And here we are staring at the very same issue I did not want to happen to us. But the good part is Volvo India took care of us right from the beginning. Volvo RSA was constantly in touch with us and updated us on the time frame when the cab will arrive. I was reluctant to leave the vehicle there but RSA assured me that it is now Volvo's problem and not ours. We were impressed and relieved that at such moments at least somebody is on our side and taking care to resolve the issue. Scandia motors were also very helpful and understanding. They also had dispatched a loaner car from their showroom and we were also offered to take it on our forward journey but I guess you will agree that this was not an option for us.
Together they proved that we are really part of the Volvo family. They inspected the car the next day and told us the fault and assured us that it will be fixed. However, we were not happy with the sequence and the snag in a new car. We asked Volvo India to replace our car with a new piece. I myself was not convinced as the car was already registered (temporary) in my name and loan papers were through. However, Volvo replaced our car!! Hats off to them to stand with their customer and take extra initiative to satisfy us. Volvo along with Scandia took care of everything and our new car was approved and delivered within 30 days.
I would like to highlight here that not even once, we had to raise our voices at any moment or write any harsh communication. Everyone involved was very polite, professional and understanding. Reading all the horror stories of other manufacturers, was extraordinary for us and Volvo has won a customer for a lifetime.
The Second Delivery Experience
The new car was delivered to us on 28th July 2022. This time car was run for about 80kms. We denied any kind of ceremony as we were very sceptical with fear at the back of our heads. But Scandia did not let us go without the chocolate box and plant. A very sweet gesture from their end.
We drove the car and took it straight to the mandir again. This time, the car was butter smooth and there was no noise from the engine bay. A day after, we took it on a short 500km drive to test the car and we were satisfied that that old problem was not present in the car. We were happy again.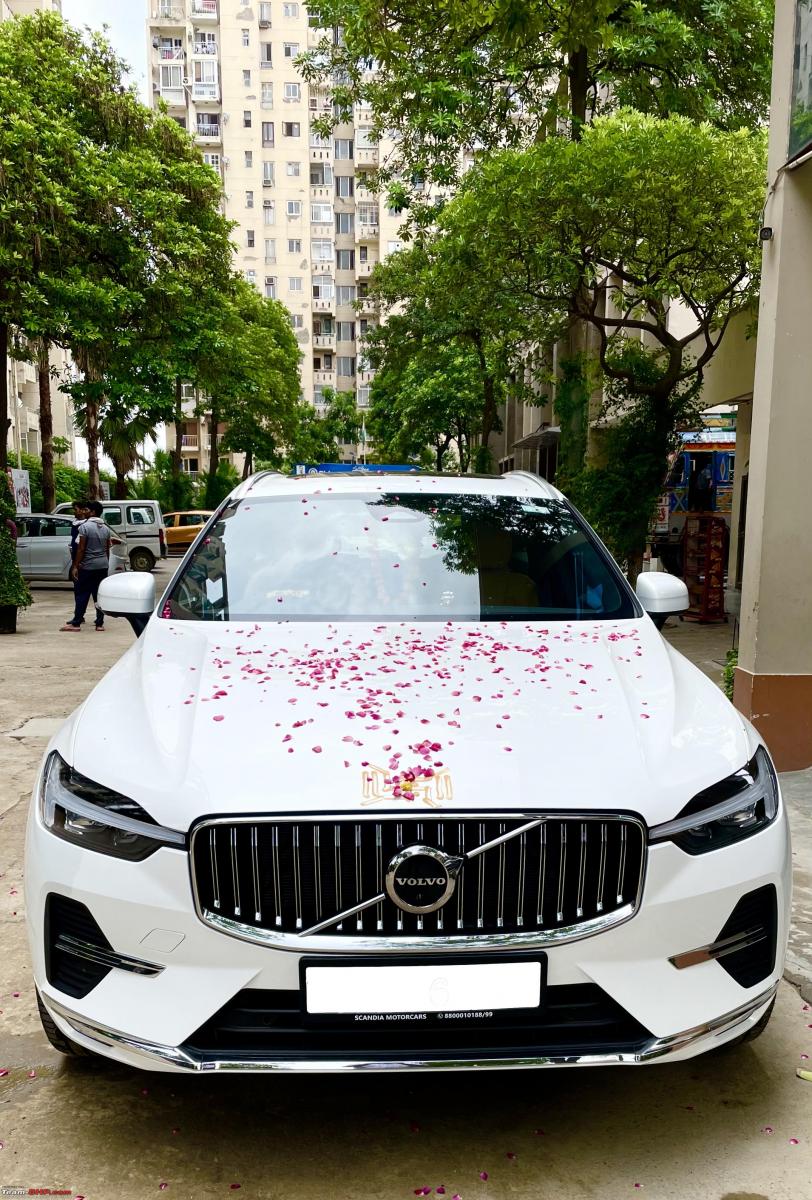 General
Keeping the negative aside, let's talk about the car, the Volvo XC60. Volvo has stopped producing diesel engines and they are shifting to petrol with an aim to end ICE by 2030. The car looks royal, big yet not overly big like Fortuner or Endeavour. I love the car from all angles, especially when viewed from the front. The car looks really long from the side profile. The car comes with AWD which is managed by the system. I have not got the chance or opportunity to test it.
The amber interiors look luxurious with perforated Nappa Leather on the seats and door. The fit, finish and quality of material used are excellent. They have used real crystal on the gear knob with a small LED light inside that produces a faint glow in the night. The small Swedish flags on the seat look cute. The interiors feel very plush and distinctive from the three Germans.
The cabin is very silent and cuts you off from the outside completely but for the honking from trucks or nearby cars. You are in your own zone and you can peacefully have a conversation or listen to your premium sound system. The tyre noise and wind noise are very much in check and up to 120 km/h, the cabin remains silent. Very silent. Volvo has not provided an under hood lining in the engine bay because of a petrol engine but I feel adding that noise-absorbing lining can bring down the NVH to even lower degrees. There were no vibrations or noises felt in the cabin. Very slight vibrations are felt sometimes on the pedals due to road undulations.
The seats are very comfortable both at back and front. The front seats are 16 ways adjustable (driver as well as a passenger) with five massage options and are both ventilated and heated. I have not checked heating but ventilation is a boon in summer. We took the test drives in mid-afternoon with temperatures soaring above 45 degrees. Our back and bottom were in total comfort due to ventilated seats. During this 2,500km run, the ventilated seats have been a blessing. Both front seats are offered with memory storage for up to two settings. The massage functions are not gimmicked and are really useful during long drives, especially during lower back and waves. The lumbar support is excellent and has helped in reducing my leg pain during long drives. The extended thigh support also helps. The leather feels very soft to the skin and the seats are soft and firm.
The four-zone AC chills the car in no time and without having to increase fan speed above three. The rear has AC vents on the door pillar as well as on the central console. Each passenger can adjust the temperature independently. The reclining angle of the rear seats along with the broad armrest makes you comfortable in no time. There could be a little more thigh support at back but it is not bad. You will not feel tired. During my last trip of approx. 300 km one way, my mother-in-law slept like a baby in the rear.
The Bowers and Wilkins sound system are mind-boggling. The 1100w, 14 speaker system including a sub-woofer can put any home theatre to shame. My wife, who is not a music buff understood sound quality but within five seconds of playing music, she was sold. She herself told that it sounds better than our Bose system at home. And she was sitting at the rear and music was being played using Bluetooth (low quality). I have never heard of such a system in any car and I love music. This has been a significant upgrade for both of us in terms of music quality. The music sounds a little better in front but the rear is equally impressive. With support for wired car play, the lossless music through Apple music sounds brilliant.
Driving Experience
The driving experience is a mixed bag in comparison to X1. The car has no drive modes and works best when pushed slowly in a linear manner. If you put your foot down, the car takes about a second to react and then a sudden surge of power. The power is then delivered linearly. I never found overtaking an issue on highways or in the city. You do not need to plan for overtakes. The best way I have found is to build up speed in a linear fashion, with increasing accelerator input steadily. If you suddenly push it down, the power surge will be nonlinear and the engine would be loud. The passengers would be jolted and pushed back to their seats.
The suspension is on the softer side and unlike X1, the suspension remains busy on highways. There is small up-down movement even with slight undulations on the road. The X1 was compliant due to its stiffer chassis and suspension and there was no "springy" feeling. The ride is by no means uncomfortable or irritating but due to my X1 background, I feel it more. My wife is comfortable.
The side-ways movements are very controlled but you cannot attack corners like X1. The car is not meant for that purpose. I tried a few times but then backed off when I did not get a response from the car. But it also does not mean that you need to slow it down like a body-on-frame SUV. The overall experience is satisfactory and ride quality is good, not plush.
Unlike X1, small bumps and potholes are quietly absorbed and are not felt in the cabin. The car came fitted with Michelin Latitude Sport 3. The tyres are on the softer side and absorb bumps and potholes silently. These may also be the reason for a soft comfortable ride, low noise but no corner handling and a "springy" feeling.
Continue reading BHPian deepak_bajaj's ownership review for more insights and information.
Source: Read Full Article