Damon Hill concerned after halo hinders extraction
Damon Hill has admitted that he is concerned after seeing Nico Hulkenberg stranded and unable to get out of his car on Sunday.
The German driver made contact with Romain Grosjean and barrel rolled before coming to rest upside down on a crash barrier.
He was unable to get out of his R.S.18, saying on the team radio 'I'm hanging here like a cow. Get me out of this car. There's fire, there is fire.'.
Within seconds, marshals and the Formula 1 doctor were on hand to check Hulkenberg's condition and to turn the car back over onto its wheels, before the Renault man could get out unaided.
WATCH: Hulkenberg gets flipped in Lap 1 incident in Abu Dhabi
Hill was concerned for Hulkenberg's safety and he wonders whether the halo might be a hinderance in that situation in the future.
"When he was upside down he was not able to extricate himself," Hill said.
"I've been upside down and with the roll hoop you could crawl out between the gap and the cockpit sides where there was enough room.
"I just don't see that with the halo on. I think it's a more difficult thing to do.
"He's alright and protected but he can't get out. So there may be a few questions about that one.
The 1996 World Champion, who had to get out of his upside down Williams in practice ahead of the 1994 Portuguese Grand Prix, also said that he would not want to be in that situation again.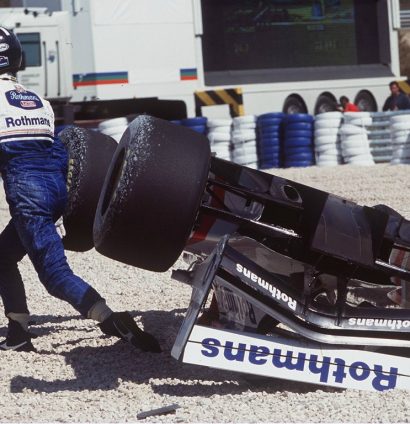 "They had to turn the car on its wheels and it's got a very powerfully charged battery on their too – although the marshals did have rubber gloves," the Brit added.
"But even so it's a hefty old thing to get back down to the ground so he can get out.
"You've got marshals quickly on the scene and they are fully equipped with fire extinguishers and so forth.
"The hope is that the organisation is slick enough on the scene to put out anything like that. I wouldn't want that put all to the test frankly."
Follow us on Twitter @Planet_F1 and like our Facebook page.
Source: Read Full Article