2024 MINI Countryman Electric debuts – single- and dual-motor EV powertrains; up to 313 hp, 462 km range – paultan.org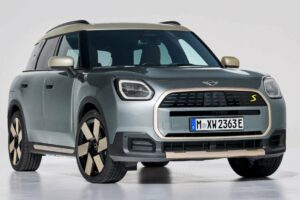 The all-new, third-generation MINI Countryman has been unveiled alongside the three-door bodystyle that is now known as the MINI Cooper which enters its fifth generation.
As with the MINI Cooper, the MINI Countryman wears a familiar shape that has been treated to a set of simplified details relative to its predecessor. Now measuring 4,433 mm long, 1,843 mm wide and 1,656 mm tall and with a wheelbase of 2,692 mm, the MINI Countryman has grown 60 mm taller and 130 mm longer.
Like its three-door stablemate, the third-generation MINI Countryman debuts with two electric powertrains, identified as the Countryman E and the Countryman SE All4.
The third-generation Countryman will also be offered with combustion engines; these will be the Countryman C with front-wheel-drive, the Countryman S ALL4 with all-wheel-drive, and a higher-performance variant in the Countryman JCW ALL4. Below are the specifications of the variants upon debut:
MINI Countryman E:
Electric motor output: 204 hp and 250 Nm
Battery capacity: 66.45 kWh
0-100 km/h time: 8.6 seconds
Top speed: 170 km/h
Range (WLTP): 462 km
MINI Countryman SE:
Electric motor output: 313 hp and 494 Nm
Battery capacity: 66.45 kWh
0-100 km/h time: 5.6 seconds
Top speed: 180 km/h
Range (WLTP): 433 km
MINI Countryman C:
Engine output: 170 hp, 280 Nm
0-100 km/h time: 8.3 seconds
Top speed: 211 km/h
MINI Countryman S ALL4:
Engine output: 218 hp, 360 Nm
0-100 km/h time: 7.1 seconds
Top speed: 227 km/h
MINI Countryman JCW ALL4:
Engine output: 300 hp, 400 Nm
0-100 km/h time: 5.4 seconds
Top speed: 248 km/h
For charging, both battery-electric variants of the MINI Countryman support AC charging at up to 22 kW, and DC fast charging at up to 130 kW, which will yield a 10-80% state of charge in just under 30 minutes, according to MINI.
Four trim options are offered for the Countryman – the Essential Trim, Classic Trim, Favoured Trim and the John Cooper Works (JCW) trim.
The Essential Trim emphasises "clarity and reduction", says MINI, where black sports seats with patterned multi-tone cloth upholstery contrast with a textile band on the dashboard. Selected parts on the exterior and interior are highlighted with the Vibrant Silver contrast colour.

Next, the Classic Trim replaces the base two-spoke steering wheel with a three-spoke unit that features a textile strap on the lower, 6 o'clock position wheel spoke. Two-tone black and blue knitted textile provides contrast to the synthetic leather upholstery on the seats, which can be specified in a grey/black scheme with a perforated houndstooth pattern with contrasting blue textile sections.
The Favoured Trim is described by MINI as the most expressive of the trim range, where the Dark Petrol colour from the dashboard to the door panels are merged with brown knitted textile. In this trim, sports seats in perforated Vescin synthetic leather gets either light or dark accents.
Completing the quartet of trim options is the JCW Trim, which brings JCW trim-specific sports seats with additional lateral support for improved comfort, and are finished in multi-coloured knitted textile and black synthetic leather with red stitching, and this colour combination is echoed in the dashboard and door trim.
Instrumentation within the third-generation Countryman takes after that of the new MINI Cooper, where a 240 mm (9.4-inch) diameter OLED touchscreen – named the MINI Interaction Unit – resides in the centre of the dashboard, and functions on MINI Operating System 9 which also receives voice commands through the Intelligent Personal Assistant which responds to the 'Hey MINI' prompt, and is visually represented by the virtual companion, 'Spike'.
The MINI Operating System 9 is itself an in-house development based on the Android Open Source Project (AOSP) software stack, as with the setup in the new MINI Cooper.
Over to the second row, the rear seats in the new Countryman offer adjustment fore and aft by 130 mm, while its backrests are individually adjustable for tilt by 12 degrees in six positions. Upright, the luggage compartment offers 460 litres, or up to 1,450 litres with the rear seats folded.
In terms of driver assistance, the third-generation Countryman gets automatic active cruise control along with steering and lane assistant as part of the optional Driving Assistant Plus package. Alternatively, the Driving Assistant Professional package can be optioned to bring hands-free driving on motorways at up to 60 km/h, as long as traffic ahead is followed closely.
Offered as standard is the Trailer Assistant package that offers guidance with required steering inputs when reversing with a trailer hitched to the vehicle. The Countryman is also able to identify parking spaces and initiate space-restricted parking procedures.
As on the new MINI Cooper, the latest Countryman gets 12 ultrasonic sensors and four surround-view cameras, and the optional Parking Assistant Professional can maneouvere the vehicle out of a parking space via smartphone with the new Remote Parking function.
Now with the expanded powertrain range offering combustion and fully electric options, which of these would be your pick? What do you think of the new, more minimalist styling? Let us know in the comments.




































































































Looking to sell your car? Sell it with myTukar.
Research MINI Cars at
2018 MINI COUNTRYMAN COOPER S 2.0L
2018 TOYOTA INNOVA X 2.0L

Source: Read Full Article