Cadillac Will Build Engines For Andretti In Formula 1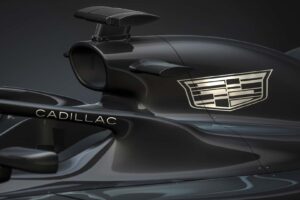 Cadillac confirmed Tuesday that it has registered with the FIA to be an official Formula 1 power unit manufacturer, with plans to supply hybrid drivetrains to the newly formed Andretti Cadillac F1 team starting in the 2028 season.
"We are thrilled that our new Andretti Cadillac F1 entry will be powered by a [General Motors] power unit," GM President Mark Reuss said in a statement. "With our deep engineering and racing expertise, we're confident we'll develop a successful power unit for the series, and position Andretti Cadillac as a true works team. We will run with the very best, at the highest levels, with passion and integrity that will help elevate the sport for race fans around the world."
The announcement comes just one month following the FIA's approval of Andretti's Expression of Interest application for entry into the Formula 1 championship. The team must still go through commercial discussions with the series' management, and, under the Concorde Agreement, is expected to pay at least a $200 million "anti-dilution" fee that would be distributed amongst the existing teams as a way to compensate for future prize money being distributed 11 ways instead of 10 ways.
General Motors says it's already developing and testing prototype technology that'll end up in the Cadillac-badged Formula 1 power units. The company is no stranger to racing, having developed the 5.5-liter V-8 that powered Cadillac's IMSA GTP race car to a championship victory, as well as a podium finish at the 24 Hours of Le Mans.
With Andretti expected to start racing in 2026, one question remains: Where will the team get its engines before the Cadillac unit is ready? Andretti previously had a provisional deal with Renault, but that agreement lapsed back in October.
According to Motorsport.com, the FIA says the team will qualify for an engine supply for 2026 based on current F1 sporting regulations, and that supply will come from a current engine manufacturer that's supplying the fewest customer teams. In 2026, that's expected to be a tie between Honda and Alpine, which are both currently committed to supplying engines to just one team each.
Source: Read Full Article