2024 Toyota Crown Sedan Can Power Your Toaster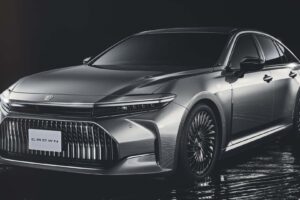 Having been around since the mid-1950s, the Toyota Crown has taken many shapes over the years. From sedans and wagons to pickups and coupes, the moniker has been used for a variety of body styles. The Japanese automaker eventually decided on the sedan formula in the early 1990s before rebooting the whole lineup once again last year with four separate models: two sedans and two crossovers.
The lifted sedan is already available in the United States where one of the SUVs is also coming judging by a recent teaser. As expected, Japan is getting all four, and the latest to hit the market is the regular sedan to replace the fifteenth-generation model. Yes, the Crown is now in its sixteenth generation. It honestly looks fancy enough to wear a Lexus badge and is an imposingly large car, at 198 inches long, 74.4 inches wide, and 57.9 inches tall.
2024 Toyota Crown Sedan (JDM)
The generous wheelbase of 118.1 inches means there's ample rear legroom, so much so that Toyota sees the 2024 Crown Sedan as a chauffeured car, much like the even fancier Century and its newly launched SUV sibling. It's a rear-wheel-drive stately sedan with an interior largely shared with the other new-gen Crown models. It gets adaptive suspension for a silky-smooth ride and offers a cozy atmosphere thanks to the generous use of wood.
The 2024 Crown Sedan can be had as a fuel cell vehicle, in which case it inherits the hydrogen setup from the Mirai. With the three hydrogen tanks full, it can cover as much as 510 miles before having to refill, which Toyota says should take as little as three minutes or about as much as refueling an ICE car. This FCEV variant can also power your home or electrical appliances. In addition, two accessory outlets mounted inside the car can double as an emergency power supply system since they'll work even if the vehicle is turned off.
Alternatively, Toyota will sell the Crown Sedan with a newly developed 2.5-liter hybrid powertrain that combines a gasoline engine with two motors. Complete technical specifications have yet to be released but we do know the full power is available from about 27 mph, which is a lot sooner than the 87 mph speed mentioned by Toyota for previous hybrid systems.
Officially introduced today in Japan, the Crown Sedan will go on sale in its domestic market on November 13. Toyota wants 7,300,000 JPY ($48,500) for the hybrid and 8,300,000 JPY ($55,200) for the fuel-cell hydrogen variant. The goal is to sell 600 units per month. It's also available through Kinto subscription services, from 108,130 JPY ($720) per month.
Source: Read Full Article