2025 Hyundai Tucson Gets Redesigned Dashboard That Brings Back Buttons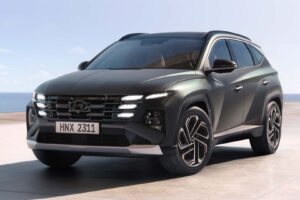 In recent years, Hyundai's modus operandi has been to unveil a new product at home in South Korea before gradually introducing the vehicle in international markets. Well, that's not the case with the Tucson facelift since it was the automaker's UK branch that shared images of the revised compact crossover. While it may look more of the same on the outside, the front grille has been restyled and there are new skid plates to make the Tucson seem wider.
We're used to seeing radical changes on a mid-cycle update from Hyundai, Kia, and Genesis, and this Tucson is no different. The interior looks like it belongs to a next-generation model because the dashboard has been completely reconfigured. It has now been brought in line with the Ioniq 5's by grouping the two 12.3-inch screens within the same housing. As with the electric crossover, the Hyundai logo on the steering wheel has been replaced by four dots, which is Morse code for the letter "H."
2025 Hyundai Tucson (Europe)
The switchgear used to adjust the climate settings has been revamped as well, and pleasantly surprising, there are more conventional controls than before. Aside from old-school buttons, we notice a pair of rotary knobs with built-in screens for the AC, plus another two silver knobs for the volume and other settings. The central air vents are slimmer than before and give the illusion of a dashboard-wide continuous vent by merging with the outer vents.
The more we look at the dashboard, the more changes we can spot. For example, it seems the gear selector has been moved to the steering wheel column. It allowed Hyundai to rethink the center console by integrating a large wireless charging pad, two big cup holders, and a row of buttons ahead of them. We must be looking at a high-end version given the nice stitching on the door cards and dashboard, along with perforated leather on the seats.
That is all Hyundai is willing to reveal for the time being. Considering that the Tucson has already entered the 2024 model year in the United States, this update is unlikely to be offered until the 2025MY. Meanwhile, additional images will be published in the coming weeks, and we're being told there will be new wheel designs to choose from.
Source: Read Full Article