24M's Electrode-To-Pack Battery Doesn't Have Individual Cells And Modules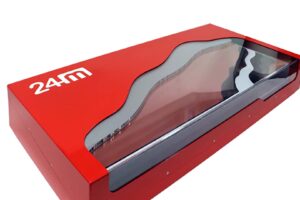 Energy density is a big deal if you want to have the smallest possible battery pack and the longest driving range, at least when it comes to electric vehicles (EVs). This is also true for things like home energy storage solutions or mobile battery generators – the smaller the unit, the easier it is to install it or move it around.
Usually, large battery packs, whatever their purpose, are made from individual cells that are then assembled into modules, and the modules make up an entire pack. Now, though, Massachusetts-based 24M Technologies reckons it has a new solution to the issue of energy density in the form of its new Electrode-to-Pack (ETOP) system.
A classic battery cell – be it liquid-based or solid-state – has two electrodes (cathode and anode) and an electrolyte, so if you have 20 cells in a pack, you'd have 40 electrodes, plus all the inactive material that's needed to package the cells and pack, like plastic and metal, which ultimately leads to dead space.
24M says that its new ETOP system can solve this problem by integrating the electrodes into an entire battery pack, ultimately removing the individual cells from the equation, along with their associated inactive materials. In other words, instead of multiple power sources that are interconnected, there's a single slab that – 24M says – can offer the highest energy density available at the pack level, although it stopped short of revealing hard numbers.
Set to be unveiled at this year's Japan Mobility Show in Tokyo, Japan, the American company's Electrode-to-Pack battery system can also have its electrodes connected in a combination of series and parallel directly into the pack, which can lower manufacturing costs and is an industry-first, according to the Cambridge-based firm.
"24M ETOP will be a game-changer for electric mobility and energy storage systems because it delivers unmatched energy density," said Naoki Ota, 24M President and CEO. "This innovative new battery technology is enabled by our Unit Cell technology and is reflective of what's yet to come from 24M. We are moving beyond our core technology — the 24M SemiSolid manufacturing platform — into a company with a revolutionary technology set that will deliver truly transformative solutions for a better energy future."
It's an interesting approach that can lead to smaller battery packs, but in an age where new products are harder and harder to repair, how will this new system stand the test of time? Conventional battery packs that are made of individual cells and modules can sometimes be repaired simply by replacing a single cell, minimizing cost for the owner and prolonging the life of the product – be it an EV, a stationary home energy storage unit, or something else.
By the looks of it, if something breaks, a whole pack will need to be replaced, but what do you think? Let us know in the comments section below.
Source: 24M Technologies
Source: Read Full Article