BMW Developing Neue Klasse EV Models Specifically For China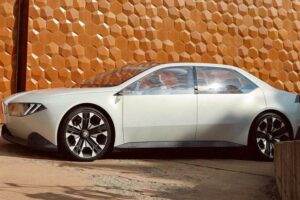 BMW will make Chinese-market-specific EVs riding on the automaker's Neue Klasse platform. Company CEO Oliver Zipse made the announcement at the World New Energy Vehicle Congress during the IAA show in Munich, Germany.
"I cannot reveal too much today, but BMW Design Shanghai is already working on special designs and functions for China-specific models of the New Class," Zipse said, according to Automotive News.
Gallery: BMW Vision Neue Klasse EV Concept
BMW plans to begin building Neue Klasse vehicles in China in 2026. Although, it's not clear whether the market-exclusive versions would be the first ones to go on sale there.
BMW debuted a concept for the first Neue Klasse model at the motor show in Munich. It features a new design language with chiseled styling that subtly evokes the brand's models from the 1960s. The cabin features a head-up display that spans the entire windshield. There's also a parallelogram-shaped screen on the dashboard.
"I can promise you that the Vision Neue Klasse is close to standard production and will be on the roads soon," Zipse said before the concept's premiere.
Full technical details aren't yet available for the Neue Klasse models. BMW previously said the driving range could reach as high as 621 miles. Depending on the vehicle's needs, the automaker can alter the nickel and cobalt content in the cells. The batteries can support charging as high as 270 kilowatts.
Neue Klasse vehicle production will begin in 2025 in Debrecen, Hungary. The assembly will start in Germany in 2026 and in San Luis Potosi, Mexico, in 2027.
A sedan with cues from the concept will arrive first, and an electric SUV will be the next vehicle on the platform. BMW plans to have six models on these underpinnings by 2027.
BMW is also working on a hydrogen-fuel-cell powertrain for the Neue Klasse platform. It would reportedly be for larger vehicles using this architecture.
For more discussion about the Neue Klasse, check out this episode of the Rambling About Cars podcast:
https://www.youtube.com/embed/BuqtSCFmIFU?si=oI-h73UbuHh9MLYq&start=1333
Source: Automotive News
Source: Read Full Article