Bold new Nissan Hyper Adventure can power your house and charge almost anything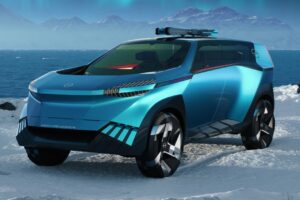 Outrageous electric SUV concept can power your house or return surplus electricity back to the grid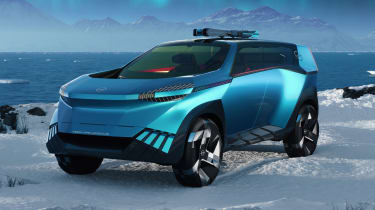 Nissan is unveiling concept car after concept car at the moment, with the latest being this: the Nissan Hyper Adventure, an electric SUV aimed at the more eco-conscious adventurers out there.
To help it face any terrain, the Hyper Adventure features Nissan's e-4ORCE all-wheel drive system, like you'll find in top-spec versions of the brand's Ariya electric SUV and seven-seater X-Trail SUV. The system utilises two electric motors – one on each axle – and controls torque and braking for each wheel individually.
New Nissan Hyper Urban ticks the concept car boxes: futuristic tech and mind-blowing doors
The Hyper Adventure also features what Nissan is calling V2X (vehicle-to-everything) technology, which enables the car's sizable battery pack to be used to charge devices, power appliances, provide energy to homes (V2H) or send surplus power back to the grid (V2G). 
As well as being unashamedly bold in its looks, the Hyper Adventure has been designed with high ground clearance and short overhangs, front and rear, that will help when tackling rougher terrain by increasing the approach and departure angles. The chunky plastic bumpers and extensive cladding along the side could also help protect the bodywork from dings and scrapes.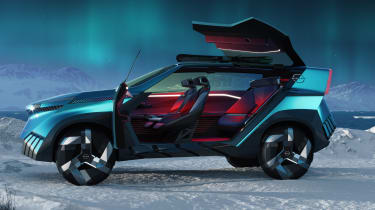 Of course, this being a concept car meant to spark the imagination, there are some eccentric features like the enormous gullwing rear doors – although they do remind us of the falcon doors on the Tesla Model X. Inside, there's a steering yoke, one screen that wraps around the driver and front passenger, and the rear bench can rotate 180 degrees so you can look out of the boot, which Nissan says "comes in handy when camping, getting ready for a day of skiing, or taking in a scenic view."
The outrageous Hyper Adventure's angular, chiselled bodywork is similar to Nissan's other recent concept cars, suggesting that the brand might be considering a much bolder design language for its future models.
The Hyper Adventure is one of a series of wild concept cars Nissan will have on display at the Tokyo Motor Show taking place at the end of October 2023. It'll be joined by the Nissan Hyper Urban crossover concept, and three others that we've yet to lay eyes on.
Can't wait to go off-road? These are the best 4×4 and off-road cars to buy right now…
Source: Read Full Article